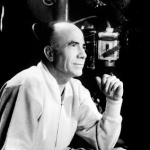 Gregory La Cava was a prominent filmmaker in Hollywood for over twenty years, directing a string of sassy social comedies at the height of the Great Depression. Yet, outside of My Man Godfrey and Stage Door, La Cava's quirky, humanistic films are rarely exhibited, these days. This is a true shame because those modern audiences who have a hard time connecting with the movies from Hollywood's Golden Age may well be able to identify with the director's pointed humor and savvy heroines who don't take "no" for an answer. Though La Cava's career would flame out much too soon, time is on his side.
La Cava got his professional start working as a newspaper and magazine cartoonist before getting a plum job as a film animator during the war years. After collaborating with Walter Lantz (Woody Woodpecker
) and working on dozens of shorts at the Hearst Corporation's animation department, La Cava decided to take a stab at feature films in 1923.
After directing the stiff matinee idol Richard Dix in two unexpected hits, the hard-drinking filmmaker found a kindred spirit in a brilliant comedian who made a career out of playing passive-aggressive tipplers, W.C. Fields.
In So's Your Old Man Fields is erstwhile inventor Samuel Bisbee who embarrasses his haughty wife (Marcia Harris) when a public demonstration of his break-proof car windshield goes terribly awry. On the dreary train journey home Sam gallantly saves a young woman (Alice Joyce) from committing suicide, but little does he know she is actually a Princess who has no intention of doing herself in. Touched by this stranger's noble gesture the Princess visits the Bisbee home and ends up turning the whole town on its ear.
It wouldn't be a stretch to make a case for Fields being the true auteur of all his films but Sam Bisbee, a dreamer/entrepreneur who gets to rub elbows with royalty, is also a very La Cava-esque hero.
The bleakly funny Running Wild featured Fields as the meek clerk Elmer Finch, bullied at home by his shrewish wife (Marie Shotwell) and obnoxious step-son (the scene stealing Barnett Raskin), and patronized at work by his boss (Frederick Burton). While seeking shelter at a vaudeville show Elmer is hypnotized into believing he is a lion and runs out of the theater before the spell can be lifted.
Elmer goes on a reign of terror at work where his new go-getter approach bags a big account and at home where he lays down the law and helps his lovely daughter (Mary Brian) mend fences with her boyfriend.
La Cava became an established director at Paramount making a series of uneven silent and talkies starring the likes of Dix, Gary Cooper, William Powell
, Carole Lombard, Mary Astor, and Edna May Oliver.
His "golden period" of aesthetic and box office success began with Symphony Of Six Million
, a social drama based on a novel by Fannie Hurst. The film hasn't aged well but the plight of surgeon Felix Klauber (Ricardo Cortez), who rises from the Jewish slums of the Lower East Side to become a prominent New York physician, is thematically in tune with La Cava's more accomplished work.
Guilt-stricken at abandoning a vital but non-lucrative downtown practice for a slew of psychosomatic Park Avenue clients, Felix feels unworthy of operating upon his sick father. Coerced by his family Felix takes on the task but when the old man dies on the operating table, the wealthy doctor goes into a tailspin until he is called back to operate upon his long-suffering girlfriend (Irene Dunne).
Much more up La Cava's alley was The Half Naked Truth
, a true gem of the early Depression featuring one of the strangest and most hilarious romantic pairings of the day. Motor mouth Lee Tracy plays Jimmy Bates, a carnival barker with an eye for the ladies and the quick scam. Looking to make a big score the enterprising Jimmy hires his favorite "tamale" Teresita (Lupe Velez) to impersonate an exotic Princess and shake down a gullible Broadway producer (Frank Morgan).
For an all too brief period the scheme works wonders and the ex-hooch dancer becomes the toast of the Great White Way. But the charade finally explodes in Jimmy's face and he returns to the life he knows the best, the Carny, with the woman who loves him (Teresita) hot on his heels.
Even for a racy pre-code film, the hard-boiled Tracy and the vulgar Velez make for a refreshingly earthy couple and frog-voiced Eugene Pallette provides stellar support as Teresita's token nudist(!) and eunuch(!!).
Shot during the darkest days of the Depression, Gabriel Over The White House
poses the intriguing premise of a U.S. President who hears a call from an archangel to become dictator in order to save the troubled nation.
Recently elected President Judson Hammond (Walter Huston) is woefully under-qualified to be running the United States during a time of crisis. The bachelor president hires an "old friend" (Karen Morley) to be his personal secretary, he makes it clear he does not want to be quoted during press conferences, and belligerently threatens to use violence against the million unemployed men who threaten to walk on Washington DC.
One day while foolishly racing the Secret Service in the presidential caravan, Hammond crashes his car and is brought back to the White House in a coma. Given up for dead by his doctors, Hammond has a curious revival and once awake he seems a different man.
After a vicious mobster Nick Diamond (C. Henry Gordon) assassinates the leader of the unemployed marchers, Hammond meets with the unruly crowd and creates a socialistic program to get the men back on their feet. He has Diamond and his men captured then shot after a military tribunal. Hammond breaks in on Congress and announces their duties will be suspended until his new programs run their course. He then fires his frustrated cabinet and gathers the leaders of the world together to demand repayment of old wartime loans.
When the leaders claim poverty Hammond chides them for spending their money on artillery and gives them a show of good old American firepower, so they will disarm in the name of peace. His duties done and the country once again secured and prosperous, Hammond dies peacefully.
  Gabriel? I thought he was the messenger of Wrath. 
One of the screen's more disturbing curiosities Gabriel Over the White House teeters perilously between can-do populism and Mussolini-school fascism, making its intended radical social commentary look like bizarre satire. Still, it is a fascinating film and like Capra's American Madness
and Borzage's A Man's Castle, Gabriel paints a sinister picture of the United States at the dawn of the New Deal.
La Cava had become a director of many hats; a quality craftsmen equally adept in melodrama and prestige pictures. But his true talents lay in comedy, the zanier the better. Befitting the troubled times La Cava's great comedies of the 1930s was cutting edge stuff.  Here, the empathetic filmmaker gives wings to a seemingly demented band of heroes and heroines torn between romantic frustration and financial desperation.
The footloose Bed of Roses follows the bawdy adventures of Lorry Evans (Constance Bennett) and Minnie Brown (Pert Kelton), two hookers just released from prison who will do whatever's necessary to get to New Orleans. The practical Minnie sets herself up nicely by bagging a horny and gullible husband.
Lorry becomes a mistress to a rich and worldly publisher (John Halliday) but her heart really goes out to the struggling barge owner (Joel McCrea) who plucked her out of the Mississippi River. Tough cookie Lorry has a difficult time choosing between a hard-won life of comfort and an uncertain romance.
One of the last truly risque films made in Hollywood until the 1960s, Bed of Roses is refreshingly nonjudgmental about its two wayward heroines.
Indeed, Constance Bennett
's career would take a nosedive with the installation of the Production Code. Too ironic and sexually-knowing to play daffy screwball heroines or romantic ingénues, Ms. Bennett fell out of favor in an industry that was aiming to clean up its act.
    Hot and heavy in old Florence.
For a director who made some of suggestive films of the pre-code years, La Cava had surprisingly little difficulty in toning his style down for a more general audience.
She Married Her Boss casts saucy Claudette Colbert as Julia Scott, an efficient department store secretary who charms then marries her boss Richard Barclay (Melvyn Douglas) only to find he expects her to continue to work as his assistant. Wedded bliss also means Julia has to forge a relationship with Richard's stuffy parents and his obnoxious step-daughter Annabel (Edith Fellows). Feeling unappreciated by Richard, she devises a clever means to neutralize Annabel and the in-laws and tweak her nose-to-the-grindstone hubby into bringing the fire back into their marriage.
The topical screwball comedy My Man Godfrey
is La Cava's masterpiece and may well be the most scathingly funny film of the era. As part of a scavenger hunt the ditsy and filthy rich Irene Bullock (Carole Lombard) scours a New York City dump to find a "forgotten man". She takes a shine to the well-spoken man she chooses, Godfrey Smith (William Powell) and hires him to be the family's butler.
What the smitten Irene doesn't know is Godfrey is actually from a blue-blooded Boston family and a Harvard graduate, who fell on hard times after the stock market crash. Once installed in the wacky Bullock home, worldly Godfrey gives Irene a sentimental education much to the dismay of her jealous sister Cornelia (Gail Patrick).
After being initially insulted by the forgotten man, the scheming Cornelia tries to humiliate Godfrey but when he turns the tables on the spoiled brat she plants stolen goods in his room to get him fired. Irene's willingness to take a chance on Godfrey pays big dividends when the benevolent butler opens a Night Club on the site of the dump, giving much needed work to the local squatters, and when Godfrey bails out Mr. Bullock's failing stock with some well-placed investments.
My Man Godfrey boasts some of the finest comic ensemble playing in American film with Alice Brady as the silly Mrs. Bullock and Mischa Auer as her slacker protégé Carlo taking top honors. Like so many other populist films of the 1930s, My Man Godfrey shows the great divide between the vacuous rich and the noble poor but, here, La Cava levels the playing field so all his Manhattan mongrels can mingle and learn from one another.
  Life in this family is one subpoena after another.
La Cava's box office successes freed him from being exclusively bound to one studio and as a free agent he was able to take on more prestigious projects at smaller studios like Universal or RKO.
Based on the Edna Ferber-George S. Kaufman play Stage Door
is the story of Terry Randall (Katharine Hepburn), a rich society girl who against her father's wishes wants to try her luck on the Great White Way. She moves into the Footlights Club, a Manhattan boarding house full of aspiring actresses (Gail Patrick, Lucille Ball, Eve Arden) and hard-boiled hoofers (Ginger Rodgers & Ann Miller), who look upon the newcomer with trepidation.
Terry is assigned to room with the tough talking chorus girl Jean Maitland (Rodgers) and after a rocky start the unlikely pair warm to one another. During an audition the long out of work Jean arouses the interest of Anthony Powell (Adolphe Menjou), an important theatrical producer and womanizer. After keeping the lecherous Powell at arm's length, Jean arrives at his apartment one night to find Terry auditioning for the lead in a major play.
Appalled at her roommate's apparent cynicism and upset over the suicide over a talented housemate (Andrea Leeds) who truly deserved the part, Jean dresses Terry down shortly before she is to make her debut. Terry is thunderstruck but gives a stunning opening night performance, surprising both Powell and her father who funded the production in anticipation of her failure and return to the homestead.
Snappy and sarcastic, Stage Door occasionally runs aground with melodramatic subtext, but the film bows out ever so gracefully by suggesting despite the tragedy life at the Footlights Club will go on, as usual.
   I predict a hatchet murder before the night's over.
La Cava's last two films of major interest feature Ginger Rogers, a superb comedienne who did some of her best work with the director before she went on to become a grand doyenne of Hollywood.
One of the last screwball comedies, Fifth Avenue Girl
, finds Ginger playing Mary Grey, an unemployed New Yorker who seems content in her hand to mouth existence. She meets troubled millionaire Mr. Borden (Walter Connelly) on a park bench and he convinces her to celebrate his birthday with him. When Mary's appearance at the Borden mansion the next morning makes his cool wife jealous, the mogul hires the homeless girl to be his live-in "mistress" and her cynical take on life soon turns the family's world upside down.
Considering La Cava had directed perhaps the most uproarious screwball comedy in My Man Godfrey the low-key approach in 5th Avenue Girl comes as something of a surprise. Still, Rogers is quite hilarious in a deadpan performance the hardened New Yorker who gets kick out of pulling strings but can't avoid the advances of her employer's determined son (Tim Holt).
The meanderings of the upper class do not interest me! 
La Cava continued to push the envelope with Primrose Path
, a throwback to the gritty class dramas of the pre-code era. Here, Rogers plays Ellie Mae Adams who lives in the rundown part of the town with her prostitute mother Mamie (Marjorie Rambeau) and a low-rent family.
Looking to escape the squalor surrounding her Ellie Mae meets and marries a hardworking entrepreneur Ed Wallace (Joel McCrea) then tries in vain to keep her dark secrets from her new husband. When Ed finally meets Ellie's family her loathsome grandmother succeeds in wrecking the marriage. After her alcoholic father accidentally shoots and kills Mamie, Ellie Mae is resigned to learning her mother's trade to make ends meet.
La Cava and Irene Dunne seemed a match made in screwball heaven but the final two films they made together (Unfinished Business and Lady in a Jam) lack the pizzazz and sparkle of their finest work.
In Unfinished Business Dunne was probably too long in the tooth to play Nancy Andrews, a naïve girl from Ohio who falls in love with the big city sharpie (Preston Foster) she met on a train. After being snubbed Nancy begins to run around with the playboy's ne'er do-well brother Tommy (Robert Montgomery) until the unhappy twosome enter into a loveless marriage. Tommy falls in love with Nancy but she remains hopelessly smitten with his more sophisticated brother. They separate and get back together—after we learn she has had Tommy's child—but Nancy never really does admit getting over her first love.
For Lady in a Jam
Dunne plays the spoiled Manhattan socialite Jane Palmer who learns she is tapped-out the hard way. Ignoring the sage words of her financial advisor Billingsley (Eugene Pallette) Jane continues to spend until her creditors seize her house and put her goods up for auction. Billingsley hires the psychologist Dr. Enright (Patric Knowles) to accompany Jane to Arizona where she hopes to mine the family's hidden treasure.
Dunne gives it the old college try and while a good bit of Lady in a Jam is indeed funny it never really sustains the manic fever pitch which propelled My Man Godfrey and The Awful Truth to screwball glory.
La Cava's output slowed down during the 1940s as his sort of class-conscious pictures were being phased out for sweeping melodramas, noir, and rah-rah films for the war effort. After directing the wildly uneven Gene Kelly musical (Living in a Big Way) and getting fired from an Ava Gardner project (One Touch of Venus), this highly gifted filmmaker was all through in Hollywood at the age of 56.
Films by La Cava
1926  So's Your Old Man ***1/2
1927  Running Wild ***1/2
1931  Smart Woman ***
1932  Symphony of Six Million ***
1932  The Half-Naked Truth ***1/2
1933  Gabriel Over the White House ***1/2
1933  No Bed of Roses ***1/2
1934  Affairs of Cellini ***
1935  She Married Her Boss ***1/2
1936  My Man Godfrey ****1/2
1937  Stage Door ***1/2
1939  Fifth Avenue Girl ****
1940  The Primrose Path ***1/2
1941  Unfinished Business ***1/2
1942  Lady in a Jam ***1/2
1947  Living in a Big Way ***