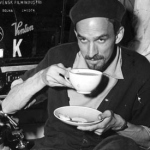 Adored and often reviled by critics and audiences alike, the psychoanalytical films of Ingmar Bergman elicit strong reactions and endless discussions over their worth in pantheon of cinema. While Bergman certainly made his share of pretentious films, the remarkable narrative and humanistic qualities of his greatest work at the very least qualify him as a major innovator and Sweden's greatest filmmaker.
Bergman is one of the finest directors of women and several of female muses won his heart and contributed significantly to his art throughout a long and tumultuous career. After "retiring" from the big screen after Fanny and Alexander Bergman continued to create searing theatrical and television productions deep into old age, a testament to a restless spirit and his integrity as an artist.
Bergman's unhappy childhood (chronicled in his autobiography The Magic Latern) turned out to be a painful source of inspiration. Bergman had a tumultuous relationship with his father Erik, a rigid Lutheran minister who would later become chaplain to Sweden's royal court. His mother Karen was at turns loving and spiteful.  In a weak moment she dropped the bombshell to her son that his birth was an unplanned mistake. Frustrated by his father's dogma and hypocritical preaching Ingmar rebelled, prompting the minister to lock the young boy in a closet while Karen looked the other way.
To make matters worse the wobbly European economy of the 1920s hit the Bergmans hard and the family struggled to make ends meet. Fortunately, Bergman found solace in the theatre, an enchanting and enticing new world where a young man could reinvent himself. He matriculated at the University of Stockholm but he found academia stultifying and cultivated interests in classical music and the French cinema instead. Bergman would not get his degree leading to an ugly confrontation with Erik and Karen precipitating a break in family relations for the next four years.
Ingmar could now turn his full attention to his first love, the theatre, and he soon found his benefactor in Sven Hansson, a Christian social worker who hired the knowledgeable novice to teach classes in theatre and direct for his small playhouse. Bergman rolled up his sleeves and made the best of this opportunity, building a small but loyal theatrical troupe and directing a wide range of contemporary and classic plays deep into the war years.
Bergman also began to develop his talents as a playwright, often adapting his own short stories for the stage. But, all along he knew his future lie in the cinema. And the struggling Swedish film industry provided just the right platform for the ambitious young artist to exorcise his considerable demons.
In 1943 Bergman accepted a job as a scenarist for the Svensk Filmindustri, Sweden's oldest and most important commercial film studio. After being amongst the world leaders in cinema in the 1910s and '20s (due to innovative work by directors Victor Sjostrom
and Mauritz Stiller
), the Swedish film industry had been in a twenty year funk. Swedish films of the 1930s and '40s mostly catered to middlebrow audiences as evidenced by the amount of "tasteful" melodramas and potboilers turned out by the studios.
Bergman was in no position to complain, his salary at SF was significantly better than the checks he pulled in as a successful theatre director. But, the young man was frustrated by the studio's inertia and after several of his screenplays were rejected, he finally saw one of his scenarios made into a film.
The psychological drama Torment
(directed by veteran filmmaker Alf Sjoberg) follows the sad plight of a secondary school student who is mentally and verbally abused by a professor. In the role of the sadistic "Caligula", Stig Jarrel could well have been a portrait of the cruel papa Bergman but to the credit of all involved, the schoolmaster turns out to be a complex pathetic figure worthy of pity and scorn.
It would be two years before Bergman finally got a chance to direct a film of his own Crisis
, a critical and box office disaster. Still, it was apparent the novice director was a talent to be reckoned with. Based on a play by Leck Fisher, Bergman transformed this traditional weepy about a long-suffering music instructor (Signe Werff) who watches helplessly as her virginal foster daughter (Inge Landgre) falls under the bad influence of her slatternly mother (Marianne Lofgren) and skeevy boyfriend (Stig Olin) into a refreshingly messy coming of age story.
Music in Darkness
opens with a badly-executed scene where Cadet Bengt Vlydeke (Birger Malsteem) is injured in a shooting accident which causes him to go blind. The convalescing pianist is nursed back to health by the local peasant girl Ingrid (Mai Zetterling) who is crushed when she overhears the upper class Bengt speak disparagingly of her. After failing to place in a music conservatory, Bengt is forced to take a series of demeaning jobs made all the worse by his affliction.
Meanwhile Ingrid has come up in the world, securing herself a handsome boyfriend and promising future. But, the unexpected reappearance of Bengt reignites the flame in her heart and her encouragement prompts the down at the heels musician to take the necessary steps to win back her respect.
Careful to avoid maudlin sentiment, Bergman puts the embittered Bengt through a school of hard knocks where the blind musician is little more than prey to scheming employers and pickpocket landlords. Over time, the poor little rich boy develops a hard hide which he'll need for his showdown with Ingrid's red-blooded beau.
The next few years Bergman found honing his cinematic skills and bringing his special brand of angst to a series of painful melodramas about unhappy young people struggling to make a go of it in their personal and professional lives. With the help of his first major collaborator, cinematographer Gunnar Fischer, Bergman's visual style evolved considerably. In these early films Fischer's fluid, graceful camera is freed up to follow Bergman's anxious players, even when they are paralyzed with fear or climbing the walls in panic in their tiny Stockholm flats.
Their first film together, Port of Call
, follows the sad plight of Berit (Nine-Christine Jonsson), a former reform school girl unlucky in life and love. After her uncaring mother (Berta Hall) banishes Berti from her apartment, she falls in with a good-time Charlie then ultimately gets sent to an institution for wayward girls where she picks up some good and bad habits that will help her survive in the real world.
Berit is sprung on parole and tries to begin over as a factory girl. She falls in love with Gosta (Bengt Eklund), a sailor working out of the local port. Berit makes the mistake of confessing her sordid past to Gosta who can't come to grips with her promiscuity. Gosta's coolness towards Berit sends her into a fit of despair but as befits his blue-collar ethic he proposes they make a go of it.
The first recognizably Bergman film, Prison
, offers the premise the world is a hell of our own making. When a movie director (Hasse Ekman) rejects a similar pitch doled out to him by his college professor, events in real life prove the academic correct. Brooding screenwriter Thomas (Birger Malmsteen) ditches his wife to enter into a hopeless affair with the teen prostitute Doris (Birgitta Carolina Soederberg). Thomas is unable to overcome his demons and Doris' drift into melancholy leads to leaving her child in the care of the murderous sister of her current lover.
Owing to the innovations of both the Italian neo-realists
and Hitchcock's Rope
, the technically dazzling Prison was shot on location with a small budget and made excellent use of a tracking camera. Quite unlike Port of Call, the protagonists could expect no happy ending and, indeed, in the unrelenting Prison Bergman takes misery and self-loathing to new heights.
For his next two films Bergman examined the excruciating meltdowns of a pair of performers not ready for the big stage.
In Thirst
, aspiring ballet dancer Rut (Eva Henning) enters into a doomed affair with Raoul (Bengt Eklund), a married military officer with no conscience. After she announces she is pregnant he returns to his wife leaving her to end the pregnancy on her own. Years later, we find Rut later in a Switzerland hotel room drinking too much and locked in an unhappy marriage with the Bertil (Birger Malmsteen), an even-tempered sort who is beginning to tire of her hysterical scenes.
On the train back to Stockholm Rut tries in vain to press Bertil's buttons.  When hordes of war refugees rush their train at a stopover and Rut's old lover makes an unexpected reappearance he finally cracks. Henning is superb as the rebellious and insecure protege who lacks the discipline to make it as a dancer and finds little comfort with men ill-equipped to handle her spontaneous nature.
In the uneven To Joy
violinist Stig Eriksson (Stig Olin) botches his big chance to become a soloist and shrinks in shame when he has to return to being one of the anonymous players in the symphony orchestra. He takes his anguish out on his wife Marta (Maj-Britt Nilsson), a fellow musician who gave up her career to start a family with Stig. His philandering and domestic violence prompts Marta to leave him. After much soul-searching Stig enters into a correspondence with his wife which gives him hope of reconciliation until tragedy strikes.
Following a trend of bringing classical music to the screen long stretches of To Joy is given over to full orchestra performances of Beethoven, Mendelssohn and Mozart (conducted by crusty Victor Sjostrom, no less), sublime music meant to heal the open wound in Stig's heart.
Bergman disowned much of his work from this early period but many of these programmers show the hand of a competent craftsman and offer the promise of good things to come.
It Rains on Our Love
opens on a noir-ish note with the recently released convict David (Birger Malmsten) meeting the down on her luck Maggi (Barbro Kollberg) while they wait for a train in the pouring rain. He brings her to a cheap hotel where after a night of passion the two decide to make a go of it together.
The next day they slog through the rain and bad weather until they find shelter in what seems to be an abandoned shack. The appearance of a greedy landlord is the first in the many roadblocks to happiness for the unlucky couple.
In A Ship Bound for India
Malstem plays the hunchbacked sailor Johannes Blom who has the misfortune of falling in love with his cruel father's mistress, Sally (Gertrud Fridh). After learning he is going blind Captain Alexander Blom (Holger Lowenadler) decides to ditch his long-suffering wife and run off with Sally but he first must eliminate the young rival who stands in his way.
Set on the docks and back alleys of a seedy port town, A Ship Bound for India recalls the poetic-realism of Marcel Carne and finds Bergman completely at home in a brawnier milieu.
The paranoid thriller This Can't Happen Here is perhaps Bergman's most obscure feature but if one can get beyond the murky politics, it's a cracker of a film. Set in the oppressive regime of Liquidatzia(!) chemist Vera Natas (Signe Hasso) chooses to liquidate her secret agent husband (Ulf Palme) in order to protect the underground organization she works for. When the shady man proves difficult to kill Vera falls under police suspicion.
Bergman and cameraman Fischer take great advantage of the Stockholm locales in painting a sinister portrait of cold war policies in a not so Brave New World.
Bergman was becoming a name to reckon with in the national theatre where he built professional relationships with actors and actresses (Gunnar Bjornstrand, Harriet Andersson, Bibi Andersson, Erland Josephson, etc.), whose diverse faces and talents would leave their imprints on his films well into the 1980s.
Yet, at the turn of the 1950s, it remained to be seen if Bergman would ever flourish within the constraints of the Swedish film industry. Nonetheless, he soldiered on continuing his fine collaboration with Maj-Britt Nilsson in a pair of bucolic studies from the point of view of the fairer sex.
In Summer Interlude
Nilsson plays a famous ballet dancer who has walled-up of her feelings after the tragic death of her lover thirteen years before. While in rehearsal for Swan Lake Marie (Nilsson) unexpectedly receives an old diary which, upon perusal, opens up an old wound time had and bitterness seemingly healed.
Her anguish takes her to a summer home of her adolescence where she reminisces about Henrik (Birger Malmsten), who perished in a diving accident while out on a date with Marie. The warm memory of her first love helps Marie confront her feelings for the new man in her life, a hard-boiled reporter.
Nilsson was a part of an ensemble of wives kept at bay by husbands and lovers in Waiting Women
. As would be a habit in the years to come Bergman selected an island locale where the sequestered women sit around a kitchen table and discuss their relationships with four brothers.
The formulaic film treads familiar early Bergman ground but it remains fascinating for the first pairing of the elegant Eva Dahlbeck and wry Gunnar Bjornstrand as the director's quintessential married couple—here, they are forced to confront the lack of fire in their marriage while stranded in an elevator.
Although the content of his recent projects was becoming alarmingly middlebrow Bergman continued to polish his craft and, as fate would have it, a daring, open-air collaboration with an uninhibited young actress finally brought out the lion in the director.
In Summer with Monika
, the naive working class lad Harry (Lars Ekborg), falls under the spell of sexy local shop girl, Monika (Harriet Andersson). With this high maintenance new girlfriend taking up so much of his time, Harry begins to show up late at work leading to inevitable termination. Looking to escape a dreary existence in her family's flat, Monika coaxes Harry to pilfer his dad's small boat and together they take off for a secluded island away from the worries of the grown-up world.
At first, Harry is enraptured with the sensuous girl, but their idyllic life crumbles as food grows scarce and Monika becomes shrill and demanding. The intense scenes on the island anticipate Bergman's Faro trilogy (Persona, Shame, The Passion of Anna), a claustrophobic world where relationships shatter beyond repair and the weak get eaten alive.
When summer ends, Harry and the pregnant Monika face up to reality and return to the city. Harry's aunt arranges a quick marriage, but the newlyweds continue their downward spiral. As Harry struggles in his new job and night school, the bored Monika begins to see other men on the side. After Harry catches her in bed with another man, Monika abandons her child and leaves her simpleton husband for greener pastures.
Summer with Monika turned out to be a liberating experience for Bergman. Freed from the constraints of the studio, Bergman and cinematographer Gunnar Fischer soak up the scenery and sun and transformed the adolescent longings of Summer Interlude into an erotic odyssey. The fiery Anderson was a far cry from the milder heroines played by Maj-Britt Nilsson and in the coming years Bergman's new leading lady would lend her prodigious talent and unsettling personality to some of his most ambitious films.
Sawdust and Tinsel
(The Naked Night) finds Harriet in the role of Anne, a circus rider and the young mistress to the middle-aged owner of the struggling big top, Albert (Ake Gronberg). When the circus arrives in Albert's old home town he pays a friendly visit to his wife Anna (Annika Tretow). Albert is disappointed when he learns she is quite content with her peaceful new life and doesn't want him back. Jealousy gets the best of Anne and she gets revenge on Albert by taking up with Frans (Hasse Ekman),the cruel leading actor of the town theater.
Anne's romantic treachery drives Albert to confront Frans in public but the pretty boy actor humiliates the older man with a pronounced thrashing. Shamed, Albert pulls the troupe out of town but rather than run off with the triumphant Frans, Anne chooses to stay on and console her mentor.
The earthy Sawdust and Tinsel proved to be a key transitional film for Bergman. For the first time, the director seems to be in his comfort zone as the intimate performances and letter perfect mise-en-scene bear out. Bergman also relished pitting Anderson, his girlfriend at the time, in tarty roles that would show off her brazen sensuality and luminous beauty.
A melancholic bookend to Jean Renoir's nostalgic road show flick, The Golden Coach
, Sawdust &Tinsel revealed Bergman's affection traveling players and wandering rogues who would go on to play a large part in The Seventh Seal, The Magician and The Virgin Spring.
     Bringing enlightenment to the sticks.
As daunting as Bergman's canon can be to the uninitiated, his sophisticated adult films with Eva Dahlbeck and Gunnar Bjornstrand offer a safe and pleasing point of entry.
In A Lesson in Love
Bjornstrand plays David Erneman, a 40something gynecologist who enters into an unwise affair with a tantalizing younger patient, Susanne Verin (Yvonne Lombard). David's wife of fifteen years Marrianne (Dahlbeck) suspects something is up and catches the lovers in bed at a hotel rendezvous.
Regretting his foolishness, David follows his wife to Copenhagen where she plans to hook-up with her former fiance, the buffoonish artist Carl-Adam (Ake Gronberg). The Ernemans meet in a compartment in the train to Denmark where they reminisce about the unlikely why they got together and wonder why their love has waned.
Bjornstrand and Dahlbeck never meet in Dreams but they turn in fine performances as the sugar daddy and troubled mentor to a beautiful but immature fashion model.
While window shopping on a break from a photo shoot, Doris (Harriet Anderson) becomes aware she is being ogled by Otto Sonderby (Bjornstrand), a middle-aged man with a glint in his eye. She accepts his gifts of a gown and bracelet but makes no promises. After a day of escorting the young woman through an amusement park they return to his flat where she learns the sad fate of Otto's wife. They are soon confronted by Otto's bitter daughter who humiliates her father and heaps scorn on Doris.
It turns out to be the crowing blow in a bad day for the model, as she has already been fired by her boss Susanne (Dahlbeck) for turning up late to the shoot. The humorless Susanne is the object of derision in the company for carrying on a hopeless romance with a married man. But when the humbled Doris returns to Susanne the older woman—who has been through a hellish day herself—reconciles with the foolish girl.
The delightful period comedy Smiles Of A Summer Night
is the pinnacle of the Bjornstrand-Dahlbeck collaboration and Bergman's first masterpiece.
Bjornstrand (in a truly grotesque wig) plays the successful, middle-aged lawyer Frederik Egerman unhappily married to the pretty and virginal Anne (Ulla Jacobson). Egerman visits his former lover, Desiree (Dahlbeck) and admits to the actress he has never slept with his young wife. The unsympathetic Desiree informs Frederik he is the father of her young son and then gets sweet revenge on the old rake when she pits Frederik against her current lover, the jealous Count Malcolm (Jarl Kulle).
In the meantime Anne has formed a crush on Frederik's son from an earlier marriage, Henrik (Bjorn Bjelvenstam), who suffering the pangs of an unsuccessful fling with the flirty housemaid Petra (Harriet Anderson). Still carrying a torch for Frederik, Desiree arranges for the Egermans to spend a wild and wooly weekend at her mother's country estate, where nature takes its inevitable course.
In his lightest and most beguiling comedy, Bergman director winks in a Lubitschian fashion at his naughty players who fumble and stumble in their attempts to find heaven on earth. The film's international success gave Bergman the green light to begin production on a dark fable which would question the very existence of God.
   Why is youth so terribly unmerciful?
Set in plague-ridden Sweden during the 14th century, The Seventh Seal
opens with Knight Antonius Block (Max Von Sydow) returning home from the Crusades with his manservant Jons (Gunnar Bjornstrand). Finding he is also accompanied by the murky shadow of Death (Bengt Ekerot), the Knight challenges the spirit to an ongoing game of chess in order to postpone his date with fate. By engaging in a philosophical conversation about God, the Knight manages to outwit Death and live for another day.
On their way back to Block's castle the Knight and Jons are joined by a mute servant girl (Gunnel Lindbom) and a pair of traveling players (Bibi Andersson, Nils Poppe). Through the towns and forests the odd group witnesses the destruction the plague has left in its wake until Death comes to make his final claim.
The Seventh Seal comes with so much baggage it's almost impossible to shed new light on Bergman's speculative epic. The chess matches between the Knight and Death—so brilliantly parodied in Bill and Ted's Excellent Adventure—do often reek of Philosophy 101. As Bergman's work grew more introspective during the late 1950s the brooding Von Sydow took the mantle of favored male muse from the more versatile and charismatic Bjornstrand.
Yet, despite some unavoidable heavy-handedness, The Seventh Seal has true grandeur, thanks to Bergman's flawless pacing and the striking black and white visuals, courtesy of the ever-brilliant Gunnar Fischer. The energetic performances of Bjornstrand and Poppe add welcome earthiness and balance to the metaphysical undertakings. And in another passing of the torch, the feisty and talented Bibi Andersson will quickly become the Bergman heroine of choice.
     Love is the blackest of all plagues.
Where The Seventh Seal addressed Bergman's anxieties about God and death, Wild Strawberries
was a highly autobiographical work, in which the director grappled with the estranged relationship with his father Erik.
When esteemed medical professor Isak Borg (Victor Sjostrom) is served an honorary degree, he begins an odyssey that will cause him to reconsider an unfulfilled past and confront the unhappy present. The prickly Isak eschews flying to drive across country to pick up the degree with his daughter in-law Marianne (Ingrid Thulin) in tow.
En route Isak learns Marianne doesn't really like him and she's broken up with his son Evald (Gunnar Bjornstrand), a fellow gloomy Gus. Feeling his oats, Isak takes a detour to his childhood summer home and conjures up fond memories of his early love Sara (Bibi Andersson).
The road proves rockier when they pick up a teenage girl (Andersson), her two beaus, and a miserable married couple whose incessant arguing drives them all to the brink. After dispatching the couple, the sentimental Isak visits his elderly mother but her chilliness sends him and Marianne back to the road and the university town where he has his final and most bewildering dream.
Victor Sjostrom proved to be an excellent choice to play the aloof but cuddly Isak. In what may have been an olive branch extended to father Erik, Isak is more sympathetic than Evald and his strange visions free the old man to reflect and overcome inhibitions, whereas the middle-aged son is trapped by his own demons and looks to be a hopeless case.
The overlooked Brink Of Life
links an excellent Bergman actress of the past (Eva Dahlbeck) with his favored female players of the present (Ingrid Thulin and Bibi Andersson) in a superb character study about three women grappling with self-loathing, personal responsibility and motherhood in a maternity ward.
The cramped hospital setting prompted Bergman to shoot more close-ups and mid-shots giving the finished product the sort of intimacy and intensity he'd further explore in his seminal television series of the 1970s, Scenes from a Marriage.
The end of the decade saw Bergman look back to the past beginning with The Magician
(aka The Face). Set in the 1840s, this beguiling tale about traveling players finds the members of a failing medicine show arriving in Stockholm, only to be sequestered by the cynical town locals for questioning.
The hostility vented towards the leaders of the troupe recalls similar witch hunt tactics found in earlier Bergman films (It Rains on Our Love and It Can't Happen Here), but here the public humiliation is more akin to an intellectual McCarthyism. Finally after being unmasked as a fraud, Albert Vogler, The Magician (Max Von Sydow) unleashes his strange fury upon his helpless captors.
    You represent what I detest… the unexplainable. 
Based loosely on a medieval Swedish legend The Virgin Spring
is the luminous and horrific tale of Karin Tore (Birgitta Pettersson), an innocent fifteen-year-old girl who while on her way to church to light a candle for the Virgin Mary is raped and murdered by a band of brigands. When one of killers (Axel Duburg) unwittingly offers Karin's bloody garments for sale to her mother Mareta (Birgitta Valberg), she alerts her husband Tore (Max Von Sydow) who wreaks a terrible vengeance. When the parents go to the forest to recover their daughter's body, they find a new spring has miraculously appeared on the spot where she lay.
Cited by many horror film directors as a major inspiration, The Virgin Spring certainly has enough family dysfunction to qualify it as a Bergman classic, too. Here, the suggestion of incest plays large as the pubescent Karin is clearly the love of Tore's life, as evidenced by their tender scenes together and the deep resentment the shriveled Mareta feels towards her husband.
Free of the metaphysical speculation that often overwhelmed The Seventh Seal and The Magician, Bergman's poetic direction and Sven Nykquist's elegant cinematography lay the groundwork for Tore's volcanic revenge and cathartic offering to God. The tone of Bergman's work would become increasingly insular during the next decade, as the director retreated from the public eye into his own private hell.
  Power is so painful, but it lets him scale the mountains.
Bergman fell out of favor during the early 1960s as trendy cineastes began to flock to modern films directed by both the French New Wave directors (Godard
, Truffaut
, Chabrol, etc.) and the groundbreaking Italians (Antonioni
, Fellini
, Bertolucci
, etc.). Bergman's historical speculations suddenly seemed old hat and his new Don Juan comedy The Devil's Eye didn't win over the skeptics.
Here, the Devil summonses the great lothario (Jarl Kulle) from his posh chamber in hell to seduce a twenty-year-old virgin before she can be wed. Aside a fine performance from the fetching Bibi Andersson, The Devil's Eye
exhibited little of the warmth or charm of Bergman's earlier comedies and went a long way in making him look even more out of touch with modern audiences.
Bergman's next attempt at broad comedy All These Women
(made in 1964) didn't fare much better. Here, Kulle plays Cornelius, a bombastic critic researching the loves and life of a reclusive cellist for a book. He takes up residence in the musician's home but his mission is continually sidetracked by the presence of the great man's wife and lovers.
Bibi and Hariett Andersson are delightful as the bubble-headed mistress and doting chambermaid but Bergman's jazz age farce comes closer to resembling the worst of Jerry Lewis than Smiles of a Summer Night.
Fortunately for Bergman, he had already embarked upon an ambitious project (The Trilogy of Faith
) that went a long way in restoring his reputation.
The first Bergman film shot on his bleakly beautiful Island of Faro, Through a Glass Darkly
is an evocative chamber work about a troubled young woman suffering from schizophrenia and lack of familial understanding.
Recently released from a psychiatric hospital, Karin (Hariett Andersson) returns to her island home but what awaits there is hardly a fitful support unit. Karin's doctor husband Martin (Max Von Sydow) wants to empathize with his young wife but fears her sickness is irreversible. Her father David (Gunnar Bjornstrand) lives a life of denial and pretends to be consumed by his successful writing career rather than face up to responsibility. Karin tries to connect with her younger brother Minus (Lars Passgard) but he has his own growing pains and demons to deal with.
Cast adrift, Karin withdraws into the attic where she contemplates shadows and spiders and hears voices proclaiming the arrival of God. By taking advantage of the backdrop of his Spartan locale and making innovative use of sound, Bergman recreates a tiny, claustrophobic world that captures the holy hell of Karin's ascending madness.
    I can give myself all the pity I want. 
Bergman's second film in the trilogy, Winter Light
, is a searing study of lost faith and broken humanity.
Set in a small, conservative Swedish community, Pastor Tomas Ericsson (Gunnar Bjornstrand) just barely finishes his early Sunday sermon before succumbing in the wings to a bad cold. Still, he consents to meet with the concerned wife of one of his parishioners. The anxious woman confesses her husband Jonas (Max von Sydow) is in a deep depression over recent news of the Chinese acquiring nuclear power. Ericsson agrees to see the distraught man, but as he is in his own spiritual crisis the pastor offers little comfort or hope to Jonas.
Instead of preparing for his afternoon sermon, Ericsson mulls over a crushing letter sent from Marta (Ingrid Thulin), a school teacher who is hopelessly in love with him. He is then interrupted by the grim news of Jonas' suicide.
Ericsson lets Marta accompany him on the journey to identify the body. He makes it brutally clear to Marta he has never gotten over the death of his wife and does not reciprocate her feelings. Ericsson returns to the church but as word of the tragedy has spread, it seems likely the afternoon sermon will be cancelled. But when Ericsson sees Marta kneeling in the pews, he steps to the altar to dutifully perform the service.
Austere and deeply moving, Winter Light probes the spiritual doubts of the unhappy pastor, who finds less and less solace in providing guidance to his dwindling congregation. Bjornstrand and Thulin are gripping as the two lost and lonely souls who have only each other to cling to.
  God, why have you created me eternally dissatisfied?
Set in an Eastern European hotel of fading splendor, The Silence
is the saga of two very different sisters in the midst of a disintegrating relationship. While on a train back to Sweden the cancer-ridden older sister Ester (Ingrid Thulin) takes a turn for the worse, so Anna (Gunnel Lindblom) books a room for them that night in a local hotel.
After bickering with Ester, the restless and sensual Anna leaves her little boy Johan (Jorgen Lindstrom) with the sick woman to explore the town. Anna seduces a waiter and afterwards she describes her adventures in graphic detail to the bed-ridden Ester. Though titillated by the story Ester upbraids Anna, irritating the younger sister to the point where she packs up and leaves for home with Johan.
With stylistic nods to Antonioni and Fellini, The Silence is one of Bergman's more self-conscious films. Hunkered down in a totalitarian country, Ester, Anne and Johan find themselves unable to communicate with neither the bizarre patrons of the hotel nor the old waiter who assists Ester, so they turn to, and on, one another. The intellectual older sister resents the voluptuous Anne but lives in awe of her exploits. Anne despises Ester, and her disease, and wishes her gone from her life. But, Ester finds an unlikely accomplice in the introverted Johan with whom dying woman will leave a haunting impression.
  Watch your step among all the ghosts and memories. 
Bergman's anxious, insular cinema would get turned inside out three years later in his most experimental film. Freed by the increasingly adventurous filmmaking of the 1960s, Bergman exploded his theatrical method of storytelling and went deconstructionist with Persona
(aka Masks).
When famous actress Elisabet Vogler (Liv Ullmann) suddenly goes mute on stage, she is admitted to a psychiatric ward and placed under the care of a young nurse, Alma (Bibi Andersson). Alma doesn't think she is making much headway with the silent Elisabet, but the head of the clinic thinks otherwise and decides the two women should continue the therapy sessions at her island retreat.
Lonely and a little star struck, Alma begins to divulge her deepest secrets to Elisabet, all the time unaware the ambitious actress has been using the nurse as a case study for her art. When Alma learns of her patient's betrayal she confronts Elisabet, but it's too late for the women have already absorbed one another's persona.
This visually-striking film is certainly Bergman's greatest exercise in style. The nightmarish opening montage is the easily the most exciting sequence Bergman ever put to film and a harbinger for the disturbing things to come. Persona pits Bergman's two troubled heroines on the claustrophobic island of Faro where an extensive psychotherapy session leads to personality transference.
Andersson is touchingly vulnerable as the free-spirited nurse and Ullmann is coolly observant as her silent, controlling patient and their shattering performances go a long way in neutering some self-conscious cinematography and dated symbolism.
Still, Persona was something altogether different from the Trilogy of Faith series and its success seemed to energize Bergman who would soon embark on another stretch of great creativity.
The late 1960s saw Bergman retreat to his beloved Faro Island to make a trio of films (The Hour of the Wolf, Shame, The Passion of Anna) starring his partner Liv Ullmann and Max Von Sydow. An earnest, emotional performer, Ulmann would become Bergman's favored female lead for the next decade and in these films she proved a foil and catalyst to the cerebral, aloof Von Sydow.
The most interesting film of the trilogy, Shame
, finds Von Sydow and Ullmann as Jan and Eva Rosenberg, two out of work musicians sequestered on an island under the occupation of two warring armies. With too much free time on their hands, the couple bickers incessantly and Eva is ready to leave her emotionally crippled husband when war breaks out in earnest.
The "Rosenbergs" are spared incarceration by a family friend and leader of the local army, Colonel Jacobi (Gunnar Bjornstrand). Jacobi humiliates Jan by insisting Eva sleep with him or he will have them arrested. The sordid affair is nipped in the bud when the rival army takes over the island and Jan is chosen to execute Jacobi. To the horror of Eva, this first taste of blood emboldens Jan who then kills a young soldier to gain access to a boat leaving the war-torn island.
Bergman's answer to the escalating horrors of Vietnam is a fascinating work of science-fiction and a grim portrait of displaced civilians in a time of war. As evidenced by the methods of the Rosenberg interrogators, the musicians' self-preserving behavior on the island and the despair that finally embalms their rescue boat, war does little to embolden the masses but, rather, strips individuals of their dignity and crushes their souls.
Inspired by Todd Browning's Dracula
, Hour of the Wolf
casts Von Sydow as artist Johann Borg, whose philandering ways come back to haunt him when an old woman from a dream tells his wife Alma (Ullmann) about Johann's affair with another woman. Haunted by his sordid past, nightmares that seem all too real and a past lover who mocks his virility, Johann is finally forced to confront his demons at a party from hell.
Bergman's stab at horror is murky and abstract, but more darkly humorous than one might expect.
   The hour between night and dawn.
The Passion of Anna
pits Ullmann as Anna, a handicapped young widow haunted by the accidental deaths of her husband and only child. She lives with a cynical photographer (Erland Josephson) and his unhappy wife (Bibi Andersson) until she hooks up with Andreas (Von Sydow), a loner who can't come to grips with a recent break-up with his wife. She moves in with the ex-con but even though they are compatible they are unable to connect emotionally. The slaughter of innocent livestock and a subsequent suicide drives their already unstable relationship over the brink.
After the genre-specific experimentation in his two previous films, The Passion of Anna found Bergman back in a familiar comfort zone of frank confession and dark rumination. The simplified blocking, camerawork and an obsession with therapy would all become staples of Bergman's riveting work in television during the 1970s.
   Most people live without self-esteem.
At the dawn of the new decade, Bergman's stature as a filmmaker in Sweden was as low as it had been since the early 1950s. His films had never made much money in his home country and while The Faro Trilogy was up to his usual excellent standards, both The Rite and The Touch (his first English language film) did little to boost his reputation at home and abroad.
Shot on small budget for Swedish TV, The Ritual
is one of Bergman's most savage works and his antagonism towards the government and all forms of bureaucracy is imprinted on every frame of this Kafkaesque film. A trio of actors who perform in a risqué and highly popular cabaret are summonsed to an office where they are confronted by a judge (Erik Hell) who asks them a series of embarrassing professional and personal questions. The antagonized troupe heap bribes, scorn and offers of sex to their chilly interrogator before scaring him to death in the kinky, ritualistic finale.
Gunnar Bjornstrand, Ingrid Thulin and Anders Ek, arguably the most malignant protagonists in a Bergman film, are frustrated in their attempts to crack the stony facade of the sweaty civil servant, so they make him a part of their sick act.
For The Touch, Bergman cast Robert Altman staple Elliott Gould to play a troubled, Jewish archeologist who enters into an affair with housewife Bibi Andersson. The snarky Gould is clearly uncomfortable playing the introspective academic leaving acting honors to Bibi who is rather touching as a suburbanite struggling to get out from under the thumbs of two possessive men.
With his career in the doldrums, Bergman escaped to the past and recruited three of his favorite actresses to star in his best film since Persona.
Set in a country manor at the turn of the 20th century, Cries and Whispers
brings Maria (Liv Ullmann) and Karin (Ingrid Thulin) home to give comfort to their dying sister Agnes (Hariett Andersson). The selfish Maria and self-loathing Karin inevitably quarrel prompting the devoted housemaid Anna (Kari Sylwan) to offer some much-needed comfort to the suffering patient.
Agnes' agony brings Maria and Karin closer together and for a while it looks like some good may come out of the tragedy. But when Agnes finally expires, Karin and Maria give Anna her walking papers and return to their old destructive personas.
Shot in rich, muted colors by Sven Nykquist and acted with grace and gravity by the quartet of women, Cries and Whispers is a dreamy, chilling masterpiece. Bergman patterned the three sisters after facets of his mother's personality yet, it is the sick Agnes who wishes to heal the family. Her inability to see the rot mirrors Bergman's own tortured relationship with his mother, who led a similar life of denial.
    I feel profoundly grateful to my life.
The critical and popular success of Cries and Whispers gave Bergman new career options and his next project would introduce his work to a larger audience in his homeland than all of his previous films combined.
A mini-series which ran for five consecutive nights on national television, Scenes from a Marriage
is the story of Johan (Erland Josephson) and Marianne (Liv Ullmann) two professional parents living a seemingly idyllic life in Stockholm. After witnessing the marital meltdown of their two best friends, Johan complains to Marianne about the lack of passion in their own relationship. He then surprises his wife by informing her he is leaving their home to live a younger woman in Paris.
In time, Johan tires of his new girlfriend and tries to rekindle the fire with Marianne, but she has moved on to a new husband and a new life. Invariably, old bonds prove stronger than new resolutions and the pair drifts back to one another.
Shot almost exclusively in close-up and featuring long stretches of introspective and provocative dialogue, Scenes from a Marriage plays like an intense therapy session. Josephson is superb as the disappointed doctor with a mid-life crisis and Ullmann fleshes out the sketchy character of Marianne, who grows to become the mature member of the union.
    It grieves me that I have never loved anyone.
Bergman and his leads reprised the storyline thirty years later in the almost equally riveting Saraband, in which the curious Marianne seeks out the elderly, embittered Johan who is sequestered in the mountains and cut off from all family ties.
Bolstered by the triumph of Marriage Bergman was granted the opportunity to film his dream project, Mozart's The Magic Flute
for Swedish television. In order to make opera palatable to all audiences, Bergman went theatrical introducing funny backstage vignettes and creaky stage props that were sure to charm. Taking a page from the intimate style of Scenes from a Marriage, The Magic Flute opens with a montage of multicultural faces during the overture and the ensuing comedy is filmed almost exclusively in middle or close-up shots.
As with Smiles of a Summer Night, Bergman proved to be a master at this sort of witty and graceful fare and remains a great mystery why he didn't return to satire or farce more often.
Bergman returned to the big screen with Face to Face
, a sobering study of a psychiatrist's descent into madness. Although Dr. Jenny Isaksson (Liv Ullmann) seems to have the best of all worlds, she is increasingly troubled by dark visions playing on her troubled mind. As a result of this dementia her professional and personal life suffers leading to an unsuccessful suicide attempt and reconciliation with her bewildered young daughter.
While the visualizations of Jenny's breakdown are distorted and overwrought, Face to Face is Ullmann's tour de force as a Bergman actress.
     Do you think I'm emotionally crippled for life?
Instead of being allowed to bask in the success of his recent work, tax issues forced Bergman to leave Sweden for West Germany. Away from his homeland and out of his element Bergman seemed to lose focus.
His first German film The Serpent's Egg
, a saga of 1920s Berlin, was the first true genre piece Bergman had made in over two decades.
After his brother commits suicide in their dingy flat, acrobat Abel Rosenberg (David Carradine) is questioned by police about the series of curious deaths which have occurred in the neighborhood. Back on the streets, Abel informs his brother's former wife Manuela (Liv Ullmann) about the tragedy and she invites him to co-habit with her. A cabaret dancer by night, Manuela also does secretarial work for a mad doctor whose shady company is responsible for the mysterious deaths.
Intended as a harbinger of evil things to come, The Serpent's Egg delivers few shocks and Bergman's take on Weimar Berlin is curiously flat.
Next up was Autumn Sonata
, the long-awaited collaboration with Ingrid Bergman which (according to Ingmar) turned out to be a cookie-cutter "Bergman film". That is, perhaps, a harsh assessment, but this story about a haughty concert pianist visiting her neglected daughters (Liv Ullmann & Lena Nyman) after seven years certainly pales next to Bergman's masterpiece of parental dysfunction and neglect, Through a Glass Darkly.
  A mother and a daughter, what a terrible combination.
By the end of the 1970s, Bergman was in danger of becoming irrelevant to newer audiences weaned on in-your-face sex and violence. It was time for the director to re-invent himself, once again.
Made for West German TV, From the Life of the Marionettes
is a chilling study of personal and sexual frustrations.
In the shocking opening sequence, Peter Egerman (Robert Atzorn) gruesomely murders a prostitute after the frightened woman tries to back out of their arrangement. It is immediately clear to the police investigator (Karl Heinz-Pelser) the tightly-wound Egerman is the murderer, but the curious cop interrogates Peter's frigid wife (Christine Buchegger) and his peculiar friends in an effort to find what made the mild-mannered yuppie snap.
In From the Life of the Marionettes, Bergman seems rejuvenated by his new cast of faces and a gritty, police procedural style which pushes the dark story along to its inevitable climax.
As the 1980s dawned Bergman looked ready to begin on a new phase of his career, but on the return to his homeland he looked back to the past to make one of his most haunting masterworks.
Set in Bergman's hometown of Uppsala in 1907, Fanny and Alexander
follows the plight of two children and their recently widowed mother whose lives are turned upside down when the beautiful young woman marries a cold and controlling minister.
After Edvard (Jan Malmsjo) submits his new step-children to a unique brand of discipline, a horrified Emilie (Ewa Froling) enlists the family friend Isak Jacobi (Erland Josephson) to kidnap Fanny (Pernilla Allwin) and Alexander (Bertil Guve), so they all can escape from their god-fearing jailor.
Based loosely on Bergman's childhood and his bittersweet relationship with his parents, Fanny & Alexander turned out to be his warmest and most audience-friendly film since Smiles of a Summer Night.
Initially, we follow the joyous exploits of the theatrical Ekdahls in their lush family home, where the adults act like children and the kids let their imaginations run wild. After the death of their beloved patriarch, the little family is uprooted to Edvard's chaste and chilly house where they fall prey to the will of a cruel master. The sheltered children show some spine and stand up to the frustrated Edvard who makes the mistake of pressuring Emilie into compliance thus hastening his downfall.
Originally intended to be a swan song Fanny & Alexander turned out to be a surprise international hit and indefinitely postponed Bergman's retirement from film.
    The world is a den of thieves and night is falling.
Shot on a makeshift stage and coming in at a mere seventy-one minutes, After the Rehearsal
was probably a letdown to those expecting another Fanny & Alexander. But this dream story about a young leading lady (Lena Olin) who confesses to her director (Erland Josephson) about a hatred for her deceased mother and his former lover (Ingrid Thulin) is a yet another vibrant, well-acted character study from an old lion ready to embark on a new phase of his long career.
During the autumn of his years Bergman applied most of his energy towards his first love, the theatre. Still, the octogenarian continued to turn out some very personal and interesting films for Swedish TV.
Set in an insane asylum and a rural theater during the 1920s, the delightfully quirky In the Presence of a Clown follows the adventures of a mad inventor (Borje Ahlstedt) who devises a means to make silent film talk in his recreation of Franz Schubert's love affair with a teenage courtesan.
Bergman came full circle with the resurrection of his most famous married couple Marianne (Liv Ullmann) and Johan (Erland Josephson) for a rocky reunion in Saraband
. Thirty years after their break-up Marianne visits her former husband only to find him a recluse and at odds with a middle-aged son from his first wife. Once again, she finds she has to play peacemaker with her thorny ex in an impossible situation.
Soon after the completion of this typically unsettling film, Bergman retired for good to his beloved Faro where he passed away in 2007.
Books on Bergman:
Ingmar Bergman: A Critical Biography
– Peter Cowie ****1/2 Written by a longtime Bergman-scholar, this top-notch bio re-examines the director's troubled relationships with his parents and the women in his life with great sensitivity. Cowie's critical takes on Bergman's films are generally spot-on, too. Published in 1982 and currently out of print, this is a good candidate for an update.
Bergman on Bergman
– Stig Bjorkman, Torsten Manns & Jonas Sima **** This penetrating collection of interviews, compiled over a two year period (1968-70), finds Bergman ruminates about his career and as film as art with several of Sweden's top cineastes. Essential for all fans of the director, but sadly, out of print.
The Magic Lantern: An Autobiography
– Ingmar Bergman **** The first part of Bergman's autobiography provides for some chilly and painful reading as the auteur concentrates on the troubled relationship with his father. The searing pace fades but this is still an excellent companion to the Cowie book.
Images: My Life in Film
– Ingmar Bergman ***1/2 This follow-up to The Magic Latern was intended as an answer to Bergman on Bergman, a book which Bergman felt misrepresented his art. That said, this sketchy, behind the scenes look at the director's films is somewhat unsatisfying.
Ingmar Bergman
– Robin Wood **** Wood's illuminating book is the best purely critical take on Bergman . Here, the great critic breaks the director's work into themes ('Parents and Victims", 'Lessons in Love", etc.) to get at the core of this complex and often maddening artist.
Films by Bergman:
1946  Crisis ***
1946  It Rains on Our Love ***
1947  A Ship Bound for India ***1/2
1947  Music in Darkness ***1/2
1948  Port of Call ***1/2
1949  Prison ***1/2
1949  Thirst ***1/2
1950  To Joy ***1/2
1959  This Can't Happen Here ***1/2
1950  Summer Interlude ***1/2
1952  Secrets of Women ***1/2
1953  Summer With Monika ***1/2
1953  Sawdust and Tinsel (aka The Naked Night) ****
1954  A Lesson in Love ***1/2
1955  Dreams ***1/2
1955  Smiles of a Summer Night ****1/2
1957  The Seventh Seal ****
1958  Wild Strawberries ****1/2
1958  Brink of Life ***1/2
1958  The Magician ***1/2
1960  The Virgin Spring ****
1960  The Devil's Eye ***1/2
1962  Through a Glass Darkly ****
1963  Winter Light ****
1963  The Silence ****
1964  All These Women ***1/2
1966  Persona ****
1968  Hour of the Wolf ***1/2
1968  Shame ****
1969  The Passion of Anna ***1/2
1969  The Ritual ***1/2
1971  The Touch ***1/2
1972  Cries and Whispers ****1/2
1973  Scenes From a Marriage ****
1974  The Magic Flute ****
1976  Face to Face ***1/2
1977  The Serpent's Egg ***
1978  Autumn Sonata ***1/2
1979  From the Life of Marionettes ****
1982  Fanny and Alexander *****
1984  After the Rehearsal ***1/2
1984  Karin's Face *** (short)
1986  The Making of Fanny and Alexander ***1/2
1986  The Blessed Ones ***1/2
1997  In the Presence of a Clown ***1/2
2003  Saraband ***1/2