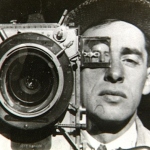 Jean Vigo is the tragic poet and prophetic visionary of the French cinema. The son of a radical newspaper editor (Miguel Almereyda) who died in jail, Vigo bore the stain of his father's alleged betrayal to the country's passionate legion of anarchists. Shunned by the bourgeoisie which had no use for his radical pedigree, young Jean sought to redeem the family name through a brief but uncompromising career in film. Unfortunately, Vigo also inherited his father's inflicted genes and spent much time in and out of hospitals and sanitariums combating tuberculosis, finally succumbing to leukemia at the tender age of twenty nine.
During his short time on earth Vigo compiled an exuberant and surreal body of work, lifting France out of the cinematic dark ages and clearing the path for the poetic realism of Jean Renoir and Marcel Carne.
Vigo's colorful backstory is the stuff from which great films are often made. Born in the Catalan region of Spain, Eugeni Bonaventura de Vigo i Salles (Miguel Almereyda) seemed equal parts revolutionary and rascal. After years of struggling as a writer of anarchist pamphlets and journals and spending time in and out of jail as a political prisoner Almereyda finally seemed to be coming into his own when he became editor of a popular socialist newspaper (Le Bonnet Rouge) at the dawn of the First World War.
The Vigos began to live a life of luxury, as Almereyda spared no expense buying posh houses and cars but his newfound success caused a serious break with his former comrades. All through the war the paper was rocked with graft and scandal and by 1917 Almereyda was back in prison. It was there he was likely murdered—apparently strangled to death by shoelaces given to him by son Jean—but the death was ruled a suicide.
Jean spent the next eight years in boarding schools under an assumed name to protect the frail lad from abuse by his surly classmates. Though frequently ill, Vigo became a stellar student and surprised teachers and coaches with his athletic prowess. Once he learned the truth behind his father's death he began to harbor a deep resentment towards his country and mother who both abandoned him.
Finished with his studies by the age of twenty, Vigo pursued a career in the arts and after dabbling unenthusiastically in photography he turned his attention to film. Staked to a 20,000 franc grant from his father in-law and intrigued by the possibilities of Dziga Vertov
's highly original documentaries of everyday Soviet life, he recruited the Russian filmmaker's brother, cinematographer Boris Kaufman to collaborate on a film portrait of the town he now called home, Nice.
Vigo had a love-hate relationship with the famous resort. While he thoroughly resented the city fathers' kowtowing to the tourist trade, he couldn't help be enamored with the zest of the locals and the stunning physical beauty of this jewel of the Riviera. Intended to be a send-up of a travelogue A Propos de Nice turned out to be an affectionately ersatz slice of Mediterranean life. Kaufman's silent camera captures the sights, smells, and sounds of the bustling waterfront; its posh hotels and casinos, the cafes and gutters of the medieval city.
But it is Vigo's devilish wit and refreshing school boy curiosity which gives À propos de Nice
its satirical bite and surreal take on the local populace. Vigo and Kaufman also made brilliant use of slow-motion cinematography creating a palate as sensuous and dreamy as a midsummer's day.
Trick photography also worked wonders in Vigo's next project Taris, a commissioned short, about the French swimming champion, Jean Taris. Mostly unfamiliar with the sport, Vigo and Kaufman queried the swimmer for professional input. The filmmakers incorporated several surreal flourishes of their own; including an overhead slow motion tracking shot of Taris, a luminous underwater sequence (later reprised to an extraordinary effect in L'Atlante), and finally some slight of eye trickery to complete this quirky character sketch.
As a technical achievement Taris
was a step-up from its famous predecessor and certainly anticipated how sports would be interpreted on television in the future.
Zigo's first feature, the anarchistic romp Zéro de conduite
, is a highly autobiographical take on the director's rough and tumble boarding school days. Initially a subject of his schoolmate's derision, the shy and officious Tebard (Gerard de Bedarieux) is a subject ripe for corruption and liberation. He befriends three rebellious classmates who encourage him to wreak havoc on their nasty head supervisor (Du Verron), a greasy, pedophile teacher (Leon Larive), and their paranoid dwarf Principal (Delphin).
Seen through the eyes of these "little devils" the classroom and dormitory are battlefields to be mined with militaristic strategy and won with spontaneous magic. Zero de Conduite is a brazen, inspired pastiche of shocking moments and haunting beauty. The tedium of dorm existence and drab school lessons is broken up by dreamy and surreal interludes, culminating in the blurry of a slow-motion feather pillow fight and the rebellious children's march to the roof.
Vigo's film was deemed too controversial for distributors to touch and it was soon banned in France. Still, executive producer Jacques-Louis Nounez believed in the young director's singular vision and was happy to fund his next project. This time though, Vigo would have to find a story which would have some sort of appeal to the public or risk the possibility of having his once-blossoming career completely derailed.
Initially L'Atalante
, a straightforward tale of a young married couple's rocky honeymoon on a river barge, didn't hold much interest for Vigo. But as Nounez was sold on the Jean Guinee-penned script and Vigo had no other imminent options, he reluctantly signed on. The producer encouraged his young protege to take liberties with the material to create the sort of film that would satisfy his artistic sensibility. Vigo found a kindred spirit in Jean Renoir's favorite muse Michel Simon who plays a memorable role created specifically for his singular talents.
L'Atalante opens with the outdoor wedding of barge captain Jean (Jean Daste) and a pretty country girl, Juliette (Dita Parlo). After the hasty nuptials they immediately hop on Jean's homely old boat, where they'll live with the garrulous first mate Pere Jules (Simon), a cabin boy (Louis Lefevre), and several curious cats.
In the first of several breathtaking visual sequences, Boris Kaufman's camera follows the luminous Juliette as she strolls across the deck of the barge in her resplendent wedding dress. It is a rare privileged moment for the young wife as the lack of privacy and day to day boredom of being stuck on the claustrophobic boat quickly causes tension in her marriage. Juliette yearns to go ashore but jealous Jean isn't keen to share his bride with the world.
One day, Juliette visits the cabin of Pere Jules which to her delight turns out to be a wonderland of exotic memorabilia. In an almost embarrassingly intimate and erotic sequence, the Rabelaisian old man charms and nearly seduces the wide-eyed Juliette with his bizarre souvenirs and seafaring adventures until Jean breaks in and forbids her to visit Jules' cabin again.
Ultimately, Juliette's longing for excitement gets the best of her and when the barge docks in Paris, she sneaks out to take a tour of the City of Light. Her flirtation with a foppish traveling player further irritates Jean until he pulls the boat out of harbor, leaving his unworldly wife to fend for herself. It takes the humanitarian savvy of Jules to bring the heartbroken couple back together again.
Vigo uses the slender framework to hang a portrait of sexual longing which has few peers in film. Deeply sensuous and poetic to the core, L'Atlante is the expression of a mature artist at the height of his powers.
Vigo would only live long enough to learn his masterwork was butchered and re-edited by distributors. Fortunately, the missing pieces weren't discarded and L'Atalante has been restored but critical acclaim didn't come to Vigo until long after his death. Still, his spirited influence was felt by a generation of French filmmakers responsible for such poetically-charged masterworks as A Day in the Country
, Les Enfants du Paradise
and Beauty and The Beast
.
Books on Vigo:
Jean Vigo
– P.E. Salles Gomes **** Don't let the creaky prose deter you., this amazing work of investigative reportage and thoughtful analysis from 1957 remains the go-to source on the subversive and ill-fated filmmaker.
Jean Vigo
– John M. Smith ***1/2 A serious and earnest work of film criticism which makes a strong case for Vigo's debt to the Russians (Vertov and Eisenstein), and investigates his fascination with the American studio comics (Chaplin & Sennett) and the early French innovators (Melies & Clair). Smith's prose is a little windy but his book is definitely worth a gander. Out of print.
Films by Vigo:
1929  A Propos de Nice ***1/2
1931  Taris ***1/2
1933  Zero de Conduite ****
1934  L'Atalante ****1/2