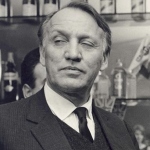 Joseph Losey's disarming cinema of sexual and ideological frustration may well have been exacerbated by the exile imposed on him by the reactionaries and bean counters in the American and European film industries. Unlike most of Hollywood's blacklisted figures, Losey managed to thrive under conditions of adversity and under the guise of virtual anonymity in Europe where he put together a hypnotic and thought-provoking body of work.
When self-loathing and navel-gazing became hip in the late 1960s, Losey blew with the wind of trend to the point of self-parody. In peril of becoming the poor man's Antonioni, the maverick director turned the tide by embarking on a series of artistically ambitious and intellectually rigorous projects continuing up until his death at the age of seventy-five.
Born into a cultured Wisconsin clan with pre-Revolutionary War roots, rebellious Joseph Losey bucked family tradition by shunning Princeton and matriculating at both Dartmouth and Harvard with hopes of entering the medical field. Poor grades and a keen interest in the arts soon prompted Losey to throw caution to the wind and move to New York and take up stage acting.
Though jobs were scarce during the early years of the Depression, Losey helped support himself by writing freelance articles and reviews for The New York Times and the Saturday Review of Literature before landing the plum job of stage manager for the first live shows at the Radio City Music Hall in 1932.
The next few years saw Losey directing plays and getting involved in leftist politics, leading to a move to the Soviet Union where he attended classes by the legendary filmmaker Sergei Eisenstein
. Disillusioned by Russia's poverty and an inability to find work in the Moscow theatre, Losey returned to the United States. Despite his struggles to get a foothold in the theatre, Losey's networking with giants such as the Russian Vsevolod Meyerhold
and Bertholt Brecht
had left a deep impression on the young director.
Back in New York, Losey was one of the founders of the Living Newspaper, a political theater based on the Brechtian style. In time, Losey would adopt Brecht's detached, reflective style as his own but as a struggling artist trying to make ends meet he soon accepted work directing the quirky animated piece Pete-Roleum and His Cousins for Standard Oil and documentaries for the Rockefeller Foundation.
Living in the Big Apple also gave Losey the opportunity to direct radio dramas for NBC until the advent of World War II halted his professional progress. Due to his involvement in leftist causes, Losey was turned down by the military when he tried to offer his services to aid the war effort. He was drafted for the infantry in 1944 and worked for several months under Frank Capra's filmmaking unit on Long Island before getting a medical discharge.
MGM hired Losey to direct shorts (including the controversial A Gun in His Hand) but he would turn down L.B. Mayer's offer of a seven year contract to work for the studio. In the meantime, Losey began to get plum assignments in the theater, directing a hit version of Brecht's Galileo
with Charles Laughton turning in a legendary performance as the persecuted scientist. But by the end of the 1940s, Losey decided his future lay in a field where more progressive and innovative work still seemed possible; the cinema.
     Unhappy the land that is in need of heroes.
As fate would have it the current RKO head of production Dore Schary was looking to introduce a more socially-conscious cinema to the post-war republic. The earnest producer signed Losey and assigned him to direct the Technicolor anti-war fantasia, The Boy With Green Hair
.
After his parents are killed during in London during the war, young Peter Frye (Dean Stockwell) is shuttled from relative to relative before he finally finds a home with the kindly Gramps (Pat O'Brien). Peter and the old-time actor get along famously until the day Peter wakes up with a full head of green hair. Abused by schoolmates and townsfolk for being different Peter is ready to cut off his hair until he meets up with a band of war orphans who teach him the meaning of strength and compassion.
     Persecution of children by children.
The film's sharp criticism of the Allied nations certainly must have seemed curious to post-war audiences, but quite unlike many of Schary's message-laden productions (Crossfire
, Battleground
, The Window
, etc.) The Boy with Green Hair treads softly and makes its points with simplicity and charm.
After Howard Hughes fired Schary Losey followed the producer to MGM where he worked as in the script department until leaving to direct another conscientious project at Paramount. Based on a novel by Daniel Mainwaring, aka Geoffrey Homes (Out of the Past
), The Lawless
follows the predicament of small town California newspaper publisher Larry Wilder (MacDonald Carey) who bucks tradition by sticking up for the rights of the area's Mexican fruit pickers much to the disgust of the locals.
Having spent much of the last decade as a beat reporter on the mean streets of New York City and worn-torn Warsaw, Wilder retreats to a sleepy California town where he becomes editor of the local paper and hopes to find peace of mind. He attends a dance on the Mexican side of town and flirts with Sunny Garcia (Gail Russell), a reporter on a local weekly paper. She is disappointed by Wilder's apathy and unwillingness to take a side in a brewing conflict between the well-to-do whites and the immigrants they oppress.
When a Mexican boy is unjustly accused of murder he goes on the lam to avoid a probable lynching until Wilder steps in to quell the rage. The editor's subsequent support of the boy, and the plight of the Mexicans, stirs up anger and resentment in a community already on edge.
Shot almost exclusively on location Losey presents the class clashes and Wilder's transformation with refreshing objectivity, helping The Lawless escape the dreary doldrums of typical message cinema.
     The smell of leaves burning at night.
As was the wont of the era's talented B-List directors Losey began to get assignments making crime films; now better known as film noir. Given his lean esthetic sensibilities it is surprising he took so well to the Expressionistic genre but these films brought out his talent for creating menacing characters and pressing situations and, indeed, much of his British work of the 1950s would continue to have a distinct noir flavor. His first stab at the genre The Prowler
is a sordid triangle about a lonely young wife who encourages the unseemly advances of a restless cop.
After spotting a Peeping Tom outside her bathroom window Susan Gilvray (Evelyn Keyes) calls the police to investigate. Beat cop Webb Garwood (Van Heflin) senses the attractive Susan is in an unhappy marriage and after several unsuccessful attempts to seduce her, he finally gains her favor. Webb tries to get Susan to leave her radio host husband but she is afraid the older man will resort to violence to keep her in tow. Frustrated, the cop devises a wild plan that finds him returning to the Gilvray house to track down Susan's Peeping Tom in the hope the jealous husband will rear his head.
Seamy as a hot summer's night, The Prowler recalls a more famous tale of L.A. adultery and murder, Double Indemnity
, but rather than getting the chance to spill the beans to a father confessor Webb is tracked down and shot in a ghost town as desolate as his soul. The Prowler would be Losey's best American film and during his bleak years abroad he would use it as a calling card to lure talent to work in future projects.
During the same year, Losey was given the thankless task of directing an American remake of Fritz Lang's M
. Despite the later film's lackluster reputation it holds up quite well due to a terrific hard-boiled cast (Howard Da Silva, Raymond Burr, Luther Adler, Steve Brodie, etc.), Losey's choice of vivid L.A. locales and his empathetic direction of David Wayne as the persecuted child killer.
Rather than pursue the theme of mob justice which distinguished Lang's take on the material, Losey made (or was forced to make) the blander choice to portray the twisted scenario as a social problem. Filmed by cinematographer Ernest Lazlo, M turned out to be one of Losey's most striking and exciting films, offering promise of greater things ahead. Unfortunately, Losey's political past was closing in on him, but he did manage to make one last feature before leaving his homeland.
In The Big Night
insecure adolescent George La Main (John Barrymore Jr.) is forced to witness the savage beating of his bartender father (Preston Foster) at the hands of Al Judge (Howard St. John) a powerful local sportswriter. Angry, George sets out to avenge his father but when his journey takes him into the city's cut-throat underworld he learns a bitter truth about the man who gave him life.
Taut and character-driven, The Big Night is one of the few noirs where redemption is not only possible but actively encouraged. Losey took special interest in the young Barrymore and coaxes a sensitive performance out of an actor who would never rise to such heights again. George gets an unsentimental education in easy blondes, cheap bars, boxing rings and fleabag hotels until he comes face to face with the vengeful man who dishonored his father.
    I got the impression you were packing a gun.
Through his own incompetence as a hit man, George is the rare anti-hero who would get a second chance—which was more than Losey could expect from the House Un-American Activities Committee. Ignoring a summons to testify and name names, Losey was blacklisted in Hollywood. Rather than retreat to Broadway, Losey resumed his new livelihood in Europe where, over time, he would carve out one of the most unusual and intriguing careers in film.
For the time being, the long arm of the blacklist continued to affect Losey's work opportunities abroad, so in order to earn his keep he had no choice but to continue to direct under a pseudonym. For his first European project, the low-budget Italian feature Stranger on the Prowl
, starring fifty-seven year old Paul Muni, Losey gave directing credit to a son of one of his producers (Andrea Forzano) but his ruse was soon found out and he was banned indefinitely from making films in Italy.
Stranger is yet another film about a man being persecuted and chased by the law. Shot on location in the atmospheric port city of Livorno, we first encounter the stranger (Muni) being thrown off a boat after he can't come up with enough money for passage. He tries to pawn off his only possession, a handgun, but when he is offered a piddling amount he returns to the street. Hunger prompts him to steal food out of a storefront window and when he is caught by the proprietress he accidentally kills her. The ensuing chaos frightens Giacomo (Vittorio Manunta), a small boy who has just borrowed a bottle of milk from the shop. Fearing the police are coming after him, Giacomo follows the stranger on the man's desperate flight through the streets and dark alleys of the harbor town.
Combining elements of noir and neo-realism Stranger on the Prowl plays like a tauter, less sentimental version of The Bicycle Thief
.
Losey returned to the United States briefly then, broke and alone, he moved to Great Britain where he would live until the end of his life. By 1954 the English film industry was finally beginning to show signs of life after two decades in the doldrums. Losey's early work in the British cinema saw him shift gears from conscientious noir to social class melodrama, but he continued to favor troubled protagonists with psychological issues.
His first film with Dirk Bogarde, The Sleeping Tiger
is a sexually-charged drama about Clive Esmond (Alexander Know) a do-gooder psychologist who aims to heal Frank Clements (Bogarde), the well-heeled young man who held him up at gunpoint. The clever Clements thinks Esmond a fool and begins an affair with the doctor's frustrated, younger wife, Glenda (Alexis Smith). Clements continues to participate in crime but the gullible Esmond, thinking he is near a breakthrough, covers for his patient pushing Glenda to take the drastic step of running away with her bad boy lover.
    Bedtime reading for senile stags.
In the compelling, and often malignant, Finger of Guilt (aka The Intimate Stranger) American film producer and reformed ladies' man Reggie Wilson (blacklist victim Richard Basehart) receives a series of letters from an unknown woman who threatens to kill herself if he doesn't acknowledge their relationship. Fearing he is being given the shakedown, Reggie shows the letters to Ben Case (Roger Livesey) his father-in law and head of his film studio. Case advises him to ignore the letters but Reggie foolishly decides to confront the woman (Mary Murphy) with his wife in tow, beginning a downward spiral of doubt and suspicion.
Losey's most ambitious film to date Time Without Pity
is a stylized thriller following the bizarre plight of writer David Graham (Michael Redgrave) who upon release from a Canadian sanitarium finds his son Alan (Alec McCowen) is to be executed the next day for murdering his former lover. Thinking Alan's defense team has botched the case David begins his own breathless investigation in which the circumstantial evidence points towards Robert Stanford (Leo McKern), the blustery mogul father of his son's best friend. But since Stanford is unwilling to admit his guilt David must pull out all stops to save his son.
Though a bit overwrought, Time without Pity does boast a pair of brilliant performances from Redgrave, as a sweaty alcoholic on the brink of falling off the wagon and the guilt-ridden bully McKern who will do whatever's necessary to keep his neck out of the noose.
Even though he had been in the UK nearly five years Losey still felt the sting of the blacklist and job offers were few and far between. Finally, out of the blue, in 1958 he was offered a three picture deal by producer Maurice Cowan. Losey's first assignment for Cowan would be The Gypsy and The Gentleman
, a melodrama shot in color and set in late 18th Century England. Although Losey thought the material was trash, he set out to bring some delicious amorality to the blood and thunder story.
An incorrigible drunk and ladies' man, Sir Paul Deverill reluctantly enters into an engagement with a rich commoner in order to keep from having to give up the family castle to collectors. Sir Paul's horn dog ways quickly leads him astray when he invites the beautiful gypsy Belle (Melina Mercouri) to his bedchambers for an overnight romp. Deverill soon finds he can't live without the gypsy and he invites her to be his live-in mistress much to the horror of his prim sister Sarah (June Laverick) and the family of his fiancee. The aristocrat is unaware Belle is actually in love with another gypsy Jess (Patrick McGoohan) and the pair is plotting to shake Sir Paul down. Paul marries Belle to keep her happy but when she learns Sarah is to be the sole benefactor in a rich aunt's will, she and Jess take matters into their own greedy hands.
In lesser hands such lurid material could well have relegated The Gypsy and the Gentleman to a curious footnote to McGoohan's distinguished career, but Losey has great affection for these monsters and his shameless film holds up surprisingly well.
Losey returned to more familiar ground in Blind Date
(aka Chance Meeting), a taut psychological mystery told in flashback about a young artist suspected of murdering of his French mistress. Late for a tryst with his girlfriend, Jan Van-Rooyer (Hardy Kruger) finally arrives at her flat only to find Jacqueline Cousteau (Micheline Presley) is dead. Faltering under interrogation of Inspector Morgan (Stanley Baker) the artist implies Jacqueline was being kept by an important aristocrat, putting an altogether different light on what seemed to be an open and shut case.
Losey cultivated a personal and professional relationship with Kruger and took pride in the German's vulnerable performance, but it would be the tortured alpha-male Baker who would soon became Losey's favorite pre-Dirk Bogarde leading man.
The success of Blind Date at the box office didn't translate into many worthwhile directing offers for Losey, so he continued to accept intriguing low-budget projects. The Criminal
(aka Concrete Jungle) finds career criminal Johnny Bannion (Baker) fresh out of prison and ready to pull off his biggest caper, yet.
Johnny takes time out to smell the roses hooking up a luscious blonde (Margit Saad), in turn infuriating his ex-girlfriend Maggie (Jill Bennett). The robbery is a grand success and Johnny squirrels away the 40,000 pound booty, but his luck goes sour when the scorned Maggie turns him in to authorities. Facing a long stretch in the clink, Johnny makes a deal with the mob to break out of jail so he can divvy up the score. Once out, Johnny finds he has one too many deals with the devil when his gang turns on him forcing the former big shot to run for his life.
Filmed in gorgeous black and white by the brilliant Robert Krasker (Brief Encounter, The Third Man) and featuring a modern jazz score from Johnny Dankworth, The Criminal is indeed a criminally overlooked Brit noir of the first echelon.
The Hammer Studios Cinemascope production of The Damned
was a bizarre project which proved to be the final bridge from the genre film to Losey's unique brand of art cinema.
While traveling in England retired American businessman Simon Wells (MacDonald Carey) tries to hook up with a pretty biker moll Joan (Shirley Ann Field), but her insanely jealous brother King (Oliver Reed) is hot on their trail. Chased by King's gang, Simon and Joan escape on his yacht then stumble upon a weird collective of radioactive eleven year old children who are being kept from public eye by a scientist (Alexander Knox) working on a top secret project for Big Brother.
When a man cannot choose he ceases to be a man.
After promising opening sequences of youth gang violence—anticipating A Clockwork Orange
—and the incestuous psycho-drama between the creepy Carey, sex-kitten Field and the smoldering Reed, The Damned degenerates into a mish-mash of apocalyptic science-fiction. Still, the widescreen process lent itself well to Losey's impeccable use of the long take (giving his twisted protagonists even more room to indulge in abnormal behavior) and showed off his talent for capturing haunting landscape imagery.
    Only a gentleman can command loyalty.
For better and worse, the 1960s would find Losey coming into his own as an international director of renown. Like Italy's Michelangelo Antonioni, Losey's increasingly detached style and explorations into social and sexual angst wowed the art house crowd. But while Losey could look fashionably hip in coolly sinister settings, his attempts to embrace this demanding new audience occasionally went awry.
In Eva
the self-loathing Tyvian Jones (Stanley Baker) is a fraudulent Welsh writer living the high life with his lovely fiancée Francesca (Virna Lisi) in Venice. Tyvian's tightly-wound world is torn asunder when he meets and falls for the cold and calculating Frenchwoman Eve Olivier (Jeanne Moreau).
Losey drew from his failed marriages to create a very personal film, but he admittedly overcompensated for the lack of chemistry between his two leads with some his most over the top directing. Initially slated to be a two and a half hour film Eva was sliced down to a 107 minute running time by the producers which, according to Losey, cut the very heart out of the project.
The film's commercial and critical failure was devastating to Losey who returned to England with tail firmly tucked under legs. Nonetheless, Losey's chilling style continued to evolve and when the right material presented itself his rigorous, intellectual approach packed a lethal punch.
Set in the rain-soaked trenches of France during WWI, King & Country
(based on John Wilson's play Hamp) is a taut morality piece that finds simple-minded Private Hamp (Tom Courtenay) on trial for his life on charges of desertion. Kemp is being defended by a stiff-upper lipped aristocrat Captain Hargreaves (Dirk Bogarde) who is frustrated by his inability to make the prisoner understand the seriousness of the accusations.
Hargreaves lays out an eloquent defense of shell-shock, winning the judges over but flying in the face of the war lords who override the verdict to make Kemp an example for "moral's sake". When the rest of the platoon is unwilling to accept the dire sentence, it is up to Hargreaves to step-up and put the soldier out of his misery.
I'm not afraid of dying tomorrow, only of getting killed.
While bearing some resemblance to Stanley Kubrick's similarly-themed anti-war classic Paths of Glory
, Losey coaxes sensitive performances out of his leads and gets his prescient point across in a more subtle manner.
    It's a bit amateur to plead for justice.
Losey's teaming with the brilliant young playwright Harold Pinter proved a high water mark for 1960s British cinema. Based on a novel by Robin Maugham and a screenplay by Pinter, The Servant
opens with Tony (James Fox), a booze-addled young aristocrat, hiring the soft-spoken manservant Hugo Barrett (Dirk Bogarde) to run his household. Tony is delighted by Barrett's taste and suggestions in furnishing the flat, but his strong-willed girlfriend Susan (Wendy Craig) suspects Hugo is having too much influence in the house and so she puts the gentleman's gentleman in his place.
Barrett introduces a slutty girlfriend Vera (Sarah Miles) as his sister and installs her as the maid with the hope she'll seduce the vulnerable Tony and rid them of Susan's presence. Tony falls for the bait but when he catches Barrett and Vera in bed together he tosses them out of the flat setting up a new round of psycho-sexual hijinks between the naive blue blood and the twisted commoner.
After the disaster of Eva Losey was careful not to get too involved with the material and here his cool touch works wonders, tempering Pinter's dark flights of fancy into scenes rippling with erotic tension.
   He may be a servant but he's still a human being.
The team's second joint effort Accident
, based on a novel by Nicholas Mosley
, could be likened to a piece of atonal chamber music. Told in a series of fragmented flashbacks, Stephen (Dirk Bogarde), a bored 40something Oxford professor, is a tutor and advisor the handsome young aristocrat William (Michael York) and his beautiful Austrian gal pal Anna (Jacqueline Sassard).
The only emotions worth having are ecstasy and despair.
Though married with a third child on the way, shy and reserved Stephen finds himself taking a fancy to the mysterious Anna, but when he invites the young couple over for Sunday lunch he is not amused to find his best friend and professional rival Stanley (Stanley Baker) in tow. Soon after, Stephen is shocked and upset to learn Anna is has been sleeping with Stanley under his own roof. Unable to sort out his complex feelings, Stephen grows increasingly numb until a tragic accident crushes his fantasy and returns him to academic doldrums.
In Accident this unlikely collaboration between an American Midwesterner and the Jewish boy from South London succeeded wildly in capturing tensions fraught between the British social classes and creating a spot-on portrait of mid-life crisis.
  It is very difficult to love people who are good to us.
Losey's art house successes brought the sort of international recognition that gave him the opportunity to make pictures with bigger budgets featuring some of the era's giant stars (Monica Vitti, Elizabeth Taylor, Richard Burton & Robert Mitchum) but the resulting films are mixed bags at best.
Based on a wildly popular comic strip Modesty Blaise
found Losey installing Antonioni's favorite leading lady Vitti in the title role as a sex-kitten secret agent out to save swinging London town. Although light comic spoofs were clearly not Losey's bag he does seem to have fun in this colorful, ultra-mod mess of a movie.
Based on Tennessee Williams' The Milk Train Doesn't Stop Here Anymore
, Boom!
casts Taylor as Sissy Goforth, a bitchy eccentric who lords over her small island off the coast of Italy. Her curious, regimented life is torn asunder by the appearance of Chris Flanders (Burton), a would-be poet and professional houseguest. Sissy confronts the talky intruder and soon comes to realize Chris is actually an angel of death set to deliver Ms. Goforth from her unhappy existence.
Co-starring the delightful Noel Coward as The Witch of Capri Boom certainly has entertainment value as a camp classic, but it's hard to believe Losey harbored such intentions when he embarked on the project.
The insincere sympathy of the faraway stars.
Based on a story by Marco Denevi, Secret Ceremony
pits Taylor as Leonora, a beautiful prostitute long haunted by the death of her young daughter. While on a city bus, she is befriended by Cenci (Mia Farrow), a mentally disturbed heiress who invites Leonora to take the place of her dead mother in a Byzantine mansion. The pair is harassed by Cenci's greedy spinster aunts then disturbed by the arrival of her lecherous stepfather Albert (Robert Mitchum).
Despite the presence of the two Hollywood heavyweights, Secret Ceremony belongs to Farrow who gives a shattering performance as a tempestuous creature trapped in the body of a child. Unfortunately, the rest of Ceremony doesn't keep pace with Cenci's strange passions and the muddled film ends up going off the rails well before the disturbed girl puts an end to her life.
Nothing about Figures in a Landscape
appealed to Losey except for a big payday, but here he proved nearly adept in the action-adventure genre as his good friend Robert Aldrich. Based on a screenplay rewritten by co-star Robert Shaw, the action follows two escaped inmates who struggle to stay one step ahead of soldiers and helicopter surveillance in a South American country.
A soldier gone bad MacConnachie (Shaw) reluctantly helps the younger Ansell (Malcolm McDowell) navigate the rugged, open terrain until they reach a small town where they are discovered. Freed from their wrist bonds, the men stock up on food, guns and ammo to resume their quest to reach the mountain border and freedom.
Though Losey recoiled from the excessive violence of the material and was forced to use an unfamiliar crew he succeeded in making one of his most visually impressive and exciting films. Losey found inspiration in the casting of the stern Shaw with the fresh McDowell and transformed their desperate adventure into a most unusual mentor-pupil relationship.
Losey's final go-round with Pinter, The Go-Between
, is the director's most relaxed yet emotionally-shattering film. Set in a Suffolk country manor at the turn of the 20th century, twelve year-old Leo (Dominic Guard) is invited to spend a stiflingly hot summer at the home of the aristocratic Maudsleys. After his young friend is taken ill by the measles, Leo finds himself at the mercy of the clan's polite but disinterested adults. Beautiful Marion Maudsley (Julie Christie) takes a shine to Leo and beckons him to deliver notes to Ted Burgess (Alan Bates), a local farmer.
At first, Leo is thrilled to be of service to Marion but he is devastated when he finds she is actually in love with the earthy Ted. Leo is further stung by Marion's cruelty when he tries to beg off being her go-between and his curious behavior leads Mrs. Maudsley (Margaret Leighton) to suspect her daughter is having an unacceptable affair with the commoner. Having already intruded in society he can't comprehend Leo allows his betrayal of Marion to haunt him deep into adulthood, a victim of an unfulfilled life.
The critical and box office success of The Go-Between spurred Losey onto tackling more topical and classical subjects during this latest burst of creative activity.
The Assassination of Trotsky
finds the exiled hero of the Soviet revolution (Richard Burton) a prisoner in his own Mexico City compound, living in the past and sprouting off political philosophy that a world consumed with a new World War will never get a chance to hear. Brooding Frank Jacson (Alain Delon) arrives in the city and befriends a lovely Communist (Romy Schneider) who he hopes will give him an introduction to the great man. This insecure and obscure Belgian is intent on murdering the old revolutionary who seems resigned to his bloody fate.
Rather than dwell on Trotsky's sad plight, Losey chose to explore the psychological make-up of the vain Jacson who chooses self-martyrdom for a doomed cause. The making of The Assassination of Trotsky proved to be something of a catharsis for Losey who still harbored guilt over his early support of Stalin, the brutal dictator and slayer of artists and ideologues.
For Ibsen's A Doll's House Losey would have to deal with another prisoner in Nora Helmer. Seemingly settled in a comfortable village house on a snowbound Norway fjord, Nora (Jane Fonda) frets her bank manager husband Torvald (David Warner) will learn she took out a substantial loan from his sworn enemy Krogstad (Edward Fox) to fund a therapeutic trip to Italy.
Torvald refuses to listen to Nora's pleas to reinstate Krogstad at the bank but her friend Kristine (Delphyne Seyrig) convinces the distraught trophy wife it would be best for her controlling husband to learn the truth. Krogtad's damning note brings out the worst in Torvald and steels Nora into making a life-altering resolution of her own.
Made at the height of the women's liberation movement, Losey had difficult dealings with Seyrig and Fonda, who both felt he was muting Ibsen's feminist message. As it turned out Losey's objectivism gave his chilly doll a pathetic quality and helped create a sensitive portrait of a people trapped by prejudice and convention.
Losey's television production of Brecht's Galileo
is an intellectually honest take on the ground-breaking astronomer who let himself be persecuted then exiled by the Vatican in the name of science. After ditching plans to shoot the film on location in Venice and Florence, Losey retreated to a soundstage where his project took on regal style which reflected the source material.
Losey was pleased with Topol's level-headed interpretation of Galileo but he secretly regretted not being able to film the play with mercurial Laughton in the lead. As a result the tired and elderly scientist's surprising acquiescence to the demands of the Church prove more disappointing than tragic.
   The aim of science is to set a limit to infinite error. 
Though never a favorite of Losey, The Romantic Englishwoman
effectively recaptures the upper-middle class sexual angst found in The Servant and Accident.
While on a trip to Baden-Baden, the bored Elizabeth Fielding (Glenda Jackson) is propositioned by Thomas (Helmut Berger) a handsome young German, who she believes to be a poet. Upon her return to England her suspicious husband Lewis (Michael Caine) invites Thomas to stay on at their house. Suspecting Thomas is a loafer and lives off older women Lewis hires the young man to type up his latest screenplay.
The writer is suspicious of his wife's benign relationship with Thomas and concocts wildly overwrought scenes of infidelity in his screenplay. Pushed to the brink by Lewis' cruelty and paranoia, Elizabeth and Thomas finally consummate their affair in the South of France where she discovers the sinister truth about her lover.
Based on a wickedly funny script by Thomas Wiseman and Tom Stoppard, The Romantic Englishwoman showed Losey could dish-up a zesty entertainment—just as long as there was a dash of vinegar in the mix.
Losey's most ambitious film of his late period is a Hitchcockian wrong man story about persecution, flight and frustration. Set in Vichy-governed Paris of 1942 Mr. Klein
follows the travails of an unscrupulous art dealer whose identity is stolen by an unseen man of Jewish origin.
Fearing he could lose his thriving business Robert Klein (Alain Delon), a Catholic, sets out to investigate his doppelganger but by calling attention to his plight, Klein digs himself into a deeper hole with the police. Klein has little compassion for the Jewish plight but he becomes increasingly intrigued by Klein II's mysterious secret life which dwarfs his own empty existence.
The search has a humanizing effect on the soulless art dealer who suddenly takes an aesthetic interest in the masterpieces he's acquired. He then tries to charm his double's intelligent women and even brings a stray German Shepherd into his home. When the opportunity to clear his name finally arrives Klein ignores a friend's plea to save his skin and blindly follow his namesake onto a train headed to a death camp. The desire for self-knowledge wins out over self-preservation even at the greatest of costs.
Losey clashed with Yves Montand during the making of Le routes de sud (Roads to the South), a failed personal project about a screenwriter who turns his back on the good life to aid the resistance during the waning days of Franco's Spain. Spurred by the uneasy relationships Losey had with both his father and son many of his films featured similar rocky pairings between mentors and younger men.
Here, Jean Larreau (Montand) is former resistance fighter for Spain spurred-on by his idealistic son Laurent (Laurent Malet) to investigate his wife's mysterious roadside death. He crosses the border to Spain with Laurent's girlfriend Julia (Miou-Miou) in tow and together they find Jean's old network of revolutionaries hiding underground still in fear of the old Fascist.
Jean finally learns of his wife's sacrifice for the cause and in the wake of Franco's death he decides not to pursue justice. An angry Julia leaves Jean and upon his return to France he learns Laurent had set him with his girlfriend in the hopes the affair would form a father-son bond.
Losey finally realized his dream of filming a classic drama, in this case Mozart's opera Don Giovanni
, entirely on location in 1979. He was able to secure villas in and around Vicenza and Venice and hire first rate singers (Kiri Te Kanawa, Jose Vandam, John Macurdy, Teresa Berganza, etc.) and a world class conductor (Lorin Maazel) to record the score. Working once again with trusted cameraman Gerry Fisher and Billy Wilder's favorite set designer Alexandre Trauner, Losey boldly set forth in creating a visually sumptuous pageant, transforming a visually static art form into fluid cinema.
Opening up opera would have its drawbacks. Losey's generous use of Brechtian long shots and long takes often shifts focus from his wandering troubadours to the plumed gardens, lush wall frescoes, chauffeured gondolas, Palladio's columns and all the glories of Venetian Italy. In the role of the notorious Don, Ruggiero Raimondi is no Adonis but he turns in a deliciously sinister performance. Adorned in array of bizarre wigs straight out of The Bride of Frankenstein, the sexy Te Kanawa brings fire to the austere proceedings as the wronged Donna Elvira.
     Love, that is the soul of genius.
Minor flaws aside, Losey's Don Giovanni was an impressive achievement and ranks alongside Ingmar Bergman's The Magic Flute
and the Powell-Pressburger adaptation of Offenbach's The Tales of Hoffmann
as the finest examples of screen opera to date.
Losey lost little stride after turning seventy, in fact his plate for future projects was just as full as it had ever been. La Truite
(The Trout) found him working with Isabelle Huppert in a chilly drama about a savvy but soulless young woman who revenges herself on older men.
Having soured on her fisherman father and his perverted best friend, Frederique (Huppert) marries the gay Galuchat (Jacques Spiesser) and together they run an art racket and shake down their new partners. After hustles two cocky businessmen at a bowling alley, Frederique has the married Rambert (Jean-Pierre Cassel) and the dashing Saint-Genis (Daniel Olbrychski) eating out of her hands. She runs off with the younger man to Tokyo where she is encouraged to cultivate her sexuality by a liberated American woman (Alexis Smith) living in the same hotel.
But Frederique turns out to be frigid and when she learns Galuchat has tried to commit suicide she leaves Saint-Genis and rushes back to France. There, her weak alcoholic husband is being nursed back to health by the jealous Rambert who ends up killing his wife (Jeanne Moreau) in a rage after Frederique spurns his advances.
Until it goes off the rails, La Truite is compelling fare about those unable to love and the poor souls who fall under their spell.
With both Losey and featured player Diana Dors being diagnosed as terminally ill, it's rather remarkable Steaming ended up being as good as it is. Based on a popular new play by Nell Dunn, Losey didn't stray from the original mise-en-scene, focusing exclusively on his seasoned actresses (Vanessa Redgraves, Sarah Miles and Dors) who portray a band of woman coming to grips with men, middle-age, and their sexuality while convening at a Turkish bath in London.
Having had difficulties with so many of his lead actresses during his long career, it's ironic Losey choose to take on such a feminist endeavor for his swan song. But it also speaks volumes about a man who stood on principle even when it threatened his livelihood.
Books on Losey:
Conversations with Losey
– Michel Ciment ****1/2 These interviews conducted over a three year period (1976-79) features the erudite and bitter Losey offering plenty of biological anecdotes and superb insights on the arts of theater and filmmaking. It's terrific stuff—certainly near level of the Welles-Bogdanovich interview book.
Joseph Losey: A Revenge on Life
– David Caute **** A superb, warts and all study of the blacklisted director who left Hollywood for Europe and evolved into one of the most unusual American filmmakers of the 50s and 60s. As Losey's films are revived much these days, Caute's bio may end up being the last word on this fascinating director.
The Cinema of Joseph Losey
– James Leahy ***1/2 A concise and an opinionated study of the director covering the years through Accident. Worth picking up if the Ciment and Caute books are unavailable.
Films by Losey:
1939  Pete Roleum & His Cousins ***1/2 (short)
1941  A Child Went Forth *** (short)
1945  A Gun In His Hand *** (short)
1948  The Boy With Green Hair ***1/2
1950  The Lawless ***1/2
1951  The Prowler ****
1951  M ***1/2
1951  The Big Night ***1/2
1952  Stranger on the Prowl ***1/2
1954  Sleeping Tiger ***1/2
1956  The Intimate Stranger ***1/2
1956  Finger of Guilt ***1/2
1956  Time Without Pity ****
1958  The Gentleman and the Gypsy ***1/2
1959  Blind Date ***1/2
1960  The Criminal (AKA Concrete Jungle) ****
1961  The Damned (AKA These Are the Damned) ***1/2
1962  Eva ***1/2
1963  The Servant ****1/2
1964  King and Country ****
1966  Modesty Blaise ***
1967  Accident ****
1968  Boom! ***1/2
1968  Secret Ceremony ***1/2
1970  Figures in a Landscape ****
1971  The Go-Between ******
1972  The Assassination of Trotsky ***1/2
1973  A Doll's House ***1/2
1974  Galileo ***1/2
1975  The Romantic Englishwoman ****
1976  Mr. Klein ****1/2
1978  Les Routes du Sud ***1/2
1979  Don Giovanni ****
1982  The Trout ***1/2
1985  Steaming ***1/2