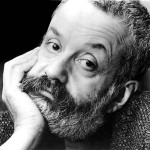 Mike Leigh is the film poet laureate of the British working and middle classes. Although he has been at the brink of commercial success for over two decades Leigh has, time and again, turned his back on Hollywood to carve out one of the most distinctive and integral bodies of work in the modern cinema. He chronicles the dreams, aspirations, and, more often than not, the frustrations of those either stuck in the middle or at the bottom of the British social class structure. Leigh takes much time crafting his pieces and the resulting work is, at turns, grueling and riveting. There is no in-between.
Much of Leigh's success can be attributed to a work ethic gleaned from hours spent rehearsing actors. An expert at patience and pressing all the right buttons, Leigh gives his performers much rope to find themselves in their roles until they become equal contributors in the creative process. The benevolent Leigh has always been reluctant to claim authorship of his plays and screenplays but his voice remains strong and distinctive. His imprint has been felt on his theatrical pieces and movies from the get-go.
A native of greater Manchester, Leigh went against the wishes of his Jewish father to pursue a career in the arts. The cartoonist briefly matriculated at the Royal Academy of Dramatic Arts before charting his own course in the London theatre scene during the tumultuous early 1960s. This would-be successor to Britain's Angry Young Men never cottoned to the kitchen-sink style of theatrics of Joe Orton or Tony Richardson.  Indeed, Leigh showed a preference for iconoclastic writers like Samuel Beckett
, Harold Pinter
and Flann O'Brien
, who would all influence him immeasurably in years to come.
Throughout the 1960s, Leigh spent much time hardscrabble Birmingham where he honed his craft directing plays, all the while doing occasional acting gigs for plays around London and for the BBC. His perseverance and talent finally bore fruit when he got funds to shoot an independent production in 1971.
For those who find Leigh's films too astringent, his debut Bleak Moments
might come as a pleasant surprise. Here, his protagonists are socially awkward and painfully shy misfits but they aren't tainted by the sort of bitterness which, for better or worse, gives much of Leigh's later work its harsh humor. The mise-en-scene in Bleak Moments is spare and shabby. The long, drawn-out scenes are, at turns, wry and excruciating and carried out to often painful conclusions.
The shy, yet oddly serene, Sylvia (Anne Raitt) is the head of a peculiar social circle which includes a chatty co-worker Pat (Joolia Cappleman) who harbors a dark secret, an insecure teacher Peter (Eric Allan) she hopes to spark, her invalid sister Hilda (Sarah Stephenson), and Norman (Mike Bradwell), a goofy guitar-playing neighbor who has a crush on her. Sylvia has more on the ball than the rest of her friends but she doesn't seem to have to courage to become more upwardly mobile.
Crushed by their keen sensitivity and a lifetime of disappointment, Sylvia and her friends have become too inarticulate to vent their feelings leading to an overwhelming air of frustration. This makes for an insular, vaguely unhappy world but it comes as something of a comfort these timid souls at least have each other.
Shot for BBC in 1975 Leigh's Five-Minute Films
didn't see the light of day until 1982. Even at such rigid time restraints Leigh's narrative style remains recognizable and he introduces plenty of whimsy into these small gems. The Birth of the Goalie of the 2001 F.A. Cup Final is the story of a man (Richard Ireson) who incessantly nags his wife (Celia Quirke) about having a child. She finally gives in and much to his delight the baby turns out to be a boy he can train as a future footballer.
Old Chums is a vignette about a two "friends" who don't have much in common anymore. Brian is a salt of the earth braggart (Tim Stern) who does a good job in making Terry (Brian Putt) feel uncomfortable about his bum leg and cheap car.
In Probation Herbert Norville is a black teenager who has been apprehended for a crime he says he didn't commit. He is briefed by Mr. Davies (Anthony Carrick), a crass social worker who clearly doesn't believe or trust the boy. Three women get together for hard drinks and tea in Afternoon. The hostess (Rachel Davies) and a teacher (Pauline Moran) are getting blitzed during a welcome break away from dealing with kids. They are annoyed by the arrival of their newlywed friend (Julie North), but the young woman's naivete soon has the pair in stitches.
A Light Snack is an inter-spliced vignette about two assembly line workers (Alan Gaunt & David Casey) who get on each other's nerves while making cookies and a window cleaner (Richard Griffiths) who mooches a moldy tart from his baffled employer (Margaret Heery).
Produced for the Birmingham-based Second City Firsts BBC program, The Permissive Society
is a half hour sketch about Carol (Veronica Roberts), a young woman who is spending an uncomfortable evening at the home of her none-too-bright boyfriend Les (Bob Mason). Her efforts to improve his slovenly tendencies go awry when Les enters into a crass conversation with his sister Yvonne (Rachel Davis). An argument ensues between the couple and Les makes a surprising confession.
Leigh got plenty of valuable experience directing six episodes in BBCs long-running Play for Today series. Shot between 1973-'79, these films are of varying quality but the best of the bunch (Nuts in May and Abigail's Party) hold their own with the best of Leigh's later work.
Hard Labour
is a dry, almost austere character sketch of the mostly mute Mrs. Thornley (Liz Smith) who gets paid low wages for keeping house for rich clients like the cold Mrs. Stone (Vanessa Stone). Her life at home is no treat either, as her beer-guzzling security guard husband Jim (Clifford Kershaw) treats her like a piece of furniture.
The housekeeper surprises daughter Ann (Polly Hemingway) by admitting she had a difficult labor with both her and her brother Edward (Bernard Hill). But for the most part Mrs. Thornley presses on and says nothing. One day at confessional she tells the Priest (Hal Jaeynes) she is repulsed by her husband's touch and doesn't love him. The disinterested cleric has little useful advice for the housekeeper and dismisses her so he can return to his newspaper.
The deliciously funny Nuts in May
chronicles the misadventures of an eccentric Croydon couple who run afoul of their neighbors on a camping holiday in the countryside.
Keith (Roger Sloman), an uptight social service employee, and his more free-spirited partner Candace Marie (Alison Steadman) pitch their tent at an out of the way campground conveniently located near an ancient sites, the coast, and a nearby quarry. Their solitude is broken by the arrival of a fellow camper Ray, a Londoner who insists on playing his noisy radio. Keith rudely insults the geology student prompting Candace Marie to try and make amends with the young man.
Keith grows inexplicably jealous of Ray and takes on a condescending attitude towards his neighbor. After putting the student in his place Keith is horrified by the appearance of an outrageous biker couple Finger (Steven Bill) and Honky (Sheila Kelley) who set up camp next door. After a night out drinking with Ray, the bikers irritate Keith with their incessant giggling and attempts at lovemaking.
The grump dresses down the young couple then confronts Finger the next day when he attempts to build a fire—a violation of camp rules. Keith flips out and picks a fight with the biker and the ugly aftermath prompts the Croydonites to pack up and leave.
The by-the-book Keith gets his comeuppance when he gets pulled over by a snotty traffic cop and gets a stern lecture on a couple of piddling violations. Sloman gives a pitch-perfect performance as the civil service employee who fancies himself the second coming of Thoreau. But this paragon of political correctness only offends his partner and neighbors with his incessant moralizing and intolerance.
Based on a play by Leigh Abigail's Party
is actually a bit of a misnomer as the action takes place during at a small cocktail party at the flat of Beverly (Alison Steadman) and Laurence (Tim Stern). Beverly has invited new neighbors, the insipid Angela (Janine Duvitski) and her sullen husband Tony (John Salthouse), over for drinks. Abigail's mother Sue (Harriet Reynolds) arrives just as her teenage daughter's party begins downstairs. Sue's discomfort and reserved manner throws a damper on the evening's festivities.
A frustrated idealist, Laurence clashes with the crass Beverly and he tries to spark the gentile Sue. The romantic Beverly flirts with Tony, a former footballer who is clearly sick of his chatterbox wife. Angela is oblivious to the sparks between her host and husband but Laurence begins to panic and suffers a seizure. The ensuing drama appeals to Beverly who turns on her guests to stand by her fallen man but her newfound compassion comes too little and too late.
As befits a work from the stage Abigail's Party is more dramatically concise than the typical Leigh fare. Unresolved feelings run rampant and unlikely hook-ups seem imminent, but the shocking finale puts too tidy a bow on this tense comedic work.
Owing to compromises made to placate his bosses, Leigh wasn't pleased with the television production and has mostly disowned it ever since. Ironically, Abigail's Party aired during a stretch of bad weather in the UK and became an unexpected smash hit.
    You're a boring little bugger, Laurence. 
Kiss of Death
is a minor chamber piece about a quartet of young working class adults looking to get lucky in love. An undertaker's assistant Trevor (David Threlfall) is curious about sex but he is too awkward to make a move on Linda (Kay Adshead), an aggressive shop girl who has took a fancy to him. Growing increasingly frustrated by Trevor's perceived lack of interest she gives him an ultimatum. After he fails the test Linda turns to his handsome mate Ronnie (John Wheatley) who also happens to be dating her best friend Sandra (Angela Curran).
Leigh rarely focused his camera on the upper classes which is something of a shame since Who's Who
turned out to be such a delightfully witty takedown of the silly and superficial employees of a London brokerage house.
The snobbish Alan (Richard Kane) is married to April (Joolia Cappleman), an addlebrained woman who raises pedigree cats. Bored with his wife's hobby Alan tries to impress the bewildered pet photographer Shakespeare (Sam Kelly) in an elaborate British family tree he has constructed during his hours away from work.
The younger members of the firm, Kevin (Philip Davis), Giles (Adam Norton) and Nigel (Simon Chandler) play host to a couple of young women at a dinner party where they drink too much sherry and insult the more vivacious of the two girls because of her "punk rock" wardrobe.
One of Leigh's most accomplished early works the BBC production of Grown-Ups
follows the plight of a young Canterbury couple held hostage in their new home by the wife's lonely, neurotic sister.
Having moved into their first house, Dick (Philip Davis) and Mandy (Lesley Manville) become increasingly aware her annoying sister Gloria (Brenda Blethyn) won't let them alone. Driven out of her home by an unseen mother Gloria becomes an unwelcome presence at the council house and makes life a misery for the working class couple.
Dick wants Mandy to give Gloria an ultimatum but, in reality, neither has the spine to confront her. When it looks like Gloria is ready to move in for an indefinite spell Dick finally snaps and chases her into the home of his humorless neighbor and former teacher, Mr. Butcher (Sam Kelly). Gloria sequesters herself in the bathroom and the exasperated Butcher finally manages to evict his crazed pupil from the house.
The dust finally settles and after much coaxing Dick and Mandy finally convince Gloria to go home. This unexpected conflict with the neighbors prompts Butcher's attractive young wife Christine (Lindsay Duncan) to confront her dreary husband about the lack of love in their marriage.
With its vividly-drawn portrayals and droll sense of humor, Grown-Ups was the best Leigh film since Nuts in May. Neither Dick nor Mandy are aware of the fire Gloria has lit under them until her button-pushing finally sets off the volcanic reaction which will help them get on with their lives.
The television production of Meantime
is a sober take on a lower class London family which mostly subsists on welfare. The mentally-thick Colin (Tim Roth) gets plenty of life advice from his angry brother Mark (Phil Daniels) and sympathy from the local girl Hayley (Tilly Vosburgh) who has took a fancy to him.
Out of the blue, his well-to-do aunt Barbara (Marion Bailey) shows up to offer Colin a job but her good intentions only causes resentment within his family. Mark's unexpected appearance at Barbara's house prompts Colin to turn down the job and return to the fold. The disappointed benefactor turns to the bottle and wonders where her life went wrong.
The low-key Meantime is one of Leigh's least humorous works, but the raw chamber work does boast sensitive performances from Roth, Vosburgh and Bailey. Gary Oldman also makes a bold debut as Colin's skinhead neighbor.
Filmed during the height of the troubles in Northern Ireland Four Days in July
is a thoughtful yet surprisingly mellow chronicle of two families (one Catholic, one Protestant) struggling to get along in bombed-out Belfast.
As fate would have it the two wives Colette (Brid Brennan) and Lorraine (Paula Hamilton) are expectant mothers slated to deliver their babies on the 12th of July, a Protestant holiday. Four Days is a subtle character study in which Leigh expertly cross-cuts between the families, suggesting the differences between the warring tribes aren't as substantial as they might seem.
Leigh's first true feature since Bleak Moments High Hopes
follows the misadventures of Mrs. Bender (Edna Dore), a sullen, elderly widow who would prefer to be left alone to her memories—such as they are.
She lives in a council house in a London slum which is being gentrified by yuppies. One afternoon, after forgetting her prescription and her purse Mrs. Bender finds herself locked out of her apartment. She asks her haughty neighbor Laetitia Boothe-Braine for assistance. The snob reluctantly calls the old woman's insecure daughter Valerie (Heather Tobias) to fetch another pair of keys. Laetitia presses Valerie's buttons setting off alarms in every direction.
Mrs. Bender's son Cyril (Philip Davis) leaves his delivery job to assist in the "emergency" and when neurotic Valerie arrives on the scene she immediately locks horns with Laetitia and her posh husband Rupert.
Valerie decides to make a big to-do over her mother's seventieth birthday and invites Cyril and his longtime girlfriend Shirley (Ruth Sheen) to her house in the suburbs to join in the festivities. Before delivering Mrs. Bender to her party Valerie's husband Martin Burke (Philip Jackson) takes time out to meet his mistress.
Once at the Burke home a drunken Valerie forces champagne on her mother, Cyril and Shirley and does a good job at making everyone miserable. After deflecting a pass thrown by Martin, Shirley gathers Mrs. Bender and Cyril to return to the city. Sensing Mrs. Bender is unhappy Shirley and Cyril invites her to stay the night at their flat. After a good night's sleep and a morning tour of the building's rooftop Mrs. Bender seems strangely reinvigorated. Perhaps, there is hope after all.
In High Hopes Leigh skewers the upwardly mobile crowd in his own inimitable fashion but the Boothe-Braines can be counted among his finest comic creations. Content smoking pop and reading Marx in their cold water flat, the bohemian Shirley and Cyril offer compassion and safe haven for lost souls. Still, Cyril's cynicism is proving to be destructive and it will take some prodding by Shirley to get him to see the big picture.
The television short The Short and Curlies is a series of charming vignettes following the unlikely courtship between the dour shop girl Joy (Sylvestra Le Touzel) and her geeky beau Clive (David Thewlis). Initially, she is put off by the gawky boy's incessant one-liners and awkward jokes, but his persistence finally wins her over. News of their upcoming nuptials pleases Joy's hairdresser (Allison Steadman) but only makes the woman's pregnant daughter all the more depressed.
A Sense of History is a droll "documentary" in which the 23rd Earl of Leete (Jim Broadbent) confesses to murdering his brother, wife and two children.
Mourning the decline of Britain, the Earl admits to being beaten repeatedly by his father, a wastrel who nearly drove the proud family into financial ruin. The future Earl committed his first crime at seven when he murdered his eleven year old brother who he suspected a homosexual. Refusing to fight for the Allied cause because of loyalty to Hitler, the Earl enters into marriage and sets to repairing the damage done to the family's fortune.
This admittedly cold man inexplicably falls in love with another woman, but since his wife refuses to give him a divorce the Earl murders her and his two children—unfortunate eyewitnesses to his crime. As fate would have it his lover wed another man but the Earl remarries anyway and begins a new family. Based on a radio play by Broadbent, A Sense of History is a tour de force takedown of an aristocracy increasingly out of step with the rest of the UK.
Leigh's intricate mix of high comedy and mundane drama found its perfect storm in Life Is Sweet
, a winning take on a complicated north London family.
Wendy (Alison Steadman) and Andy (Jim Broadbent) are happily married with a pair of diametrically opposed twin daughters. The responsible Natalie (Claire Skinner) is a plumber's assistant who is saving up her money for a dream trip to New York. Nicola (Jane Horrocks) is bulimic and her perpetually nervous state precludes her from venturing outside. While Wendy and Andy are at their day jobs Nicola's secret boyfriend (David Thewlis) comes over for didactic conversation and kinky sex.
Andy horrifies Wendy by purchasing a dilapidated mobile lunch counter but she is gradually won over by his desire to start a business of his own. Wendy offers to help their eccentric friend Aubrey (Timothy Spall), who has made a similarly quixotic decision to open an exotic food restaurant in a working class neighborhood. Neither business venture is founded on solid ground but Wendy uses her husband's example to dress down Nicola whose negativity and whiny ways have driven her parents to wits end.
Natalie finally confronts her errant sister and helps her to see the error of her ways. The shamed Nicola is left to confront a future which, with the support of a loving family, is looking less daunting.
Leigh's patented edginess is, for the most part, smoothed-out in Life Is Sweet. Wendy, Andy and Natalie are happy and disarmingly well-adjusted. Nicola does her best to spread misery throughout the house but her snide remarks are deflected with good humor in the hopes she will come around and see the light. Leigh's new, mature vision would take root in a variety of marvelous films in the coming decade.
Where Life Is Sweet came close to resembling a commercial film, Leigh's follow-up feature Naked
might well be his darkest, most experimental, and demanding project.
Johnny (David Thewlis) is first seen engaging in rough sex with a young woman he ends up ditching in the hallway of an apartment complex. Johnny goes on the lam from Manchester to London where he lands at the flat of his former girlfriend Louise (Leslie Sharp) who he left in the lurch years before.
As Louise is away, Johnny sets out to seduce her neurotic flat mate Sophie (Katrin Cartlidge). The crazy pair hit it off but when Louise returns she has an argument with Johnny and he hits the streets again.
Johnny crashes outside an empty building watched over by Brian (Peter Wright), a lonely security guard. Brian takes pity on Johnny and invites him inside where the homeless man lectures the hapless guard on religion and philosophy. Then Johnny rubs salt in the wound by seducing a woman Brian has been spying on across the way.
Meanwhile, Louise's posh, sadistic landlord Jeremy (Greg Cruttwell) terrorizes the two women at their flat. They briefly escape to share their misery over a drink, but when they return to the flat they are met by Johnny who has been beaten to within an inch of his life.
The unlikely trio is in bed together when their other roommate Sandra (Claire Skinner) returns from her holiday early. In the adjacent room Sandra finds another unpleasant surprise in the person of Jeremy who is looking to get laid. Rehabilitated and looking to free himself from these complicated relationships, Johnny returns to the streets where he continues his odyssey deep into the night.
Leigh revved up the pace and imploded conventional narrative in the free-flowing Naked. Both Johnny and Jeremy are quite brutal though the angry drifter actually does seem to have a soul. This punishing film finds Leigh pushing his confrontational style to the limit. For those who have the courage to watch Naked it can be a riveting experience.
   What goes on in this postmodern gas chamber? 
The critical success of Naked helped establish Leigh as a force on the art house circuit. It would be four years before he completed his next feature, but Secrets and Lies
turned out to be the most popular film of his career. The premise follows a young woman seeking out her true identity but her journey into the past reopens old wounds in an already dysfunctional family.
After the death of her mother Hortense Cumberbatch (Marianne Jean-Baptiste) makes the fateful decision to seek out her biological mother. The black optometrist is surprised to learn the woman is white and resides in a lower classic district in London.
The sweet, simple Cynthia (Brenda Blethyn) lives in a drab flat with her unhappy daughter Roxanne (Claire Rushbrook). Her brother Maurice (Timothy Spall) is a well-to-do photographer stuck in an uneasy marriage with Monica (Phyllis Logan). They are frustrated because her medical condition doesn't allow her to conceive. Maurice also harbors guilt about his lack of a relationship with Cynthia but rarely tries to communicate with his sister all the same.
Hortense arranges to meet with Cynthia who initially refuses to believe this young black woman could be her daughter. The truth finally sinks in and once she gets to know the warm-hearted Hortense she decides to introduce her to the rest of the family. She makes the unwise decision to unveil this new daughter at Roxanne's birthday party held at Maurice's swanky home.
The startling revelation prompts Roxanne—herself a fatherless daughter—to reject her mother but Maurice steps up with a revelation of his own which helps start the healing process within the family. Torn and battered, the two step-sisters decide to make a go of it and become friends. The truth rids the family of their secrets and lies and finally gives Cynthia some peace of mind.
    I wouldn't know him if he stood up in my soup! 
Curiously free of Leigh's acidic humor, the tremendously moving Secrets and Lies was nonetheless a huge success. Having turned the intensity level high in his most recent projects, Leigh exhaled a bit with his next project, Career Girls
.
Having not seen her former flat mate since graduating college, Annie (Lynda Steadman) takes the train into London to visit Hannah (Katrin Cartlidge), a successful businesswoman. Both women have come a long way in six years but Annie regrets not having found a male partner while Hannah seems to have put aside thoughts of having relationships in pursuit of her career. While they search for a new flat for Hannah, they revisit the past in a series of awkward and painful reminiscences.
The sweet and melancholic Career Girls came as something of a disappointment to fans and critics who expected another searing work from Leigh. But, a case can be made for Career Girls being one of Leigh's most pleasing and redemptive films. The wistful finale at the train station suggests the women have grown beyond one another and will likely never see each other again. It's a sad, yet lovely, touch to a beguiling little film.
    You can see the class struggle from here.
Leigh's most ambitious film Topsy-Turvy
is also his most conventional effort to date. TT is a character-driven portrait of Gilbert and Sullivan reaching a crisis point in their long, successful career in London's music hall.
When their latest collaboration Princess Ida opens to lukewarm reviews and less than capacity audiences, Arthur Sullivan (Alan Corduner) threatens to disband the team unless his partner William Gilbert (Jim Broadbent) agrees to drop their patented formula and create something more artistically ambitious for their next production. Both Gilbert and their producer Richard D'Oyly Carte (Ron Cook) think this a bad idea but Sullivan skips off to Paris before the partners can talk him out of quitting the team.
Gilbert reluctantly attends a performance of a traditional Japanese play with his wife Kitty (Lesley Manville). Struck by the simplicity and beauty of the production, the librettist devises a new scenario which inspires Sullivan to compose his best score, yet, and puts the team back on track.
Though slightly overlong (things do get bogged down when the put-upon troupe finally confronts the tyrannical Gilbert) Topsy-Turvy offered evidence Leigh could deliver an entertainment with commercial possibilities. To his credit, Leigh refused stray from his original sense of purpose and soon returned to creating his unique brand of cinema.
Lack of money and depression go hand in hand in All Or Nothing
, Leigh's bruising examination of a working classic community (barely) living in a London apartment complex.
Phil (Timothy Spall) is a cab driver who lives with his common law wife Penny (Lesley Manville) and their two unhappy, overweight children Rory (James Corden) and Rachel (Alison Garland) in a cramped, drab flat. Since Phil has a penchant for letting non-paying customers off the hook and daydreaming on the job he can hardly make ends meet. Penny is defeated and has given up on finding happiness.
Fortunately, she is friends with fellow cashier Maureen (Ruth Sheen) who seems to be the only well-adjusted person in the complex. Unfortunately, her daughter Donna (Helen Coker) is stuck in an abusive relationship with a young thug who has made her pregnant.
Their neighbors are even worse off. Ron (Paul Jesson) is a hard-drinker who works at the same company as Phil and his wife Carol (Marion Bailey) is a complete lush. Their unemployed daughter Samantha (Sally Hawkins) dresses like a tart and teases two of the local boys.
One afternoon, Rory collapses with a seizure and it is Samantha, of all people, who alerts the paramedics and Penny. They reconvene at the hospital to check on Rory's condition but Phil is nowhere to be found. A revealing talk with a French client has set off a bout of depression and the foggy-headed cabby has driven to the coast.
When Phil finally shows up at the hospital Penny dresses him down. He finally cracks and admits he is scared that Penny doesn't love him anymore. She tries to bolster his spirits and together with Rachel they visit Rory who, like his parents, will have a long road to recovery.
     If you're not together, you're alone. 
Vera Drake
was a project close to Leigh's heart, yet the film's success at the box office turned out to be something of a surprise. This unlikely story about a good Samaritan who does secret abortions for no fee in 1950s England was certainly a sensitive subject but Leigh and his well-rehearsed cast hit all the right notes in this sobering production.
Although she has to struggle to make ends meet the good-natured Vera Drake (Imelda Staunton) brings much joy into the life of her husband George (Richard Graham) and two children. She has nothing but good things to say about her neighbors and acquaintances and they pay her back in kind.
Unbeknownst to her family and most of her friends the erstwhile charwoman performs her charitable duties to "young women in trouble" for no fee. As it is nearly impossible and humiliating to have the illegal operation performed by legitimate doctors, women from all walks of life take Vera up on her services.
Vera is unaware her "business partner" Lily (Ruth Sheen) is charging these women for her services. When one of the operations goes awry and the patient nearly dies, the police press Lily to spill the goods on Vera. Mrs. Drake is arrested but when she goes to trial none of her friends volunteer to vouch for her character and she is sentenced to two and a half years in prison.
After the completing two of his most demanding films Happy-Go-Lucky
seemed like a light character piece about a children's schoolteacher whose cheery demeanor is looked upon with suspicion by friends and strangers alike. But, like most things Leigh, appearances prove deceiving.
Poppy (Sally Hawkins) tries to bring a little joy into people's lives, blissfully unaware of the affect her chatter has on their rattled souls. Still, she lives in uncomplicated bliss with her flat mate Zoe (Alexis Zegerman), visits her two sisters, and spends what little money and free time she has partying and enjoying the good life.
She finally meets her Waterloo in Scott (Eddie Marsan), a tightly-wound driving instructor who berates everything from Poppy's high heels to her skills behind the wheel. Poppy's innocent prattle gets the angry Scott to reveal some deep-rooted prejudices but during their tense lessons they slowly develop a weird bond.
Poppy meets a soul mate in the uncomplicated Tim (Samuel Roukin), a handsome young fellow with whom she begins relationship. They have the misfortune of running into Scott who has a surprisingly emotional and violent reaction to his pupil's love life.
Despite the presence of the bubbly Poppy, Happy-Go-Lucky turned-out to be Leigh's most laid-back and melancholic film since Career Girls. Thankfully, the perky protagonist is wise beyond her years and one of the director's most well-adjusted heroines.
    The road to Hell is paved with good intentions. 
This autumnal touch is also felt in Another Year
, a story about a content elderly couple and their complex circle of friends.
Taking place over the course of a year, therapist Gerri (Ruth Sheen) and geologist Tom (Jim Broadbent) play host to their bachelor son Joe, Tom's dissatisfied friend Tom and Gerri's desperately unhappy work mate Mary (Lesley Manville) at their home and local pubs. The three singles are envious of Gerri and Tom's happy partnership and look for escape in making vague holiday plans, big expenditures, and taking to the bottle.
The fragile Mary becomes increasingly rattled when her crush on Joe goes unrequited, so she turns to Tom's inarticulate brother Ronnie (David Bradley) who is left numb by the recent death of his wife. Unfulfilled, Mary crashes a family gathering which prompts Gerri to suggest she seek therapy to come to grips with her misery.
A case can be made for Another Year to be Leigh's most downbeat film, but it is also a courageous, pitch-perfect take on aging and loneliness. Rather than ride the tide of his critical popularity and continuing on in what was becoming a narrow career path, Leigh deserves credit for digging deep and exploring topics generally considered too depressing for the commercial cinema.
    I'm very much a glass-half-full kind of girl.
The British painter J.M.W. Turner seemed like an unusual subject for Leigh to tackle but, perhaps not so surprisingly, his Mr. Turner
turned out to be a complicated character sketch of a most enigmatic man.
The film opens with the middle-aged artist returning home from a trip abroad. Turner (Timothy Spall) makes a half-hearted effort to reconnect with friends and family. Soon, he is seen renting a flat on the coast under an assumed name where he will begin another series of seascapes. Over the years Turner returns to the seaside inn and ultimately enters into an affair with his landlady, the widow Booth (Marion Bailey).
Turner is also carrying on with Hannah (Dorothy Atkinson), the niece of an old flame (Ruth Sheen) with whom he fathered two daughters. The irresponsible artist is also seen holding court and wreaking havoc at the Royal Academy of Arts. Even if the young Queen Victoria (Sinead Matthews) can't be numbered among his admirers, Turner is held in high esteem by critics and fellow artists.
Mr. Turner doesn't initially appear to be a film about the artistic process but Leigh and cinematographer Dick Pope do a splendid job in making much of their film resemble a Turner canvas. Even if he proves to be a maddeningly elusive subject, we are in the artist's head, and his world, every step of the way.
Leigh's stubbornness to cave into conventionality has made it difficult for him to get funding, so new films have become few and far between. Still, as Leigh never seems content to give audiences what they expect his latest work is just as fresh as the innovative BBC productions from the 1970s. We can only hope this uncompromising artist doesn't lose faith and pack it in while he's still in fighting form.
Books on Leigh:
Mike Leigh on Mike Leigh
– (ed. Ann Raphael) **** Ms. Raphael goes toe-to-toe with the curmudgeonly Leigh and gets many fascinating personal and professional insights. Leigh opens up about Jewish roots, backstage methodology, and reveals a not-so surprising distaste for Thatcher and the disappointing Labour party. Until Leigh writes his own memoir this will remain the go-to book one of Britain's finest filmmakers.
Feature Films by Leigh:
1971  Bleak Moments ****
1973  Hard Labour ***1/2 (TV Plays for Today)
1976  Nuts in May **** (TV Plays for Today)
1977  The Kiss of Death ***1/2 (TV Plays for Today)
1977  Abigail's Party ***1/2 (TV Plays for Today)
1979  Who's Who ***1/2 (TV Plays for Today)
1980  Grown-Ups **** (TV BBC2 Playhouse)
1982  Home Sweet Home (TV Plays for Today)
1984  Meantime ***1/2 (TV film)
1984  Four Days in July ***1/2 (TV film)
1988  High Hopes ****
1990  Life Is Sweet ****
1992  Naked ****
1996  Secret and Lies ****
1997  Career Girls ***1/2
1999  Topsy-Turvy ***1/2
2002  All or Nothing ****
2004  Vera Drake ***1/2
2008  Happy-Go-Lucky ***1/2
2010  Another Year ****
2014  Mr. Turner ***1/2
Shorts and Television Shows by Leigh:
1975  The Permissive Society *** (TV Second City Firsts)
1975  The Birth of the Goalie of the 2001 F.A. Cup Final *** (Five-Minute Films)
1975  Old Chums *** (Five-Minute Films)
1975  Probation *** (Five-Minute Films)
1975  Afternoon *** (Five-Minute Films)
1975  A Light Snack *** (Five-Minute Films)
1976  Knock for Knock (TV Second City Firsts)
1988  The Short and Curlies ***1/2 (TV short)
1992  A Sense of History ***1/2 (TV Short)
2012  A Running Jump (Short)