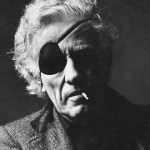 In the sensitive, intensely personal cinema of Nicholas Ray, sons and lovers dwell in lonely places. Abandoned and left to fend for themselves Ray's brooding heroes and heroines have big dreams and grand schemes, but more often than not they make bad choices, running afoul of society and the law. It is clear Ray felt this was not the best of all worlds and indeed he never seemed to feel comfortable in his own skin or profession, crashing and burning out at the relatively young age of fifty-two.
Born Raymond Nicholas Kienzle Jr. in Wisconsin to an alcoholic father and aloof mother, young Ray grew up fast in the streets of La Crosse. A prodigious student, Raymond learned how to drive at thirteen mostly so he could he collect his father from one of the city's many speakeasies. By the time Raymond was sixteen his father was dead, but the son had moved on, applying his talents to writing for the new medium of radio.
Raymond soon won a scholarship to the University of Chicago but the regulated academic environment stifled him, so the anxious young man changed his name to Nicholas Ray and moved to New York City in search of a career in the theatre. The early 1930s were an exciting time to live in Manhattan, but the grim realities of the Great Depression made it extremely difficult for an aspiring artist like Ray to find stage work.
After a brief internship with architect Frank Lloyd Wright
, a refreshed Ray returned to NYC ready to take an active role in the city's burgeoning leftist theatre, impressing the Group Theater's resident genius Elia Kazan
and fellow citizen of La Crosse and co-founder of the "Living Newspaper" theatre, Joseph Losey
. Ray's interest in American folk music led to a fruitful collaboration with roots music archivist Alan Lomax
and a short-lived job in the Roosevelt administration creating rural theater.
A heart murmur kept Ray from active duty during WWII, but his knowledge of folk music led to an invitation from Mercury Theater producer John Hausman to work on a new radio project for the war effort. Though basically propaganda, the multicultural Voice of America came under scrutiny of right-wing politicos and was forced to disband.
Now in his thirties and in need of a job, Ray accepted an invitation to Hollywood to act and work behind the scenes on his friend Gadge Kazan's debut film A Tree Grows in Brooklyn
. Ray soaked up the Tinseltown scenery but his non-conformist ideas didn't sit well with the film industry's establishment, so he returned to New York City where he hooked up again with Hausman to direct an early television adaptation of Sorry, Wrong Number
. Hausman then used Ray to assist him direct two musicals, Lute Song
with Mary Martin and Yul Brynner and a fascinating but failed Duke Ellington musical based on The Beggar's Opera.
Ray's good faith was rewarded when Hausman brought his protege to Hollywood to work on RKO's adaptation of Edward Anderson's lovers on the run novel, Thieves Like Us
. Given free reign by the studio's new production head Dore Schary, Ray began to shoot his extraordinary debut during the summer of 1947.
  I shoulda robbed people with my brain instead of a gun.
They Live by Night
hits the ground running, as an aerial camera follows a speeding car along a barren interstate. The car, carrying three escaped convicts and a kidnapped farmer, spins out and crashes. The youngest of the escapees, Bowie (Farley Granger), hurts his foot and is left behind to be picked up later by Keechie (luminous Cathy O'Donnell), the daughter of the men's conduit on the outside.
Meanwhile Bowie's partners, the one-eyed lush Chickamaw (Howard DeSilva) and the grizzled T-Dub (Jay C. Flippen), are busy plotting a bank heist and have enlisted Bowie to be their driver. As Keechie tends to Bowie's wounds a bond grows between the young innocents. The trio knocks over the bank then split up until the heat cools down. With Bowie's share of the loot he and Keechie run away together on a bus and during a brief stopover in a small town they get married.
Afraid of being recognized, they buy a car and spend a brief, idyllic "honeymoon" in a desolate cabin but Bowie's tabloid legend makes him too recognizable for comfort and the pair finds themselves back on the road again, in a futile search for a happy, anonymous existence.
Ray reprised the theme of doomed young lovers in Knock On Any Door
when Nick Romano (John Derek), a street thug with matinee idol looks, finds a brief redemption through his romance of a timid shop girl (Allene Roberts). When Nick is charged in a murder rap, he hires neighborhood friend and liberal lawyer Andrew Morton (Humphrey Bogart) who tries every trick in the book to clear this victim of society's ills in what appears to be a frame-up.
Nick's back story takes up over half of the film.  It tells a familiar saga of a good boy-gone bad then takes flight when the young sharpie makes an unlikely pursuit of the winsome Emma—who bears no little resemblance to Bowie's Keechie. Ultimately, Morton's carefully constructed defense of Nick is picked-apart by a ruthless prosecuting attorney (George Macready) who sees through the young man's ruse.
   Live fast, die young, leave a good-looking corpse.
For his next Santana Productions project Bogart rehired Ray to direct him in a personal project for which he delivered the most harrowing performance of his career. Loosely based on a noir novel
by Dorothy Hughes, In a Lonely Place
follows the plight of a misanthropic screenwriter suspected of killing a Hollywood hat check girl.
    I was born when you kissed me.
Too bored to read a pulpy novel submitted to him by his agent, Dixon Steele (Bogart) hires a pretty young woman (Martha Stewart) to come over to his flat and interpret the book for him. Satisfied with the girl's help, Steele pays her off only to wake up the next morning to find she has been murdered and he is the major suspect. The police don't buy his alibi, but Dixon finds he has an unusual ally in Laurel Gray (Gloria Grahame), a gorgeous actress who lives in the same apartment complex.
Intrigued by the acerbic writer, Laurel falls under Dixon's spell. Her love and support inspires him to his best writing in years, transforming the trashy novel into an emotionally revealing screenplay. But, Laurel is soon witness to Dixon's dark side when he clips another car on the road then beats the other driver to within an inch of his life. Now suspicious of Dixon, she begins to distance herself from the man she intended to marry. Afraid of losing Laurel, Dixon becomes insanely paranoid, pushing her to the brink and out of his life.
Originally intended as a whodunit, Ray's bleak film resonates much deeper as a meditation on trust and betrayal in adult relationships. Bogart lets it all hang out in a chillingly ugly portrayal, yet Dixon remains intriguing enough to win the love of an understanding woman—the real life Mrs. Ray (Grahame).
    I lived a few weeks while you loved me.
Though never shy about his sympathy for leftist causes, Ray miraculously escaped the infamous Hollywood blacklist due in a large part to his contract with RKO run by the reactionary Howard Hughes. The eccentric billionaire liked Ray and his influence surely kept him from being subpoenaed by the House Un-American activities committee. But the trade-off meant Ray would play wet nurse to unfinished studio films (The Racket
, Macao
, Androcles And The Lion
) and take on projects outside of his comfort zone.
A sophisticated noir-melodrama of the Otto Preminger school, Born to be Bad
starred Joan Fontaine as Christabel Cain, a demure blonde who carries on with macho novelist Nick Bradley (Robert Ryan) while scheming to pry the engaged millionaire Curtis Carey (Zachary Scott) away from her friend Donna (Joan Leslie). Both Nick and the vaguely gay artist Gobby Broome (Mel Ferrer) see through Christabel's innocent act but neither can stop her from getting what she really wants; the Carey fortune. Christabel marries Curtis and becomes a social success but hastens her downfall when Curtis discovers her romantic rendezvous with Nick.
   I love you so much I wish I liked you. 
Ray and Ryan would team up next in Flying Leathernecks
, a WWII saga about a squadron of cocky Marine pilots who learn about duty and sacrifice during the Guadalcanal campaign. Here, Ryan plays Captain Carl Griffin the conscientious second in-command to Major Daniel Kirby (John Wayne), a by the book officer who runs roughshod over Griff's men in order to toughen them up for enormous tasks ahead.
As with Born to Be Bad, Ray took special care to develop the secondary characters giving Leathernecks subtext unusual for this sort of programmer. Ray has equal sympathy for the underdog Ryan, whose indecision keeps him from being assigned a proper command, and the taskmaster Wayne who hopes to avoid the disaster which befell his squadron at Midway.
During the early Cold War years Ray strayed from political films, correctly assuming wary audiences would resent having rhetoric and jargon jammed down their throats. Instead, Ray looked inward to create an intensely personal cinema of unstable misfits and tortured souls struggling to survive in a hostile world.
In On Dangerous Ground
Ray stands the police procedural genre on its head. Unlike most cops in his precinct, Jim Wilson (Robert Ryan) is a hardened detective consumed by his job and loneliness. Heedless to warnings from his partners and superiors Wilson takes his frustrations out on crime suspects, often beating them senseless to coerce confessions. Wilson's brutality goes too far and he is reassigned upstate district to investigate the murder of a teenage girl.
In the white hinterlands, Wilson is teamed with the girl's angry father Brent (Ward Bond), who has every intention in wreaking a bloody vengeance. After tracking the suspect through the snow, the men stumble upon the lonely house of Mary Madden (Ida Lupino), a nervous blind woman. The men suspect Mary is covering for the killer, her disturbed younger brother Danny.
Smitten by the vulnerable woman, Wilson promises Mary he'll do everything in his power to spare the boy from Brent but when Danny falls to his death, the city cop is amazed to find his new partner possesses a fountain of strange compassion. Compelled to find meaning in his empty life, Wilson breaks the bad news to Mary and this time he will not run when she tries to push him away.
     People who are never alone are the loneliest.
The Lusty Men
is a lively, yet melancholic, saga about another lonely professional. Rodeo veteran Jeff McCloud (Robert Mitchum) tutors his new friend Wes (Andrew McCarthy) in the ropin' and ridin' business to get closer to Wes' attractive wife Louise (Susan Hayward). After a triumphant debut Wes quits his job to join the rodeo circuit, much to the horror of Louise who dreams of buying a small ranch and living the quiet life. She is further annoyed to find Jeff is coming along for the ride as her husband's coach and will get a fifty percent cut of the winnings.
Success quickly goes to Wes' head and he takes to drink and loose women. When Jeff attempts to pick up the pieces of his friend's professional and personal life, Wes lets him know exactly where he stands prompting Jeff to quit and make one last, ill-fated stand in the rodeo ring.
The Lusty Men is the rare film where the female lead manages to resist Mitchum's laconic charms, bringing out a vulnerability rarely duplicated in his countless superb screen performances.
Loneliness and sexual yearning drives women to do terrible things in Ray's first crack at a real western, Johnny Guitar
. Johnny (Sterling Hayden), a guitar-playing dude who refuses to carry a gun, is hired to entertain the guests at an out of the way hotel-casino run by the worldly Vienna (Joan Crawford). Much to the consternation of the locals, Vienna has set up her business to capitalize on the unpopular transcontinental railroad being built nearby.
The town firebrand Emma Small (Mercedes McCambridge) is infuriated at Vienna for taking up with the man she loves, a feckless bandit called the Dancing Kid (Scott Brady), and will stop at nothing to destroy her rival's fledgling business. When a stagecoach is held up Emma leads a posse to round-up the Kid's gang, but Vienna's interference lets the men escape arrest. Emma gets her revenge when she implicates Vienna in the Kid's hold-up of a local bank and then playing judge and jury she sentences her rival to the scaffold.
Fortunately for Vienna, the men in this passion play are unwilling to hang a woman, so Emma has to play executioner, too. The procrastination gives Johnny (Vienna's old flame and a notorious gunslinger) time to cut her noose. The pair escapes to the secluded house in the hills where the Dancing Kid's gang is hiding out. Though the Kid still holds a torch for Vienna Emma's posse declines to interfere with the inevitable showdown between the two strong-willed women.
Although Johnny Guitar was held in great esteem by Jean-Luc Godard and other critics of the French auteur school, the gender-bending western is too often dismissed as an example of high camp in its country of origin. Given Crawford's grand gestures, the posse's natty western garb and in-step choreography, Ray's dynamic edit-on-action technique, the mournful Verdi-like Victor Young score
, and McCambridge's savage, ecstatic performance—the film is certainly operatic.
   You're nothing but a railroad tramp!
Still, an argument can be made the darkly funny Johnny Guitar is Ray's most elegant and inspired film. Using lavish, Frank Lloyd Wright-inspired sets that blend into the mountainous locale, Ray and cinematographer Harry Stradling create a striking stage for the bold and unpredictable finale.
    Heads I'll kill you. Tails I'll let you play your tune.
Ray's next western Run for Cover
was a more traditional venture into the genre but this story about a wrongly-convicted drifter who takes an impressionable young man under his wing turned out to be a pointed critique of small town thinking and mob rule.
After being mistaken as train robbers, Matt Dow (James Cagney) and Davey Bishop (John Derek) are tracked down and wounded by a local posse. After recognizing the young Davey the town apologizes to Dow who has decided to stick around and help the sympathetic Helga (Viveca Lindfors) nurse his partner back to health. The level-headed Dow is soon anointed sheriff but Davey's fate takes a grim turn when his wounded leg doesn't heal.
Dow hires Davey to be his deputy but while escorting a gunslinger (Ernest Borgnine) to trial, the bitter boy is talked into taking part in a robbery which leaves Helga's father dead. The locals turn on Dow when it is learned he had spent time in stir with one of the bank robbers but they show their true colors when they prove unwilling to go the extra mile in helping their sheriff track down the perpetrators.
  The ones looking for a free ride cause all the trouble.
Saddled with a contract that forced him to use Technicolor and the new widescreen process (Cinemascope) for his next film, Ray still made splendid use of the stretchy technology to fashion the quintessential juvenile delinquent film, Rebel Without a Cause
. Ray drew inspiration from a cast of talented teen icons and the painful baggage from his own unhappy upbringing to fashion an uncommonly sensitive coming of age portrait.
Based on a story by Robert Lindner and the screenplay by Irving Schulman and Stewart Stern, RWC follows the plight of teenager Jim Stark (James Dean), an only child who can never seem to keep out of trouble with the law or please his distant parents (Jim Backus and Ann Doran). After picking up his drunken son at the local police station Jim's spineless father tries to have a heart-to-heart talk with his boy, but he can't seem to understand he himself is the root of the problem.
The next morning Jim's parents pack him off to his first day of school, hoping the boy's embarrassing behavior won't force them to pick up and move to yet another new neighborhood. At school, the students look down on the brash wiseguy and Jim is soon challenged to a knife fight by Buzz (Corey Allen), the charismatic leader of the town's most unruly gang. The boys duel to a standoff, prompting Buzz to challenge Jim to a "chickie run" that night. Just before the deadly drive-off, and unknown to the rest of the gang, Buzz makes his peace with Jim who he sees as a kindred spirit. To everyone's horror Buzz is unable to jump from his car and drives over the cliff, smashing on the rocks below.
The kids leave the scene before the cops arrive, leaving Jim, new friend Plato (Sal Mineo) and Buzz' girlfriend Judy (Natalie Wood) alone to sort out their pain. The nerdy (and needy) Plato suggests they hide out in an abandoned mansion. Once inside their new home, the disenfranchised teenagers "play house", at first mocking their parents, then recreating an idyllic world of their own. But, their happiness is short-lived when Buzz' gang breaks in and threatens vengeance on Plato. The disturbed boy shoots one of the hoods, bringing the police onto the scene thus sealing his doom.
An unabashed admirer of Stanislavski's Method, Ray gave the talented Dean plenty of rope to spin his anguished magic and the young leading man gives a thrilling, mature performance.
Wood is just as revelatory in her portrayal of a teenager at the cusp of womanhood, slowly becoming aware of the power she has over boys and men, but still unable to find love or support at home or school.  Wood's nervous screen persona has always been crucified by middlebrow tastemongers but unlike so many of the Oscar-winning leading ladies of the day (Joanne Woodward, Elizabeth Taylor, Sophia Loren, Shirley Booth, Julie Andrews, etc.) her vulnerable performances look refreshingly modern.
Dean's tragic death in an automobile accident devastated Ray, so the director retreated to Europe to bask in the glow of his new found critical reputation and recharge the batteries to embark on a new phase of his singular career.
   I'm gonna hit somebody and I don't want to… 
Ray's meltdowns were becoming the stuff of legend in Hollywood, but since his movies were doing well at the box office studio heads and producers were willing to overlook his eccentricities on and off the set. Personal disasters (such as a very public break-up with Gloria Grahame) would ultimately take their toll on the emotionally fragile Ray, but grappling with these demons seemed to push his creativity to new heights.
By the time Ray returned home from abroad his most exotic creation to date, Hot Blood
was being readied for release. This old world story of an arranged gypsy marriage within a modern Los Angeles community was an esthetic and commercial misfire, still Ray moved the story along with zest and vinegar and his imaginative staging of the urban dance sequences suggests he would have been right at home in Arthur Freed's musical unit at MGM.
Not to be burned is not to live.
Ray's next film, Bigger Than Life
, a dark domestic drama about a schoolteacher who falls under the addictive influence of prescription drugs, put the director back on track.
When Ed Avery (James Mason) learns he has an inflammation of the arteries, a rare disease that could lead to a premature death, he chooses the option of using an experimental drug (Cortisone) to prolong his life. Under the watch of his doctors Ed makes a miraculous recovery and returns to home and work, a new man. But soon, the drug's side-effects kick-in, turning the mild-mannered grade school teacher into an intolerant aesthete, who forces expensive goods upon his cost-conscious wife, Lou (Barbara Rush), and raises a ruckus at school, decrying the failure of the public school system in front of an appalled PTA.
As the influence of the painkillers turns Ed into a deluded psychotic, he sets out to reform life on the home front. The tyrant terrorizes his son Richie (Christopher Olsen) then threatens to leave the saintly Lou on the grounds of her mediocre mind. Ed finally snaps and quoting scripture from the bible he aims to make a sacrificial lamb of his bewildered son.
Mason shows remarkable range as the frustrated, small town teacher whose inhibitions disappear as he becomes consumed by his sinister addiction.
   We're breeding a race of moral midgets.
Having come into his own as a filmmaker during the age of great American Westerns, Ray's work in genre tends to get overlooked but his edgy oaters can look downright cutting edge to modern audiences who expect moral ambivalence from their screen heroes. It is no big surprise that in The True Story of Jesse James
Ray delivers a "warts and all" take on the famous outlaw and the legend he inspired.
The action opens after the disastrous raid in Northfield, Minnesota with the survivors of the James-Younger gang, Jesse (Robert Wagner) and Frank James (Jeffrey Hunter) bickering and fleeing from the law. An extended flashback chronicles the James brothers joining the Quantrill raiders and Jesse's marriage to Zee (Hope Lange.  He takes on a double life as an outlaw and respected figure in his Missouri community. Fame goes to Jesse's head and by playing Robin Hood to the public he turns into a murderous autocrat.
Hoping to make one last big score before disbanding the gang, Jesse pitches the Northfield raid idea to Frank and the Youngers who bristle at the idea of robbing a bank four hundred miles away. Nonetheless, they follow Jesse into the sleepy Minnesota town not suspecting the locals will offer resistance.
Ray's first western in Cinemascope is visually spectacular, especially in the aftermath of the failed robbery in which the trapped gang scrambles to get out of Dodge. Ray manages to top this brilliant sequence with a highly poetic take on Jesse's murder perpetuated by the similarly publicity conscious Ford brothers. The cowardly act inspires a hymn-like song, effectively transforming this very flawed human being into an American icon.
The best films from Ray's "existential" period all feature intense rivalries between two men who, in turn, become deadly enemies.
In the chilly and intense Bitter Victory
, the cognoscenti of the British military are forced to choose between two inexperienced officers to lead a raid against the Nazis in Libya. Their mission to steal top secret war plans would cripple Rommel's army in North Africa. The stiff upper-lipped generals make a critical mistake in choosing the safe, company man, plodding desk officer Major Brand (Curd Jurgens), over the intellectual Captain Leith (Richard Burton) who has greater knowledge of Arabic and the desert terrain. The antipathy between the two rivals grows when Brand correctly suspects his young wife (Ruth Roman) is in love with Leith.
Once in Libya, it is quickly apparent Brand is out of his element and his indecisiveness puts in his men in harm's way. Still, the soldiers carry out the mission but once in the unforgiving desert Brand does his best to make sure the wounded Leith is left behind, so he can capture all the glory for himself.
As is typically the case in Ray's cinema, the weak-willed Brand is the more interesting of the two rivals. After losing the respect of his garrison and the love of his wife, the lonely hero suffers stoically, knowing his victory is indeed a bitter one.
I killed the living, and I saved the dead.
Wind Across the Everglades
is a bizarre, immensely entertaining adventure yarn set in the forbidding swamps of south Florida at the turn of the 20th century. Hired to teach at an exclusive Miami secondary school, Yankee Walt Murdock (Christopher Plummer) makes a bad first impression on genteel society with his acidic criticisms of the prosperous feathered hat trade that pads the pockets of the local rich. Impressed by Murdock's moxie, the local Audubon Society hires him to investigate the poaching practices of the grizzled Cottonmouth (Burl Ives), a mythic figure who hunts with a band of misfits and rowdies in the mosquito-infested Everglades.
Murdock makes the treacherous trek to confront the poacher, but upon arriving at Cottonmouth's compound he finds he is seduced by the bandits' primitive lifestyle. After Walt proves his mettle at a drinking contest Cottonmouth makes a surprise offer to give himself up to Miami authorities. The two men take to the swamp for a final, fateful journey.
Loosely based on a Budd Schulberg screenplay, the underrated Winds Across the Everglades finds Ray at his most baroque. He takes keen delight in creating a weird compound of vagabonds while letting his dueling hams, Plummer and Ives, pull out all stops to one-up one another. It makes for a zesty jambalaya.
Ray finally did get to make a film at the Tiffany's of Hollywood (MGM) in 1958 but by then the studio's musical unit was in the process of being shut down, so it was his mission to present one of their most famous hoofers in an entirely different light. Chorus girl Cyd Charisse is the Party Girl
, but the real thrust of this 1930s Chicago-based mob story centers around the brotherly relationship between mobster Rico Angelo (Lee J. Cobb) and his brilliant lawyer Thomas Farrell (Robert Taylor).
The hot-tempered Rico is willing to put up with Farrell's complete lack of respect for him because the lawyer has an uncanny knack of winning over juries keeping Rico's boys out of stir. Embittered by a childhood accident that has left him a gimp, Farrell is content to make blood money off the mob until a beacon of light, dancer Vicki Gaye (Charisse) comes into his life. The beautiful, hard-boiled dancer offers to begin anew with Farrell in sunny California, but only if he gives up working for Rico. But with an ambitious district attorney set to indict him, Rico wants no part of Farrell's "retirement" and threatens to throw acid in Vicki's face in order to keep his lawyer in tow.
Ray does a terrific job in getting nuanced performances out of the gregarious Cobb and the stone-faced Taylor; two unyielding forces joined at the hip by crime, and their sordid pasts, during the waning days of prohibition.
Ray's last great film
The Savage Innocents
brought him to the Great White North where he created a tone poem about a vanishing breed of noble people; the Canadian Eskimos.
Inuk (Anthony Quinn) is a middle-aged hunter who finds his happy-go-lucky existence is missing that certain something that will make his life truly complete; a wife. He is given the choice of two attractive sisters, but when Inuk can't make up his mind another hunter "marries" one of the women, leaving him with the meeker Asiak (Yoko Tani). Feeling duped, Inuk takes Asiak in tow and runs after the newlyweds. Only when he embarrasses himself and humiliates Asiak does Inuk realize this sweet and feisty new sidekick is the woman for him.
Inuk, Asiak and her mother coalesce in primitive bliss until the influence of the white man raises its ugly head. Anxious about being able to provide for his family Inuk offers a bundle of valuable fox furs at a trading post in exchange for a rifle. A missionary (Marco Guglielmi) from the post follows the couple back to their igloo to convert Inuk. As a token of friendship the Eskimo offers his wife to the missionary but when the holy man rejects Asiak, Inuk accidentally beats the man to death.
Though Inuk is remorseful, his conscience remains clear since the chaste man violated an Eskimo tradition. But Inuk finds the white man has a different set of rules and he is soon pursued by two troopers, looking to bring him to justice. Anxious to clear his name Inuk agrees to return with the men, but even after risking his own life to save a trooper (Peter O'Toole) he finds he still has to face the music.
Over time, the sympathetic trooper softens his stance against Inuk, but in order to save the friendly Eskimo he has to push him away with insults. In a delicately framed finale, a wistful O'Toole trudges back to the trading post while the joyous Quinn returns to the white frontier where his wife and young son await with open arms.
At turns funny and cruel, compassionate yet unsentimental The Savage Innocents is Ray's true swan song. It's not a stretch to say the liberated philosophies of Ray's Eskimos anticipated the social and sexual revolutions of the 1960s, an era the uninhibited director would openly embrace.
    White men don't borrow other men's wives? 
It was probably inevitable Ray would strike up a professional relationship with producer Samuel Bronston, a fellow maverick and iconoclast who stayed one step ahead of creditors in Hollywood while building his own film studio of dreams in Franco's Spain. Their first collaboration together would be about yet another bigger than life character. King of Kings
, Ray's take on the story of Jesus, is more character-driven than your typical Hollywood Biblical epic and his Christ (Jeffrey Hunter) is a soul-searcher driven to preaching the divine word to anyone who'll listen.
Taking a page out of DeMille, the film's most entertaining sequences occur in the sordid court of the heathens King Herod (Frank Thring) and Pontius Pilate (Hurd Hatfield) who succumb to the bizarre whims of the teen temptress Salome (Brigid Bazlen). Thankfully, the stark crucifixion scene is carried out with taste and tact, owing more to classic painting (El Greco) than blood and thunder theatrics.
My sheep are in all the nations.
Riding high on the popularity of both King of Kings and Anthony Mann's El Cid
, Bronston signed Ray to direct his next epic 55 Days at Peking
. This sweeping story about foreign diplomats sequestered in the ancient capital starred three egomaniacal film icons (Charlton Heston, Ava Gardner and David Niven) whose jockeying for screen space was instrumental in Ray's becoming indecisive on the set and, later, causing his cataclysmic breakdown. Although 55 Days laid an egg at the box office, it holds up well as a rousing and intelligently-told tale about western imperialism and Asian resentment.
I told my love it had no right to live.
Ray and Mann struggled to regain solid ground in the new Hollywood after the Bronston studio closed shop. But while Mann's bloated Spanish epics (El Cid and The Fall Of The Roman Empire
) give evidence of a filmmaker in decline, the same couldn't be said about Ray's Bronston films which reverberated with passion and excitement.
  If China is a cow, she indeed is a marvelous animal.
After Ray left the set of the nearly-completed 55 Days in Peking he was unable to sell American producers on any of his film ideas for the next several years. Thus began a sad descent into alcoholism and mental illness as evidenced in the one commercial film project he worked on in the 1970s, Wet Dreams, where the shock-haired Ray plays a demented janitor with delusions of sexual grandeur.
After burning bridges and burning out in Europe, he spent the rest of his career teaching and mentoring a new generation of filmmakers. We Can't Go Home Again
, a Godard-inspired filmic kaleidoscope starring Ray and his Harper College film students, is mostly interesting for the auteur imagining his own suicide on screen.
Sensing the end was near Ray agreed to allow German director and friend Wim Wenders document his final battle with lung cancer in Lightning Over Water
, an earnest but rather depressing tribute to a true American original.
Books on Ray:
Nicholas Ray: An American Journey
– Bernard Eisenschitz (translated by Tom Milne) **** This huge analytical bio is packed with the sort of precious cinematic detail one would expect from an editor of the Cahiers du Cinema. This is probably the go-to book about one of the most colorful and dazzlingly talented filmmakers of the era.
Nicholas Ray: The Glorious Failure of an American Director
– Patrick McGilligan **** This take on Ray is probably more user-friendly than the Eisenschitz tome but somewhere along the way the great McGilligan seems to lose sympathy for his subject. Subsequently, it isn't quite up to the Olympic heights of his previous film studies of Hitchcock and Lang.
I Was Interrupted: Nicholas Ray on Making Movies
– Nicholas Ray **** Ray's "autobiography" is a delightful hodge-podge of Hollywood anecdotes and classroom teachings, giving great insight into the director's craft. For better or worse, Ray refuses to cut himself any slack, but his highly analytical takes on the art of screen acting are a true revelation.
Nicholas Ray
– John Francis Kreidl *** A curious, but sincere film study of the iconoclastic Ray which incessantly draws upon Rebel Without a Cause while passing over much of the director's other seminal work.
Films by Ray:
1948  They Live By Night ****
1949  A Woman's Secret ***
1949  Knock on Any Door ***1/2
1950  In a Lonely Place ****
1950  Born to Be Bad ***1/2
1951  Flying Leathernecks ***1/2
1952  On Dangerous Ground ****
1952  The Lusty Men ****
1954  Johnny Guitar *****
1955  Run For Cover ***1/2
1955  Rebel Without a Cause ****1/2
1956  Hot Blood ***1/2
1956  Bigger Than Life ****
1957  The True Story of Jesse James ****
1957  Bitter Victory ****
1958  Wind Across the Everglades ****1/2
1958  Party Girl ****
1959  The Savage Innocents ****
1962  King of Kings ***1/2
1963  55 Days at Peking ***1/2
1974  Wet Dreams (segment: The Janitor) **1/2
1976  We Can't Go Home Again ***
1980  Lightning Over Water **1/2 (w/Wim Wenders)