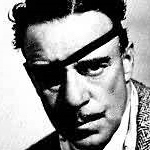 The storybook events in Raoul Walsh's colorful life almost overshadow his brilliant accomplishments as a filmmaker. According to his anecdotal and impossible to put down memoir Walsh's rebel father, brothers and grandfather were sprung from an Irish jail and after a layover in Spain the fugitives—minus Grandpa Walsh, a victim of British gunshot fire—arrived in New York City ready to assume new identities in the new world.
Thomas Walsh became a popular Manhattan haberdasher servicing, among others, the great Shakespearean actor Edwin Booth, heavyweight boxing champ John L. Sullivan, Diamond Jim Brady, and legendary operatic tenor Enrico Caruso. Quite soon, the successful Thomas had risen high enough in social circles to marry Elizabeth Bough, a New Yorker of Irish-Spanish descent and DAR lineage.
Raoul would become the second of the couple's four children and while the family maintained a comfortable middle class existence, this oldest son would turn out to be a constant source of trouble. Little Raoul's playing hooky from school to swim in the dirty East River was among the many reasons Thomas moved his family to a house near Riverside Drive on the Upper West Side. Though Raoul had a nose for books and even matriculated at New Jersey's Seton Hall, higher learning didn't interest him anywhere near as much as high adventure.
After his mother died Raoul accompanied his uncle Matthew to Cuba at the height of the Spanish-American War. He then sojourned onward into Texas, Montana, and whatever was left of the grand Old West. Picking up valuable experience as a ranch hand Walsh traveled briefly to Europe before heading back to Texas where, after a debilitating accident, he picked up a new trade, acting. At the ripe old age of twenty-two Raoul returned to New York City where he landed a job as a cowboy actor for the Pathe Film Studios. And thus, a remarkable career in the movies was born.
After establishing himself as a player in the flickers and taking an unsuccessful stab at filming a documentary of Pancho Villa, Walsh was taken under the wing by none other than D.W. Griffith. The master director cast the dashing young actor in several films, most notably as Edwin Booth's notorious brother John Wilkes Booth, the assassin of Lincoln, in The Birth of a Nation
.
Walsh began shooting short films at Griffith's company Mutual until 1915 when he was signed by Fox Film Company to make Regeneration, his first surviving film. Drawing upon his childhood days in the streets of New York Walsh crafted a gritty and atmospheric tale about an orphan who grows up to be a neighborhood bully before being reformed by a social worker (Anna Q. Nilsson) he adores. One hundred years on, the hardscrabble Regeneration
remains a refreshing alternative to the Victorian-influenced cinema of Griffith, Pickford, and even Chaplin.
Walsh toiled the next eight years at Fox and the Goldwyn studios churning out westerns, melodramas featuring the sultry Theda Bara, comedies, and the occasional prestige picture but as almost all these films are lost it's impossible to chronicle his growth as a filmmaker accurately.
Raoul's reliable reputation in the industry led to the plush assignment of directing The Thief of Bagdad
based on The Arabian Nights and starring the charismatic acrobat Douglas Fairbanks Sr. Walsh came to the huge United Artists' project with trepidations, but he soon got into the spirit of things constructing Fairbanks' famous flying carpet and keeping the charming fantasy moving at a steady clip.
Bolstered by spectacular set design by William Cameron Menzies, Walsh's vigorous Thief remains among the very best films starring the swashbuckling Fairbanks and it looks fresher, today, than Michael Powell's Technicolor take on the same material from 1940.
Despite having a key role in making a prestigious blockbuster, Walsh's career trajectory would remain uneven for the next few years until he was invited back to Fox to shoot the genial adaptation of the Maxwell Anderson WWI play What Price Glory. Featuring future John Ford staple Victor McLaglen as goodhearted Captain Flagg and Edmund Lowe as his handsome nemesis Sergeant Quirk, Glory was one of the earliest surviving examples of Walsh's expertise in blending lusty romance with edge of the seat theatrics.
Flagg and Quirk are part of an American battalion sent to a small town in France where the two soldiers bump heads trying to win the heart of a French inn-keeper's daughter named Charmaine (Dolores Del Rio) before facing their fates at the war front. Taking a peculiar joy in blowing up meticulously built sets in and around Hollywood, Walsh nonetheless crafted a sweeping epic of war which remains superior to its sound film remake—directed by John Ford and starring James Cagney, no less.
Taking a cue from Fairbanks, Mary Pickford and Charlie Chaplin, the jazz era's most popular screen heroine, Gloria Swanson, left her comfortable Famous Players-Lasky home to form her own production company. Spurred by an interest in working with Walsh, Swanson purchased the films rights to Somerset Maugham's hit Broadway production Rain starring Jeanne Eagles.
Renamed Sadie Thompson
this Swanson-Walsh collaboration about a prostitute who retreats to the island of Pago-Pago to begin anew holds up quite well as sophisticated adult fare. Upon her arrival at the South Seas outpost, Sadie (Swanson) charms a handsome Sergeant (Walsh) but she soon finds she has little success in winning the hearts and minds of the local white element, especially the reactionary missionary Davidson (Lionel Barrymore) who harbors a fatal attraction for Sadie.
Unlike Rain
, Lewis Milestone's 1932 talkie version starring Joan Crawford, Swanson's Sadie is a buoyant soul, comfortable with her sexuality. But, the angst and suicide of the conflicted Davidson ruffled many feathers in an industry which had to answer to an increasingly conservative censor.
  Pigs! I wouldn't trust any of you!
Walsh returned to Fox that year to make one of his most underrated films The Red Dance, an epic of the Russian Revolution. None too thrilled with the prospect of entering into a pre-arranged marriage Grand Duke Eugen (Charles Farrell) makes a near fatal attraction with the peasant girl Tasia (Dolores del Rio) much to the consternation of her jealous beau Ivan Linow (Ivan Petroff). The romance plays second fiddle to the massive events surrounding the Revolution, highlighted by the seedy behavior of an eerie Rasputin-like character (Demetrius Alexis) whose mad antics set the wheels of change in motion.
Benefiting from the great attention Fox put into their late silent film production values The Red Dance may well be the most lush-looking Walsh film and it certainly holds its own against other A-list films made by the studio's more visually-conscious auteurs, F.W. Murnau and Frank Borzage.
Riding high on his recent successes, Walsh was assigned to direct what was to be the first outdoors talkie, the western In Old Arizona
in which he'd play the role of The Cisco Kid. Relishing the opportunity to film on location, Walsh shot some magnificent footage before bad weather forced the production back to Hollywood. Instead of returning with the rest of the crew Walsh decided to drive back to Los Angeles. While crossing the desert a spooked jackrabbit crashed into the windshield of his car, an incident which nearly took his life and necessitated the removal of his right eye.
Within months of the freak accident the patched-up Walsh was back in the director's seat shooting the first 70mm feature film The Big Trail
starring director John Ford's young protege John Wayne as scout Breck Coleman. Taking full advantage of the wide-screen Grandeur process—the Cinemascope of the era—Walsh picked out magnificent locales in several southwestern states correctly thinking the spectacular western landscapes and mountain scenery would embellish this sweeping story about the settling of the Oregon Trail.
The static pace and some stiff performances from Wayne's co-stars help keep The Big Trail from being a major work but the widescreen version has many passages of raw excitement and stunning beauty. Its Remington-like vistas also anticipate the painterly style of Ford's westerns of the 1940s and '50s.
Since there were very few actual cinemas in the world that could actually project a widescreen film The Big Trail sank like a stone at the box office, sending Wayne to B-Film purgatory for the rest of the decade. The blockbuster bomb didn't endear Walsh to producers looking to cut costs at the beginning of a Great Depression.
Back at the financially troubled Fox Walsh took on too many projects unworthy of his talent and his artistic stock began to plummet. His two best films of the era, Me and My Gal and The Bowery, were not so coincidentally set in the familiar territory of Walsh's youth, the lower east side of Manhattan.
In Me And My Gal
Spencer Tracy plays Danny Dolan, an Irish-American beat cop who takes a shine to the snappy Helen Reilly (Joan Bennett), a counter girl at a riverside greasy spoon. Helen isn't impressed with the cocksure Danny but his persistence and ambition win her over. Helen's sister Kate (Marion Burns) isn't as lucky in love and her tetchy relationship with a local gangster takes a turn for the worse. Mostly forgotten by cineastes the plucky Me and My Gal boasts a pair delightful performances from the youthful Tracy and Bennett years before they petrified into Hollywood icons.
Set in the uproarious gay '90s, The Bowery is a rowdy romp and remains unsafe viewing for politically-correct audiences. Steve Brodie (George Raft) and Chuck Connors (Wallace Beery) are two entrepreneurs and opportunists brawling for their piece of the pie in the bustling, multi-ethnic neighborhood. The goodhearted Connors opens his saloon to homeless waif Swipes McGuirk (Jackie Cooper) and fetching orphan girl Lucy Calhoun (Fay Wray), prompting a battle for her affections with the handsome Brodie who later survives a leap from the Brooklyn Bridge in a shameless publicity stunt. Treading the tried and true buddy-rival theme of What Price Glory, Walsh was in his element with these two larger than life galoots out to capture their damsel in distress.
By 1936 Walsh found himself at Paramount, a studio which specialized in sophisticated comedies featuring the many luminous ladies (Carole Lombard, Marlene Dietrich, Claudette Colbert, Mae West, etc.) on the lot.
Walsh found a kindred spirit in the ballsy Ms. West. The one film they made together, Klondike Annie
finds Rose Carlton (West) supposedly killing her cruel Asian lover then escaping the police on a steamer bound to Alaska. Ship captain Bull Brackett (Victor McLaglen) learns Rose's secret and pressures her into a relationship with him but he can't help but fall in love with good-hearted dame. A dying missionary tries to save Rose's soul and seeking penance she takes up the do-gooder's moniker once she reaches the great white north.
"Annie" narrowly escapes a police investigation and reconnects with Bull before the final curtain. This outrageous premise might have flown in the pre-code days of 1933 but three years later it drew the ire of Hollywood censors who, according to Walsh, cut the heart out of the film.
  You ain't no oil painting, you're a fascinating monster.
Another interesting oddity of this era is the snappy Big Brown Eyes
which re-united Joan Bennett with Walsh and co-starred Cary Grant as a hard-boiled police detective trying to crack an elusive crime syndicate. Bennett plays a manicurist-turned-journalist who aids and flusters her fiance Detective Sergeant Danny Barr (Grant) in a screwball-ish comedy-drama which anticipates the hijinks of His Girl Friday.
   Never say fingerprints when I'm around.
Walsh spent the next few years at Paramount and RKO making feathery but not entirely uninspired comedies and musicals like Artists & Models
, Hitting a New High
and College Swing
. Having passed the age of fifty, Walsh seemed ten years past his peak as a filmmaker which made the seemingly out of the blue offer from one of the most successful Hollywood studios all the more surprising.
Walsh and Warner Brothers was a match made in film heaven leaving one to wonder why the most street smart of Hollywood studios hadn't procured his services earlier. His first film shot at the studio, The Roaring Twenties
, was a brawny bootlegging saga penned by hard-boiled journalist Mark Hellinger. Here, James Cagney and Humphrey Bogart play a pair of WWI soldiers who, having difficulty adjusting to civilian life, turn into rum runners.
Good guy Eddie Bartlett (Cagney) is only in the racket until he has enough money to buy taxis to form his own cab company but success and corrupt ties keep him bound to the tawdry trade. His hopes of winning the heart of his old pen pal Jean Sherman (Priscilla Lane) are dashed when she falls in love another ex-doughboy, Eddie's lawyer Lloyd Hart (Jeffrey Lynn). The Wall Street crash bankrupts Eddie, so he asks his former friend on the warfront George Hally (Bogart) for help. George turns him down forcing Eddie to drive a hack in order to survive the darkest days of the Depression.
Years later, he picks up Jean as a client and drives her to her idyllic Long Island home where she lives with husband Lloyd. Eddie soon learns Lloyd's livelihood is threatened by the now big-time gangster Hally prompting a deadly confrontation between the former trench mates. The unspoken romance between Eddie and the woman who truly loves him, Panama Smith (Gladys George), ends in hard-bitten misery when the bullet-ridden cabbie dies in her arms on the snowy steps of a Manhattan church.
    Here's one rap you ain't gonna beat! 
In They Drive by Night
, Bogart again played a supporting role to brother and fellow trucker George Raft. Joe and Paul Fabrini (Raft & Bogart) try to keep their noses clean while working grueling hours transporting fruit from California farms. After the men get the short shrift from their deceitful boss, they decide to put money down for a truck and go into business for themselves. A debilitating injury takes Paul off the road but the setback does little to quell Joe's huge ambition.
   If we go over a cliff, wake me up. 
Little impressed by Raft's ego and range as an actor, Walsh gave better perks to Ann Sheridan and Ida Lupino, the sweet and saucy girls attached to the inexplicably lucky Joe Fabrini. It is surprising Walsh saw so little in Lupino (a spunky performer with an ever-present chip on her shoulder) for he wasn't much interested in casting her in his next film. Fortune smiled when the parts of Roy Earle and Marie finally fell to Bogart and Ida, the doomed stars of Walsh's best effort to date, High Sierra
.
Sprung from the jig, career criminal Earle accepts an ultimatum from a mobster who pulled strings for his pardon. On the way west to meet up with his new gang Roy helps an Ohio family and falls in love with their disabled young daughter Velma (Joan Leslie). Upon arrival in California he is disappointed to find his new cohorts (Alan Curtis, Arthur Kennedy and Cornel Wilde) are hotheaded, inexperienced and have a moll in tow.
Marie (Lupino) falls hard for Roy but he keeps her at arm's length while he arranges for Velma to have an operation that will cure her club foot. When Roy learns his love for Velma is not reciprocated he turns his attention to the caper. The elaborate heist comes off without a hitch until his panicky partners blow their cool.
Left with scant opportunity to fence their hot fortune, Roy and Marie decide to split up and Roy takes it on the lam to the hills (the Sierra Nevada mountain range) where he will be betrayed by all things, a faithful dog.
Bolstered by a taut John Huston-W.R. Burnett script and gritty cinematography by Warner vet Tony Gaudio, High Sierra went far in bridging the dying gangster film to the flourishing genre of noir in a truly dynamic fashion.
   Mister, what does it mean when a man crashes out? 
Taking time out from these testosterone-driven productions, Walsh shot the pastoral and charming period piece The Strawberry Blonde
. Set at the turn of the century, Dentist Biff Grimes (James Cagney) longs for the town bombshell Virginia (Rita Hayworth), while remaining barely aware of Amy (Olivia de Havilland); the feisty brown-eyed brunette who adores him. After Virginia marries the local loudmouth Hugo (Jack Carson) the disappointed Biff accepts the consolation prize, Amy.
Biff has settled into a happy mediocrity until Hugo involves him in an illicit business scheme and the foolhardy dentist, still holding a torch for Virginia, puts his family's well-being into jeopardy. Walsh's affection for a more innocent time comes shining through in this bittersweet story which deftly threads several of the era's jaunty and lilting songs into its complex emotional fabric.
  Hush, Amy. You're not at a suffragette meeting now!
De Havilland returned as the vivacious wife of General George Custer (Errol Flynn) in the highly Romantic and perversely revisionist western, They Died With Their Boots On
. Walsh's Custer is not the hothead reactionary who led the U.S. cavalry's disastrous raid at Little Big Horn but a cautious man of conscience who sacrifices his men and himself for the betterment of the Union. In their last film together Flynn and de Havilland play their love scenes with much tenderness, especially in the understated sequence where Custer bids his wife farewell to face certain death on the battlefield.
These days it is hard to defend the film's wrongheaded intentions and rewriting of the Union's double dealings with countless tribes of American Indians, but if the viewer is capable of taking Boots with a large grain of salt then it can make for a grand entertainment.
   The greater the odds, the greater the glory.
Returning to the nostalgic days of Walsh's youth, those Gay 1890s, Walsh directed Gentleman Jim
, a high-falutin' biopic of the man who would strip John L. Sullivan of his Heavyweight boxing crown, James J. Corbett.
The son of a first generation Irish cabbie (Alan Hale) bank teller James Corbett (Flynn) charms his way into a posh San Francisco Athletic Club where he quickly becomes an object of derision. But there's no denying his pugilistic talent. After James beats a visiting British Champion greedy club members sponsor his stake in the heavyweight boxing circuit.
Along the way the cocky sportsman ruffles the posh feathers of Victoria Ware (Alexis Smith), the daughter of one of his beneficiaries prompting her to secretly chip in side bet money, assuring Corbett's shellacking at the hands of Sullivan (Warner Bond) in the bout for the heavyweight title. Corbett's superior conditioning wins him the fight and in the film's most heartfelt sequence the blustery old champ appears at his rival's victory party to hand over the champion's belt.
Humbled by the noble gesture James makes a truce with his adversary Victoria who decides she loves him after all. A boisterous man's man of a film, Gentleman Jim would be the last lighthearted fare Walsh would direct for the duration of WWII.
We all started out with the same wooden washtubs. 
After Flynn's professional partnership with Warner director Michael Curtiz went sour, he began a fortuitous collaboration with drinking buddy Walsh and together they would make several spirited war-time thrillers.
Desperate Journey
found Flynn playing Flight Lieutenant Terry Forbes, pilot of a British bomber forced to set down in German occupied territory after a successful mission. Along with co-pilots Johnny Hammond (Ronald Reagan) and Jed Forrest (Arthur Kennedy), Forbes begins a highly unlikely, but exciting, odyssey when they manage to escape from their German captors, elude the Gestapo then steal an Axis military plane to fly back to England.
   The iron fist has a glass jaw!
Northern Pursuit
pitted Flynn as Canadian Mountie Corporal Steve Wagner who arrests a Nazi suspected of sabotage but elects not to turn Colonel Hugo von Keller (Helmut Dantine) in to authorities in the hopes he can gather top secret information about the man's mission. The son of German immigrants Wagner is wrongly suspected of collaboration, so the Mountie offers his resignation. After enlisting the Air Force, Wagner is recalled by the police to masquerade as a traitor, partner-up with the saboteur and help foil a plot to destroy the Panama Canal.
The highly Romantic Uncertain Glory
finds petty thief and murderer Jean Picard (Flynn) facing the guillotine when salvation appears in the form of an exploding bomb triggering his escape from prison. Jean takes on a new identity and, as befits his slippery character, he runs off with his best friend's girl. Freedom proves elusive as Jean is tracked down in a small French town by the savvy detective who originally arrested him.
Picard strikes a deal with Inspector Bonet (Paul Lukas) in which he'll turn himself in to the Nazis as an elusive saboteur in return for 100 French prisoners. Bonet is cynical about the intent of Picard's magnificent gesture but the career criminal redeems himself when he gives up the love of a local girl (Faye Emerson) to make his grand sacrifice for France.
Walsh and Flynn turned to the Pacific theatre with Objective Burma
which despite some historical inaccuracies is one of the very best WWII films made in Hollywood during the years of the conflict.
Captain Nelson (Flynn), reporter Mark Williams (Henry Hull), and a band of young American paratroopers are dropped into the jungles of Burma on a mission to take out a Japanese radar station. They are successful but their exit strategy has to be rerouted after an unexpected confrontation with the enemy. Facing little likelihood of finding their important rendezvous as a group, the paratroopers are forced to split up and many succumb to the elements and bullets before finally escaping the jungle.
There is more gallows humor than witty repartee in this tense, somber film. Indeed, the true auteur of Objective Burma! could well be war correspondent Williams who sketches character portraits of the boys in uniform before they go out to die in glory or in vain. Putting human faces on the dog tags of young men who had yet to go to college or score their first job was, perhaps, Walsh's own comment on the tragedy and futility of war.
   I'll follow him down the barrel of a cannon!
Flynn's unreliability and self-destructive ways wore on Walsh and they would work together just once more in the pessimistic western Silver River. Here, Flynn plays cavalry officer Mike Macomb who gets a dishonorable discharge from the Army for acting upon his conscience and disobeying orders. Vowing to never play the sucker again, McComb exploits his friends and partners to become a baron of a silver combine. After marrying the widow (Ann Sheridan) of a rival he sent off to die, McComb's enemies band against him bringing the ruthless magnate a long overdue comeuppance.
Flynn made the most out of getting a rare chance to play an anti-hero. As the man McComb pulls out of the gutter John Plato Beck (Thomas Mitchell) is the worthy friend-turned-adversary who helps knock his former friend's playhouse down.
Unlike many of his pioneering contemporaries in Hollywood, Walsh embraced the darkness of the post-war years and made many of his most complex and sophisticated films during this period. Oddly enough, this man of action became a specialist in the psychological western, a remarkable sub-genre which would peak with the intense Anthony Mann-James Stewart collaboration of the 1950s.
Based on a screenplay by Niven Busch (The Postman Always Rings Twice
, Duel in the Sun
) Pursued
follows the strange and sordid saga of Jeb Rand (Robert Mitchum), an amnesic orphan haunted by the memory of a pair of spurred boots. After his father is murdered in a shoot-out, young Jeb is taken in by a benevolent neighbor Mrs. Callum (Judith Anderson) who raises the boy as her own.
Over time Jeb falls in love with the Callum daughter Thor (Teresa Wright) much to the consternation of her jealous brother Adam (John Rodney) who resents this outsider's invasion upon his family. When Jeb returns to home a hero after fighting in the Spanish-American War, Adam turns against his former childhood chum and evicts him from the Callum home.
In a chilling, brilliantly realized sequence Adam pursues Jeb into a canyon where he aims to gun the bad seed down but the tables are turned when he becomes a victim of his own vengeance. Jeb is cleared of murder by a local court but both Thor and Mrs. Callum turn against the orphan and bar him from ever darkening their door again.
After becoming a successful entrepreneur Jeb pursues Thor with the intention of marrying her. To the surprise of Mrs. Callum, her perverse daughter is open to his advances. It becomes clear Thor has only entered the marriage to revenge her brother's death but she has a change of heart when she learns Jeb has been a victim of a long-standing family feud perpetrated by the insidious Grant (Dean Jagger), a man of influence in the community.
Working with one of his favorite cinematographers James Wong Howe (The Strawberry Blonde, Objective Burma!) Walsh created his most artistically ambitious film to date, a noir-ish piece of vitriol that pierces the heart of the old west.
   What part of me was buried in those graves?
In an effort to capitalize on the box office boom of the post war years, many studios, including Warner Brothers, recycled popular product of the pre-war days into new features featuring current stars of the bobby-sock era. Walsh had already been coerced into remaking The Strawberry Blonde into the lackluster One Sunday Afternoon
with the uninspiring Dennis Morgan and Virginia Page.
    You're a Little Bit Old-Fashioned.
For Colorado Territory
Walsh remade High Sierra into a taut western with little mercy. Sprung from jail by a syndicate run by an old gunslinger (Basil Ruysdael), Wes McQueen (Joel McCrea) heads to California where he is to head an unlikely band of three in a daring train robbery.
He wins the affection of the gang's half-caste moll Colorado Carson (Virginia Mayo) but runs afoul of his treacherous cohorts in crime (John Archer & James Mitchell) who set him up to take the fall in the heist. Wes catches onto their ruse and shackles the pair on the abandoned train, leaving them at the mercy of the law.
Before they meet their fate the men set the law upon Wes and Colorado who make a fateful detour to an out of the way ranch where he learns his tender feelings towards the owner's daughter (Dorothy Malone) are not reciprocated. Wes and Colorado separate and the bandit is pursued by the law to an ancient Indian ruin where he is quickly surrounded. Rushing back to aid the man she loves Colorado inadvertently tips off the marshals and after a sniper wounds Wes she makes a gallant last stand against the invincible posse.
Having been retooled from an esteemed Humphrey Bogart classic, Colorado Territory has never received its critical due. But, taking into account the character development of Wes' insidious gang, the gripping robbery sequence and the stunning shoot-out finale, a case can be made for Walsh's western actually being more artistically inspired than High Sierra. Either way, Colorado Territory was a remarkable achievement for the sixty-two year old filmmaker.
  You can't bust out of what you are. 
Mayo was clearly becoming Walsh's favorite heroine and she is seen in another nasty light in Along the Great Divide
, a neurotic western starring Kirk Douglas as a Marshal assigned to protect a notorious cattle rustler from a mob that wants to lynch him. Instead of being grateful to the man who saved his life cruel Pop Keith (Walter Brennan) and daughter Ann (Mayo) sadistically needle and mock Marshal Merrick (Douglas) on their trek through an unforgiving desert on the way to the town where the old man will stand trial.
Pressured by the Keiths and the angry mob, let down by a pair of deputies and haunted by the specter of his dead father, Merrick seems ready to crack under the strain until he wins the sympathy of the villain's fetching daughter.
A riveting slice of avarice set in the dusty plains of the old west Along the Great Divide was the last of Walsh's psychological westerns. He went on to make several more superb films in the genre during the 1950s, painting on widescreen canvases with much broader strokes.
  A man with no heart makes a bad enemy.
The cinematic darkness of Walsh's recent westerns carried over into the film most consider the director's masterpiece White Heat
, a noir-gangster epic starring James Cagney as the tortured and sadistic gangster Cody Jarrett.
When a gang member is left behind to die after a heist, police forensics identify the man as one of Cody's boys and the cops rush to round up the rest of the outfit. Cody turns the booty over to his loyal Ma (the deliciously sinister Margaret Wycherly) before turning himself in for a trumped-up robbery charge for which he will only serve two years in prison.
While in stir Cody is nearly bumped off by a rival and then learns his mother is dead and his psychotic reaction puts him in a hospital the very night he is going to bust out. Cody breaks out of the jail anyway and brings along Vic Pardo (Edmund O'Brien), a police detective masquerading as Jarrett's cellmate.
Back in California, Cody rounds up the old gang and guns down the man he believes shot Ma in the back, little suspecting the real murderer is his jealous wife Verna (Virginia Mayo). Invigorated by the killing, Cody sets out to pull off the greatest heist of his storied career but when his crooked men prove unworthy, the gangster meets his maker in a spectacular blaze of glory at the "top of the world".
Coming back to Warner Brothers to make his first gangster picture since The Roaring Twenties, Cagney brought years of experience and personal baggage to his portrayal of Cody Jarrett and he delivers a knockout blow. Never had one of his patented good guys-gone bad been portrayed in a negative light and indeed Cody Jarrett is a snarling, misanthropic mama's boy, hell-bent on revenging himself on the world.
   You'd look good in a shower curtain. 
Cagney would go dark again for Walsh several years later as a Huey Long-inspired snake oil salesman who throws his hat in the political ring in A Lion is in the Streets
. A self-proclaimed man of the little people Hank Martin (Cagney) finds his dream of becoming governor slipping away, so he cuts a deal with the mob to garner votes but his betrayal comes with a heavy price.
Although the colorful Lion has always been dwarfed by the award-winning spectacle of All the King's Men, it turns out to be a more honest, and less pretentious, spin on an American original.
   Sometimes a man don't got time for common sense.
With more experienced hands like Michael Curtiz (Captain Blood, The Sea Hawk, The Sea Wolf) and Howard Hawks (Tiger Shark, To Have and Have Not) readily available for directing big tales of a sea-faring nature Walsh seemed like an unusual choice to shoot a screen adaptation of C.F. Forester's Captain Horatio Hornblower
. For the role of the honorable Captain who trumped both the French and Spanish navies during the Napoleonic Wars Warner Brothers cast the dutiful, but boring, Gregory Peck. Nonetheless, Walsh seemed inspired by Forester's grand storytelling and the south of France locale shooting and produced a colorful swashbuckler.
   Flogging only makes a bad man worse.
Peck registers more of a pulse in The World in His Arms
where he plays Captain Jonathan Clark, a prosperous poacher who woos a Russian Countess (Ann Blyth) visiting San Francisco and locks horns with his charismatic rival Portugee (Anthony Quinn), an opportunistic "captain" who wants a piece of Clark's business.
Set on the Gold Coast during the rough and tumble nights of the 1850s The World in His Arms is as much of a fun take on male camaraderie as Walsh's other nostalgic San Franciscan treat Gentleman Jim. If one can overlook some truly bad rear projection shooting and Ann Blyth as Russian royalty then a good time can be had by all.
  He neither bathes nor knows the feel of clean linen.
Walsh's other two maritime period pieces, Blackbeard The Pirate
and Sea Devils
, are carelessly made but passable entertainments. While Yvonne De Carlo and Rock Hudson are a bit too lightweight to carry a far-fetched, Napoleonic spy caper in Devils, Robert Newton's wild, over the top performance as the scoundrel Blackbeard is one of the great, guilty pleasures in all cinema.
You'd make the flesh crawl on a squid!
It's not wrong to label Walsh as a man's director, but a good many of his portraits of The Second Sex hold up quite well and, indeed, several of his screen sirens remain refreshing alternatives to any number of long suffering, stuffed blouse parts such industry giants as Greer Garson, Katharine Hepburn and even Bette Davis found themselves playing time and again during the 1940s and '50s.
Walsh seemed to take special interest in Virginia Mayo, who, more often than not, came off as a crass tootsie during her reign as Warners' blonde bombshell. But, in Walsh's noir masterworks Colorado Territory, White Heat and Along the Great Divide, Mayo is a feisty and self-loathing piece of work. Pitted with and against a trio of angry and vengeful male protagonists Mayo proves a surprisingly worthy partner and sinister adversary.
Walsh also gave wings to the career of struggling Warners contract player Ida Lupino who in her first film with the director, They Drive By Night, played the greedy, temptress wife of an ill-fated trucking magnate. Ida had little trouble stealing the spotlight from the dull object of her affection (George Raft) but when she threw in her lot with menacing career criminal Humphrey Bogart in High Sierra she came into her own as a damaged noir heroine.
It could be argued the signature starring role of Lupino's career is the nightclub singer Petey Brown who returns home to California to sort out personal and familial issues in Walsh's The Man I Love
. Said to have been the film which triggered Martin Scorsese to make New York, New York
, Walsh's "musical" owes more to Warners populism than the sort Minnellian super-realism we find in Scorsese's valentine to the cinema of his youth.
    Stay off the junk, and you'll go far.
It's pretty safe to say without the participation of the chain-smoking, bad-good girl Lupino, who sees her sisters through difficult times while longing for composer Bruce Bennett, The Man I Love would have been pretty weak sauce. It helps that Petey is Walsh's kind of girl; a high-stepping filly with a chip on her shoulder and a heart of gold.
  All my life, it's been cherchez la femme.
While Walsh never had a chance to direct Bette Davis or Joan Crawford, the grand dames of the Warners lot, he did guide Olivia de Havilland through two of her most memorable roles in The Strawberry Blonde and They Died with Their Boots On. Her winning performance as the nurse who has a difficult time winning James Cagney's heart from the neighborhood princess is a charming example of the sort of work she was capable of before becoming a serious, Oscar-hungry actress.
In the twilight of his career Walsh formed a brief partnership with Jane Russell, the former protégé of Howard Hughes and more recently a memorable player in several cult and noir classics. Critical recognition of her work lay far down the road though and aside from her winning performance as the good girl to Marilyn Monroe's opportunistic gold digger in Howard Hawks' Gentleman Prefer Blondes, Russell's career was stuck in neutral.
The story of a down on her luck, San Franciscan "working girl" who flees to Honolulu in the early days of the war, The Revolt of Mamie Stover did little to turn Russell's fortune around but it remains an interesting oddity. After being banished from her hometown, Mamie strikes up a shipboard romance with the straight and narrow Jim Blair (Richard Egan), all the time aware he is bound to a well to do woman, far out of her league.
Once in Honolulu, Mamie goes to work for Berta Parchman (Agnes Moorehead), a Madame who runs a dance club for American sailors and soldiers based in Hawaii. Mamie proves to be a hit with the boys, so she cuts an advantageous deal with Berta and ultimately becomes a big mover and shaker in town. Still, the stain of her past and the tawdriness of her work haunt Mamie. Unable to commit to Jim, she returns to San Francisco to face life's bitter music.
It's difficult to make a case for The Revolt of Mamie Stover as a feminist classic but taken as a rebellion against the patriarchal tendencies of the era the film can be a cleansing experience. If anything Mamie goes too far in giving away her hard-earned fortune to turn over a new leaf, but if such selfless gestures and sacrifices were staples of traditional male Hollywood heroes then why shouldn't a woman seek the same moral redemption?
While Jayne Mansfield wasn't The Sheriff of Fractured Jaw
she carries the good-natured comedy in a surprisingly smart performance as the hardheaded proprietress of the town dance hall who keeps a naive British gun seller (Kenneth More) out of harm's way. Walsh toned down the camp siren's implicit vulgarity and brought out a warm, motherly quality, perhaps giving pause to those who had written Mansfield off as a cheap Marilyn imitation.
Walsh's reputation went into decline in the 1950s largely due to what most critics of the time felt to be the director's laissez-faire approach in choosing projects. Although initially reluctant to embrace Cinemascope and other widescreen formats, Walsh ended up making several visually sumptuous westerns and historical epics in the autumn of his career.
In Saskatchewan
Mountie Thomas O'Rourke (Alan Ladd) leads a mutiny against his commander (Robert Benton) whose tactical blunders prompts a Sioux Nation attack against their small band of men. They are also burdened by the presence of Grace Markey (Shelley Winters), a fugitive being returned to the United States to stand trial for murder. Along the way O'Rourke learns Grace is actually taking the fall for the real culprit, her former lover who intends to escort her to the scaffold.
Shot almost exclusively on spectacular Canadian locations, Saskatchewan is a surprisingly edgy North-Western bolstered by Ladd's smart performance as the dutiful military man who risks his career and lives of his companions when he assumes command of the ill-fated mission.
In 1955 Walsh entered into a three-picture deal with Clark Gable, the old lion of MGM who was looking to jumpstart his sagging box office fortunes. While the Walsh-Gable films did little to reverse that slide, they are revealing takes on an aging sex symbol who still had the power to light fires underneath unsuspecting screen sirens.
In The Tall Men
former Colonel Ben Allison (Gable) and his brother Clint (Cameron Mitchell) are small-time bandits who shake down shady cattleman Nathan Stark (Robert Ryan) for a $20,000 haul. Impressed by their moxie Stark offers the men an equal partnership on his next cattle drive, a Texas to Montana excursion which will earn enough money to live in comfort for the rest of their lives.
Along the way back to Texas, Ben rescues Nella Turner from an almost certain death at the hands of rampaging Indians. Ben and Nella fall in and out of love and through a series of misunderstandings the impatient brunette takes up with savvy Stark on the fateful cattle drive.
After a taut opening sequence keenly resembling Walsh's western-noirs, The Tall Men takes on a cinematic sprawl worthy of its brawling personalities and wide-open vistas. Along the way the dramatic thread gets tangled but Walsh's painterly and euphoric depiction of the massive cattle drive more than holds its own with Tom Dunson's mad drive to Kansas in Red River.
    A story of tall men…and long shadows. 
Compared to this epic undertaking, the next film in the Walsh-Gable collaboration The King And Four Queens
seems like a chamber work. Gable plays Dan Kehoe, a scuffling cowboy who descends upon a clan of McDade females in the hopes of relieving them of stolen gold booty. Ma McDade (Jo Van Fleet) is the matriarch to four widows of her sons killed in the otherwise successful gold heist. Kehoe succeeds in winning the affection of the young women but he is stymied by the secretive, stubborn Ma who is rightly suspicious of the stranger's motives.
Looking every bit his fifty-four years in A King and Four Queens Gable could be accused of rocking the cradle in his seduction of the young and mostly impressionable McDade women. Thankfully the King is very comfortable in his skin here, exuding all the pussycat qualities Marilyn Monroe would find so appealing in The Misfits
.
   I never put a dime on anybody but myself.
Owing to the fact it is a Civil War-era epic starring Gable, Band of Angels
quickly acquired an unwarranted reputation as being a weak sister to Gone With the Wind. Somewhat like the classic 1939, this epic of the Old South was told more through the eyes of its suddenly homeless heroine Amantha Starr (Yvonne De Carlo) than her chauvinistic protector played by Gable.
In the days before the Civil War Amantha lives the life of a slightly spoiled daughter of a benevolent plantation owner, all the time unawares her dead mother was actually a slave. When her father's dies Amantha leaves her safe Ohio finishing school to return to Kentucky where she learns the truth about her ancestry and the extent of Mr. Starr's indebtedness. A slave trader claims Amantha and after making several unsuccessful attempts to steal her virtue he puts her up for auction.
She is bought by Hannish Bond (Gable), a Yankee aristocrat who has relocated to New Orleans. Amantha misinterprets Bond's efforts to install her as the lady of the house which only fuels his desire to make her his own. Just as Amantha begins to fall in love with Bond she learns her benefactor had once been a slave trader. Her confused state isn't helped by the knowledge Rau-Ru (Sidney Poitier), Hannish's educated slave and heir to his fortune, despises his master and aims to ruin him.
Made around the time Hollywood began to grow a social conscience the pulpy Band of Angels isn't a film about race so much as a damsel in distress story in which the naive heroine is torn between the very real issues of protecting her virtue and survival.
  The master bought you…and now he's waitin'!  
Walsh's sense of camaraderie made him a natural to make films about men at war and both Fighter Squadron and The Naked and the Dead turn out to be keen studies about the conflict between the soldiers at the front and their often clueless officers.
The spirited Technicolor production of Fighter Squadron stars Edmund O'Brien as Captain Ed Hardin, an Air Force pilot who goes above the call of duty to shoot down German fighter planes. His derring-do gets under the skin of by the book General Gilbert (Shepperd Strudwick) who asks Hardin's old instructor Brigadier General Mike McCready (Henry Hull) to court-martial the lone wolf flyer to set an example. Instead, McCready assigns Hardin to take command of his squadron, an act which will give the daredevil pause to look after the safety of his men.
Based on the enormously popular novel
by Norman Mailer, The Naked and the Dead
is a more sophisticated take on the hierarchies of command. Set during the early days of the Pacific War, the tactical and forbidding General Cummings (Raymond Massey) engages in a series of intellectual discussions with Lieutenant Robert Hearn (Cliff Robertson) about the role of officers and leadership at the expense of the common infantryman.
The natural role of the twentieth-century man is anxiety.
Hearn's arguments to the contrary irritate Cummings who assigns the conscientious officer to lead a platoon onto an island infested by Japanese soldiers to track enemy troop movements. The squadron soon tunes out the wishy-washy Hearn and turn instead to their brutal but combat savvy Sergeant Sam Croft (Aldo Ray) to get them through the treacherous lines. A far cry from the noble intentions and heroism of Fighter Squadron, The Naked and the Dead features three complex men at odds with themselves and the army in a dark take on the American war effort.
Walsh never seemed concerned about his artistic legacy and, unfortunately, this meant he wasn't adverse to accepting assignment unworthy of his talents. This was especially true near the end of his long career.
    I am going to the feast. Prepare me. 
After slogging through a pair of military comedies and the lusty biblical epic Esther And The King
(starring Joan Collins), Walsh found more common ground in A Distant Trumpet
, his finest western in years which would also turn out to be his swan song. It was a cavalry picture quite unlike anything John Ford turned out in the mini-genre he helped create.
Recent West Point graduate Lt. Matt Hazard (Troy Donahue) arrives at a distant, desert outpost with ambitions of installing discipline into a sorry set of enlisted men. He soon finds Fort Delivery is equally besieged by a band of Indians angered by the white man's broken promises and a rascally merchant (Claude Akins) who supplies the soldiers with booze and hookers. Hazard is also distracted by the presence of Kitty Mainwarring (Suzanne Pleshette), the beautiful widow of his former commander, and the arrival of his fiancee Laura Frelief (Diane McBain) who happens to be the niece of the Major General in charge of brokering a peace with the Indians.
The Army is a jealous mistress.
Given the limitations of his lead actor, Walsh crafted a fascinating revisionist take on America's Romantic fixation with the cavalry. Hazard's rigid idealism is slowly compromised by the flaws of his men, the weakness of his own flesh and the policies of his country.

Books on Walsh:
Each Man in His Time: The Life Story of a Director
– Raoul Walsh **** This rollicking, high-spirited memoir is pretty much what one would expect from the lusty Mr. Walsh. How much of it is true is another matter. Still, Walsh's namedropping of his father's clients reads like a Who's Who of late 19th century New York City. Toss in anecdotes like Walsh's bizarre brush with death in the Arizona desert, and his involvement in the notorious John Barrymore funeral hi-jinks and you've got a memoir well worth the price of admission. A treasure but, sadly, out of print.
Raoul Walsh: The True Adventures of Hollywood's Legendary Director
– Marilyn Ann Moss **** This well-researched biography is an invaluable supplement to Raoul's sensational memoir and comes at a time when the critical perception of Walsh as a filmmaker of merit needed a good boost. Moss is careful to separate fact from folly in a long and colorful life but her coverage of the pre-Warner years seems patched together and in need of a better proofreader. The second half of the book offers excellent observations on Walsh's complex films of the late '40s and the more character-driven work from the twilight of his career. Essential reading for fans of classic Hollywood cinema.
Hollywood Professionals: Michael Curtiz, Raoul Walsh, Henry Hathaway V. 1
– Kingsley Canham ***1/2 Canham's fine essay on Walsh completely skips over the post-White Heat years but it's worth a gander all the same. At the very least this is worth picking up for some rare, and useful, analysis of the overlooked Curtiz and Hathaway. Out of print.
Films by Walsh:
1915  Regeneration ***1/2
1924  The Thief of Baghdad ***1/2
1926  What Price Glory? ***1/2
1928  Sadie Thompson ***1/2
1928  The Red Dance ***1/2
1930  The Big Trail ***1/2
1932  Me and My Gal ***1/2
1933  Sailor's Luck ***
1933  The Bowery ***1/2
1933  Going Hollywood ***
1935  Baby Face Harrington ***
1936  Klondike Annie ***1/2
1936  Big Brown Eyes ***1/2
1937  O.H.M.S. *** (aka You're in the Army Now)
1937  Artists and Models ***
1937  Hitting a New High ***
1938  College Swing ***
1939  The Roaring Twenties ***1/2
1940  Dark Command ***1/2
1940  They Drive By Night ***1/2
1941  High Sierra ****
1941  Strawberry Blonde ****
1941  Manpower ***1/2
1941  They Died With Their Boots On ***1/2
1942  Desperate Journey ***1/2
1942  Gentleman Jim ****
1943  Background to Danger ***1/2
1943  Northern Pursuit ***1/2
1944  Uncertain Glory ***1/2
1945  Objective, Burma! ****
1945  The Horn Blows at Midnight ***
1946  The Man I Love ***1/2
1947  Pursued ****
1947  Cheyenne ***1/2
1948  Silver River ***1/2
1948  Fighter Squadron ***1/2
1948  One Sunday Afternoon ***
1949  Colorado Territory ****
1949  White Heat ****1/2
1951  Along the Great Divide ****
1951  Captain Horatio Hornblower ***1/2
1951  Distant Drums ***1/2
1952  Glory Alley ***
1952  The World in His Arms ***1/2
1952  Blackbeard the Pirate ***1/2
1953  The Lawless Breed ***1/2
1953  Sea Devils ***
1953  A Lion Is in the Streets ***1/2
1953  Gun Fury ***1/2
1954  Saskatchewan ***1/2
1955  Battle Cry ***1/2
1955  The Tall Man ***1/2
1956  The Revolt of Mamie Stover ***1/2
1956  The King and Four Queens ***1/2
1957  Band of Angels ***1/2
1958  The Naked and the Dead ***1/2
1959  The Sheriff of Fractured Jaw ***1/2
1960  Esther and the King ***
1964  A Distant Trumpet ***1/2