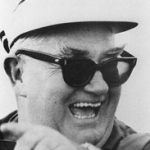 The original Hollywood Maverick Robert Aldrich put together a truly unique body of work championing the rebel, the miscreant, and misfit long before anti-heroes became fashionable in the 1970s. Never one to be pigeonholed, Aldrich tackled an astonishing range of genres. He directed westerns that sympathized with the American Indian (Apache, Ulzana's Raid), helped reinvent the female weepy (Autumn Leaves, The Killing of Sister George), put a spin on the biblical epic (Sodom and Gomorrah), and made the ultimate in Grand Guignol Hollywood horror flicks (Whatever Happened to Baby Jane?, Hush…Hush, Sweet Charlotte).
Aldrich extended this unsettling vision to conscientious films about men at war (Attack, The Dirty Dozen), a character-driven gangster picture (The Grissom Gang), a feel good prison flick (The Longest Yard), a pair of wild gender benders (The Legend of Lylah Claire, …All The Marbles) and two apocalyptic film noirs (World at Ransom, Kiss Me Deadly).
But while Baby Jane, The Dirty Dozen, The Longest Yard still strike a chord with the TV watching public, no cult of recognition has sprung up around Aldrich's name, ala Douglas Sirk, Nicholas Ray, Samuel Fuller, Ed Wood Jr…or any number of iconoclastic American filmmakers of the 1950s. Often confused with Robert Altman and passed over by critics who can't get a grasp on his eclectic style, Aldrich's reputation as an auteur seems stuck in purgatory.
Born into a well-to-do Rhode Island political family with Rockefeller ties, Aldrich matriculated at the University of Virginia where he majored in law, economics and, according to Aldrich, football. Showing little interest in business, Aldrich moved to Hollywood at the age of twenty-three, where through a family connection he immediately found work in the film industry.
Throughout the 1940s Aldrich learned his trade as assistant director, toiling for such humanistic masters as Jean Renoir (The Southerner
) and Charlie Chaplin (Limelight
) and young turks of the left like Robert Rossen (Body and Soul
), Abraham Polonsky (Force of Evil
) and Joseph Losey (The Prowler
& The Big Night
). In 1952 Aldrich directed twenty-two television shows including episodes of The Doctor, a short-lived medical program for NBC, and the Four Star Playhouse featuring Hollywood luminaries Dick Powell and Charles Boyer.
Armed with plenty experience but little money, Aldrich shot his first feature Big Leaguer
, a B-picture for MGM, on location at the New York Baseball Giants facility in Melbourne, Florida. This undistinguished, character-driven film, based on the true story of Hans Lobert, a wizened coach in the Giants' organization, is mostly notable for Aldrich's bold casting of gray-listed Edward G. Robinson in the lead role during the height of the Red scare.
The novice's next film, the cheap but stylish espionage thriller World for Ransom
(shot by Aldrich's first great collaborator, cinematographer Joseph F. Biroc) was set in the back streets of Singapore. Borrowing the cast, murky plot, and director from the China Smith television series, Ransom finds shady P.I. Mike Callahan (Dan Duryea) implicated in the kidnapping of a visiting nuclear scientist capable of constructing a hydrogen bomb.
Despite some technical shortcomings and Duryea's limitations as a leading man Aldrich remained fond of the hard-boiled film and its success proved a worthy calling card for two independent producers looking for an inexpensive but talented director to sit at the helm of their latest project, a decidedly non-conformist western.
The Hecht-Lancaster production of Apache
was fraught with tension as Aldrich's unrelenting approach often collided with Burt Lancaster's stubborn take on this true story of a rebellious lieutenant of the Apache warrior Geronimo.
After surrendering to the U.S. cavalry, the aged Geronimo and his tribe are forcibly moved from their sacred lands to an inhabitable reservation in Florida. Not willing to succumb meekly, Massai (Lancaster) escapes from their prison train and begins a long odyssey through the white man's hostile cities and the frigid plains of the Midwest before finally returning to his homeland. He is appalled by what he finds there. The remaining women, old men and children of the warrior tribe work the barren fields for meager scraps. Massai confronts the chief of the tribe and the frightened leader turns him over to the white authorities.
Massai escapes again, this time with the chief's daughter Nalinle (Jean Peters) in tow. Massai terrorizes the young woman, but he is finally humbled by her steadfast love for him. The two fugitives take to the hills where their new affinity for the land and family leads to a fateful confrontation with the white men who have been hounding Massai. The fatalistic young warrior comes to realize he is a relic and must adapt to this unnatural way of living, if only for his new wife and unborn son to survive.
Against Aldrich's protests the finale was re-shot so Massai survives his showdown with the army, but the unnatural ending still doesn't lessen the punch of this splendid, noble take on a people forced out of their native home.
      Even a hawk is an eagle among crows. 
Lancaster would play another larger than life individual who lives by his own code in Vera Cruz
, a spectacular western set in Maximillian's Mexico.
In the days following the Civil War, Confederate Major Benjamin Trane (Gary Cooper) heads south of the border in order to make a big score and rebuild his devastated Louisiana plantation. He quickly locks horns with another American, mercenary Joe Erin (Lancaster), and after a brief battle of wits the men take a grudging like to one another. The unlikely pair is soon courted by Emperor Maximillian (George Macready) who wishes to hire a travel consort through rebellious peasant territory for his Countess' safe passage.
On the road to Vera Cruz, Trane and Erin find the Countess (Denise Darcel) is in possession of $3 million to give to the Emperor's armies, so they can quell the current uprising. The Countess is ready to split the cash with the men, but Trane's rebel conscience gets the best of him leading to a deadly showdown with the greedy Erin.
The colorful and lusty Vera Cruz set forth a theme common in many Aldrich films, of a fallen hero turning his back on opportunistic comrades in an effort to regain self-esteem.
     They're a disreputable-looking band, Henri.
Aside from the late masterpiece Ulzana's Raid, Aldrich's remaining westerns rarely reached the heights of his first two efforts in the genre.
The Last Sunset
starred Kirk Douglas as the good bad guy Bren O'Malley who stumbles across his old flame Belle (Dorothy Malone) in Mexico. She is married to the ineffectual John Breckenridge (Joseph Cotten) who unwittingly hires Bren to help drive cattle to the rancher's cattle to Texas. Lawman Dana Stribling follows in pursuit of O'Malley whose irresponsibility caused the deaths of Stribling wife and child years before.
After Breckinridge is killed in a bar brawl, Stribling steals Belle's affections away from O'Malley which in turn triggers a taboo romance between the outlaw and her teenage daughter Missy (Carol Lynley). When O'Malley learns from Belle the girl is actually his daughter he lets Stribling shoot him down in a showdown in the streets of the border town.
One of Aldrich's more underrated efforts The Last Sunset holds up largely due to a surprisingly sensitive performance from Douglas as the charismatic gunman who loses it all in the end.
    Hanging is a long time proposition.
It's a stretch to label 4 For Texas
a western but at the very least it turned out to be one of the more watchable Rat Pack projects, even if it's a lackluster Aldrich film.
Lawman Zach Thomas (Frank Sinatra) joins forces with fellow passenger Joe Jarrett (Dean Martin) to ward off a stagecoach robbery but the wily stranger makes off with the booty with the hopes of opening a riverboat casino in Thomas' stomping grounds; Galveston, Texas. Jarrett triggers Zach's ire by going ahead in his scheme but the shady machinations of a local politico (Victor Buono) makes unlikely partners of the two men who band together to save their illicit investment.
Aldrich filled the cast with a sea of familiar faces but beyond Ursula Andress posing in various stages of undress there isn't much to recommend in this messy romp.
I prefer being killed by the hand of a beautiful woman.
Aldrich's penultimate film The Frisco Kid
has the amusing premise of a rabbi traveling across the Wild West to take over a synagogue in San Francisco. Along the way Avram (Gene Wilder) makes friends with Tommy (a wooden Harrison Ford), a young train robber who takes pity on the clueless clergyman.
Made at the height of Wilder's popularity The Frisco Kid is a surprisingly mellow Aldrich comedy, but the overall lack of energy derails the rabbi's odyssey just as he is on the verge of realizing his dream.
   I just want to make you kosher!
Having worked firsthand with several of the most iconoclastic directors in the business, Aldrich learned early to carefully choose his projects to assert his independence and improve his craft. Aldrich's second venture into noir, the ballsy Kiss Me Deadly
, reworks a pungent Mickey Spillane
potboiler into a dark parable of the Cold War.
   The dame standing there in the glare of the headlights.
While driving his sports car on a dark highway in the middle of the night Mike Hammer (Ralph Meeker) picks up a scantily-clad hitchhiker (Cloris Leachman) on the run. Mike quickly learns Christina is an escapee from a local asylum, but he refuses to betray her to police. Just as the coast seems clear Hammer and Christina are kidnapped by a vicious gang who drug the P.I. and torture the young woman to death.
Hammer miraculously escapes the killers and flying in the face of his own narcissistic protocol, he decides to investigate Christina's murder. Though it is clear the gumshoe is in over his head, Mike discovers the killers are part of a syndicate who plan to use nuclear power in a diabolical scheme.
Shot in splashy, high contrast black and white by the brilliant cinematographer Ernset Laszlo, Kiss Me Deadly is refreshingly twisted and over the top. Its appearance in theaters offered a welcome change from the grim determinism that had grounded film noir by the mid-1950s. But, instead of breathing new life into the genre, Kiss Me Deadly raised the bar so high few directors had the chops or chutzpah to make the leap.
    The liar's kiss that says I love you.
Aldrich's next project The Big Knife
took on the assembly-line infrastructure of the Hollywood studio system.
Unhappy matinee idol Charlie Castle (Jack Palance) is pressured to re-up for another confining seven year contract by the manipulative studio mogul Stanley Hoff (Rod Steiger). In order to win back his estranged wife Marion (Ida Lupino), Charlie is ready to give up his comfortable California home and salary to return to the New York stage. But unwilling to part with such a valuable commodity, Hoff threatens to unveil Charlie's dark secret to the public unless he re-signs with the studio.
Based on a bitter play by Clifford Odets
, who fought his share of Stanley Hoffs as a contract screenwriter, The Big Knife appealed to Aldrich because of Charlie's desperate need for self-redemption. Odets' sanctimonious joy in belittling Hollywood in favor of the perennially mediocre American Theatre gets tiresome, but his creation of the frightening Hoff and the soulless henchman Smiley Coy (Wendell Corey) was the stuff of true inspiration.
     Am I the worst oaf in the world? 
Looking to poke the establishment in the eye once again, Aldrich adapted another controversial play, Norman Brooks' anti-war saga, The Fragile Fox
for Palance. In Attack
the brooding actor takes on the role of Army Lieutenant Joe Costa, a conscientious soldier ready to lay waste to his well-connected commanding officer Captain Cooney (Edward Albert).
Set in contentious Belgium during the waning days of WWII, Cooney orders Costa's men out on a dangerous mission but when they become surrounded by enemy fire the cowardly Captain ignores the situation then has a truly frightening nervous breakdown. To the horror of his men, the furious Costa vows to kill Cooney but fate steps in before he is granted the opportunity. Once again, Aldrich rose above the play's overbearing message and fashions a taut, claustrophobic drama about men dealing with impossible situations while under enormous strain.
    We don't drink with a man unless we respect him.
Fans of Aldrich's testosterone-driven war epics (The Dirty Dozen & Too Late the Hero) may find it surprising the director was an admitted dove, still he always sought to instill an anarchic spirit that flew in the face of military authority.
Aldrich's refusal to kowtow to the commercial Hollywood of the late 1950s led to his being ostracized from his adopted home. Aside from directing television exotica (James Michener's Adventures in Paradise) Aldrich would only shoot one film (The Last Sunset) in and around Los Angeles between 1957 and 1962.
His first UK-financed effort Ten Seconds to Hell
follows the exploits of a group of British and German soldiers chosen to defuse bombs in Berlin. Coming on the heels of Aldrich's other recent, claustrophobic war flick starring Jack Palance (Attack), it's hard to make a case for this plodding effort. This director's visceral style and dodgy source material often made for a disastrous combo and Aldrich bore the brunt of much criticism when such half-baked films went off the rails.
    This man put his hate against hell!
Aldrich's next European project The Angry Hills pits an American reporter (Robert Mitchum) against the Gestapo against the backdrop of Greece in the days before Pearl Harbor. Here, Mike Morrison (Mitchum) works with the Greek Resistance to smuggle a list of conspirators across the occupied country and out of harm's way.
     Choose a battle and leave the field with honor. 
Based on a novel by Leon Uris
, The Angry Hills offered the sort of sprawling canvas a director like Otto Preminger found easy to fill but Aldrich seemed to get lost in the epic scenery, so the intriguing premise fizzles quickly.
Like other American filmmakers of his generation (Nicholas Ray, William Wyler, George Stevens, etc.) Aldrich fell into the biblical epic trap and his experience in the genre proved to be an unhappy one.
It is probably appropriate Aldrich would sign on to make that most adult-themed of biblical legends, Sodom And Gomorrah
, and is often the case with these sort of projects, this story of Lot leading the Jews to a rich and plentiful land really only comes to life when he visits the court of the debauched pagans (ruled over by the jaded Anouk Aimee).
While S&G turned out to be one of the more watch-able Bible-based films Aldrich's quarrels with his Italian producers and co-director Sergio Leone seemed to sour his opinion of filmmaking abroad and hastened his return to Hollywood.
     Hebrews and Sodomites, Greetings! 
Over time Aldrich's name would become synonymous with gutsy action-adventure films, but his unconventional work with the female of the species has a special niche of its own.
In Autumn Leaves
40something professional Millicent Wetherby (Joan Crawford) pretends she doesn't have enough time to smell the roses but, in reality, her life is a lonely one. A chance meeting with the charming and much younger Burt Hansen (Cliff Robertson) leads to an unlikely romance. Against her better instincts Millicent accepts Burt's marriage proposal but the afterglow is interrupted by a shocking revelation.
The soapy plot certainly has Sirkian overtones, but Joan Crawford could never be mistaken for the demure Jane Wyman. Burt's descent into mental illness brings out the mother lion in Millicent and her ferocious confrontations with Burt's incestuous ex-wife (Vera Miles) and his creepy father (Lorne Greene) are deliciously perverse.
    Are you to be satisfied with only half a man?
After failing to get a career as an independent producer off the ground in Europe Aldrich returned to Hollywood where he coerced fellow black sheep Crawford and Bette Davis to sign on for a screen adaptation of Henry Farrell
's novel Whatever Happened to Baby Jane?
    Blanche, you aren't ever gonna sell this house.
The action opens in a vaudeville theater in 1917 where star of the Hudson family, the bratty, pre-pubescent Baby Jane holds her audience spellbound with a syrupy song. In the wings stands Jane's quiet and demure sister Blanche, burning with envy. Flash forward to Hollywood 1935 where it is movie star Blanche who now holds the upper hand as an idol of millions while the untalented Baby Jane toils in tawdry B-pictures until one fateful night when a gruesome accident puts an end to their lives in the public eye.
   Blanche? You know we've got rats in the cellar?
The bulk of the film takes place in 1962, but the two sisters cling desperately to the past as the demented Jane continues to wear her pasty-face make-up from her childhood days on the stage and invalid Blanche watches her old movies on late night television. Still, they continue to play the same roles with Jane as the controlling and sadistic sibling and Blanche the willing victim.
You mean all this time we could have been friends?
Whatever Happened to Baby Jane? is the stuff behind the scenes legend
in which divas Davis and Crawford worked long and hard to one-up one another. But Davis' shockingly naked turn as a middle-aged woman locked into infantile persona makes for one of her most complex screen performances. Taking advantage of the eerie and inspired camerawork of Ernest Haller, Aldrich proved to be a master of horror but he only returned to the increasingly popular genre one more time with Hush…Hush, Sweet Charlotte
.
Based on another Henry Farrell story Charlotte would re-team Davis and Crawford in a gothic murder mystery set in a Louisiana plantation, but after Crawford's offstage antics infuriated cast and crew she was replaced by Olivia de Havilland.
Like Baby Jane, the film opens in the ominous past (1928) where we find a young southern belle Charlotte Hollis (Davis) carrying on a torrid affair with the very-married John Mayhew (Bruce Dern). Charlotte's father (Victor Buono) forces Mayhew to break-up with his daughter and when her beau later turns up hacked to pieces, the whole town assumes Charlotte wielded the bloody axe.
Nearly forty years later, we find the spinster Charlotte living in her father's plantation now destined for the wrecking ball. Her successful cousin Miriam (de Havilland) visits in what seems like an effort to convince Charlotte to move out, but her real plans involve scaring her batty relative out of her wits and absconding with the Hollis fortune.
Hush…Hush, Sweet Charlotte was more conventional than its predecessor but it turned out to be Aldrich's most visually striking film since Kiss Me Deadly and the frightening performances from Davis, the frosty de Havilland and creepy Joseph Cotten hold their own against any of the old horror stars (Vincent Price, Peter Lorre, Boris Karloff, etc.) resurrecting their careers at the Hammer and A.I.P. studios.
    You just can't keep hogs away from the trough? 
Long fascinated by the lore of Hollywood, Aldrich's tribute to movie myths and the filmmaking process, The Legend of Lylah Claire uncovers the mystery behind a long dead movie star by recreating her suicide on screen.
Twenty years after her death the myth of Lylah Claire (Kim Novak) remains large enough to warrant a major motion picture directed by her ex-lover Lewis Zarkan (Peter Finch) who comes out of retirement to tell the true story. He hires a young Lylah look-alike Elsa Brinkmann (Novak) and begins the grueling process of remolding her into the image of the woman he loved. Zarkan sadistically badgers Elsa throughout the project up to the climactic scene where it becomes shockingly clear why the details of Lylah's death were covered up by her studio.
In Lylah Claire, Aldrich skillfully incorporates haunting themes (and scenes) from Sunset Boulevard
, Lola Montes
and though he never had much use for Hitchcock, Vertigo
. Upon the film's release Novak was savaged in the press but her vulnerable performance gives Lylah much of its emotional core and nervous energy.
Ten years later Billy Wilder would film his own loose take on the Garbo legend, Fedora
, a film which resembles Lylah in many ways, but the casting of insipid Marthe Keller as the secretive silver screen icon only makes Aldrich's baroque slice on Hollyweird look all the better.
Not content to shock just fans of classic cinema, Aldrich next dared to make one of the first films with sympathetic homosexual leads in The Killing of Sister George
.
By day June (Beryl Reid) plays the charming small-town busybody Sister George in a popular British television serial but at night she comes home to her small London flat where her longtime lover Alice (Susannah York) awaits. Insanely jealous of Alice's youth and bi-sexuality, the blowsy June keeps the girl on a short leash and makes both of their lives miserable by drinking herself into a stupor every night. June's anger carries over into her workday as she ceaselessly harangues the serial's actors, writers, producers and sponsors.
Tiring of her act, studio boss Mercy Croft (Coral Browne) visits June's flat and gives her a shape-up or ship-out ultimatum. While there, Mercy takes a fancy to Alice and offers her encouragement and a rare kind word. Back on the set, June notices her part is disappearing before her eyes—all leading to Sister George's ultimate kill-off. Devastated, June lashes out angrily at Alice which only pushes the younger woman deeper into Coral's arms leaving the former star jobless and alone.
The bawdy and foul-mouthed June lashes out at an industry with a short memory and its minions who have discarded her so ruthlessly. Still, June has greatness in her. She can hold court like no other, wielding her wicked wit like a double-edged sword, though it becomes increasingly clear her uncompromising personality will destroy her in the end. Like any number of Aldrich's macho anti-heroes his tough and gutsy women also live on the fringe of society, wearing their non-conformity as a badge of honor.
   Not all women are raving bloody lesbians, you know. 
Aldrich made the transition to the 1960s and '70s better than most of the directors of his generation largely since his anti-authoritarian stance was in tune with the tumultuous times. Aldrich was also a pioneer of the postmodern male action flick of which he delivered two of its earliest classics.
Set in and around a downed aircraft in the Arabian Desert The Flight of the Phoenix
follows the plight of a motley crew of men who choose to rebuild their plane to hasten their escape from certain death. The project is led by the young German model airplane designer Dorfmann (Hardy Kruger) who annoys pilot Frank Towns (James Stewart) to no end with his arrogant demeanor. After some inevitable setbacks and a raid by Arab bandits which leaves two passengers dead, the men are resigned to their grim fate when the stubborn Towns finally caves in to Dorfmann's mad plan to salvage the wreck.
At turns grueling and rewarding, The Flight of the Phoenix turned out to be a far-seeing collaboration between the Greatest Generation and the geeks who would ultimately rule the world with slide rules, computers, and hand-held gadgets.
    You behave as if stupidity were a virtue.
A staple of late night and cable TV for nearly fifty years, The Dirty Dozen
is a brawny WWII classic about a band of condemned soldiers who outwit Uncle Sam's finest professional soldiers on their way to blowing-up a Nazi compound. Tapping into the anger and distrust the American public was beginning to feel towards their elected officials Aldrich's film became a runaway hit.
After falling out of favor with the army brass, Major John Reisman (Lee Marvin) is tapped to lead a group of death row and lifer prisoners on a suicidal, top secret mission. Initially, Reisman meets resistance from the ethnically diverse company of prisoners (John Cassavetes, Jim Brown, Charles Bronson, Telly Savalas, Trini Lopez, etc.), but after he offers them a chance at amnesty they agree to attend his boot camp.
While whipping the unit into shape the snaky Reisman alienates his superiors, putting the project in jeopardy. But his Dirty Dozen rises to the occasion by decisively defeating Colonel Everett Breed's crackerjack unit in a sophisticated war game. This band of killers and rapists-turned professional soldiers were now ready for their most daunting task, a suicidal sneak attack on an impregnable Nazi fortress.
One of filmdom's unabashedly guilty pleasures, The Dirty Dozen delivers plenty of nail-biting action and heavy metal thunder. But what distinguishes Adlrich's film from the dopey, scrap heap of action flicks it spawned is a socially-conscious subtext critical of WASP hierarchies and senseless killing.
   Killing generals could get to be a habit with me. 
Aldrich's next and final take on war, Too Late the Hero
, took the anti-authoritarianism of The Dirty Dozen several steps further.
Set on an unforgiving Philippine island in the Pacific during the early part of WWII, cynical American Lieutenant, Sam Lawson (Cliff Robertson), is assigned to assist a British mission destroy a Japanese radio station buried in the depths of the jungle. Led by the sadistic, aristocrat Captain Hornsby (Denholm Elliott) the unhappy company is picked off one by one by the Japanese until they arrive at the outpost where Lawson is reluctant to follow his gung-ho leader.
After witnessing Hornsby's heroic death, the ashamed Lawson assumes leadership responsibilities pushing the men deeper into the jungle in search of an enemy Air Force outpost. On the treacherous road back to British quarters Lawson finally wins the hard-boiled Hearne (Michael Caine) to his cause, but only after the rest of the men have succumbed to the false promises of the pursuing Japanese Major (Ken Takakura).
Aldrich pushes the envelope to the edge by making Lawson and Hearne such unlikable anti-heroes. While Too Late the Hero is a more sophisticated take on war than The Dirty Dozen, it often rings false, especially in the bitter finale where the exhausted Hearne exaggerates Lawson's heroism to his awestruck soldier brethren.
Following the example of Bonnie and Clyde
Aldrich chimed-in with his own jaundiced take on the Great Depression with The Grissom Gang and Emperor of the North, two brilliant films about rebels and iconoclasts who live according to their set of rules. After the grand excesses of his recent work, it is surprising to find Aldrich's only stab at a gangster film, The Grissom Gang
, to be a sensitive study of unlikely love.
Don't you believe what you read in the newspapers.
Based on a novel by famed crime writer James Hadley Chase, the film opens with Ma Grissom's gang of good ol' boys kidnap Barbara Blandish (Kim Darby) the twenty-one year old daughter of a local millionaire. While Ma (Irene Dailey) is the brains of the Grissom outfit, her slow-witted son Slim (Scott Wilson) is the frightening brawn. Slim quickly develops a crush on the saucy Barbara and forbids anyone else in the clan to wait on her.
The bratty debutante is at first repelled by his attentions, but when it becomes apparent the gang has no intention of letting her go free, she seduces Slim in order to survive. Once the ransom is paid, Slim sets Barbara up in a gaudy cell that doubles as a love pad. While on the lam, Barbara comes to sympathize then fall in love with her captor, but it's not until the police finally close in that she feels the gravity of Slim's noble sacrifice.
The opening sequence of Emperor of the North
finds A#1 (Lee Marvin), a self-proclaimed King of the Hoboes, doing the unthinkable in hitching a ride on the 19 train whose bloodthirsty guard is none other than the legendary Shack (Ernest Borgnine). A#1's triumph is short-lived because a cocky kid by the name of Cigaret (Keith Carradine) is taking false credit for being the first hobo to ever bum a ride under Shack's watch.
Furious his thunder has been stolen, A#1 lets it be known he will ride Shack's train all the way to Portland, an event that turns the local Hooverville on its ear and fuels the train master's anger to new heights. Once on the train the two combatants and a surprise passenger indulge in a battle of wit and grit as their safety, and lives, hang perilously on edge. Belying its picture postcard setting, Emperor of the North is an unflattering portrait of an America where every man was truly out for himself.
    Your ass don't ride this train! 
Aldrich's two character-driven films starring Burt Reynolds offer a glimpse of what might have been had the underrated actor not chosen to cash-in on his good looks and easy charm in a series of wildly-popular redneck road movies.
The Longest Yard
pits Reynolds as former football star Paul Crewe whose adventures in point-shaving, self-pimping, and car-jacking finally lands him in a maximum security prison. He is immediately strong-armed by Warden Hazen (Eddie Albert), a Nixon-authority like figure who pressures Crewe into recruiting and coaching a football team of prisoners. But when the team of misfits actually presents too strong a challenge to Hazen's cherished semi-pro team, the Warden pulls the plug on Crewe.
Admittedly, something of a lighter spin on The Dirty Dozen, The Longest Yard provides for a quirky example of what socio and psychopaths can achieve when their self-esteem is restored.
  Shaving points off of a game, man that's un-American. 
In the throwback L.A. crime story Hustle
, Lt. Phil Gaines (Reynolds) is assigned to an apparent suicide of a teenage prostitute, but the open and shut case becomes complicated when the girl's angry father Marty Hollinger (Ben Johnson) begins his own investigation. Like Hollinger, the troubled Gaines is unable to grapple with a loved one's sexuality, in this case Nicole Britton (Catherine Denueve), call girl to the rich and infamous.
When the crazed Hollinger shoots one of his daughter's last clients, a slick and perverted mob lawyer (Eddie Albert), Gaines covers up the murder, but like most of the film noir heroes he admires the simpatico cop pays a heavy price in the end.
Reynolds' hip L.A. detective sees the past through rose-colored glasses and has difficulty accepting the grey area of the present. Frustrated and sickened by all he encounters on the job Gaines adopts a code of honor from his screen heroes Bogart and Garfield, but his compassion doesn't extend itself to complicated women. His misguided romanticizing of the troubled Korean vet Hollinger clashes with the black and white world of his job.
Despite the presence of its two iconic stars, Hustle has never developed a cult following. It is a shame since Aldrich's gritty flick is one of the most honest cop movies to come out of Hollywood.
Ulzana's Raid
, a morally ambivalent tale of an Apache uprising in the old west, brought Aldrich's career full circle. When Apache leader Ulzana leaves his reservation with murder in mind, a cavalry squadron led by the conscientious Lt. DeBruin (Bruce Davison) is sent to round up the Indian warrior and his henchman. The inexperienced DeBruin is joined by a wizened scout McIntosh (Burt Lancaster) and the Apache guide Ke-Ni-Tay (Jorge Luke).
On the trail of Ulzana, the pious Lieutenant is appalled by the carnage the gang leaves behind and he is disturbed by McIntosh's nonplussed attitude. Letting prejudice get the best of him, DeBruin shuns Ke-Ni-Tay and when he learns McIntosh is married to an Apache he foolishly ignores his scout's advice and follows the beat of his own drummer, leading to disaster.
Intended as a spin on the ill-advised American invasion of Vietnam, a tone of resignation hovers over Ulzana's Raid culminating in the bloody finale where McIntosh remains unwilling to blame the foolhardy Lieutenant for exposing his men to ambush and certain death. It would prove to be a fitting allegory for a country trying to come to grips with the dual humiliations of military defeat and Watergate.
   Man with old smell in the nose is old man.
The cold war thriller Twilight's Last Gleaming
is yet another pessimistic take on the United States' role on the world stage.
Former Air Force general and escaped con Lawrence Dell (Burt Lancaster) breaks into a missile silo and holds president David Stevens (Charles Durning) and his cabinet at bay as they mull over his demands to make public the real reason the United States became involved in the Vietnam War. When a military coup fails to kill Dell and his henchman, the former general unlocks the missiles putting the world on the brink of nuclear holocaust.
Though the political message is myopic, Twilight is an interesting and, at times, exciting exercise in style. Making excellent use of the generally dubious split and multiscreen process, Aldrich builds the tension to a fever pitch especially in the taut sequence where the frustrated general seems ready to release his fury upon the superpowers.
There are no midgets in the United States Air Force.
Aldrich struggled to find solid ground in the twilight of his career. To his credit, he remained audacious and politically-incorrect even when the subject matter left something to be desired.
Based on a novel
by Joseph Wambaugh The Choirboys
was aimed to tap into the recent popularity of cop shows on American television, but Aldrich's raunchy take on the hijinks of a group of policemen in the L.A.P.D. was pretty tasteless even by the director's own take no prisoner standards.
Aldrich's stab at a revisionary western, The Frisco Kid
, loses steam after a promising opening, the victim of a by-the-numbers script and an uncharacteristically milquetoast cast.
Not willing to go softly into the night Aldrich next chose to shoot a serious comedy about the women's wrestling circuit. For All The Marbles
he cast Peter Falk as Harry Sears, the morally-challenged manager of a luscious pair of tag team wrestlers (Vicki Frederick and Laurene Landon). Frustrated by a lack of bookings Harry turns his earnest "California Dolls" into a glam outfit fueling the team's rise to the top of their dubious sport.
Aside from some unfortunate misogyny perpetrated by Harry, All the Marbles was the most buoyant film Aldrich made in years and pointed towards, if not a restoration to the A-list, at least the promise of interesting things to come. Alas, it was not to be as the studio system's last maverick soon succumbed to a heart attack at the age of sixty-five.
    These dice are colder than my first wife. 
Books on Aldrich:
Whatever Happened to Robert Aldrich?: His Life and His Films
– Alain Silver and James Ursini **** The two acclaimed noir experts compile a marvelous thematic study which weaves a thread through the wide variety of genres. Also included are a concise bio, some dandy behind the scenes info, and Silver's superb interview with Aldrich.
Robert Aldrich: Interviews
– ed. Eugene L. Miller Jr. & Edwin T. Arnold **** This collection of interviews with the cranky Aldrich often makes for a bumpy ride but considering how this maverick director has been neglected by modern day critics we should be grateful it exists at all. Interviewers Peter Bogdanovich, Alain Silver and Pierre Sauvage tame the savage beast in Aldrich and bring out much insight.
Films by Aldrich:
1953  The Big Leaguer ***
1953  The Gift ***1/2 (Four Star Playhouse TV)
1953  The Squeeze ***1/2 (Four Star Playhouse TV)
1953  The Witness ***1/2 (Four Star Playhouse TV)
1954  World for Ransom ***1/2
1954  Apache ****
1954  Vera Cruz ****1/2
1955  Kiss Me Deadly *****
1955  The Big Knife ****
1956  Autumn Leaves ***1/2
1956  Attack ****
1957  The Garment Jungle *** (signed by Vincent Sherman)
1959  Safari at Sea ***1/2 (Adventures in Paradise TV)
1959  The Black Pearl ***1/2 (Adventures in Paradise TV)
1959  The Angry Hills ***1/2
1959  Ten Seconds to Hell ***1/2
1961  The Last Sunset ***1/2
1961  Sodom and Gomorrah ***
1962  Whatever Happened to Baby Jane? ****
1963  Four For Texas ***
1965  Hush…Hush, Sweet Charlotte ***1/2
1965  The Flight of the Phoenix ****
1967  The Dirty Dozen ****
1968  The Legend of Lylah Claire ***1/2
1968  The Killing of Sister George ****
1970  Too Late the Hero ***1/2
1971  The Grissom Gang ****
1972  Ulzana's Raid ****1/2
1973  The Emperor of the North ****
1974  The Longest Yard ***1/2
1975  Hustle ****
1976  Twilight's Last Gleaming ***1/2
1977  The Choirboys ***
1979  The Frisco Kid ***
1981  …All the Marbles ***1/2