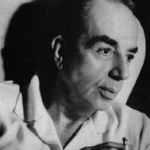 Vincente Minnelli, America's most acclaimed director of musical film, liked to boast he was born in a tent and indeed little Vincente spent much of his young life living out of a trunk with the Minnelli Brothers Tent Theatre. His conductor father and actress mother tried to instill discipline upon their only surviving child, but the transient and colorful lifestyle of thespian life left deeper impressions on the sensitive boy. Living with his grandparents while his folks were on the road Vincente developed insecurities and the early signs of manic depression which would haunt him throughout his life.
Minnelli's parents ultimately left the theatre for cozy suburban life, but the smell of greasepaint and the thrill of grand spectacle drew the young man back to his old stomping grounds and a career which would transcend his wildest expectations.
Minnelli left his Ohio home for Chicago at the tender age of sixteen to look for work in the theatre. An early job as a department store window merchandiser for the Marshall Field department store chain spawned an interest for costume and set design. After a spell as a designer for live shows at Chicago's Balaban and Katz movie theaters, the firm transferred Vincente to Manhattan to do similar work for the parent company at the Paramount Theater.
Though Minnelli struggled to make ends meet during the darkest days of the Great Depression his talent and sensitivity didn't go unnoticed and he soon became a favorite of several of the era's stage divas and soon he was rewarded with the plumb job of art director at Radio City's Music Hall. Minnelli enjoyed the New York social set, striking up friendships with The Marx Brothers
, George and Ira Gershwin
, and especially the brilliant, ne'er do well pianist Oscar Levant
.
In 1935 Vincente's career took another turn upwards as he was signed to direct a series of musical reviews for the legendary vaudevillian entrepreneurs, the Schuberts. Aiming to bring sophistication to these light entertainments Minnelli borrowed copiously from the cinema and fashion photography, using outrageous colors, montage-like effects, and sampling bits of choreography from Busby Berkeley
, to create spectacular musicals the likes of which the theatre-going public had never seen before. Hollywood noticed and by 1940 Minnelli was headed west with a MGM contract under his arm.
    Father of the Hollywood Musical.
Before Minnelli made the trek to Culver City the movie musical had been stuck in the doldrums since Berkeley's decline and tragic crack-up. 20th Century Fox would make a fortune in the 1940s propping up the assets of Betty Grable in a series of colorful but kitschy slices of Americana and MGM unleashed the talents of Mickey Rooney and Judy Garland in a series of massively popular musical reviews better remembered today for their manic energy rather than artistic inspiration.
As part of his indentured service Minnelli worked on Strike Up the Band
and Babes on Broadway
and made the fortuitous professional and personal hook-up with his future wife Garland.
When Minnelli was finally deemed ready to direct producer Arthur Freed offered him Cabin in the Sky
, a Faustian Broadway hit loosely inspired by Gershwin's folk opera Porgy & Bess
. The all-black musical would feature a wealth of talent including the mighty Ethel Waters
, sizzling songbird Lena Horne
, Jack Benny's self-effacing sidekick Eddie "Rochester" Anderson, Louis Armstrong and the Duke Ellington Orchestra, but Minnelli still worried the patronizing material would make his subjects look ridiculous.
The good-hearted and good for nothing Little Joe Jackson (Anderson) is given six months to save his soul or spend eternity in hell. Hoping to redeem himself in the eyes of his long-suffering wife Petunia (Ethel Waters) Joe tries to go straight but devious Lucifer Jr, (Rex Ingram) enlists tempting Georgia Brown (Horne) to lead him astray.
The feathery light material provided opportunity for plenty of broad acting and tomming by the players but the nonsense comes to halt during the standout musical sequences, wonderful performances which brought its audience a little closer to heaven.
The framing of these musical numbers, during which the flow of the narrative comes to a halt or gets sidetracked, was unusual for a Hollywood film but Minnelli knew the power of the songs (by Vernon Duke, John La Touche and Lynn Root) would give a deeper resonance to the often foolish actions of his protagonists. This method succeeded in transforming Cabin in the Sky from pandering entertainment to a memorable work of art.
Having shown Minnelli could handle a difficult assortment of personalities and still deliver MGM gave him a prestigious project which would set an almost impossibly high standard for the director and the American film musical of the early 1940s.
Based on Sally Benson's short stories
about a turn of the century St. Louis family Meet Me in St Louis
is the most visually dazzling and genuinely moving musical of the immediate post Astaire-Rogers era. Shot in sumptuous Technicolor by George Folsey and featuring a lilting score of Ralph Blane and Hugh Martin songs, Minnelli crafted a picture-postcard portrait of a turn of the century Midwestern city readying itself to host the World's Fair.
As mischievous teenage daughter Esther, Judy Garland is at the top of her game (and voice), turning in a confident yet vulnerable performance, exhibiting little of the affectation which marred her later work. Meet Me in St. Louis turned out to be the most fluid and artistically advanced Hollywood musical to date. Its spunky songs and eye-popping choreography were cleverly and seamlessly knit into the sentimental narrative, breathing life into a genre which was beginning to look hopelessly old-fashioned.
  We could be happy anywhere as long as we're together.
Minnelli's humanistic touch was evident in his next film, The Clock
a beguiling romance set in New York City. Intimidated by the prospect of a forty-eight hour leave in the Big Bad Apple, Corporal Joe Allen (Robert Walker) talks a pretty working girl, Alice Mayberry (Garland) into spending the day with him in Central Park and at the Metropolitan Museum. Not wanting to be thought of as a "pick-up", Alice tries to cut ties with the lonely country boy but Joe's helplessness only attracts her more.
Walker and Garland have an awkward but charming chemistry as a sweet couple who through a spontaneous and unlikely series of events discover they are made for each other. The Clock is a valentine to New York City, but the film was entirely shot at MGM's Culver City studios where Minnelli made imaginative use of slides and rear projection photography in creating a unique and tender portrait of two lovers who dare to capture eternity before their time runs out.
Like many other top directors employed by MGM Minnelli was pressed to make art out of kitsch and much of his output at the studio during the 1940s was uneven. Nowhere was this more evident than in the omnibus Ziegfeld Follies
, a showcase of musical and corny comedy skits performed by many of MGM's leading lights (Fred Astaire, Gene Kelly, Judy Garland, William Powell, Esther Williams, etc.) mostly directed by Minnelli.
Most assuredly a minor work in the Minnelli canon, the film does boast the only true dance collaboration between Astaire and Kelly, The Babbit and the Bromide, an amusing piece of one-upmanship written by the Gershwin brothers.
The film's true showpiece, however, was Limehouse Blues, a dance duet between an Asiatic Astaire and Lucille Bremer set on the streets of a wicked shanty town. A case can be made for the expressionistic Limehouse being the most imaginative piece of filmmaking Minnelli made during this period and if one can get beyond the unfortunate racism the sequence is dazzling and delightful.
    Did you see a picture called "Cover Girl"?
The same can't be said for Yolanda And The Thief
, an oddball vehicle starring Astaire and the bland Bremer, whom the studio was grooming for stardom.
Here, she plays a naive Latin-American heiress who falls prey to the machinations Johnny Riggs (Astaire), a shakedown artist on the lam from the States. Johnny convinces Yolanda he is her guardian angel and after devising a clever scheme to skip out with her fortune he finds he can't pull off the deed because he has fallen in love with her. Unfortunately, Bremer comes off as more painfully dumb than innocent and her romantic scenes with Astaire might as well have been played in a nunnery.
The salvation of Yolanda and the Thief is Minnelli's painterly taste and artful sense of direction. With Charles Rosner (Sunrise) manning the camera, the estimable Cedric Gibbons in charge of set design and Irene Sharaff stitching together some colorful costumes, Minnelli made Yolanda into one of his more visually resplendent films. It wouldn't be the last time his impeccable mise-en-scene transcend his material.
As the popularity of the musical film took off during the post-war years producer Arthur Freed recruited a legion of talented dancers, choreographers, songwriters and stage directors to join Minnelli at MGM. Directors Charles Walters and George Sidney went on to make many sophisticated entertainments for the studio but it would be the energetic, well-choreographed musicals of Gene Kelly and Stanley Donen which would soon offer the most interesting alternative to Minnelli's painterly, brooding work in the genre.
But in 1948, Kelly was still the new kid on the block and his first true collaboration with Minnelli, a Technicolor musical boasting original songs by Cole Porter, also turned out to be the director's final film with wife Judy Garland. Taking into consideration all the talent involved The Pirate
is something of a disappointment.
Here, Kelly is Serafin, a feckless theatrical player who masquerades as the notorious Caribbean pirate Macoco when he finds he can impress and win the hand of Manuela (Garland), a fiery but sheltered aristocrat. As fate would have it Manuela is engaged to Don Pedro Vargas (Walter Slezak), the overweight, unappealing mayor of her town.
The leading player in his own masquerade Vargas is the real Macoco and when he learns of Serafin's interest in Manuela he has the faux pirate arrested and sentenced to death. On the day of Serafin's scheduled execution the viceroy agrees to give the actor a final command performance triggering a jealous reaction from Vargas which reveals his true identity to all.
Fondly remembered by fans of the leads, The Pirate is mostly frothy stuff buoyed by Judy's ferocious performance of Mack the Black and Kelly's energetic dash as the swashbuckler.
  You should try underplaying sometime. 
Although Douglas Sirk is generally acclaimed as the master of the film melodrama, Minnelli's work in the genre often reached the high bar of quality set by the Great Dane. Alas, such a lofty status could not be applied to Undercurrent
, an uneven damsel in distress potboiler starring Katharine Hepburn.
As the insecure wife of a suave businessman, Ann Garroway (Hepburn) begins to suspect her control freak husband Alan (Robert Taylor) might have actually killed his brother Michael (Robert Mitchum) in a jealous rage. When the mysterious Michael finally appears he confronts Ann with the truth about her husband's treachery.
With Hepburn playing against type Undercurrent manages to hold its own as an uneasy portrait of the early stages of marriage until the dark secrets of the Hamilton clan turn her world upside down.
Minnelli's assignment to Madame Bovary
was something of a surprise for few thought this director of light entertainment could bring the worldly sophistication needed to tackle one of the 19th century's most complex novels. Minnelli butt heads with Hollywood censors over Flaubert's tale of adultery and it's no surprise the completed, Breen Code-approved film is less earthy and sexually suggestive than either Jean Renoir or Claude Chabrol's more realistic take on the same material.
Lacking the cunning to be a master of manipulation Minnelli's sympathetic Emma (Jennifer Jones) is merely narcissistic and deluded and her tragic flaws makes for a more satisfying whole. Here, the romantic Madame Bovary is a victim of the small-minded and hollow-hearted men in her life. Trapped in a backward rural town dreamy Emma tries to rise above her surroundings the only way a woman in her shoes could do, by winning an ambitious and cultivated man.
She marries a local doctor (Van Heflin) who disappoints when he turns out to be just a mediocre sawbones and further humiliates her by a very public display of drunkenness at a grand ball (the film's delirious centerpiece driven by a fantastic Miklos Rosza waltz).
Living beyond her means and sinking deeply into debt the vain, lonely woman makes a fatal error when turns her attention to two handsome but feckless bachelors (Louis Jourdan & Christopher Kent) whose weaknesses and indecision seals her doom.
  Is it a crime to want things to be beautiful? 
Although few of Minnelli's comedies can be considered classics, he lent his sense of style and sophistication to these films and turned out several jewels of adult entertainment just as the juvenile slapstick of Jerry Lewis and Frank Tashlin were about to hijack the genre. Father of the Bride and its follow-up Father's Little Dividend were monster hits for MGM due in a large part to the strength of Spencer Tracy's curmudgeonly charm in the role of the middle-aged patriarch Stanley T. Banks.
A fairly successful lawyer who has just about paid-off on his mortgage, Banks is relishing the prospects of his nearly-grown children leaving the nest when his daughter Kay (Elizabeth Taylor) announces she intends to marry Buckley Dunston (Don Taylor), a struggling young businessman with great prospects.
Already morose about having to give up the apple of his eye, Stanley is further irked by the revelation that as father of the bride he is expected to foot the bill for all wedding expenses. He is made to feel small by Buckley's pompous father, the Harvard alumni Herbert and can't understand his wife Ellie's (Joan Bennett) enthusiasm over giving their daughter over to a total stranger.
   She's still a child. And she's leaving us.
Before lapsing into sentimentality, Father's Little Dividend
turned out to be a fairly fascinating take on grandparenting, albeit from a reluctant man's point of view. Looking forward to spending more time with Ellie, Stanley is perturbed to learn he is to become a grandfather. Ellie and the Buckleys are thrilled but Stanley grows gloomy at the prospects of further bondage to family and oncoming old age. All of Stanley's fears come to a head when the new Dunston boy loudly rejects him and succeeds in pushing his neurotic grandpa out of the family circle.
The Long, Long Trailer
brought America's favorite TV couple, Lucille Ball and Desi Arnaz, to the big screen in glorious Technicolor. The premise is a slight one, newlyweds Tracy (Ball) and Nicky (Arnaz) Collini forego buying a house and purchase a huge trailer so she doesn't have to spend long nights alone while he is away on business. Having to maneuver the unwieldy vehicle on narrow roads and into snug trailer parks causes much strife between the couple and their American dream of a truly mobile home soon turns into a nightmare.
As the case in I Love Lucy the peculiar union between the Redhead and the Latino is fraught with bickering and an undercurrent of tension rarely seen in the more sanitized screen and television marriages of the era.
   Think of it as a train behind you.
Minnelli struck up a close friendship with Gene Kelly on the set of The Pirate and after an abortive effort to collaborate on Easter Parade
(ultimately directed by Walters with Garland and Fred Astaire in the starring roles) the pair teamed up to film a much more ambitious project, An American in Paris
.
   I don't want the very best. I want you. 
The threadbare story follows the exploits of starving artist Jerry Mulligan (Kelly) who romances a pretty Parisian Lise (Leslie Caron) while keeping his amorous sponsor Milo (Nina Foch) at bay. Minnelli and Kelly use the romantic premise to mount a visual symphony of Gershwin music, featuring seductive dance duets between the attractive leads, a virtuoso "performance" of the composer's Concerto in F by the inimitable Oscar Levant and the bold, Expressionist dance fantasia accompanying the composer's signature composition.
Emboldened by the example of Michael Powell and Emeric Pressburger's The Red Shoes
, Minnelli went a little bit mad in the finale. As Jerry and Lise perform their passion play on a water fountain, an intruding camera seems intent on catching them in the act of love. The shocking, unnatural colors in the musical sequences, and Minnelli's expert use of chiaroscuro goes far to capture the tremulous state of the couple's seemingly doomed love affair.
While An American in Paris marked an important turning point in Minnelli's career the film's flaws (the bumpy threading of musical sequences into the narrative, Jerry's caddish treatment of Milo and the dubious singing talents of Georges Guetary), makes it pale along side Kelly and Donen's more user-friendly Singin' in the Rain
. Still, the great moments of inspiration leaves one to wonder what Minnelli might have been able to do if he had complete creative license at the studio.
 Paris has a way of making people forget. 
Minnelli's sympathy for the romantic outsider reached its greatest heights in the scathing, behind the scenes tale of Hollywood, The Bad and the Beautiful
. Produced by longtime Welles collaborator John Houseman, the film's ambitious protagonist Jonathan Shields (Kirk Douglas) has been compared to Charles Foster Kane but unlike Welles' hero Shields' anger and lack of conscience allows him to see another day.
Here, the disgraced studio magnate (Shields) tries to rally the troops for a comeback project but his pitch falls on the deaf ears of his favorite leading actress (Lana Turner), an Academy Award winning director (Barry Sullivan) and a Pulitzer Prize winning screenwriter (Dick Powell) all of whom he betrayed so terribly in the past. Producer Harry Pebbel (Walter Pidgeon) plays the middleman and erstwhile psychoanalyst to the bitter trio who relate their tales of woe during three extended flashback sequences.
In each instance we see fast-talking Jonathan manipulating the money men and the talent alike, seemingly untroubled by the human carnage he leaves in his tracks, but redeeming himself by making some of the era's most memorable pictures.
Bolstered by Charles Schnee's wicked, insider screenplay and the thumping score by David Raksin, Minnelli is clearly at home in this most artificial of environments and his incisive examination of the filmmaking process is both a guilty pleasure and rare treasure.
I'm gonna ram the name of Shields down their throats!
The success of the grand music theatre of Rogers and Hammerstein signaled a death knell for the buoyant experimental musicals of Minnelli, Kelly and Donen in Hollywood. The operatic R&H musicals didn't require a lot of imagination to direct and, indeed, Henry King and Fred Zinnemann, two versatile veterans with no experience in the genre, filmed Carousel
and Oklahoma!
competently but with little inspiration.
Minnelli's next foray into the film musical, The Band Wagon
went against this conservative trend, celebrating a rich vaudevillian past while keeping a foot in the noir-drenched present. Written by the great Freed unit team of Adolph Green and Betty Comden and featuring a memorable score from the original 1920s production by Howard Dietz and Arthur Schwartz, Minnelli's masterpiece opens with faded film star Tony Hunter (Fred Astaire) retreating to New York where old friends Lester and Lily Marton (Oscar Levant and Nanette Fabray) have written a charming musical they feel is perfect for Tony's comeback.
The production begins to spin out of control when they hire a tempestuous ballerina (Cyd Charisse) to co-star and install a pretentious director (Jack Buchanan) who envisions the show as a modern version of Faust. After a disastrous opening night the cast and crew, decide to salvage the enterprise by bringing the story back to its roots and put on a zesty revue exalting the glories of pure entertainment.
   She was scared. Scared as a turkey in November.
One year later Minnelli re-teamed with Gene Kelly to make a tasteful adaptation of Lerner and Loewe's tuneful Broadway hit, Brigadoon
. Minnelli never cottoned to the story about an enchanted Scottish village that only comes alive for one magical day every one hundred years and brought few of his trademark filmic flourishes to the production. Uncomfortable with the demands of a singer's score, Kelly chose to re-choreograph the film to showcase his dance pieces with leggy Cyd Charisse. Fortunately, Kelly's hard-boozing sidekick Van Johnson provides needed comic relief when all the enchantment threatens to go overboard.
For all its faults Brigadoon looks like cutting edge stuff when compared to Minnelli's next musical, an adaptation of Charles Lederer and Luther Davis' Kismet
, a florid pageant of old Baghdad. With little to work with beyond a few memorable songs (Strangers in Paradise, Baubles, Bangles & Beads, etc.), Minnelli pulled out all stops to bring oriental exoticism to the production but all his good taste wasn't enough to salvage this White Elephant.
Such is the Caliph's pleasure. And so he orders.
Five years later Minnelli shot his final film for the Arthur Freed unit, the Betty Comden and Alfred Green production of Bells Are Ringing
—set in the more familiar stomping grounds of New York City. But, even with a potpourri of charismatic performers (Frank Gorshin, Eddie Foy Jr., Jean Stapleton, etc.) and a snappy score, this unlikely romance of an answering service operator (Judy Holliday) and her playwright client (Dean Martin) never caught fire due in a large part to the miscasting of the laconic Dino as a writer struggling with a crippling, creative block.
Regardless, by 1960 the elaborately-staged Freed musicals were on the way out, having been upstaged by the more primitive and less expensive rock and roll extravaganzas (The Girl Can't Help It
, High School Confidential
) and the campy but highly profitable screen romances of Elvis Presley
.
The middle 1950s saw Minnelli pouring much creative energy into the first series of melodramas which defined the second half of his career. Based on a novel by William Gibson, The Cobweb
is a scathing examination of bureaucratic in-fighting at a Midwestern psychiatric clinic.
Dr. Stewart McIver (Richard Widmark) has a hands-off approach to dealing with patients much to the horror of a busy-body administrator Victoria Inch (Lillian Gish) who reports to the in name only head of the clinic Dr. Devanal (Charles Boyer). An aging lothario, Devanal is more interested in seducing McIver's sexy, superficial wife Karen (Gloria Grahame) than keeping appointments with his patients.
The backbiting comes to a head when Karen and Victoria clash over decorating the main office with new curtains, a task McIver has already assigned to his most troubled patient Steven (John Kerr).
Given the ludicrous premise The Cobweb could have descended into shrill nonsense but Minnelli coaxed some refreshingly grasping and vicious performances from Gish, Boyer and Grahame in creating a true suburban nightmare.
This rotten underbelly of the American Dream also found its way in Minnelli's adaptation of Robert Anderson
's coming of age play Tea And Sympathy
.
Here, the sensitive outcast Tom Lee (John Kerr) tries hard to impress Laura Reynolds (Deborah Kerr), the frustrated wife of the dorm master (Leif Erickson) who is making his life miserable. Tom's introversion and lack of interest in the sporting life leads his boarding schoolmates and cold fish father (Edward Andrews) to openly question his sexuality, pushing the young man headlong towards his ultimate humiliation with the local floozy.
The once-controversial play comes off a bit overripe these days, but Minnelli's campy take on male bonding and the subtle sexual tension between the Kerrs (alas, no relation) energizes the maudlin material, climaxing in Laura's gentle taking of Tom's cherry.
  I'm always falling in love with the wrong people. 
The artistic process would again play an all-encompassing role in Minnelli's second collaboration with Kirk Douglas Lust For Life
, a searing take on the life of Vincent Van Gogh. The fiery Douglas turned out to be a good choice to play the inarticulate, asocial Vincent who strives to be one with God through his art.
I tried to show a place where a man can ruin himself.
Vincent's unwillingness to compromise ultimately leads to his being turned out of the church, his squalid shack in a coal-mining village, his parents' respectable Dutch home and, finally, his art dealer brother's Paris apartment. A believer in Vincent's talent Theo (James Donald) arranges for his brother to share a house in Arles with another struggling Post-Impressionist Paul Gauguin (Anthony Quinn) whose insensitivity contributes to the Dutchman's horrifying self-mutilation.
Taking great strides to bring Van Gogh's world to life, Minnelli chose his supporting cast and locales carefully and the effect blends in marvelously with the mad Hollander's bursting, spectacular paintings. Lust for Life eschewed the traditional artist biopic to blaze a new path for post-modern filmmakers (Tarkovsky, Greenaway, etc.) to reinterpret and reinvigorate a static, dying art (painting) for plugged-in modern audiences.
Minnelli's versatility helped keep him at the top of A-list directors in Hollywood but his sophisticated adult comedies tend to get overlooked.
Updating the premise of George Stevens' 1941 hit Woman of the Year, Designing Woman
finds sportswriter Mike Hagen (Gregory Peck) picking up an attractive blonde while on a bender at a Beverly Hills hotel. The next morning the hungover hunk learns his partner in crime is Marilla Brown (Lauren Bacall), a career woman from Manhattan. The pair post-pone plans to return to New York and after a whirlwind romance they get married.
Success is no fun unless you share it with someone.
When the Hagens return home Mike is stunned to learn Marilla is a wildly successful fashion designer. He swallows his pride and moves into her posh pad but their divergent lifestyles inevitably clash and the marriage seems headed to the rocks.
Saddled with a pair of leads generally unsuited for comedy, Minnelli drew from a talented pool of New York-types (Mickey Shaughnessy, Sam Levene, Jesse White, dancing Jack Cole, etc.) and enlisted a frisky Afghan hound to help deliver the laughs in this "he said, she said" romantic comedy.
The Reluctant Debutante
is Jane Broadbent (Sandra Dee), a seventeen year old American girl who travels to London to visit her British father Jimmy (Rex Harrison) and her busybody stepmother Sheila (Kay Kendall). Jane is horrified to learn the well-meaning Sheila has filled her social schedule with a series of dull balls, culminating in a coming-out party.
Hoping to make a big splash, Sheila steers the socially acceptable bore David Fenner (Peter Myers) away from the daughter of rival Mabel Claremont (Angela Lansbury) and into Jane's arms but her step-daughter wants nothing to do with the dud. Jane has her heart set on nightclub drummer David Parkson (John Saxon), who has recently created a great scandal in the Broadbent social circle.
The young couple runs up against Sheila's class prejudices and their romance seems doomed. When Jimmy learns Parkson is actually an heir to Italian royalty he arranges for the drummer to crash Jane's debut and surprise Sheila with the not so awful truth.
Not unlike the The Father of the Bride films both of these graceful, middle-period Minnelli comedies draw from human foibles and deep-rooted neurosis to generate their gentle, prodding humor.
Minnelli's penultimate collaboration with Arthur Freed, Gigi
, would be an original production based upon stories by Collette and elevated by a pitch-perfect Alan Jay Lerner-Frederick Loewe score. Taking a page from their wildly successful sing-speak hit My Fair Lady, the songwriting duo integrated their lively and lilting songs into the risque narrative of a teenage girl being tutored in the arts of courtesan life by her great aunt.
Freed and MGM spared no expense on the Paris part of the shoot. The famous nightclub Maxims would be rented for four days and Cecil Beaton was hired to prepare a sumptuous, Nouveau Art set and lush, period costume design. Hollywood's French Royalty (Maurice Chevalier, Leslie Caron and Louis Jourdan) fit the lead roles to a T giving Minnelli the palette he needed to craft his most elegant musical to date.
Several French critics chided the "ooh-la-la" tendencies of the company and objected to censorship of the original, racy text but, in its own way, Minnelli's film isn't any less authentic than Renoir's rollicking portrait of the period, French Cancan
. Completing something of a full circle for Minnelli's artistic collaboration with Freed, Gigi radiated the same sort of nostalgic warmth and giddy qualities of Meet Me in St. Louis while also sharing the earlier film's pessimism and melancholy.
These dark clouds were also evident during Minnelli's last great period of creativity in four blood and thunder melodramas which foresaw the destruction of the family unit and splintered communities into reactionary tribes.
Minnelli was painfully aware of the prejudices of his small town Ohio neighbors but rather than let these experiences poison his take on middle-America the damaged people in his melodramas grow even greater in stature because of their honesty and ambivalence.
In James Jones' Some Came Running
the discharged soldier, and erstwhile writer, Dave Hirsh (Frank Sinatra) drifts back to his hometown of Parkman, Indiana but the black sheep brother of a successful local businessman Frank (Arthur Kennedy) is hardly afforded a hero's welcome. Dave soon falls in with a seedy crowd, including Ginny (Shirley MacLaine), a good-time gal who followed him down from Chicago, and Bama (Dean Martin) a hard-drinking gambler.
Your first novel was a really powerful study of rejection. 
Dave also attracts the interest of a pretty spinster teacher Gwen (Martha Hyer) who, while disapproving of Dave's new friends and dissolute lifestyle, wants to help him getting his writing career back on track. Hounded by local cops and Ginny's psychotic suitor, Dave's embarrassing exploits leads to rejection from frigid Gwen and an offer of a one-way ticket out of town from his frustrated brother.
Taking great advantage of the Cinemascope process Minnelli neatly ties together a complex tangle of threads in the wildly expressionistic finale, perhaps the most operatic sequence ever staged for an American film.
Bumming around can only help to make you a bum.
Minnelli ventured further into the black heart of America in the tawdry Texas epic Home from the Hill
. Macho millionaire Captain Wade Hunnicutt (Robert Mitchum) reigns over a dysfunctional family including bitter wife Hannah (Eleanor Parker), their pampered son Theron (George Hamilton) and a right hand man who also happens to be his illegitimate son, Rafe Copley (George Peppard). After watching Theron be humiliated by the locals, Wade takes the boy under his wing and, much to the chagrin of Hannah, tries to teach him to be a man.
Theron succeeds in becoming an accomplished hunter but when he finds out the painful truth about his parents' loveless marriage and his father's womanizing ways he goes on a violent bender fracturing the family and paving the way to Wade's destruction. It will be left to Hannah and Rafe to pick up the pieces and begin anew.
While not as stylistically splashy as Some Came Running this hard-boiled coming of age story may well be the more incisive of the two films due in a large part to the restrained interplay between the four, frustrated leads and Minnelli's ability to cast a sympathetic light on a band of seemingly irredeemable characters.
  One day some husband is going to kill you.
The Four Horsemen of the Apocalypse
would chronicle another family's disintegration, this time with Nazi-occupied Paris as a backdrop. Minnelli's lavish but unwieldy updating of the Blasco-Ibanez novel
finds the French and German branches of an otherwise neutral Argentine family having to pick sides at the outbreak of WWII.
The artist-playboy Julio Desnoyers (Glenn Ford) defies his aristocratic father Marcelo (Charles Boyer) when he announces he will remain in Paris to romance Marguerite (Ingrid Thulin) the beautiful, worldly wife of an officer in the French Resistance (Paul Henreid). As the politics of the occupation divides and destroys his family conscience-stricken Julio is allowed to join the Resistance, but at the stiff price of continuing to play the fool damning himself in the eyes of Marguerite and Marcelo.
While it's a huge stretch to accept the bland Ford as an irresistible gigolo, Minnelli turns the actor's stolidity into a virtue making it easier to buy into Julio's illicit romance with the fallen wife of a saintly man. Denied the legitimacy of wedlock Julio and Marguerite are left to suffer the consequences of their folly in picturesque Paris while being serenaded by a violin-drenched theme by Andre Previn.
The lovers aren't alone in their misery as the last members of the Argentine clan left standing will be Marcelo and his cousin by marriage, Karl (Paul Lukas), a Nazi General who ends up sacrificing three sons to the madness of his Fuhrer.
Fifty years on, Minnelli's bold, widescreen interjection of brash colors and Eisensteinian montage looks surprisingly fresh and if one can get beyond some over the top performances—we're looking at you, Lee J. Cobb—then Four Horseman of the Apocalypse can be considered as something more than a guilty pleasure.
A thinly-veiled update of The Bad and the Beautiful, Two Weeks In Another Town
turned out to be a timely portrait of the crumbling American film industry at a crossroads. Here, former star Jack Andrus (Kirk Douglas) is biding his time in a mental clinic after a crack-up when he is summonsed by mentor Maurice Kruger (Edward G. Robinson) to play a small role in a film Kruger is directing at the Cinecitta Studios in Rome.
Under the gun to complete the film on a deadline, Kruger reassigns the fragile Andrus to direct the dubbing sequences. Devastated by the demotion, Jack is ready to pack it in and return to the States until he finds this menial job could give him a whole new lease on life. When Kruger is felled by a heart attack, Jack steps in to finish directing the film which only incurs the wrath of his ailing, jealous mentor who vows to wreck Andrus' new career as a director before it gets off the ground.
Seething with spite and bitterness, Two Weeks in Another Town turned out to be Minnelli's love-hate swan song to his profession. Kruger and Jack's former wife, the she-hound Carlotta (Cyd Charisse) are grasping, amoral monsters created by the backbiting culture of Hollywood. Kruger and Carlotta are ugly but strangely appealing personalities ready to devour any innocents who stand in their way.
Oddly enough, this vitriolic film ends on a positive note when Kruger's devious machinations only end up cleansing Jack, leading to his rebirth as a professional and a human being.
   Now that you're nothing, I still hate you.
The increasing popularity and efficiency of location shooting effectively took the palette away from Minnelli in the 1960s and a succession of big budget box office bombs sealed his fate as an old school dinosaur. These remaining films weren't all bad but a disconcerting Impressionism had crept in, taking the zest out of Minnelli's style. Rather than embrace the era's anti-heroes, as he had done in the past, Minnelli chose to make soothing entertainment for the establishment.
The Courtship of Eddie's Father
revisits the pain of childhood in a comedy/drama about Manhattan widower Tom Corbett (Glenn Ford) who gets engaged to a cold fish (Dina Merrill) alienating his son Eddie (Ronnie Howard) in the process. When Eddie realizes his dad is not going to marry the pretty girl next door, Elizabeth (Shirley Jones), he takes desperate measures leaving Tom to wonder if he's made the right choice after all.
Based on a play by George Axelrod the far-fetched but passably entertaining Goodbye Charlie
pits Tony Curtis as a womanizing bachelor who is shot by a jealous husband then reincarnated as a gold-digging blonde (Debbie Reynolds).
  If I were not Hungarian, I would be speechless. 
The Sandpiper
found Minnelli putting a moldy spin on the swinging '60s in a hip drama about a free-spirited artist (Elizabeth Taylor) forced to send her son to a secondary school run by an uptight Episcopalian (Richard Burton). Trying to get a read on the difficult boy the reverend hires the sexy mother to paint the stained-glass windows in the school's chapel but he ends up putting his job and marriage in peril by falling in love with her instead.
On a Clear Day You Can See Forever
teamed Minnelli up again with Alan Jay Lerner in a slightly silly musical about a neurotic young woman (Barbra Streisand) who visits a handsome hypnotist (Yves Montand) in the hopes of curing a five pack a day smoking habit. Under his spell the airhead reveals she has had several fascinating past lives and a promising future which will involve the besotted doctor.
Streisand's overripe singing style can grate but there is no denying she was a deft screwball comedienne and here she carries the lumpy narrative over some rough patches.
What is this? Extrasensory torture?
Six years later Minnelli came out of retirement to direct his daughter Liza in a project they had been long hoping to make, A Matter of Time
. Set in postwar Rome this atmospheric story follows the plight of the aging and addled Contessa Sanziani (Ingrid Bergman) who sells off what few treasures she has remaining to pay for her room and board at a hotel. When her former husband Sanziani (Charles Boyer) learns of her destitution he offers a helping hand but the proud Contessa turns him away.
Instead of facing up to her grim reality she decides to mentor and makeover Nina (Liza), a naive chambermaid who works at the hotel. The now-ravishing young woman catches the eye of an important film producer who thinks she's got the stuff to be a star. Taking inspiration from the free-spirited Contessa Nina delivers on a successful screen test unaware her friend is dying in a city hospital, the victim of an automobile accident.
This promising premise turned out to be a disaster for all involved when producer Samuel Arkoff instructed his editors to re-thread the narrative to make the plot more palatable.
Aside from the disjointed flashback sequences and some curiously intrusive songs, A Matter of Time finds Minnelli back in his comfort zone of beauty and make-believe and the compromised film was easily his most inspired effort since Two Weeks in Another Town. But, the sort of art house audience which might have embraced the film was turning away from romantic fare and the dreadful box office effectively ended Minnelli's career as a commercial filmmaker.
The MGM revival showcases That's Entertainment Pts. 1-3
went far to introduce Minnelli's work to a new generation of filmgoers. But, oddly enough, it would take a pair of ambitious and ill-fated musicals (New York, New York
and One From the Heart
) directed by two fellow Italian-American admirers of Minnelli (Martin Scorsese and Francis Ford Coppola) to help resurrect Vincente's critical reputation as one of the most creative and original filmmakers of the era.
Books on Minnelli:
Vincente Minnelli: Hollywood's Dark Dreamer
– Emanuel Levy **** This long overdue first Minnelli biography written in the English language also offers plenty of superb critical analysis of the director's overlooked body of work. To no one's surprise Vincente turns out to be something of an enigma but Levy paints a touching portrait of a closeted aesthetic who dedicated his life to art at the expense of happiness.
I Remember It Well
– Vincente Minnelli w/Hector Arce **** This chatty and entertaining autobiography offers plenty of candid, behind the scenes insights on Minnelli's splendid body of work. Out of print.
Directed by Vincente Minnelli
– Stephen Harvey **** This splashy and gorgeous coffee table book was compiled as a tribute for Minnelli during a 1989-90 Museum of Modern Art retrospective for the director. Film scholar Harvey pulls few punches in critically assessing MGM's most talented and creative director. Out of print.
Films by Minnelli:
1943  Cabin in the Sky ***1/2
1943  I Dood It ***
1944  Meet Me in St. Louis ****1/2
1945  The Clock ****
1945  Yolanda and the Thief ***1/2
1945  Ziegfeld Follies ***
1946  Undercurrent ***
1948  The Pirate ***1/2
1949  Madame Bovary ****
1950  Father of the Bride ***1/2
1951  Father's Little Dividend ***1/2
1951  An American in Paris ****
1953  The Bad and the Beautiful ****1/2
1953  The Story of Three Loves *** (segment)
1953  The Band Wagon *****
1954  The Long, Long Trailer *** 1/2
1954  Brigadoon ***1/2
1955  The Cobweb ***1/2
1955  Kismet ***
1956  Lust for Life ****
1956  Tea and Sympathy ***1/2
1957  Designing Woman ***1/2
1958  Gigi ****
1958  The Reluctant Debutante ***1/2
1959  Some Came Running ****1/2
1960  Home From the Hill ****
1960  Bells Are Ringing ***
1962  Four Horsemen of the Apocalypse ***1/2
1962  Two Weeks in Another Town ***1/2
1963  The Courtship of Eddie's Father ***
1964  Goodbye Charlie ***
1965  The Sandpiper ***
1970  On a Clear Day You Can See Forever ***
1976  A Matter of Time ***1/2