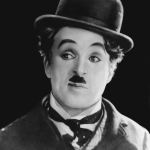 Charlie Chaplin was truly the first celebrity superstar and, along with Pablo Picasso, the first universally recognized artistic genius of the 20th century. The enormous adoration showered upon the Tramp made Chaplin a true citizen of the world even after the Cold War years when his strident political opinions led to banishment from his adopted country. The great clown was fortunate to hit his artistic stride during the age of the silent cinema, where the only language audiences needed to understand was a pantomime of light and shadow.
And millions flocked to nickelodeons and movie theaters to see films specifically featuring the Tramp, an unheard of phenomenon in an age of the uncredited screen player. Ironically, this perennial underdog was soon discovered by the lower and middle class audiences who couldn't afford a night of "legitimate theatre" and within a few short years Chaplin would be lauded by tastemakers who once looked down on the flickers and anointed by governments and Kingdoms which could be so unfeeling towards their own tramps.
Chaplin's trademark creation was a conglomeration of colorful and sundry characters he met during his upbringing on the grimy East End of Victorian London and from firsthand experience in bawdy English music halls. After the death of his father (a music hall singer) and the internment of his mentally ill mother, Charlie the boy had to develop a thick hide, and apply his considerable street smarts and charm if he was going to survive. The boy gravitated to the only life he knew, the theatre, and by the time he hit twenty had carved out a reputation for himself as a rough and rowdy comedian par excellence in London.
But America was calling and Chaplin went on tour of Canada and the States with Fred Karno's company in 1912. During this extended stay overseas, Chaplin was approached by Mack Sennett, the director of the immensely popular Keystone Cop series, and quickly signed to a contract to work in the fledgling movie business.
In 1914 Chaplin took up residence in Hollywood and went to work as a featured player in Sennett's breathless world of slapstick comedy. During Chaplin's year long stay with Sennett, he would star with and occasionally play second fiddle to the charming and underrated comedienne Mabel Normand, the brilliant Fatty Arbuckle, the larger than life Marie Dressler, Chester Conklin, and even Sennett in over thirty films. It is here we see Chaplin's earliest incarnations of the Tramp; a raw, manipulative rascal, unforgettable but not likely to win the hearts and minds of post-Victorian audiences.
And indeed, the Sennett films were never intended for children or the faint of heart. More often than not, Charlie plays a drunk or a cad out to cajole or impress a woman above him in class. As Chaplin's confidence and popularity grew his roles became more pronounced, he would even dare to do convincing turns in drag in A Busy Day

and The Masquerader

.
Life is a desire, not meaning.
Sennett began giving Chaplin writing and directing duties further elevating his status at the studio. The best Chaplin films of that fateful year remain fresh and wickedly funny, thanks in a large part to Sennett's wealth of talented comic players and the young Englishman's talent for telling a snappy story. Caught in a Cabaret
gave lowly waiter Charlie a chance to assume a more glamorous identity (as an Ambassador) and charm an unsuspecting rich girl (Mabel Normand). This short, directed by Normand and co-written by Chaplin, was groundbreaking for Sennett in that it actually has a contrapuntal storyline leading to the inevitable finale where the two-faced waiter gets his comeuppance.
Face on the Barroom Floor
is a bitterly funny take on an artist who loses his model-girlfriend to a rich buffoon who hired Charlie to paint his portrait. The artist sinks into poverty and squalor but he is given the satisfaction of seeing the worthless hussy saddled with her fat new husband's bratty children.
Good for Nothing
does an excellent job of summing-up Chaplin's screen persona at the end of his short reign at Sennett's studio. Here, the Tramp is hired to watch over an old man in a wheelchair while the invalid's caretaker tries to woo a young woman. Not thrilled at being saddled with the crabby old cripple, Charlie manages to rake in a tidy profit off his patient then blows it all at a local gin joint. The drunken tramp staggers out of the bar in search of the invalid and some more easy cash, but on the way he takes time out to make a pass at the caretaker's girl.
A day without laughter is wasted.
Keystone's first feature length film, Tillie's Punctured Romance
was a Marie Dressler vehicle but it featured Chaplin in the prominent role as a rake. At forty-six, Dressler was a bit long in the tooth to play a naïve country girl ready to be bamboozled by Charlie's 20something street sharpie. Still, Tillie was enormously popular and only increased Chaplin's worth as a mover and shaker in the film industry. Like the savvy Mary Pickford, Chaplin became increasingly aware of his worth as a box office draw and itched to strike out on his own. So at the end of 1914, Chaplin defected to Essanay Studios for better stories, more autonomy, and a much bigger slice of the pie.
Have you a niece built like a battleship?
The Essanay deal required Chaplin to make films in Chicago, but having arrived in the Windy City in the dead of winter, the horrified Brit convinced executives to open his own branch of the studio in Niles, California, just outside of San Francisco. Chaplin set to work and made thirteen films for Essanay in a little over a year. These shorts usually ran twenty minutes and had more developed storylines than his Keystone films.
The cross-eyed comic Ben Turpin and the Tramp's sweetest girlfriend and finest leading lady, Edna Purviance, make their first appearances here, but Chaplin doesn't have his talented Keystone cohorts to bounce off of, so the Essanay films don't provide as much madcap chaos or belly-laughs. But, with the pretty Purviance as a prize to aspire to, Chaplin's down-at-the-heels gent is transformed into a dreamer and romantic. The Tramp also becomes something of a conformist, taking menial jobs to impress Purviance but he is still enough of a gypsy to be his own man. Charlie will have no sponsors to help him along in life. Indeed, in these transitional works, he is generally at the mercy of a grouchy boss or Purviance's protective fathers.
While none of the Essanays are certifiable classics, the best of the lot (Work
, A Woman
, The Bank
and Shanghaied
) do point the way towards something much more universal and sublime. Chaplin left Essanay in early to sign at Mutual Studios for the then unheard of sum of $670, 000. The new working conditions must have agreed with Chaplin for the narratives are more sophisticated and take on an edgier mode. The Mutuals also benefit a great deal from the presence of Chaplin's latest discoveries, his cherished cinematographer Rollie Totheroh and especially a character actor from Scotland, the villainous Eric Campbell. Using exaggerated make-up to create a sinister look, the burly Campbell was a perfect foil to the graceful Chaplin who, in turn, resorts to his mischievous, old ways.
Floorwalker
finds Charlie trying to better his lot by masquerading as a department store detective only to find the lookalike he is substituting for is wanted for stealing from the store manager (Campbell). In The Rink
Charlie is in the familiar role as a none-too enthusiastic waiter with an acumen for roller skating. Still, he manages to impress the rich and pretty Edna Purviance and gets an invite for a party she is throwing that evening. Passing himself off as an aristocrat, Charlie's appearance at Edna's party helps thwart the lecherous intentions of her unwanted suitor (Campbell), leading to a bacchanal on roller skates.
Easy Street
has the down and out Tramp looking to impress a lovely missionary (Edna) by becoming a cop. His first duty is to apprehend the local roughneck (Campbell) and when he subdues the behemoth by giving him the gas (in a scene of spectacular comic invention) Charlie becomes a hero in the community. His fame is short-lived though, for when Campbell comes to he breaks out of jail with an aim to revenge himself upon the cop who put him there.
Chaplin's most famous short The Immigrant
strikes a perfect balance between comedy and sentiment, filtered through a utopian point of view which would become the hallmark of his classic feature-length films. Here, Charlie is on an overcrowded immigrant ship to New York City. The good-natured tramp seems unaffected by the miserable conditions and bumpy ride, spending most of his time shooting craps. He becomes friends with a pretty girl (Edna) and when he finds her mother has lost all of their savings, Charlie slips her his gambling winnings. A ship detective thinks Charlie is a pickpocket, but the grateful girl steps in to clear his name. The ship pulls into harbor and Charlie is separated from the girl and her mother.
Later, the destitute Tramp finds a coin in the street and hardly believing his luck, enters a nearby restaurant where he encounters the girl. She tells him her mother has died, so he offers to buy her lunch. To his horror, he finds the coin to be fake which means he'll be on the end of a certain thrashing from an intolerant waiter (Campbell). Of course, Charlie wriggles out from under Campbell's wary gaze and the couple gets a fortuitous advance from a local artist so they can get married.
Unfortunately, Campbell would make just one more film with Chaplin (The Adventurer
) before a series of peculiar tragedies would destroy his reputation and end his life. Chaplin never could replace his brilliant comic sidekick, but by 1918 he was moving onto new horizons and a new studio (First National) where The Tramp would continue to evolve from a loveable rapscallion to an international icon.
Chaplin's first new film for his new studio A Dog's Life
was a pivotal one. This well-crafted, Dickensian story finds the jobless Tramp saving stray pooch "Scraps" from a certain mauling in a dogfight. Scraps pays quick dividends by digging up a buried treasure in the form of a wallet which leads to Charlie outsmarting a pair of hoodlums and winning the hand of a struggling dance hall singer (Edna Purviance). This kinder and gentler Tramp made the already enormously popular Chaplin films even more palatable to broader audiences and especially children.
Chaplin next reverted to the tried and true formula playing an imbecilic janitor in the farcical Triple Trouble
and then made the slight propaganda short The Bond for the war effort.
Having made only one first rate film since The Immigrant it appeared Chaplin was resting on his laurels, which made the appearance of the brilliant war satire Shoulder Arms a welcome relief. Here, Charlie plays a willing but hardly able infantryman wreaking havoc in an Allied trench. Using his own curious methods he somehow manages to capture a German unit then saves a French girl (Purviance) from becoming a prisoner of war. The unlikely couple then teams up to bag the Kaiser just as dreamy Charlie is finally roused out of his sleep.
Checking in at forty-five minutes Shoulder Arms
was the longest Chaplin-directed film to date. There is no plot to speak of, the film is mostly a string of gags, but the extended sequence of the water-logged soldiers trying to sleep in their flooded barracks and Charlie's masquerading as a tree destined to be chopped for firewood are among the funniest sequences he ever put on film.
Another strange dream sequence would turn the tide in Sunnyside
, a rural comedy about a hard-working farm hand (Chaplin) who is picked on by just about everybody in the community. After particularly riotous sequence where he falls off a cow, Charlie dreams of dancing with a group of scantily clad nymphs. In an attempt to win the hand of a pretty neighbor (Purviance) he makes an ass out of himself by imitating an injured rogue who is under her care. As fate would have it, Charlie's humiliation turns out to be part of the bad dream and he conquers Edna's heart in the end.
A Day's Pleasure
is less ambitious but its sharp brand of visual and physical comedy actually anticipates the innovative shorts of Buster Keaton. Here, Charlie is ready to take his family on a weekend drive but his rickety Model T just won't cooperate. After somehow managing to get the car started they are stopped by an ornery traffic cop then get stuck in a tar spill. Charlie & Co. finally arrive at their final destination, a dock where board a ship and embark on the sort of nauseous river ride that recalls The Immigrant.
His Very Latest-Made by his Own Company!
Over a year in the making, The Kid
has come to be regarded as Chaplin's first official feature. Taking a page out of his own history, Chaplin recreates the hard-boiled characters and unforgiving streets of his London and transplants them to a gritty and modern American city. It is also here where the Tramp loses nearly all of his smart-ass edge and takes on the persona of a naïve and loveable imp. The story is saccharine stuff but ultimately serves its function.
The Kid opens with a young woman (Purviance) leaving the hospital with a baby she won't be able to afford. In despair, she leaves the child in the backseat of a posh car, hoping the owners will be able to car for her little boy. She quickly regrets this decision, but it is too late for the car has been stolen then abandoned in a rough part of town. The baby ultimately winds up in the arms of down and out Charlie and finding he cannot give the child away he decides to become its surrogate father.
Five years pass and we see the boy (Jackie Coogan) is healthy, happy and so devoted to Charlie he has picked up many of his street-wise habits. The real mother has become a famous opera singer, but guilt over her abandoned child has driven back to the mean streets where she does charity work. When the Kid becomes ill after a backyard brawl his well-meaning doctors threaten to take him away from the Tramp who they have learned is not even the boy's real father. They hand over a revealing note to the grateful opera singer, who sets the wheels in motion to reclaim the Kid as her son. Meanwhile, Charlie makes one last desperate shot at saving his little family.
Like A Dog's Life, The Kid is sentimental stuff and its attempts to pull on heartstrings (the Purviance scenes) can border on the maudlin. On the plus side, there is a wonderful chemistry between Charlie and Coogan and the deadpan bully Charles Reisner is terrific, becoming the most menacing presence in Chaplin's films since Eric Campbell. Most importantly for Chaplin's future in features, we find the director to be completely capable of telling a narrative story with a dramatic arc.
The Kid was a huge success, but for reasons only known to Chaplin (perhaps exhaustion?) he would return to making shorts during the next two years. Idle Class finds Charlie in a dual role as the rich, alcoholic husband of the long-suffering Edna Purviance and as the Tramp, who here leaves the comfortable perch at the bottom of a train to infiltrate an exclusive Miami country club. The film's funniest sequences occur when the little opportunist makes his way to the club's golf course where he wreaks havoc on Edna's frustrated father (Mack Swain). Later that evening at a masquerade party, Edna mistakes the Tramp for her husband then all hell breaks loose when Charlie insists they are not married in front of her angry father.
In Pay Day
we are led to believe Charlie leads a happy go-lucky life as a bricklayer. But after a grueling day at work, Charlie prefers to blow most of his meager paycheck at the local saloon instead of returning to his dreary flat and frumpy wife (the Marie Dressler lookalike Phyllis Allen). This seemingly slight, Keystone-esque short actually turns out to be one of Chaplin's finest. While also notable for Rollie Totheroh's superb night-time cinematography, Pay Day is a thesis of slapstick comedy which reaches a hilarious crescendo when the drunken Charlie keeps getting knocked off the last homebound tram.
After all the raw energy exerted in the previous films, The Pilgrim
shows up as oddly mellow take on the legend of the Tramp. Here, Charlie plays an escaped convict who masquerades as a minister to blow town. He takes a train all the way out to Texas, but his cloak of anonymity will be severely tested when he is called upon to preside over a church in the town of Devil's Gulch. Just as Charlie begins to redeem himself through good deeds, his true identity comes to light. Rather than turn their preacher over to authorities, the local lawmen drop Charlie off at the wild and woolly Mexican border. This most unusual Tramp film takes gently jibes at small town busybodies and prejudice without ever lapsing into easy cynicism. Chaplin's more worldly side would come to light in his next film, a slice of the old continent that would catch his fans and critics by surprise.
I went into business for money.  Art grew out of it.
With his career at a crossroads, Chaplin took a huge dare in making A Woman of Paris
, a refreshingly adult drama with true savoir fare. The film tells the story of Marie St. Clair (Edna Purviance), a free spirited country girl whose love affair with artist Jean Millet (Carl Miller) gets her thrown out of house and home by her rigid father. The very night she is to elope with Jean his own disapproving father dies, leaving Marie to move to Paris on her own. A year passes and we find Marie living in style as the mistress of Pierre Revel (Adolphe Menjou), the "richest bachelor in Paris". The jaded Marie seems content with their arrangement until she finds Pierre has become engaged to an heiress. She also learns Pierre is living with his mother in a poor part of the city, yet when they finally do meet it is Marie who is reminded how far seem has come down in life.
When Marie complains to Pierre about being nothing more than a kept woman, he laughs her off and says there is no reason their relationship can't continue after he is married. Used to her creature comforts, Marie is lukewarm about re-entering into an engagement with the struggling artist. She overhears Jean's mother (Lydia Knott) trying to talk her son out of marrying her and when he doesn't rise up against the old woman, Marie returns to Pierre. Lovesick, Jean sets out to confront Pierre with a gun but, losing his verve, he shoots himself instead. Mrs. Millet aims to get revenge upon Marie, but she weakens when she finds the courtesan weeping over her dead son.
An early triumph of behavioral filmmaking, A Woman of Paris remains one of the rare and great chamber works of American cinema. Ever the actor's director, Chaplin gets a remarkably complex performance out of Purviance who never gave an inkling of sophistication in her roles as the Tramp's sweetheart. Here, she is knowing and sexually manipulative, making her an excellent partner for the urbane Menjou. Their scenes together are so natural and affectionate it makes one wonder what Marie ever saw in the humorless Jean.
Yet, A Woman of Paris was a celebrated flop in its day. For audiences used to seeing debauchees being punished in films by Stroheim and De Mille, Chaplin's tolerant take on the sexual foibles of the rich had to have been a shock to the system. Still, the film's impact made tremors across the Atlantic where Ernst Lubitsch was said to have been so influenced by it he broke from directing historical epics to forge a career in making sophisticated adult fare.
The secret of happiness is in service to others.
Chaplin returned to his rollicking Keystone and Mutual roots with The Gold Rush
, a marvelous farce about two unlikely prospectors mining for gold in the snowy Klondike. Here, the Tramp manages to befriend the Big Jim McKay (Mack Swain), a gruff miner who soon gets lost in a snow storm and loses track of his claim just as he strikes it big. Meanwhile, Charlie has fallen in love with Georgia (Georgia Hale) a beautiful, but cynical brunette who works at the local saloon. Georgia is amused by the strange little Tramp and makes a New Year's Eve date with him. The night arrives and Charlie sits despondently at Big Jim's shack where he has prepared a dinner for Georgia and her girlfriends. Finally realizing he has been stood-up, Charlie walks over to the rowdy saloon and peers inside to see Georgia at the center of attention ringing in the New Year.
Later, Big Jim wanders back into town in a daze. He tells the authorities about his lost claim, but with no evidence existing they are unable to help him recover the gold. Jim runs into Charlie back at the shack and after nearly tumbling off a mountain (in a justly famous sequence), the two men team up to find the elusive claim. On a ship back to the States, photographers ask millionaire Charlie to pose in his miner's garb. He puts on the Tramp's outfit and heads to the passenger deck where he is mistook for a stowaway. Coincidentally, Georgia is also on the ship and when she spots her old friend the conscience-stricken girl steps into save the "destitute" Tramp.
Life is a tragedy in close-up, a comedy in long shot.
The ongoing de-evolution of The Tramp's rough and tumble persona is further advanced by the casting of the coltish Georgia Hale as the object of desire. While it was always conceivable the sweet and voluptuous Edna Purviance could fall for the Tramp, Hale is just too much of the modern flapper to make that sort of leap. The Gold Rush is where Chaplin first taps into the dark heart of unrequited love and his rejection at the hands of Georgia is staggering stuff. The film's inspired scenes of slapstick comedy between Chaplin and the bear-like Mack Swain are the director's funniest since Shoulder Arms. One can make a case for The Gold Rush being Chaplin's most perfectly satisfying film, but thankfully the artist's restlessness drove him onward and there would be at least three more masterpieces on the horizon.
A Tramp always hopeful of romance and adventure!
Seen today, The Circus
seems like a pleasant hiccup between two of Chaplin's greatest films. Like Murnau, Max Ophuls, De Mille and Fellini, Chaplin found life on the carny circuit to be an irresistible source for a movie. Set on the grounds of a second-rate traveling circus, down and out Charlie is chased by the police into the big top where a group of handful clowns are trying to entertain a bored audience. Unbeknown to Charlie, his desperate and idiotic hijinx bring down the house and he steals the show from the seasoned performers. The hard-ass ringmaster (Allen Garica) hires Charlie on the spot, but he soon finds the Tramp is incapable of acting funny, so he "demotes" him to a hired hand.
The ringmaster makes sure the unwitting Charlie gets ample opportunity to make a fool out of himself in front of packed audiences. Meanwhile, the boss' pretty stepdaughter (Merna Kennedy), who also happens to be the circus' trapeze artist, lets Charlie know he is the show's biggest draw and should hold out for more money. Charlie gets his raise, but his act goes sour when he finds the girl is in love with a handsome tightrope walker.
The Circus has many staunch admirers among Buster Keaton fans, who compare the film favorably with the stone face's existential comedies. The clearly impartial feeling here is the film's labored dissemination of just what is funny—in particular the sequences of Charlie's "audition"—actually sucks the spontaneity out of the meticulously-staged gags. Also, Charlie doesn't get much support from either his leading lady or Garcia as the cruel heavy, leaving an empty core at the heart of The Circus.
I remain just one thing and that is a clown!
That said, The Circus isn't chopped liver. This laid back, rural film seems closer in temperament to the sweet-tempered work of Harry Langdon than anything in Keaton's droll oeuvre. Chaplin does a splendid job milking the slapstick. The almost gratuitous sequences where the ornery mule is set loose to chase the flustered Tramp around the ring and the penultimate scene where Charlie walks the tightrope to win back his beloved end are great examples of Chaplin's impeccable sense of timing as a director and brilliant physicality as an actor.
I've run away from the circus.
While Chaplin's professional career soared to new heights with each new film, his personal life was a shambles. In 1918, he married the seventeen-year-old screen actress Mildred Harris. Their only child, Norman Spencer Chaplin died in infancy and the unhappy couple divorced in 1920. Chaplin then raised eyebrows by marrying Lita Grey, a sixteen-year-old slated to co-star with him in The Gold Rush. Grey's pregnancy terminated her employment, so she settled down with her famous husband and had two children before their mismatched marriage ended in divorce in 1927. Considering Chaplin's penchant for young ladies it is surprising he didn't hit it off better with Virginia Cherrill, the twenty-year-old co-star of his next film, City Lights.
Almost two years in the making, Chaplin hemmed and hawed over this expensive silent project, all the while thumbing his nose at the "talkie" revolution which had all Hollywood in a panic. Chaplin had a pleasant tenor voice and his was a theatrical art, well-suited for talk, but his choice to keep the Tramp silent was an aesthetic and, in the case of City Lights
, a fortunate one. On the streets of a big city, the Tramp meets and falls in love with a blind flower girl (Cherrill). He secretly spies on the charming girl and finds she is supporting her poor grandmother, too. It turns out her malady is curable but she needs an unfathomable amount of money to go to Vienna and get an operation. The Tramp valiantly tries to raise the money by taking up work, but he turns out to be a hopeless street cleaner and an even worse boxer.
Meanwhile, Charlie has struck up a bizarre friendship with a drunken millionaire (Harry Myers) who doles out wads of cash which the tramp gives to the grateful girl, who remains unaware of the Tramp's down-trodden lifestyle. Once sober, the rich man claims Charlie has stolen the money, so the tramp is quickly tossed into jail. Time passes and the flower girl returns to the city, sight restored, and anxious to find her benefactor.
One day, the tramp passes her flower shop and is delighted to see his beloved. He is hesitant to address her as he is terrified as being seen as unworthy. The sympathetic girl takes the little fellow for a vagrant and gives him a coin out of pity. But, she recognizes the touch of his hand in the heartbreaking, poignant finale.
Chaplin fretted endlessly during the shooting and postproduction of City Lights and matters were made worse by his and Cherrill's antipathy towards one another. He also feared the final close-up (a rarity in his films) may have come off as too maudlin, but the actor's subtle and deeply moving sense of expression more than redeemed this choice, resulting in pure cinematic magic. With City Lights Chaplin pushes the tried and true Dickensian template to its logical conclusion by splicing the Tramp's crude and funny adventures into the heart of this poetic tale of impossible love.
Why should poetry have to make sense?
After City Lights opened successfully in the States, Chaplin took a lengthy trip to England and the Continent in 1931. Chaplin the citizen was growing increasingly concerned over the rise of a totalitarian government in Italy and, two years later, Germany. Chaplin was also bothered by events in his adopted country as it was clear the Great Depression wasn't going away anytime soon. He became a critic of Big Industry moguls who he felt were eliminating blue collar jobs in cost-cutting measures to line their own pockets. Chaplin would address all these concerns in his most topical film to date, Modern Times
.
This mostly silent satire on the dehumanization of man opens with Charlie as a "factory worker", tightening nuts and bolts on a fast-moving production line. When he takes time out to rub his nose or offer a comment, he throws his co-workers' rhythm out of whack, prompting a dressing down from his uptight boss. Charlie is next shuffled off to the executive offices where he becomes a guinea pig for the factory's scientists who have devised a feeding machine to help cut back on the workers' lunch time. After a disastrous demonstration proves the machine is not ready for use, Charlie returns to the assembly line where more misadventures earmark him for the mental ward.
Later, back out on the streets, he makes the mistake of picking up a red flag and falling into line with a group of picketing laborers leading to his arrest as a political agitator. While in jail he mistakenly consumes cocaine and becoming a drugged-up superman Charlie quells a prison riot. To his horror, the city's thankful lawmen let Charlie out of jail and give him a glowing job recommendation. Outside jail, he is hired then just as quickly fired by his new employer. Deciding life was easier in stir, Charlie tries in vain to confess to a crime he did not commit. He finally does end up on the paddy wagon with a pretty street urchin and when the vehicle makes a treacherous turn the pair tumbles out onto the street.
Charlie and this Gamin (Paulette Goddard) strike up a friendship that soon blooms into love. Dreaming of the sweet life with a potential wife in tow, Charlie accelerates his attempts to find a decent job but only ends up getting tossed back in jail, twice. Finally, it is the Gamin who gets work as a night club dancer and upon Charlie's release from the clink she gets him work as a singing waiter. They rehearse his act and as a fail safe measure he cribs the lyrics to a song on his cuffs.
On stage, Charlie tosses off the cuffs and begins to panic. The Gamin tells him to wing it and, finally, at wits end the Tramp opens his mouth and out flows a delightfully suggestive song in pidgin Italian. But, just as it looks like the couple will finally be able to fund their own American dream, the police arrive with a warrant to arrest the Gamin for truancy. Charlie and the girl make a quick escape and in another first, Charlie has a partner with whom he walks into the horizon at film's end.
Rather than go on with a tried and true formula, in Modern Times Chaplin re-invents the Tramp as an unskilled everyman who won't have much of a chance in an automated world. Goddard, his current wife and partner in crime, was Chaplin's least idealized but most believable female companion on the screen. Her earthy humor and quicksilver demeanor helped make her a true partner in the Tramp's mad quest for survival. Still, since neither is allowed to conform and play in the game, they remain outsiders in the end. Chaplin's pessimism about the world's downwardly spiraling state of events would lead him to abandon the Tramp to tackle his biggest subject yet, Adolf Hitler.
Never say die. We'll get along.
Aside from being perhaps the two most recognizable faces of the 20th century, Charles Chaplin and Hitler had much in common. Born within four days of one another into lower middle class families both men struck out to conquer the world as artists by the time they were in their early twenties. While Chaplin's hard work on stage finally translated into success, Hitler's painterly aspirations went for naught and taking Austria's defeat in WWI to heart, the young man's outlook took a sinister turn. To Chaplin's horror, this arrogant leader of Germany's fascist party had adopted a brush mustache very similar to the Tramp's but, of course, this was where their similarities ended. With Germany at the brink of absorbing its weaker neighbors, Chaplin envisioned the humorless Hitler as the perfect subject for satire and acting boldly he put The Great Dictator
into production almost a year before war broke out.
Here, Chaplin would play dual characters; Adenoid Hynkel the Dictator of Tomania and a Jewish barber, an unlikely hero from a bygone war. The barber struggles to make ends meet in a Jewish ghetto of the totalitarian state of Tomania. After he and several other Jews are rounded up by the military police, he is brought to Schultz (Reginald Gardiner), his old commander officer whose life he saved in the War. An important martinet in the new regime, the grateful Schultz sends the barber back to the ghetto and for a brief period the Jews live under his protection.
In an effort to consolidate his power Hynkel begins to round up all Jewish sympathizers forcing Schultz to flee to the ghetto where he hides out with the barber and his girlfriend Hannah (Paulette Goddard). Just as Hynkel plans to take over the small country of Osterlich, Schultz convinces the wary barber to impersonate the dictator as part of a mad but noble scheme to bring the regime down.
Chaplin's first full-fledged talkie certainly doesn't mince words as Hynkel and Mussolini sound-alike Napolini (Jack Oakie) are eerily caricatured as simple-minded buffoons who lead their eager constituents to ruin. A movie made from the heart, The Great Dictator lacks the satirical bite of Modern Times. But, the old magic is never far from the surface as we experience in Hynkel's dance with the globe symbolically perched on his fingertips—-a balletic dementia which resonates far deeper than the barber's windy plea for tolerance at film's close.
The war years proved difficult for Chaplin and his name would be blackened by an increasingly hostile press, time and again. First, he would be accused of fathering a child by former girlfriend Joan Barry. Even though there was no medical proof of a blood link, Chaplin wound up having to pay support for the child. A known supporter of leftist causes, Chaplin was taken to task by HUAC who questioned his contribution to the Russian war effort. Is it any surprise his first film in seven years would turn out to be so dark and pessimistic?
In Monsieur Verdoux
Charlie is almost unrecognizable as a fired bank clerk who gets revenge upon society by swindling then murdering rich spinsters and widows. Based loosely on a story suggested by Orson Welles, the film mirrors the infamous Landru murder case, also set in France during the early 1930s. Like Landru, Verdoux killed to support an invalid wife and child, but according to director Claude Chabrol (who would direct a film about Landru) the weird source of the story didn't resemble Chaplin's philosophical anti-hero in the least.
Verdoux is another in a line of Chaplin everymen, except he's just a little more complex and organized than his peers. His would-be victims (including the grotesquely funny Martha Raye) are shrewish, vulgar or just plain ugly and are thoroughly deserving of their grim fates. But finally, the efficient killer is done in by events beyond his control and he loses all his hard-earned money.
Verdoux is forced to go underground until he meets a former streetwalker (Marilyn Nash) he befriended years before. Now rich, the grateful woman offers a handout and shelter from the storm, but sensing the world closing in upon him Verdoux turns himself in to the police. At his trial, Verdoux admits to killing the women not seeming to care if he gets the death penalty or not. Later, while awaiting execution, Verdoux surprises a clergyman (Fritz Leiber) by implicating mankind as unwitting accomplices to mass murder.
The bitter and eloquent tete-a-tete with the priest remains the most effective of all Chaplin's philosophical "rants" and packs a mighty wallop at the end of a brilliant masterwork that pulls no punches. Monsieur Verdoux was not a success in the United States, mostly due to a jingoistic press destroying the film's reputation.
As for being a killer, does not the world encourage it?
For his next film, Chaplin looked back to his music hall beginnings in Limelight
, a melancholic take on growing old in a business that only rewards its young. Set in a poor part of London during the summer of 1914, Chaplin plays Calvero, a washed-up comedian who spends most of the day drinking then flirting with the middle-aged landlady (Marjorie Bennett), so she won't toss him out of his small flat.
Upon arriving home one afternoon, Calvero saves his neighbor, a twenty year-old dancer, from committing suicide. Hearing the news, the landlady throws young Terry (Claire Bloom) out of her flat, prompting Calver to take her in for an extended convalescence. The old actor applies a little reverse psychology in getting the girl to conquer her demons and return to the stage.
Meanwhile, Calvero's comeback fails miserably and this time it's Terry who gives solace to the despairing old man. Terry is soon discovered and she becomes a great success as a prima ballerina. She even manages to finagle a job for Calvero as a clown in the production of her ballet. Things finally seem to be looking up for Calvero until the show's producer Postant (Nigel Bruce) arranges to find a replacement for the unfunny comedian. Unwilling to be a burden on Terry, Calvero leaves their house to become a street musician.
Terry searches high and low for Calvero before finally finding him busking for change in front of a pub. She rescues her mentor and arranges a benefit show for Calvero at the theater of his early triumphs. Flattered by the attention and not wanting to let Terry down, the old lion rises to the occasion, finding his comic touch for one last encore.
Chaplin's most romantic film is his most narcissistic one, too. Still, Limelight is a remarkable portrait of the great artist as a poor man and failure. Though Chaplin claimed to have based Calvero on the music hall actors he knew in his youth, the parallels between his life and art are unmistakable. Like Chaplin, Calvero cultivates the company of young and beautiful women who will give him unfailing love and like the soon to be exiled Brit, he learns to face up to the fact his public has abandoned him.
Limelight is self-conscious to the point of being embarrassing until the viewer realizes the massive ego behind the project wouldn't have it any other way. In the end, Calvero triumphs over his critcs and naysayers and (if one wants to draw a nasty correlation) Chaplin triumphs over his critical silent rival Buster Keaton, whose charmingly fussy performance as Calvero's partner is given short shrift. As with Monsieur Verdoux, circumstances beyond Chaplin's control would severely limit the amount of people who actually got to see this bold project.
Life can be wonderful if you're not afraid of it.
After years of harassment from the Feds, Chaplin was finally bullied into a corner by the country that had adopted him as a young man. A groundswell of badgering from the right-wing press and opportunistic politicians drove Chaplin into taking his wife Oona and family on a long trip to Europe in 1952. But ironically, as Chaplin's ship left dock, it would be Democrat Harry Truman's Attorney General James McGranery who would take steps to deny this "Citizen of the World" readmission to the United States.
Chaplin did not fight this unofficial deportation and once in Europe he bought a chateau in Switzerland. Bitter about his plight, Chaplin took his mind off movies for a couple years and concentrated on raising his new family. But, in time the old creative urge raised its head once again. After completing a new screenplay, Chaplin moved his base of operations to London, where he finished the shoot of his new film in record time (for him) under tight budget constraints. It came as no surprise Chaplin's first film since his banishment would be a satire on the reactionary politics and crass commercial culture he felt was threatening the very existence of the United States.
A King in New York
opens at the gates of a European castle where the tyrannical regime is about to be toppled. We cut to an American airport where King Shahdov (Chaplin) has arrived in exile. He tells the press he has been misunderstood by his people, his personal investment in atomic power was for building energy plants, not bombs. As Shahdov arrives at his luxury hotel in Manhattan he finds he's been swindled by a dodgy member of his cabinet and will have to resort to lending out his services to make TV commercials in order to pay his bills.
The King enlists Ann Kay (Dawn Addams), a nosy media specialist, to get him TV gigs while he awaits word from an atomic commission who he hopes will fund his ambitious energy plans. On a goodwill tour of a Brooklyn Special Ed school, Shahdov meets Rupert (Michael Chaplin), an obnoxious but bright boy whose parents are being held by the government on suspicion of being Communists. The boy runs away from the school and takes up in Shahdov's apartment. The King is outraged to find that in order to clear his parents Rupert is forced to name "co-conspirators" to federal agents.
Despite the film's lackluster reputation, The King of New York finds the sixty-eight year old Chaplin in a fighting mood and not willing to go quietly into the night. The first half of the film is truly inspired, wickedly lampooning television, rock n' roll, bad whiskey, and noisy American pop culture. Unlike Chaplin, King Shahdov even gets sweet revenge on a board of politicians made up to look and sound like the House of Un-American Committee.
Chaplin's unwillingness to retake shots and some weak slap-sticky sequences in the chase-filled finale gave the film an uncharacteristic sloppiness, leaving a sour taste in the mouths of many critics and dampening enthusiasm for potential American distributors. This topical film couldn't help but look anachronistic when it was finally shown in the United States in the fateful year of 1972.
In the meantime, I'll sit it out in Europe.
Chaplin spent the next several years writing his memoirs (My Autobiography
) published to much acclaim in 1964. At a loss what to do next, Chaplin began to rework a film scenario he had originally written in the 1930s, A Countess From Hong Kong. Buoyed by the younger generation's affection for the legendary comedian, Chaplin suddenly found he had an A-list of casting choices to pick from for his new movie. Film icons Sophia Loren and Marlon Brando were cast to play the romantic leads but both actors proved troublesome for an elderly filmmaker who had little use for meddling producer-husbands or The Method.
The film's plot sounds like something out of the era of screwball comedy. Natascha (Loren) a Russian Countess driven to work as a call girl looks to escape her lot and stows away in a boat in Hong Kong harbor. She takes refuge in the compartment of Ogden Mears (Brando), a pampered millionaire looking to bag an important diplomatic post. He is traveling to Honolulu in a cynical ploy to make-up with his estranged wife (Tippi Hedren), but upon discovering his strange cargo he finds there's more to life than politics.
Countess From Hong Kong
got a thorough and undeserved critical trashing upon release. This is not first-rate Chaplin, but it more than holds its own against the mostly dismal lot of Hollywood comedies produced in the late 1960s. Brando, always underrated as a comedian, is rather charming as the befuddled aristocrat who warms up to the cold and freakishly beautiful Loren. Chaplin clearly made no effort to make his film look modern or dumb down to the sexy standards of the era. The box office flop convinced Chaplin to hang it up once and for all.
It was not an entirely bitter retirement for the great man, as the American Film Academy finally came to its senses and gave Chaplin a Lifetime Achievement Award in 1972. As evidence old prejudices die hard, the elderly tramp was only given a two month visa to pick up his award then return to Switzerland. There, this man of all nations, died on Christmas Day in 1977.
Books on Chaplin:
Chaplin: His Life and Art
– David Robinson ***** This exhaustively researched and detailed 700 page brick of a book swats its competitors away like flies. Not the sort of thing you'd read from start to finish in a few days, but it's a true labor of love which befits one of the great geniuses and most fascinating men of the 20th century.
My Autobiography
**** A Dickens-esque chronicle of Chaplin's squalid and often desperate upbringing. Often criticized as a flight of the author's fancy to help cement his own legend, the book holds up remarkable well, painting a life-like portrait of turn of the 20th century London and early Hollywood.
Charlie Chaplin: Interviews
– Kevin J, Hayes (ed.) **** A perfect bookend to Chaplin's memoir, this excellent compilation of interviews provides intimate take on Chaplin the man and conscientious artist. This is one of the best entries in the invaluable director interview series from the University Press of Mississippi.
Charlie Chaplin: A Brief Life
– Peter Ackroyd **** The eminent British novelist and historian has written an insightful, user-friendly biography of the gentleman tramp who, not so surprisingly, turns out to be something of an enigma. The most interesting sequences focus on Chaplin's unhappy, hardscrabble childhood and his adventures in the bawdy music halls of London. While booze and insanity engulfed his parents Chaplin had the fortitude to develop his talent and exploit his genius in the new field of motion pictures. Later, the cautious millionaire turns his back on friends and sycophants alike and visits London frequently to haunt the streets of his youth.
Chaplin: The Mirror of Opinion
– David Robinson ***1/2 A worthy supplement to the author's massive Chaplin bio this is an analysis on how the press, contemporaries, and the world reacted to the films and life choices made by Charlot. Out of print.
Feature Films by Chaplin
1921  The Kid ****
1923  A Woman of Paris ****1/2
1925  The Gold Rush *****
1928  The Circus ****
1931  City Lights *****
1936  Modern Times ****
1940  The Great Dictator ****
1947  Monsieur Verdoux ****1/2
1952  Limelight ****
1957  A King in New York ***1/2
1967  The Countess From Hong Kong ***1/2
Short Films directed by Chaplin unless otherwise noted:
1914  Making a Living *** (d. Henry Lehrman)
1914  Kid Auto Races at Venice *** (d. Lehrman)
1914  Mabel's Strange Predicament *** (d. Lehrman & Mack Sennett)
1914  Between Showers *** (d. Lehrman)
1914  A Film Johnny *** (d. George Nichols)
1914  Tango Tangles *** (d. Sennett)
1914  His Favorite Pastime *** (d. Nichols)
1914  Cruel, Cruel Love *** (d. Nichols)
1914  The Star Boarder *** (d. Nichols)
1914  Twenty Minutes of Love ***
1914  Caught in a Cabaret ***1/2 (d. Mabel Normand)
1914  A Busy Day ***
1914  The Fatal Mallet *** (d. Sennett)
1914  The Knockout ***1/2 (w/Fatty Arbuckle, d. Charles Avery)
1914  Mabel's Busy Day *** (d. Normand)
1914  Mabel's Married Life ***
1914  Laughing Gas ***
1914  Face on the Barroom Floor ***1/2
1914  Recreation ***
1914  The Masquerader *** (w/Fatty Arbuckle)
1914  The Good-For-Nothing ***1/2
1914  The Rounders *** (w/Fatty Arbuckle)
1914  The New Janitor ***
1914  Those Love Pangs ***1/2
1914  Dough and Dynamite ***1/2
1914  His Musical Career ***1/2
1914  Tillie's Punctured Romance ***1/2 (d. Sennett)
1914  Getting Acquainted ***1/2
1915  His New Job ***1/2
1915  A Night Out ***1/2
1915  The Champion ***1/2
1915  In the Park ***1/2
1915  The Tramp ***1/2
1915  By the Sea ***1/2
1915  Work ***1/2
1915  A Woman ***1/2
1915  The Bank ***1/2
1915  Shanghaied ***1/2
1915  A Night in the Show ***1/2
1916  A Burlesque on Carmen ***1/2
1916  Police ***1/2
1916  The Floorwalker ***1/2
1916  The Fireman ***1/2
1916  The Vagabond ***1/2
1916  One A.M. ***1/2
1916  The Count ***1/2
1916  The Pawnshop ***1/2
1916  Behind the Screen ***1/2
1916  The Rink ***1/2
1917  Easy Street ***1/2
1917  The Cure ****
1917  The Immigrant ****
1917  The Adventurer ***1/2
1918  A Dog's Life ***1/2
1918  Triple Trouble ***1/2
1918  The Bond ***1/2
1918  Shoulder Arms ****1/2
1919  Sunnyside ****
1919  A Day's Pleasure ***1/2
1919  The Professor ***1/2 (incomplete)
1921  The Idle Class ***1/2
1922  Pay Day ****
1923  The Pilgrim ****