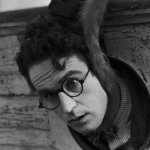 Harold Lloyd has never been revered by film scholars or critics with the sort of awe reserved for early masters of the art form like Griffith, Eisenstein, or Dreyer. Fair enough. But poor Harold rarely even rates as a peer to his two main rivals in the art of making people laugh: Chaplin and Keaton. As is so often the case critics subscribe to the mindset; if it tastes good, it can't be good for you. Over the years this sort of thinking has retarded acclaim of Alfred Hitchcock, Howard Hawks and Billy Wilder—three popular directors bashed for being more narrow and derivative than profound and universal. Cooler heads have since prevailed and, by and large, they have been vindicated.
Lloyd's reputation as a filmmaker of substance may well be hampered by the sunny, good nature of his screen persona and a squeaky clean personal life—he did have a penchant for photographing naked ladies, but as Wilder might opine "That's another story". To modern eyes, Harold's screen persona is often seen as milquetoast, his obsessions too materialistic to warrant recognition.
Then there's Lloyd's filmmaking style, often snubbed as being "by the numbers". Critics often overlook the meticulous care he took in constructing his quicksilver films, all prepped with the meticulousness expected from other masters of mise-en-scene like Hitchcock, Eisenstein and Keaton. Great technical achievements like Safety Last, Girl, Shy and Speedy can all withstand the rigors of classroom deconstruction and should be shown to today's attention-deficient film students as textbook examples of building scenes and editing. Of course, what makes Lloyd special to his fans is the shy, eager, yet vulnerable man-child at the heart of these marvelous films. Still, if you still have a difficult time buying into Harold the leading man, then all the brilliant filmmaking which drives his films to their breathless conclusions probably won't win you over.
Like Chaplin, Lloyd was careful about what he said to the press concerning his upbringing. He wanted the world to believe his was a Norman Rockwell-like childhood. If truth be told, his father was a failure and the family had to frequently move around their home state of Nebraska for him to find work. Meanwhile, young Harold meanwhile was an inquisitive lad, taking interest in theatre, magic, boxing, and engineering but he never could summons up the patience to finish high school. After his parents divorced he followed his Dad out to California in 1912 for adventure and to pursue a career in acting.
Two years on, and out of a job, Lloyd stumbled into film work with the young Hal Roach who was producing comic shorts through Pathe, a French distributor. By the end of the decade Harold appeared in dozens of comedies (often under the moniker of Lonesome Luke) directed by Roach or one of his cronies. Lloyd also worked briefly at Mack Sennett's studio during these years. Many of these early shorts are missing, lost in a warehouse fire, but Lloyd always seemed dissatisfied with this period of his career.
Nevertheless, his daredevil acting style and breathtaking chases had begun to find a popular audience. Around this time Lloyd also adopted the horn-rim glasses which would turn out to be his trademark. Lloyd actually didn't need the glasses, he could see like a hawk, but he quickly found they made audiences root that much harder for him.
Lloyd's post-Luke shorts are too seldom seen or talked about. Many of these tight slapstick gems actually hold up better than the Arbuckle-Keaton shorts
and some of the very early Chaplin features. Blessed with talented casts which included the charming and talented Bebe Daniels as a leading lady and unforgettable Roach character actors like Snub Pollard, William Blaisdell, Sammy Brooks, Wallace Howe and future collaborator Fred C. Newmeyer, Lloyd began to carve out a comic persona of an opportunistic young man, ready to do what's necessary to get the job or the girl.
These shorts are manic, but never really chaotic. The thin plots serve Lloyd's acrobatic talents well and he spends much of his screen time scrambling to get out from under the weight of oppressive older men, usually bombastic bosses or Bebe's didactic dads. Lloyd is sunny and likeable, but he's a bit of a knave, too.
In The City Slicker
, Harold blows into a dusty old town and snaps up a job as a manager of a hotel in dire need of a makeover. His innovations impress a luscious guest (Daniels), but her stuffy old beau takes an exception to the young entrepreneur and looks to throttle him silly. Two-Gun Gussie
finds Harold as a jazz pianist in a honky-tonk dive in the west. Due to a foul-up with the mail, a bartender mistakes Harold for Dagger Tooth Dan (Blaisdell), a notorious outlaw. Chuffed by the newfound respect he receives from the townsfolk, Harold takes on the gunslinger's persona with disastrous results.
In Ask Father
Harold is the spoiled suitor of a rich girl who demands he get the approval of her businessman papa before she will become his bride. The only problem is her father refuses to meet with anyone who hasn't made an appointment at least two weeks in advance and he employs a band of thuggish bodyguards to keep the riff-raff at bay. The determined Harold keeps trying to run the gauntlet to get the old man until he finds the girl he really loves is the sympathetic switch board operator (Daniels) who, time and again, cushions his blows.
The slapsticky Don't Shove
, at least in plot, recalls Chaplin's poetic early short The Rink
. Here. Harold plays a suitor for the popular Bebe Daniels. After he gets outwitted by his fat rival (Bud Jamison) at a get together thrown in her honor, Harold ends up at a skating rink where, incidentally, Bebe's party reconvenes. Though Harold isn't much of a skater, he manages to make his rival look like a stooge in this hilarious romp.
I just took life and poked fun at it.
The more ambitious Bumping Into Broadway
casts Harold as a down on his luck musical theatre playwright, who crashes his way into the office of the Broadway producer he just managed to offend in front of the playhouse. After being tossed into the street, Harold stumbles into a speakeasy-casino where he makes a surprise killing at the roulette wheel before the joint gets raided by the police. As he tries to avoid arrest and escape with the booty he bumps into his pretty neighbor (Daniels) who, as fate would have it, turns out to be the girl whose rent he paid with his last few dollars before his unexpected windfall.
Captain Kidd's Kids
finds Harold in the stew after he offends his fiancee's mother by taking part in an outrageous bachelor party. Bebe breaks the engagement and informs Harold she is traveling to the Canary Islands with her mother. The dutiful Harold hops on the same ship, but a bout of seasickness sends him into a delirious state where he imagines he is rescued by a pirate ship full of women and Bebe's mother wants him to walk the plank. The film would be the feisty Daniels' last with her former boyfriend. She signed on with Cecil B. DeMille and made a series of high profile features (Why Change Your Wife?
, Affairs Of Anatol
, etc.) which catapulted her into stardom during the 1920s.
"She's revered in Great Britain."
If losing his favorite leading lady wasn't bad enough, Lloyd also had to overcome a serious accident that almost cost him his life as well as his livelihood. While posing for a publicity photo in August 1919, a prop blew off Lloyd's right thumb and part of his forefinger. During his convalescence he learned how to wear a prosthetic thumb which he managed to hide from the movie-going public for the rest of his career.
After turning down an offer from Douglas Fairbanks to join the fledgling powerhouse United Artists Studio, Lloyd re-signed with Hal Roach for a fifty percent-take in his already highly profitable two-reelers and the series of features he would soon embark upon. For a new leading lady Lloyd recruited Mildred Davis, a seventeen-year-old blonde from Washington State. The baby doll Mildred was a polar opposite from Bebe Daniels but that was just fine with Harold, who didn't want his authority challenged on the set. But, to Lloyd's credit, he knew if he wanted to challenge Chaplin and Arbuckle at the box office the feckless boy with the glasses would have to grow into a leading man.
From Hand to Mouth
finds Lloyd in a rare Chaplin-esque scenario as a man of the streets in cahoots with a savvy little girl (Peggy Cartwright) and her lame dog, as they try to wheedle change and food out of bystanders. After narrowly avoiding arrest Harold falls in with a group of criminals who aim to kidnap a helpless young heiress (Mildred Davis) and keep her from inheriting a fortune. After botching his role in the plot, Harold falls in love with the girl and turns the tables on his partners in crime saving Mildred from the clutches of her greedy lawyer.
His Royal Slyness
is a weirder, edgy comedy in which Harold plays a salesman who strikes a deal with a lookalike Prince (Harold's brother Gaylord) and takes on the man's royal responsibilities. Upon entering the kingdom of Thermosa, Harold is first championed then rejected by his subjects. After being rescued by a burly friend of the court, Harold promptly falls in love with the Princess Florelle (Davis). He is then none too pleased by the reappearance of the Prince whose presence threatens his romantic prospects. Fortunately, an unlikely revolution paves the way for true love.
The pain was trivial compared to my mental state.
An Eastern Westerner
covers familiar ground where an eastern rube pushes west to pursue his destiny. Harold plays a dissolute playboy not willing or ready to commit to a responsible life. His exasperated father sends him to a dusty outpost called Piute Pass, where he is to learn the stuff of life from his pioneering uncle. Once off the train, Harold is transported to town where he quickly runs afoul of a treacherous masked gang that holds the fairest girl in town (Mildred Davis) for ransom. Taking the law into his own hands Harold does his daddy proud.
These highly entertaining two-reelers marked a progression in Lloyd's growth as an actor and a filmmaker. Though Hal Roach is given credit as a director on many of these shorts, Lloyd usually developed the story on the fly and was largely responsible for the staging and editing of the all-important gags. Lloyd's extraordinary ability as an acrobat was his calling card, but around this time he learned to act grown-up as well. The new Harold could be vulnerable and his bumbling way with the ladies charmed audiences. With all the tools in place, Lloyd was ready to begin his unexpected assault on greatness.
We seem to have conquered the time barrier, too.
The next few shorts introduced major set pieces and themes Lloyd would further explore in his features. High & Dizzy
finds Harold as a boozy doctor whose customers are few and far between. When he finally does get a patient (Mildred), a chronic sleepwalker, his unprofessional conduct annoys her father (Wallace Ford) and the two leave in a huff. Afterwards, while on a bender with his associate, Harold reconvenes to a high rise hotel where Mildred happens to be staying and he gets scary firsthand experience of her predicament while out on a window ledge. Haunted Spooks
and I Do are relatively minor works both finding Harold newly wed to Mildred and imprisoned in houses where they are harassed by evil spirits and obnoxious children.
The man who tries to be funny is lost.
The Keaton-esque Get Out Get Under
opens with a peculiar dream sequence where Harold finds his beloved Mildred has just married another man. The ringing of the phone snaps him out of his sleep. A nagging Mildred reminds Harold he is late for her amateur production for which he is to play the swashbuckling lead. The anxious Harold gathers himself together, but we soon find the true love of his life is actually his new car which he cleans and coddles like a precious pet. Unfortunately the car seems to have a mind of its own, conking out on the street, slipping into reverse at inopportune times and finally leading Harold on a merry chase where he narrowly avoids arrest.
Number Please
is the rare instance where Harold actually ends up on the losing end of the romantic stick. The short features some brilliant sight gags at an amusement park and but the intended fun at the expense of phone operators doesn't really hold up.
His next two shorts, the sweet-tempered Now or Never and slapsticky Among Those Present were more character-driven and gave Harold room to show off his considerable acting chops. In Now or Never
, Harold tries to hop a train into the town where, incidentally, his childhood girlfriend Mary (Mildred) lives. All grown-up, she is a nanny placed in care of the neglected Dolly (Anna Mae Bilson). On her day off, Mary intends to pay a visit to Harold with Dolly in tow. She is surprised to meet her old beau at the train platform but when she spots Dolly's father (William Gillespie) getting onto the same train she places Harold in charge of the little girl. Since Harold has seen his money blow away with the wind, he and the affectionate Dolly spend much of the trip dodging porters and ticket-takers in a slow-burn comic romp.
Among Those Present
features a rascally Harold playing a coat-room clerk longing to run with the rich crowd. He is given his wish when he is hired to play a stuffy English Lord in front of an unsuspecting gathering of new money aristocrats. Harold takes an immediate shine to his host's pretty daughter (Mildred) and in an attempt to impress her he begins to tell a few whoppers about his prowess as an outdoorsman. He volunteers to ride the stable's most rowdy horse, appropriately named Dynamite, at the next morning's hunt and he ends up losing his pants and dignity.
Never Weaken
finds Harold occupying a neighboring office to a doctor (William Gillespie) and his pretty secretary (Mildred). With business in the dumps, the doctor decides to lay off Mildred, prompting Harold to offer his services as a recruiter of patients. He does a bang-up job but when Harold returns to the doctor's office to find his beloved in the arms of another man he decides to kill himself. Alas, Harold proves too squeamish to go through with the dirty deed but he manages to get into a life-threatening situation, regardless. A blindfolded Harold is magically transported to a high rise construction site next door where he spends the next fifteen harrowing minutes of screen time navigating his way downward to safety.
Never Weaken seems like two separate movies, but both parts play up Harold's resolve and keen acumen in solving problems. Such characteristics aren't the stuff of screen poetry, but they served as building blocks upon the consciousness of Harold's audiences, who came to accept this extraordinary young man's ability for performing the most outrageous acts of derring-do.
Although Harold would soon begin making features, the forty-six minute A Sailor-Made Man
was never intended as being his first. But, as the filming evolved Lloyd, Roach and director Newmeyer so fell in love with what they had shot they decided not to cut anything out. Initially, Harold is delightful as a selfish and lazy millionaire who enlists in the navy to impress the businessman father of his girlfriend (Mildred). When she invites Harold on a cruise around the world, he tries to break his pact with the military registrar only to find he will first have to complete three years in the service of Uncle Sam.
Once aboard ship, naval regulations seem to have beaten the spirit out of Harold and the film. As fate would have it Harold ends up on the same Middle Eastern alcove as Mildred and her father and the sailor end up saving her from the clutches of the lusty Maharajah of Khairpura-Bhandanna (Dick Sutherland).
Lloyd's first true feature the lovely Grandma's Boy
finds its creator coming into his own as an actor and artist. Harold is marvelous as the tongue-tied young man who is too shy to make love to the neighbor girl and too cowardly to fight the local bully for her hand. Though Mildred Davis is the love interest, it's Anna Townsend as the Grandma who is the real leading lady. Worried about her meek grandson Grandma makes up a tall tale about her similarly spineless husband who needed a lucky charm to help him capture a band of Union Soldiers at the height of the Civil War.
As fate would have it she still has the lucky charm and gives it to Harold. With newfound confidence Harold spearheads the town militia against a hulking vagrant (Dick Sutherland) who has been terrorizing the locals. After Harold dispatches of his longtime rival and wins the hand of Mildred, Grandma reveals the keepsake is only the handle of an umbrella and not a lucky charm at all. Her boy has won the day on his pluck and bravery.
Dr. Jack
is another rural feature where Harold plays a neighborhood doctor who eschews medication in favor of old-fashioned remedies. But soon, Jack Jackson (Harold) meets his Waterloo in the name of Dr. Ludwig von Saulsbourg, the manipulative private physician of a "Sick Little Well Girl" (Mildred). Called upon to give a second opinion Dr. Jack determines a little fresh air and exercise should do the girl wonders, making the Viennese pill-pusher a superfluous figure in the household. But Harold's romantic interest in Mildred casts new doubt on his diagnosis and it will take some scary tactics (recalling similar scenes in House of Spooks and I Do) to make the girl's family see the light.
You Are the Ideal of My Dreams.
Lloyd's most famous film Safety Last!
hits on all cylinders, making tremendous use his gifts as a physical and drawing-room comedian. Here, Harold is a small town boy aiming to make his mark in the big city. But, once settled in town the only job he can get is as a low-paying sales clerk in at the Bolton Department Store. He spends most of his earnings on jewelry to send to his girlfriend (Mildred) back home. She is led to believe he is a big success and on the urging of her mother, she decides to go to the city to discuss their plans for the future.
Mildred surprises Harold at the store and thinking he is the general manager, asks to see his office. In a delicate and inspired comic sequence, Harold steps lightly around his curious co-workers to keep up the façade and quell Mildred's queries. When he overhears the real GM mention the store needs a big promotion to attract new customers and he will offer $1000 to anyone who can pull off the job, Harold quickly volunteers his services. Hoping the money and esteem will lead to marriage and a better job at the company, Harold hires his human fly friend (Bill Strother) and sets in motion a big publicity campaign.
On the big day, Harold is alarmed when a nosy Cop (Noah Young), who has it in for Bill, throws a wrench into his well-laid plans. Looking to avoid arrest, Bill tells Harold he will have to step-in as the human fly. Bill will switch places with Harold on the second floor to continue the climb to the top. Faced with shame and humiliation, Harold begins the quest. He struggles to the second then third floor, but Bill still can't shake the cop. It becomes clear the inexperienced Harold will have to make the frightening climb on his own. Along the way he is attacked by pigeons and a pit-bull, nearly knocked off a ledge by construction workers and offered little help by well-meaning fans.
In the film's signature scene, Harold tries to scale his way around a giant clock, but slips and grabs the minute hand to which he holds on for dear life. On the ground the gathering audience is thrilled and amused, never guessing this daring novice is in any real danger. Finally, after nearly getting concussed by a spinning weathervane at the top, he pulls himself up to meet Mildred waiting on the roof.
To film the heart-stopping façade crawl, cinematographer Walter Lundin, Lloyd and his company built mini-sets on each floor of a five story building and because they were at the mercy of natural lighting, they were only able to shoot a couple hours a day. These sort of problems seemed to make their way into the themes of Lloyd's films for the struggle to overcome obstacles was paramount with the filmmaker's alter ego, Harold. A deep fear of failure drove this man-child to race cars and scale large buildings to prove his mettle, win the girl, and improve his standing in life. Such obsessions were the foundation of Lloyd's stunning period of creativity and, as we shall see, the best was yet to come.
It was going to be popular and bring in a few shekels.
The plot of Harold's next film, Why Worry
, seems to have been lifted from The Sailor-Made Man. This time Harold's spoiled millionaire is a hypochondriac setting off to warmer climes on the island of Paradiso off the South American coast. Unbeknownst to Harold, Paradiso is in the throes of a revolution led by a renegade American Jim Blake (James Mason). When the pampered rich boy arrives he is immediately arrested and blindly signs his own order of execution.
Fortunately, he shares a cell with the island's most feared man Colosso (John Aasen) an eight foot giant with a tooth ache. Harold talks Colosso into helping him escape, but once the men break free they find they are trapped on the island by the militia. With the help of Harold's doting Nurse (Jobyna Ralston), the clever trio tricks the revolutionaries into believing they have an army at their beck and call and puts down the uprising. Most of the film's many laughs come at the expense of the good-natured Aasen, but there isn't a mean bone in Why Worry.
Why didn't you tell me I love you?
With Mildred Davis moving onto other projects (such as becoming Mrs. Harold Lloyd) Bebe Daniels-lookalike Jobyna Ralston would become Harold's leading lady of choice. Jobyna's personality and acting style was less idealized than sweet Mildred's and the spunky new girl knew how to push Harold's buttons if he got too sappy or complacent. By 1924 Lloyd had broken ties with Hal Roach and formed his own production studio. But, by bringing director Newmeyer along with his stable of gifted gag writers (Sam Taylor, Tim Whelan, Ted Wilde) on board, the quality of Harold's films didn't diminish, in fact they got even better. Buoyed by the success of his recent character-driven films, Lloyd felt more comfortable in giving his Harold a more pathetic quality making the Boy prime fodder for the dodgy circles he wishes to run in.
This was never more evident than in Girl Shy
in which Harold Meadows (Lloyd) is a stuttering tailor who lives in fear of his attractive female customers. By night the deluded Harold pens a how-to book called The Secret of Love Making, a supposed memoir of all of his romantic conquests. On the very day he takes the transcript to the publisher, he meets Mary (Jobyna Ralston) whose very sweetness gives him cause to re-think the premise of his book. They part at the train station and the dazed Harold drops the transcript off with the most important publisher in town.
Weeks pass and Harold can't stop dreaming of Mary until one day they meet by chance in the idyllic countryside. Inspired by Mary, Harold vows to confront his editor with a new chapter for his book and demand it be published immediately. Living in the cocoon of small town life, Harold is blissfully unaware of Mary's wealth and the fact his book is a ghastly joke. When Harold arrives at the publishers he is mocked by the readers and the head honcho who says he would never print such ridiculous rubbish. Crestfallen, Harold treats Mary cruelly pushing her into the arms of her old suitor, the slimy Ronald De Vore (Carlton De Griffin).
Meanwhile the publisher's assistant (William Orlamond) has convinced his boss Harold's manuscript is a great work of humor. They send Harold a letter with a check for $3000, but thinking the correspondence is only a rejection notice the depressed tailor rips it to shreds. His employer (Richard Daniels) pieces the letter together and finds the check. Though Harold is unhappy about what the publisher intends to do with his book, he thinks the news could impress Mary. He is further buoyed by learning De Vore is actually the husband of a woman in town and plans to marry Mary that afternoon.
What follows is one of the most exciting sequences in all of cinema, in which a desperate Harold hijacks cars, a cop's motorcycle, a trolley car, and finally a team of fire department horses, to save Mary from the bigamist. But, at his point of triumph Harold's old stuttering affliction rears its ugly head, so he has to kidnap Mary from the wedding party to tell her of his plans.
My humor was never cruel or cynical.
Though the no-holds-barred finale tends to overwhelm, the first half-hour of Girl Shy is as lyrical and touching as anything Lloyd had produced up to that time. As for the great chase, well, for those who needed convincing Lloyd wasn't a master technician, director, and editor, they need look no further. The fifteen minute sequence piles on the thrills and chills, continually topping itself, like Bolero played at 78rpm. It is impeccably timed; the camera captures the subject's action, the crowd's reaction, and doesn't linger a second longer. It's also a surprisingly cathartic sequence. All of Harold's pent-up rage at being played the fool explodes, turning the stuttering fool into a Superman. It was a theme Lloyd would return to time and again in years to come.
Like Buster Keaton, Lloyd alternated personal projects with strictly gag films which, ironically, turned out to be just as expensive to make and proved just as popular with audiences. Hot Water
is an uneven gag picture that lifts much of its humor from Lloyd's short films. But, since the jokes are so well-polished and the acting so marvelous there's little to criticize here.
Harold plays a henpecked husband very much in love with his wife (Jobyna Ralston). She calls Harold at work and asks him to bring home a few odds and ends from the grocer. He hops a streetcar with his arms full of the goods, including a live turkey who wreaks havoc on the other passengers. After being unceremoniously booted off the car, Harold walks home to find his awful in-laws have moved in for stay. His spirits are lifted by the delivery of his brand new car and, of course, everyone wants to take a ride. Harold drives into town where his mother in-law (Josephine Crowell) begins nag him incessantly, causing the first of several accidents that will ultimately destroy the car.
Returning home humiliated, Harold is consoled by his neighbor who advises him to toss mother and company to the curb. Bolstered by a flask of shine, Harold tries to confront mother, but only ends up chloroforming her instead. Afraid he has murdered the old battleax, Harold imagines the police have surrounded the house and he is destined for a date with the hangman. At times, Hot Water seems to be two or three short films strung together, but the content is so seamlessly interwoven and the comic timing so impressive, we hardly notice.
Harold's next film The Freshman
, a satire on status and the college life, was much more ambitious. Door to door refrigerator seller Harold Lamb (Lloyd) finally realizes his life dream when he is accepted by Tate College. In a hilarious scene, Harold preps for school by learning the school's football chants as well as developing an absurd handshake greeting he has seen in a movie about college. On the train to school Harold meets Peggy (Jobyna Ralston), a kind local girl, but after a promising opening conversation the shy young man runs away.
Upon arrival on the campus, the local cad (Brooks Benedict) spots Harold for a rube and decides to have some fun with him. He arranges so Harold takes the Dean's car to the assembly where the old grump is supposed to speak. Harold takes the Dean's place on stage and makes an ass out of himself, but thinking the student body is laughing with him, not at him, he invites them all out for free ice cream.
Depleted of his resources, Harold takes up in a modest boarding house owned by the mother of the girl he met on the train. Peggy loves Harold, but she doesn't have the heart to tell him his classmates think he is a fool. Wishing to become the big man on campus, Harold tries out for the football team. It's clear he doesn't have a clue how to play the game, but the coach takes pity on him and lets him stick around as a substitute. In reality, Harold is only the water boy.
To further his ambitions, Harold sponsors the annual fall frolic but, as fate would have it, his booze-addled tailor (Joseph Harrington) hasn't finished his suit. Harold attends the frolic with the old tailor in tow, willing to lend a needle and thread to the cause in the event his suit falls apart. Harold's suit ultimately unravels and after he catches the cad trying to force him attentions on Peggy he knocks the creep to the floor. The angry cad finally lets Harold in on the secret he is the campus joke, leaving him humiliated, but not yet broken.
Harold's hopes rest on the upcoming football game against rival State Union. The game turns out to be a grudge battle with Tate players being knocked out left and right. Harold begs the coach (Pat Harmon) for a chance but it doesn't seem to be coming his way. Finally, Tate is faced with forfeiting the game Harold sees his opportunity and demands he be allowed to play. The coach finally lets Harold know he is only the water boy, but the determined young man finally gets his way and enters the fracas. After taking an initial pounding that nearly sends him back to the sidelines and making a boneheaded mistake that negates a sure touchdown, Harold finally breaks free on a one hundred yard dash to win the game for Tate.
Though Harold's plight can be excruciating to watch, The Freshman ends up being one of Lloyd's most revealing films. Harold Lamb's idealism and enthusiasm for college life, no matter how wrong-headed it may seem, is infectious and no one who truly cares for him wants to bust his balloon. It is inevitable Harold is going to take a pounding by both the smart crowd and the football team and like most Lloyd heroes, he has to find it within himself to rise to the occasion or sink back into anonymity.
I'm just a regular fellow. Call me Speedy.
The Freshman would be Lloyd's last film for Pathe. In late 1924 Harold signed a new deal with Paramount giving him a huge cut of the profits. The deal provided a golden parachute for the already wealthy star. Lloyd next took Mildred on a long trip to Canada and the East Coast, not returning home to Beverly Hills until the fall of 1925.
His first project for Paramount, For Heaven's Sake
, was originally intended to be a gangster film but an escalating budget prompted Lloyd to make major cuts transforming the material into a gag comedy. The opening sequence finds Lloyd in a familiar role as J. Harold Manners, a selfish millionaire who writes large checks to cover his reckless lifestyle. After accidentally burning down a missionary's kiosk, Harold gives the poor man a thousand dollars to cover the costs. The grateful preacher opens a mission in his benefactor's name, much to the horror to Harold who asks Manners be wiped off the masthead of the building.
His anger dissipates when he runs into the pretty and feisty missionary's daughter (Jobyna Ralston) who is thrilled to meet the man who helped make her father's dream possible. The couple fall in love and plan to marry, but Harold's uptown friends intercede and kidnap him before he gets sucked into such an unholy alliance.
The news of Harold's bailing doesn't sit with the downtown locals who, over drinks, decide to recapture the groom and deliver him to the missionary's daughter. Actor Lloyd seemed content to let his fine ensemble cast take much of the kudos in For Heaven's Sake. The boys let it rip in the hilarious high speed finale where a frustrated Harold tries to corral his drunken mission friends onto a bus, then a cable car, before stuffing the louts into a dog catcher's cart. The sequence remains a true marvel of comic choreography.
Dissatisfied with the outcome of For Heaven's Sake, Lloyd sought to make a more personal film for his next Paramount project. His new film would be a rural story, running a half step behind his usual frenetic pace. In The Kid Brother
he plays Harold Hickory, the youngest son of Sheriff Jim Hickory (Walter James), a legendary lawman. Jim's older sons Leo (Leo Wills) and Olin (Olin Francis) are made from the same rough hide as their Pa. The three men treat gentle Harold with mild condescension, leaving him behind when there are chores to do or bandits to track down.
One day, while practicing with his father's guns, a traveling medicine show rolls into town. PR man Flash Farrell (Eddie Boland) mistakes Harold for the sheriff and talks the gullible youngster into signing a permit to let the show perform in town that evening. When Jim finds out what Harold has done he sends the boy into town to shut down the show. But the performers make a fool out of Harold, prompting the older Hickorys to take charge. In the ensuing chaos the medicine show burns down and Harold falls in love with the troupe's fetching dancing girl Mary Powers (Jobyn Ralston).
Meanwhile, Jim Hickory has been given the task of watching over the town's savings for the building of a highly profitable dam. When the money disappears, the town turns on the Hickorys. With his confidence at an all-time low, Mary gives Harold a pep talk and sends him out to help his brothers. He stumbles upon a ship where Farrell and the show's strongman Sandoni (Constantine Romanoff) have hidden the town's loot. Harold engages Sandoni in a battle of wits and brings the brute to bay. Young Hickory wins the respect of his family and even manages to whip his longtime rival for Mary's hand at the fade out.
Rich with the stuff of humanity, The Kid Brother is Lloyd's most mature and original film. Harold Hickory's insecurities are so close to the surface and Lloyd's performance so naked it becomes clear he has moved far beyond being just a silent clown. But, the film's disappointing reception at the box office could have signaled a beginning of an end for Harold as a screen persona. At thirty four, he would not be convincing in the role of an up and coming young man for much longer.
To lose one's naturalness is to lose your audience.
Lloyd always made the habit of following a personal film with a gag picture, but with Speedy
he would combine the best of both worlds. Taking a page from earlier Lloyd heroes, Harold "Speedy" Swift blows with the wind, drifting from job to job, his only rock is his relationship with the pretty Jane Dillon (Ann Christy). Her father Pop (Bert Woodruff) runs the last horse-drawn carriage in New York City. When a pushy agent for a railway combine makes an offer to buy Pop out, the old man refuses. Pop has an ironclad contract with City Hall to keep his carriage, just as long as it operates at least once every twenty-four hours. But, since the railway can't be built as long as Pop is in the way something's gotta give.
The railroad boss gives the ok for a band of thugs to steal the carriage and stash it across town making it seem certain Pop will violate his contract with the City. When the ne'er do well Speedy hears of the treachery, he re-captures the carriage and makes a heroic dash to return the rig to its old neighborhood where it can make its daily run.
If I ever want to commit suicide, I'll call you.
Sparing no expense, Lloyd and company turned out a poetic and exhilarating snapshot of New York City during one of its most golden ages. Making splendid use of great and ghostly landmarks, including a lyrical sequence at an immaculate-looking Coney Island, Lloyd succeeded wildly in making the huge metropolis look like a wonderland of coots, cranks and lovers. Continuing in his relaxed acting mode from The Kid Brother, Lloyd shines as the young man about town to whom ambition takes a backseat to pleasure.
Speedy would turn out to be Lloyd's last silent and, not surprisingly, his last great film. The expensive film also did gangbusters at the box office, but the dawn of sound films meant Lloyd would have to cut back on his beloved location shooting and return to the studios for a date with the microphone.
We seek always to build up every situation.
Though Lloyd certainly had enough money to risk making silent films in the sound age, ala Chaplin, he embraced the new technology quickly. He had a honking voice which, oddly enough, seemed to fit his mature screen persona. Lloyd's talkies are nowhere near as bad as Buster Keaton's, but neither do they come close in approaching the quality of his finest silent work. Several of his sound films are genuinely entertaining, but dialogue did more than just clog the all-important pace and rhythm of Lloyd's work, it kept him grounded. From here on in, audiences would only rarely catch a glimpse of the athletic Harold of old.
His first sound film Welcome Danger was actually shot as a silent, running nearly three hours. Not happy with the film's structure and fearing he might be left behind the talkie revolution, Lloyd brought Keaton collaborator Clyde Bruckman in to edit the film down to two hours and post-dub some dialogue. Although, Welcome Danger turned out to be another big hit for Lloyd, the brassy Chinatown mystery is slow-going and suffers from the same technological problems that plagued most sound films made during this period.
Feet First
is better, but only because Lloyd returned to doing what he did best, playing the daredevil. The thin plot has Harold playing a bumbling salesman eager to impress the owner of a shoe store chain and the businessman's sweet secretary (Barbara Kent). After some awkward scenes in Hawaii, they all end up on a ship in the Pacific where Harold must find a way to deliver some important documents to the mainland or Barbara will lose her job. Harold is soon airmailed to Los Angeles where he inadvertently ends up on the side of a skyscraper and begins a reprise of his human fly act of Safety Last!. This time Harold doesn't climb to the top so much as try and hold on for dear life in a series of hilarious hair-raising stunts.
Movie Crazy
was a character-driven film and it features a welcome return of Old School Harold. Here, he is Harold Hall, a movie fan from the Midwest who is mistakenly invited to a motion picture studio for a screen test. Once in Hollywood, Harold has a run-in with a cantankerous producer (Spencer Charters), botches his test then makes a fool out of himself when he tries to help a damsel in distress, who turns out to be one of the studio's biggest stars. Mary Sears (Constance Cummings) is intrigued by this earnest nobody who, for some inexplicable reason, doesn't seem to find her attractive. She sets forth a plot to bring Harold to his knees but, of course, he finds a way to foil her best laid plans.
Cummings is one of the most assured and charming of Lloyd's leading ladies and she and Harold have some real sexual chemistry. But, it was becoming apparent Harold's nice guy act was beginning to look old hat and his sound pictures weren't catching on with hard-bitten Depression era audiences.
Unhappy with Paramount's distribution of Movie Happy, Lloyd accepted a deal to make a picture at Joe Schenck's Fox Studios. In The Cat's Paw
he would not play the eponymous Harold character for the first time since the days of Lonesome Luke. Also, Lloyd would have little say in re-interpreting Sam Taylor's screenplay based on a story by writer Clarence Budington Kelland (Mr. Deeds Goes to Town
).
The son of an American missionary living in China, Ezekiel Cobb (Lloyd) is sent to the United States to spread goodwill and find an American wife. His contact in Stockton, California turns out to be a minister who is also the city's perennial losing candidate for mayor. As fate would have it the minister dies before Ezekiel has a chance to meet with him and the innocent young man falls into the hands of the town's political machine. Christened the new reform candidate for mayor, Ezekiel gets the unexpected support of the voters when he knocks out the child-beating mayor (Alan Dinehart).
Swept into office, Ezekiel fires all of the old, corrupt cabinet prompting the mob to take matters into their own hands. The victim of a blackmail plot, Ezekiel is pushed to resign. After conferring with his wise Chinese friends in town, Ezekiel announces to the few loyalists left in his cabinet he shall become dictator of Stockton. He has the cops round up all of the mobsters and Low-Lifes and deposits them in an Asian house of horrors where Ezekiel threatens to behead them all unless they confess to their crimes.
Similar to Capra's American Madness
and Gregory La Cava's Gabriel Over The White House
this weird, quasi-fascistic film paints a nation and people close to the edge during the darkest years of the great Depression. As the chilling final fifteen minutes unfold, one comes to believe the mad Mayor actually will go through with his bloody scheme to rid the city of its graft. Lloyd never received enough credit for his convincingly nutty performance but the sinister content turned out to be too much for his fans to swallow.
The collapse of American democracy?
After much soul-searching, Lloyd accepted an offer to return to Paramount where he would star in The Milky Way
directed by talented Leo McCarey, who had already worked with such incandescent clowns as Laurel and Hardy, Eddie Cantor, W.C. Fields, Mae West
and The Marx Brothers
. Harold is Burleigh Sullivan, a benign milkman who is supposed to have knocked out boxing's middleweight champion Speed McFarland (William Gargan) in a street brawl while defending his younger sister Mae (Helen Mack). After the local newspapers have played the story to the hilt, Burleigh informs Speed and his manager Gabby Sloan (Adolphe Menjou) he had little to do with the incident. It turns out Speed's bodyguard Spider Schultz (Lionel Stander) delivered the blow that put the shiner over the boxer's eye.
I'd dance with the cows till you come home.
Realizing he will never convince the press otherwise, Gabby plays the fake story for all its worth and hires the strapped for cash Burleigh as a middleweight, pitting him against a bunch of pushovers in a series of fights leading to a championship brawl against Speed. The victorious Burleigh begins to believe his own hype and he ends up alienating Mae and the sweet local girl (Dorothy Wilson) who loves him. Slick and witty, The Milky Way brought Lloyd the sort of critical acclaim he cherished but, once again, the film never found an audience.
Lloyd struck another deal with Paramount to make a film and for the first time in years he would sink his own cash to the production. In Professor Beware Harold plays Dean Lambert, an addled-brained Egyptologist who stays one step ahead of the law in a cross-country chase to New York City. Directed by the capable Elliot Nugent, the film certainly isn't an embarrassment but it feels like the sort of project better suited for a verbose comedian like Bob Hope. The times had clearly passed Lloyd by, so he took a vacation from starring in his own films.
The next few years saw Lloyd produce unsuccessful pictures for other "undiscovered" talents (Lucille Ball & Kay Kyser) and take up painting and photography as hobbies. Still, he was itching to get back into films and when Preston Sturges sought him out to star in his new picture Lloyd couldn't refuse. Sturges had just made a series of hugely successful comedies in the early 1940s that bought him freedom from the constraints of a big Hollywood Studio. Sturges was a huge fan of Lloyd's and his films shared the same sort of frenetic quality seen in movies like Girl Shy and Speedy. But, where Lloyd was largely a romantic without a nasty bone in his body, Sturges was a satirist looking to skewer the American Dream Harold held so dear. Still, despite this clash of temperaments the collaboration between these two giants almost works.
The Sin of Harold Diddlebock
opens with an extended flashback to the final scenes of the football game in The Freshman where water boy Harold comes off the bench, scoops up a fumble and, against all odds, returns the ball the length of the field for the winning touchdown. This is where Sturges' film begins. In the locker room after the game, Harold is offered a job by local businessman E. J. Waggleberry (Raymond Walburn). When he reports to Waggleberry weeks later, the pompous CEO barely remembers Harold and assigns him to the bookkeeping department and there he will toil for over twenty years in depressing anonymity. One day out of the blue, Waggleberry calls Harold to his office and fires him.
Armed with a small pension and no prospects, Harold hits the streets where he bumps into Wormy (Jimmy Conlin), a small-time bookie who hits on him for a loan. Harold peels off a large bill, impressing Wormy who invites the teetotaler into a nearby bar for a drink. In perhaps the film's best scene, Jake the bartender (Edgar Kennedy) mixes a wild concoction called "The Diddlebock" for the grand occasion. The potent drink takes a powerful effect on Harold. Against Wormy's advice he tells another bookie to put all his pension money on a longshot at the race track and wins. Still under the influence of "The Diddlebock" Harold paints the town, buying a ridiculous wardrobe, a horse and carriage and a bankrupt circus until he crashes into a deep sleep.
The film's manic pace takes a curious dive after Harold wakes up and realizes he has to try and sell the circus if he doesn't want to spend the rest of his life in the poorhouse. As Harold shops the circus to Wall Street brokers, the jokes become strained and the plot gets hopelessly muddled.
After a brief run at theatres, The Sin of Harold Diddlebock was taken out of circulation by its producer, Howard Hughes, and would only appear years later in a re-edited version known as Mad Wednesday (the day of Diddlebock's bender). The film marked the beginning of a quick decline for Sturges and the end of Lloyd's career in movies.
It's entirely possible Lloyd's reputation never got the critical bump Keaton received, because he refused to sell the master prints of his films to television. Still, Lloyd's well-adjusted persona has never really caught the fancy of those critics and cineastes who prefer their comedians to be looking in from the outside. Unfortunately, with the glorification of the Anti-Hero and today's acceptance of toilet humor, it takes an unusual audience to get together and enjoy a Lloyd film. To them, we leave the riches of one of the most inventive and entertaining American filmmakers.
Books on Lloyd:
Harold Lloyd: The Man on the Clock
– Tom Dardis ****1/2 Dardis was a superb biographer and his writing on Lloyd is every bit as lucid and thoughtful as it was on Keaton. Dardis makes a strong case for Lloyd's place in the film pantheon even if the man himself ends up as something of an enigma. Out of print.
Harold Lloyd: The Shape of Laughter
– Richard Schickel **** Schickel was the first major critic to do a complete re-evaluation of the comic master's body of work and for the most part this is a very admirable work. The author paints Harold as a craftsman who made great entertainments. A fair enough assessment, but at the time of publication (shortly after Lloyd's death) Schickel wasn't ready to anoint his subject as a great artist or even an admirable human being. Out of print.
Harold Lloyd's Hollywood Nudes in 3-D!
– Harold Lloyd ***1/2 A charming book of 50s cheesecake photography, edited by Lloyd's granddaughter. Lloyd was an excellent amateur picture snapper and has nice taste in gals, to boot.
Short Films by Lloyd:
Footnote: Lloyd never bothered receiving or asking for a directing credit for his films but his personal imprint is obviously present from All Aboard through Movie Crazy. I'm listing the directing credits in parenthesis, as Lloyd couldn't have done such fine work without these collaborators.
1917  All Aboard ***1/2 (Alfred J. Goulding)
1918  The Non-Stop Kid ***1/2 (Gilbert Pratt)
1918  Two-Gun Gussie ***1/2 (Goulding)
1918  The City Slicker ***1/2 (Pratt)
1918  Are Crooks Dishonest? ***1/2 (Pratt)
1919  Ask Father ***1/2 (none)
1919  A Sammy in Siberia ***1/2 (Hal Roach)
1919  Billy Blazes, Esq. ***1/2 (Roach)
1919  Just Neighbors ***1/2 (Lloyd & Frank Terry)
1919  Don't Shove ***1/2 (Goulding)
1919  Bumping Into Broadway ***1/2 (Roach)
1919  Captain Kidd's Kids ***1/2 (Roach)
1919  From Hand to Mouth ***1/2 (Goulding & Roach)
1920  His Royal Slyness ***1/2 (Roach)
1920  Haunted Spooks ***1/2 (Goulding & Roach)
1920  An Eastern Westerner ***1/2 (Roach)
1920  High and Dizzy ***1/2 (Roach)
1920  Get Out and Get Under ***1/2 (Roach)
1920  Number Please ***1/2 (Fred C. Newmeyer & Roach)
1921  Now or Never ***1/2 (Newmeyer & Roach)
1921  Among Those Present ***1/2 (Newmeyer)
1921  I Do *** (Roach)
1921  Never Weaken ***1/2 (Newmeyer)
1921  A Sailor Made Man ***1/2 (Newmeyer)
Feature Films by Lloyd:
1922  Grandma's Boy **** (Newmayer)
1922  Dr. Jack ***1/2 (Newmayer)
1923  Safety Last ****1/2 (Newmayer and Sam Taylor)
1923  Why Worry **** (Newmayer and Taylor)
1924  Girl Shy **** (Newmayer and Taylor)
1924  Hot Water ***1/2 (Newmayer and Taylor)
1925  The Freshman ****1/2 (Newmayer and Taylor)
1926  For Heaven's Sake **** (Taylor)
1927  The Kid Brother ***** (Ted Wilde)
1928  Speedy ***** (Wilde)
1929  Welcome Danger **1/2 (ClydeBruckman)
1930  Feet First ***1/2 (Bruckman)
1932  Movie Crazy ***1/2 (Bruckman)
1934  The Cat's Paw ***1/2 (Taylor)
1936  The Milky Way ***1/2 (Leo McCarey)
1938  Professor Beware *** (Elliott Nugent)
1947  The Sin of Harold Diddlebock ***1/2 (Preston Sturges)