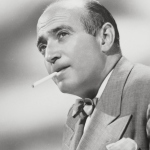 Max Ophuls is probably the most overlooked major director in the history of narrative film. In the 1996 Entertainment Weekly list of Fifty Great Directors Max checked in at a disappointing #39, trailing lesser lights like Steven Spielberg, Robert Altman, Francis Ford Coppola, Sam Peckinpah and Werner Herzog—though thankfully ranking above Oliver Stone, Spike Lee, Tim Burton and Jerry Lewis. Granted, where the arts are concerned we live in an uninspired era but what more can be said about the lack of accountability in taste?
In Ophuls' heyday of the mid-1950s he certainly didn't suffer from critical neglect, both Andrew Sarris and Pauline Kael listed The Earrings of Madame de… and Lola Montes among their favorite movies. Max was also adored by the Cahiers du cinema and those young Turks of the French New Wave; Godard, Truffaut, Rivette, Rohmer and Chabrol. Stanley Kubrick also paid tribute to the man from whom he honed so much of his visual style.
But why then are Ophuls' films so rarely revived at repertory houses or on cable television? It could well be because Ophuls' unabashedly romantic style, giving prominence to grand gestures and selfless sacrifices, makes modern audiences uncomfortable. Like the heroines in Kenji Mizoguchi's sublime films, Ophuls' women never hesitated in following their men to the end of the world, often debasing themselves in the process.
Such subservience could well be a turn-off to post-modern geeks or those whose hearts have never been consumed by love's flame. Far too frequently we find modern critics dismissing Ophuls' films as tasty truffles and cavity inducing stuff. Nothing could be further from the truth as a first rate Max Ophuls film is truly a gourmet meal fit for a King.
The son of well-to-do Jewish parents from Germany's Rhine Valley, Max Oppenheimer was too young to enlist during WWI but he felt the after-effects of the Versailles treaty when his home region was quickly occupied by the French. Drawn to the theatre by the naïve prospect of bedding his leading ladies, Max first appeared on stage at the ripe old age of seventeen, but it was directing plays which truly took his fancy. Not wishing to embarrass his disapproving parents the ambitious lad also took up a professional monicker (Ophuls).
By the time Max reached his mid-twenties he had directed over two hundred plays, culminating in a highly successful three months stay at Vienna's prestigious Burgtheater and later becoming the musical director at Frankfurt's New Theatre.
Ophuls also embraced the new medium of radio, writing literary reviews, reading poetry on air, and producing musical shows. With the advent of sound film Max offered his services as a French-German translator to Anatole Litvak—the talented Kiev-born director who would later shoot The Sisters
, All This and Heaven Too
, City for Conquest
for Warner Brothers. Impressed by Ophuls' theatrical resume, experience with actors, and talent for languages, the great German film studio UFA offered him a contract to direct a short film. While Ophuls would continue to do innovative work in the theatre and opera for the rest of his life, the die was cast. The medium in which he would truly make his mark would be the cinema.
After completing a short featurette for UFA, Max's first feature length film turned out to be The Company in Love (Die verliebte Firma), a pleasing, wry comedy about a film crew who mutinies against their talentless leading lady. They wish to install a lovely telephone operator in the role but, blinded by love, they are unable to see the new girl is also terrible actress, too. As the star-struck starlet charming Anny Ahlers is a recognizable Ophuls heroine but the pair would never work together again as the young actress took her own life after contracting tuberculosis in 1932.
This early film about filmmaking is full of Ophuls' warmth and good will, but the usage of swish pans in place of his patented tracking shots is evidence of technique in a developmental stage.
Ophuls' next film, an adaptation of Smetana's opera
The Bartered Bride (Die verkaufte Braut), is a more ambitious project and a rollicking delight. For opera aficionados the film provides a rare opportunity to catch a glimpse of legendary soprano Jarmila Novotna in excellent voice, but it's Ophuls' ability to infuse an earthy sense of humor into the merry, chaotic plot which makes this early attempt at interpreting opera for the screen such a success.
Novotna plays Marie the much sought after daughter of the town mayor (Mad Nadler). Marie is in love with Hans (Willy Domgraf-Fassbaender), a stage coach driver, but she is already engaged to Wenzel (Paul Kemp) who comes from a rich family. Stepping into to mediate the touchy situation is Kezaj (Otto Wernicke), a marriage broker who offers to buy off Hans' interest in Marie. But, Wenzel is actually in love with another woman, so he lets Hans know he can keep Marie, but the greedy groom angers his tempestuous fiancée by keeping Kenzaj's money as well.
Set in a picture postcard village on the Rhine River, The Happy Heirs (Lachende Erben) is a similarly-themed comedy about a young man who will come into his uncle's fortune if he can abstain from drinking alcohol for a month. The catch is nephew Peter Frank (Heinz Ruhmann) is descended from a long line of wine distillers and a good-time Charlie. He faces keen opposition from a jealous family who'd like to see him fail. There is also the stipulation in his uncle's will that implores Peter to end animus with the family's business rival, the winemaker Stumm. Quite coincidentally, he has already fallen in love with Gina (Lien Deyers), a vivacious girl he has met on a train, who just happens to be the daughter of Herr Stumm (Walter Janssen).
The month passes ever so slowly and Peter finds it difficult to stay straight with everybody smoking good cigars and imbibing the rich local wine. But love wins out in the end when Peter purposely blows a chance at inheriting his uncle empire by drinking a glass of wine to impress Gina. As fate would have it, his uncle's will has a provision that will give Peter the keys to the kingdom. Although mostly forgotten, the warm and gentle The Happy Heirs remains an Ophulsian celebration of sensual pleasures and graceful living.
Ophuls' flair with the movie camera and his innovative usage of the tracking shot was beginning to get noticed by audiences and peers alike. His fledgling career got a huge boost when he was offered to direct a film version of the Arthur Schnitzler play
Liebelei. Set in what would become a familiar epoch (1900 Vienna) for Ophuls, the film opens at the opera house where the announcement of the King's arrival causes two shop girls to fumble then drop a pair of opera glasses upon two soldiers standing at attention in the gallery below. The ensuing scandal doesn't discourage one of the Lieutenants, Fritz Lobheimer (Wolfgang Liebeneiner), from making his date with the wife of Baron von Eggledorff (Gustaf Grundgens).
Later at a cafe, the other soldier, Lieutenant Kaiser (Carl Esmond), strikes up an acquaintance with the two young women and succeeds in charming the easy Mizzi (Luise Ullrich). Fritz joins the party and falls for the winsome Christine (Magda Schneider), an aspiring opera singer. As his affair blossoms into romance, Fritz tries to break off with Mrs. Von Egglesdorff (Olga Tshechowa) but the Baron catches Fritz red-handed leaving his home. Since damage has been done to the Baron's honor, he challenges the military man to a duel. The odds seem to be in Fritz's favor but he dies in the standoff leaving Christine alone with bittersweet memories.
At turns witty and melancholic, Liebelei offers the first example of the undercurrent of foreboding which haunted Ophuls' legion of lovers all the way through Lola Montes. We are made all too aware of fleeting passions and love's fickleness, but when two star-struck lovers finally do come together it is cause for celebration. Fritz and Christine experience such ecstasy during sleigh-rides in the snowy countryside, far away from prying eyes and flapping tongues. This breathtaking sequence ranks among Ophuls' finest location work and fit in nicely with the natural and spontaneous approach he took in making Liebelei.
At the age of thirty-one, Ophuls seems wise beyond his years. A little bit of Max lives in the character of Christine's father, Weyring (Paul Horbiger), a widower and musician in the orchestra. Weyring is initially suspicious of the worldly Lieutenant courting his inexperienced daughter, but he ultimately gives way to the young man's earnestness and welcomes him into the family. Ever doting, Weyring sits uneasily on the sidelines but his presence will take on new meaning after Fritz' tragic death, when he will be forced to help heal his daughter's wounded heart.
  To be pitied is misery complete.
Like many so Jewish artists, Ophuls and his family left Germany just after Hitler rose to power in 1933. Although he relocated in France, Ophuls spent the next several years as a nomad taking on jobs all over the Continent. The Italian production of La Signore di Tutti
(Everybody's Woman) was a work which would loom large in his development as a filmmaker.
As she lay dying on the operating table suicidal film star Gaby Doriot (Isa Miranda) reflects on the entanglements in an unhappy life which brought her to this precarious position. As a student Gabriella Murge has a public affair with a very married choirmaster resulting in his suicide and her expulsion from school. Living under the roof of her strict father (Lamberto Picasso) in Milan is stifling, so Gaby and her sister Anna (Nelly Coradi) accept an invitation to a ball hosted by the rich Nanni family.
Gaby befriends the family's matriarch Alma (Tatyana Pavlova), a generous invalid who opens her house to the young woman. Alma's son Roberto (Friedrich Benfer) falls in love with Gaby but she is distracted by his father, the suave and successful Leonardo Nanni (Memo Benassi) who also has romantic designs on her.
One evening, after a heartfelt talk with Alma, Gaby is lured downstairs to meet Leonardo for a secret liaison in the garden. When Alma hears her smitten husband pitch woo to her young confidante the betrayed woman crashes her wheelchair and dies at the bottom of the stairs. The honorable Roberto offers to marry Gaby but Leonardo won't hear of it and enters into a gloomy marriage with his lover.
Living far beyond his means, Leonardo is arrested for embezzlement and his wife flees to Paris. She gets work in films as Gaby Doirot and, in time, becomes a movie and recording star. Freed from prison, Leonardo stalks Gaby in France and is run over by a car outside a theatre premiering her new movie. Roberto helps his old amour quell the ensuing scandal. But when Gaby finds he is now married to her sister Anna and is the father of her children, she slashes her wrists in a final fit of despair.
This ambitious and lovingly crafted work may well be the signature pre-war Ophuls film. Running from scandal, yet slowly begin eaten up by guilt, Gaby is an early incarnation of an Ophuls heroine in the Lisa Berndle (Letter from an Unknown Woman) and Lola Montes mode and her unfortunate story serves as a tragic postscript to those who hardly knew her.
Ophuls' love for the theatre and its participants drives much of the narrative in Divine, Colette's tale
of a showgirl's unexpected rise to fame. Struggling to get by in a provincial town Ludivine Jarisse  (Simone Berriau) reluctantly replaces her sister (Catherine Fonteney) on the chorus line of a racy Parisian review. The sheltered girl is baffled and bewildered by the hard-boiled girls she works with and the pace of the big city. Ludivine strikes up a friendship with her milkman Antonin (George Rigaud) which soon blossoms into a sweet romance.
Taking the stage name of Divine she impresses co-workers by refusing to perform topless and much to everyone's surprise the review's jaded audience approves of her independent streak. Her co-star, the handsome hophead Lutuf-Allah (Philippe Heriat) takes advantage of Divine's naivete by planting drugs on her in a smuggling scheme. When a gang member squeals the police interrogate the performers about Divine's whereabouts but the women refuse to give their friend up. In the meantime, Divine and Antonin steal off to city hall where they will get married and begin anew.
Ophuls was right at home amongst the sawdust and tinsel and given the slight story and a miscast leading lady he managed to create an often dazzling backstage entertainment.
  You will do foolish things, but with enthusiasm!
The oddest segue in Ophuls' checkered career occurred in 1936 when was offered a two year contract to make films in the Soviet Union. Kept in the dark about Stalin's purges, the curious Ophuls traveled to Moscow where he resided for two months. Fortunately, Ophuls admitted to being dissatisfied with the working conditions at Russian film studios prompting a return to Paris where he became a French citizen.
This next period saw Ophuls making shorts featuring classical music (Valse brilliante de Chopin, Ave Maria) and light-hearted features such as The Tender Enemy (La Tendre ennemie
), based on a play by Andre-Paul Antoine.
The enemy is Annette (Simone Berriau) the wife of the late Monsieur Dupont (Georges Vitray), the mistress of the deceased Rodrigo the Lion Tamer (Marc Valbel) and former lover of a sailor (Lucien Nat) who committed suicide after being denied her love. The men are ghostly apparitions attending the engagement party of Annette and Monsieur's daughter (Jacqueline Daix) and a dreary suitor. Seated comfortably in a chandelier above the festive activity, the stodgy Dupont and foppish Rodrigo reminisce about the woman they loved but their portraits of Annette make her look clutching and insatiable.
Arriving at the end of the festivities the mysterious sailor tells a much more sympathetic story of a young Annette whose mother nips a great romance in the bud by not allowing her daughter to run away with the seafaring man. Hoping to save Mademoiselle Dupont an unhappy fate, the ghosts arrange for her to escape and run away with the true love of her life; a stunt pilot who has been "buzzing" the party all afternoon.
The fantastic and sentimental elements in The Tender Enemy look forward to La Ronde, another dreamy scenario where women manipulate their men through temptation and denial. The tigress Annette, on the other hand, gives her men no such pause for fond reflections. She lives in the moment and pursues the objects of her desire, pedal to the floor. Even though Ophuls smoothed the prickly edges of Antoine's play, it is telling his leading lady Berriau still comes off harsher and less attractive than the ethereal, reserved creatures (Joan Fontaine, Simone Simon & Danielle Darrieux) from the director's golden era.
Based on an original story by Ophuls, the Dutch production of Komedie om Geld (Comedy about Money) turned out to be one of Ophuls' most ambitious projects. The action opens on a circus barker, a narrator not unlike Peter Ustinov or Anton Walbrook, who sets the table for the scurrilous events we are about to see. After ripping off an elderly couple the employed Ferdinand (Matthew Van Eysden) enlists the help of his brother in-law Brand (Herman Bouber) to put off the police. The ruse works and Ferdinand avoids arrest but Brand, a mild-mannered bank clerk, is given a dressing down at work for running with such bad company.
While transferring fifty thousand pounds for the firm Brand is confronted in the street by Ferdinand who asks for a hand-out. Brand reaches for some change but the bank's money slips through a hole in his case and down a grate below the street. Brand's company doesn't buy his explanation and believing the clerk to be an embezzler promptly fires him. Brand's daughter Willy (Rini Otte) shares his shame and she, too, is relieved of her duties as a children's gym instructor. Frustrated in his attempts to find work and hoping to improve Willy's prospects for a better life, Brand tries to commit suicide but he is miraculously saved by an offer from a murky financial institute to oversee their corporation.
But Brand doesn't know the company is in arrears. He was only hired by Director Moorman (Cor Ruys) because the board of directors believes Brand still has the fifty thousand pounds and they intend on using his name to secure some much needed bank loans. Brand enthusiastically sets to working on a plan to finance a low-cost housing development but when he finds the institute is using flimsy materials to maximize their profits, he quits the firm. Moorman is willing to let Brand go, but only if he hands over the fifty thousand pounds to cover the loans.
A drunken Brand and Ferdinand return to the site where he initially lost the money and through a stroke of good fortune they fall into the lost booty. Determined to revenge himself on Moorman, Brand tries to return the money to his old employers but having already collected insurance on their losses the bank turns him down. The carnival narrator reappears to tell us Brand has been sentenced to a year in jail for embezzlement, but we are soon assured the former clerk is completely innocent of his crimes.
As befit the satirical style, Ophuls turned the pace up several notches in Komedie om Geld, crafting a wickedly funny take on a society that has lost its way. In this Amsterdam of the 1930s everybody is on the take and the cynical public takes it for granted Brand has absconded with the bank's cash. The scoundrel becomes something of a folk hero when he has the gall to agree to run the financial institution, but Brand's stumbling block is a conscience which won't allow him to profit at the expense of the downtrodden.
Ophuls hoped to shoot his next project Yoshiwara
in Japan but when funding fell through he filmed it on a tight budget back in France. The Mizoguchian story follows the sad plight of Kohana (Michiko Tanaka), a young aristocrat forced to become a Geisha when her father dies. She is driven to the brothel by the Chinese rickshaw boy Yaamo (Sessue Hayakama). Touched by the girl's terrible plight, Yaamo tries to buy Kohana's freedom but lacks the money. The Geisha is terrorized by her first clients, a band of Russian sailors, but is saved by the ship's handsome captain Serge (Pierre Richard-Willm) who recognizes Kohana from a picture drawn by Yaamo.
Kohana falls in love with Serge and he introduces her to the delights of the west in a montage that anticipates Stephan Brand's artful seduction of Lisa in Letter from an Unknown Woman. Their bliss comes to a halt when the jealous Yaamo leaks information to authorities about Serge's spying for the Chinese, implicating Kohana in the plot. The Russian is captured then left for dead just as the Geisha girl is shot for treason. Ophuls and certain critics have been dismissive of Yoshiwara and while this austere film is a rocky ride the intensity of its doomed love triangle still manages to linger in the memory long after Kahana's candle goes out.
Ophuls' French adaptation of Goethe
's Werther features the rare male protagonist in the director's oeuvre but the film also provides one of the cinema's most sublime examples of female longing. The Romantic narrative was also tweaked by the filmmakers to create yet another fateful love triangle…and a more commercial project. A carefree Werther (Pierre-Richard Willm) arrives in a provincial German town to take up his new job as a law clerk.
  I wait for the morning of my tears.
The man he is to replace, Albert Hochstadder (Jean Galland) is tolerant of Werther's sloppy demeanor because the charming fellow is a lover of philosophy and music. Albert is secretly engaged to Charlotte (Annie Vernay), a motherless young woman who Werther has also taken a fancy to. Through poetry, music and lofty thoughts Werther nearly succeeds in winning Charlotte over until she confesses her obligation to marry Albert.
The despairing Werther becomes the town nuisance, taking up drink, whoring and threatening to commit suicide in the local beer hall. Locked in a loveless marriage, Charlotte seeks solace in the church and to get advice on how to quell her heated passion for her husband's clerk. When a peasant is arrested for murdering the woman he loves, Werther uses this crime of passion to break professionally with Albert and leave town. When Charlotte learns Werther has retrieved his guns from Albert she fears, correctly, her frustrated lover will use them to end his miserable existence.
Ophuls ennobles his unhappy triad creating a well of sympathy for the sensitive Werther, the heartbroken Charlotte and even Albert, a conscientious product of the Enlightenment. Unlike the novel, we find Werther suffering in a dignified silence and, unusual to Ophuls, we become privy to heated anguish on the part of Charlotte whose unreciprocated feelings drive her to sexual delirium.
Sans lendemain
(No Tomorrow) found Ophuls back on familiar ground in a story of about an exotic dancer and single mother who puts up a façade of being rich in order to rekindle the heart of an old flame. We first encounter our heroine Evelyn (Edwige Feuillere) in Parisian niteclub dancing topless in a chorus line. She is the former wife of a dead gangster, with whom she bore son Pierre (Michel Francois), and the current "friend" of the club's emcee Henri (Paul Azais).
Resigned to her fate, Evelyn lives happily with the young boy in a small flat until her old boyfriend Georges (Georges Rigaud), a French-Canadian doctor, comes back into her life. Wishing to impress Georges, Evelyn tells him nothing of her current job and borrows money from Henri to rent a posh apartment in a nicer part of town. Inevitably, Evelyn falls in debt to Henri and seeing no way out she arranges for the unwitting Georges to take Pierre back to Canada with him before she jumps to her death into the Seine.
Co-produced by Oscar Dancigers (the man who helped Luis Bunuel reboot his filmmaking career in Mexico), Sans lendemain is a lush and vibrant Parisian tragedy of the pre-war years. Buoyed by the noir-flavored, atmospheric cinematography of Eugen Schufftan, the film is very much a portrait of life in a fast lane with an adult perspective, as we are made oh-so aware in the refreshingly risqué opening sequence. Lisa Berndle (Letter from an Unknown Woman) seems very much an offspring of Evelyn, an affectionate mother who, like Lisa, dreams of settling down into a bourgeois life with her unobtainable object of desire. But, while Evelyn's off-screen suicide doesn't pack the emotional wallop of Lisa's demise, it remains among Ophuls' most chilling sequences.
Ophuls' last film before the occupation was the sumptuous De Mayerling a Sarajevo, a historical romance that charts twenty-five years from when Franz Ferdinand becomes Archduke (and first in line to the Austro-Hungarian throne) to his assassination which triggered the First World War.
After receiving the shocking news of the suicide of his cousin Crowd Prince Rudolf, Franz Ferdinand (John Lodge) assumes the title of Archduke but he quickly finds his role in the government will be mostly as a figurehead to be shuffled off on goodwill tours across Northern Africa and Europe. On returning from one of these lengthy trips he insults the Czech Countess Sophie Chotek (Edwige Feuillere) but when he tries to make amends Ferdinand falls hopelessly in love with her.
A marital union is opposed by the Emperor Franz Joseph (Jean Worms) on the grounds Sophie's family is not of the proper stock and Ferdinand is once again sent abroad. Finally, Ferdinand's stubbornness forces the Emperor to reconsider. Ferdinand and Sophie are allowed to marry but she will remain a second class Royal to the court and any children they have will never ascend to the crown. In spite of these humiliations, Ferdinand and Sophie manage to find happiness in the rigid court society until that fateful day in the summer of 1914 when they are gunned down by a Bosnian nationalist in the streets of Sarajevo.
Although De Mayerling a Sarajevo was rushed through production, it offered the chance for Ophuls to work with screenwriter Carl Zuckmayer (The Blue Angel
) and cinematographer Curt Courant (La Bete Humaine
) as well as important future collaborators screenwriter Jacques Natanson, set designer Jean d'Eaubonne and score composer Oscar Strauss. Despite the film's obscurity it remains a near masterpiece of restrained passions. The stellar supporting cast is given ample chance to shine and talented players such as Worms, Jean Debucourt, Gabrielle Dorziat and Colette Regis steal scenes right and left from the neutered Royal couple. Yet, unlike many of Ophuls' ill-fated lovers, the compromised Ferdinand and Sophie manage to find their own private place where prejudice and partisan politics don't exist.
Ophuls was called up to serve in the Army in late 1939 and he began work producing anti-Nazi propaganda for French radio. But fearing for his family's safety Ophuls, his wife, and son (future documentary filmmaker Marcel) fled to Marseille and were ultimately smuggled across the border to Switzerland. There, Ophuls directed two successful plays but unable to obtain a permanent work permit he opted to cross back over to France again and book passage to America.
After arriving in New York Ophuls and his family got a taste of their new homeland via a cross-country drive before shacking-up in a small Hollywood flat where Max waited in vain for a call from the big movie studios. After living off the generosity of other European émigrés in Los Angeles throughout the war years, Ophuls was finally hired by Preston Sturges in 1946 to direct Vendetta for producer Howard Hughes. The aviator's incessant meddling caused the megalomaniacal Sturges to become a "hands on" producer and Ophuls was ultimately let go.
Finally, after a well-placed recommendation from old German friend and Universal Studios director Robert Siodmak, Ophuls was assigned a directing Douglas Fairbanks Jr. as banished King Charles II (Stuart) who falls in love with a fetching Dutch farmer in the amiable swashbuckler, The Exile. While hiding from Oliver Cromwell in the Netherlands, the young and restless King of the Scots disappears from the remaining Loyalists from his court to mingle with the people of Amsterdam.
The fugitive takes a low profile and on a whim accepts a job from a struggling businesswoman to overlook her farm and hotel. Unaware of Charles' true identity, Katie (Paule Croset AKA Rita Corday) puts him to work while successfully warding off his advances. With the help of his former lover The Countess (Maria Montez) Charles devises a scheme to pay off Katie's debts putting him into his employer's good graces.
Meanwhile, the devious Colonel Ingram (Henry Daniell) has been sent to Holland to capture Charles and bring him back to England for punishment. Upon his arrival at Katie's Inn, Ingram nearly mistakes an actor who has been impersonating Charles for the real thing. The Colonel is ready to kill the actor when Charles reveals himself and kills Ingram after a grueling swordfight. A messenger arrives to inform Charles Cromwell has fallen and he is being recalled back to England. Charles asks Katie for her hand, but fearing the world's stage will be too large for her she turns him down so he can fulfill his destiny.
Shot on a miniscule budget on primitive soundstages, The Exile never attained the critical or popular status of the Errol Flynn and Douglas Fairbanks Sr. swashbucklers which is a shame since it is one of the most artful films of the genre. Ophuls, cinematographer Franz Planer, and production designer Howard Bay make 17th century Holland look like a wet and gloomy place, anticipating Orson Welles' similarly dreary take on Scotland in his Macbeth
. Yet, Fairbanks Jr. and the good-natured cast switch the gears to romantic adventure as the deposed King does his best to win the hand of the reluctant commoner.
I gin to be aweary of the sun.
The ominous undercurrent takes form in the marvelous Daniell whose Puritan rigidity fits right in the hoary décor. Like a prince of darkness Colonel Ingram arrives at the Inn to retrieve, or better yet, kill the errant Stuart for King and Country. Such a purposeful villain would have stood a good chance of destroying happiness in the tightly-wound worlds of old Vienna or, as we shall see, in modern day California, but in the realm of make-believe the creepy Colonel cannot be allowed to carry out his diabolical plan.
The Exile finally put Ophuls on the Hollywood map and his next Universal project would turn out to be right up his alley. Letter From an Unknown Woman
is Ophuls' signature American film and one of his finest accomplishments. Based on a novella by Stefan Zweig
, Ophuls' film is a tale of desire, fate, and unrequited love as seen through the eyes of a young Viennese woman, Lisa Berndle (Joan Fontaine).
All I know is that I shall be alone again.
We first find Lisa as a mousy teenager playing in the courtyard of her mother's apartment building and pining for her impossibly handsome neighbor, the dissipated concert pianist Stefan Brand (Louis Jordan). She eavesdrops on Brand's practice sessions and becomes swept away by his elegant playing of the very Romantic music. Lisa takes note of the collection of beautiful women Stefan brings back to his apartment almost every night. Unfortunately for Lisa, her widowed mother (Mady Christians) has decided to marry a tailor and move the family to provincial Linz.
Lisa grows into a beautiful young woman but she shocks her parents by turning down a marriage proposal from an excellent young suitor and flees to Vienna with the vague hope of finding Stefan. She becomes a successful model and one evening, by chance, she meets up with her former neighbor. Stefan doesn't recognize the girl, but taken by Lisa's charm and beauty he whisks her away on a dream date and into bed. The next day Stefan is summonsed to Milan to perform at La Scala but he promises to return as soon as possible.
Stefan never does contact Lisa again and the proud woman refuses to ask him for support even when she bears his child. The years pass and Lisa marries Johann Stauffer (Marcel Journet), an eminent citizen of the city. Lisa is fond of the aristocratic older man but her union was consummated to provide for the apple of her eye, little Stefan Jr. (Leo B. Pessin). One night at the opera, Lisa overhears several concertgoers gossiping about Stefan Brand who is in the audience. The aging pianist spots Lisa and seems to recognize her. Feeling she might be able to save Stefan, Lisa tells Stauffer she is leaving him for Brand.
But back at Stefan's apartment Lisa realizes he doesn't remember their magical night together. Lisa leaves Stefan and focuses her attention on their son. As fate would have it, mother and son enter a quarantined train compartment and catch typhus. In her final act before she dies, Lisa tries to explain herself in a devastating letter to Stefan. The dishonored man takes this bitter pill as a sign to right old wrongs, so Stefan cancels plans to skip town and accept his grim fate in a duel with Stauffer.
Reunited with cinematographer Franz Planer (Liebelei & The Exile) and allotted the biggest budget of his career by producer (and friend) John Houseman, Ophuls brought plenty of Old World refinement to this lilting story of missed opportunities and failed love. Lisa is never made to look foolish in her blind pursuit of Stefan Brand— indeed his unrealized potential and worldly charm make him a first-rate catch. Though Louis Jourdan plays a rake his Stefan is oddly virtuous, even in his most careless or indifferent moments it is hard to blame him for all the pain he has caused. When he is finally made to suffer, he does so with dignity and with the prospect of his own mortality looming he, at long last, becomes human.
  Honor is a luxury only gentlemen can afford.
To Ophuls' dismay Letter from an Unknown Woman did poorly in America. It was a sign to the well-traveled director he would ultimately have to return to the war-torn continent of his artistic and cultural sensibilities.
Like many other European directors who had relocated in Hollywood, Max was very much at home making film noirs. But Max's work in the Expressionistic genre was unusual as his two noirs focused on the female of the species. In Caught
Barbara Bel Geddes plays Leonora Eames, a girl next door- type who moves from Denver to Hollywood in hopes of hitting the big time. Unlike her hardened model friends, Leonora won't compromise herself by sleeping her way to the top; she intends on working her way into the entertainment business.
She is recruited to attend an offshore party by the sleazy Franzi Kartos (Curt Bois) unaware she is being set up as a sleep-over date for his boss, the mysterious millionaire Smith Ohlrig (Robert Ryan). After being stood up at the dock, Leonora is surprised by Ohlrig who has left the party on a small boat. He makes an unsuccessful pass at Leonora but instead of taking her "no" as an answer he resolves to sweep her off her feet. After a few dates, the mercurial Ohlrig goes against the advice of his therapist and proposes to the surprised Leonora who accepts.
The honeymoon doesn't last for long and Leonora finds herself installed in a gloomy Long Island mansion while her bizarre husband is away on interminable business trips. Feeling unwanted and unloved Leonora takes a job as a receptionist for Larry Quinada (James Mason), a do-good doctor who has little use for her charm school artifice. She quickly rights her ship and becomes a valuable asset for Larry with whom she falls in love. Ohlrig returns and after the inevitable argument with Leonora they spend the night together. Leonora soon realizes she is pregnant and decides to stay with Ohlrig for the sake of her unborn child. An angry Quinada confronts Ohlrig triggering the millionaire's heart attack and Leonora's miscarriage.
Based on a script by playwright Arthur Laurents and featuring the mood-drenched cinematography of Lee Garmes, Caught is one of the best examples of noir/melodrama to come out of Hollywood. As the lonely princess in a gilded tower, Leonora realizes her dream of security but at the terrible price of being locked in an empty marriage with a man incapable of love. Bel Geddes is sweet and sympathetic but not sexually compelling enough to ignite the twisted passions of Ohlrig, as played by noir's most tortured villain, Robert Ryan. The playboy seems neutered by his lilywhite bride and his unwillingness to become her husband prompts him to fall apart at the seams.
In the fairly thankless role of the crusading pediatrician James Mason is just virile enough to threaten the fragile Ohlrig. When Quinada arrives at Ohlrig's soulless mansion to take his most elusive possession away the shock sends the sends the stricken millionaire crumple, pathetically upon his pinball machine.
  You're not big enough to destroy that girl.
For The Reckless Moment
, Ophuls' leading lady would take a much more proactive role in a menacing tale of blackmail. With her husband away on business in Berlin Lucia Harper (Joan Bennett) runs the show in her idyllic, suburban California home. While son David (David Bair) is a well-behaved boy, Lucia's daughter Bea (Geraldine Brooks) has a rebellious streak. While attending art school in the big city she falls in love with the slick Ted Darby (Sheppard Strudwick), an older man who is dead broke.
Darby contacts Lucia and offers to stop seeing Bea in exchange for money but she turns him down. The former art dealer arranges a tryst with Bea at night outside the Harper home but after an argument he trips and falls to his death. Bea goes to bed unaware of Darby's fate but Lucia finds him the next morning and in a panic she disposes of his body in a nearby river.
Lucia's nightmare takes an even more sinister turn when Martin Donnelly (James Mason) shows up at her door demanding five thousand dollars in exchange for Bea's love letters to Darby. Lucia cannot raise so much cash on such short notice, but the patient Donnelly says he can wait and under the guise of a friend he makes a curious entrance into her day to day life. Over the next few days Donnelly grows fond of Lucia and the two almost begin to sound like an old married couple.
When another man is arrested and charged with Darby's murder, Lucia tells Donnelly she is actually the guilty party. Donnelly offers to give up his half the ransom then kills his partner Nagel who has shown up to threaten Lucia. While driving away with Nagel's body, Donnelly gets into a car crash then confesses to police he killed Darby just before he dies. In a final twist Lucia receives an overseas Christmas call from her husband who, thankfully, seems ready to return home and take up his fatherly duties.
Everyone has a mother like me.
A compelling adult drama, The Reckless Moment would be Ophuls' last film made for a Hollywood studio. A dream project eluded Max when Joan Bennett's husband Walter Wanger signed him to direct Greta Garbo in Balzac's La Duchesse de Langeois but the notoriously reticent actress got cold feet and bowed out of the film.
When Ophuls visited France in 1950 he fully expected to go back to America at some point to resume his career. After the Balzac project fell through, Ophuls was offered to stay on in Paris and make another film based on a work by Arthur Schnitzler, his play Reigen
(AKA Hands Around or La Ronde). The play had a curious history. Written in the winter of 1896-97, Schnitzler printed up copies for a private circle of writers and intellectuals with no intention of ever having the play performed. Reigen finally got its stage premiere in conservative Hungary in 1920 but was promptly banned because of its sexual subject matter.
I write of love and death. What other subjects are there?
After Schnitzler died in 1931 his family resisted offers to have the play adapted for film but a curious loophole allowed Reigen to be exclusively performed in the United States and France. The play's innovative use of narration and its interconnecting vignettes between lovers from all social classes freed up Ophuls to make his most innovative film to date.
La Ronde
opens on a film set with Anton Walbrook in the role of the worldly narrator. During a spectacular tracking shot, Walbrook escorts the audience past movie cameras and around backstage fixtures to a grand set where the film will take place; 1900 Vienna. Here, Walbrook introduces us to the player who gets the ball rolling; the young prostitute Leocadie (Simone Signoret). She randomly picks up Franz (Serge Reggiani), a soldier returning to his barracks, and offers him free sex. The disbelieving Franz takes Leocadie up on her generous offer but after satisfying himself he makes a hasty and ungracious exit.
The selfish soldier must have great sex appeal to the ladies as we next see him at a garden party with Marie (Simone Simon) a gorgeous chambermaid who is clearly smitten with him. But after he makes love to Marie, he is anxious to be rid of her but fortunately the maid will soon fall into the arms of Alfred (Daniel Gelin), a young intellectual more appreciative of her many charms. We soon gather Alfred was likely using Marie to gain sexual experience as his next conquest is a sophisticated woman of the world, the very married Emma Breitkopt (Danielle Darrieux).
Frau Breitkopt is flattered by Alfred's attentions but doesn't take him too seriously especially after the younger man is stricken by impotence. Still, she is pleased to have this little secret she can keep from her husband Charles (Fernand Gravey) who is carrying on with a sweet young thing by the name of Anna (Odette Joyeux). The simple girl is taken aback by Charles' elaborate means of seduction, so it is no surprise when one night she fails to show up at the suite he has reserved for their lovemaking. While Charles mourns his lost opportunity we find Anna at the feet of the pretentious poet Robert Kuhlenkampf (Jean-Louis Barrault), mystified by his infectious enthusiasm.
The poet fulfills his voracious intellectual and sexual appetite in an affair with Charlotte (Isa Miranda) a grand dame of the stage. She humors Robert but it's soon clear this chattering butterfly really isn't her type. Charlotte is a better match with the Count (Gerard Philipe), a handsome, slightly jaded aristocrat who lives in an alcoholic haze. Not one to be tied down, the tipsy Count winds up Leocadie's bed where (like Stefan Brand) he becomes aware of a feeling he has lost forever.
Accompanied by a lush and witty Oscar Straus score, the elegant La Ronde transcends its own form, at times resembling a ballet without dance, an operetta without song. The freedom to shoot as he pleased inspired Ophuls to greater heights. The film is wildly experimental; Walbrook is almost inviting the audience to take part in the artistic process. The relaxed expansiveness in the playing makes it clear Ophuls was hamstrung by the strict rules he was forced to adhere to in Hollywood's genre-driven cinema. The great maturity achieved in La Ronde would flower majestically in Ophuls' final three films.
The merry-go-round of love can begin turning.
Based on three Maupassant tales of melancholy and bitter regret, Le Plaisir
is colored by Ophuls' compassion for human folly. Opening in spectacular fashion in a grand Parisian dancehall in the 1890s, Le Masque appears to be the tale of Ambroise (Jean Galland) a foolish former hairdresser hair dresser who disguises himself nightly so he may have the chance to dance with ravishing young women. But through his disapproving doctor (Claude Dauphin) we learn the real heroine of the plot is the old man's long suffering wife Denise (Gaby Morlay) who still loves him as the years ravage his body and soul.
The film's centerpiece, Le Maison Tellier follows a group of prostitutes who shut down their popular house of pleasure in Paris to descend on a small French village. They are greeted at the train station by Joseph (Jean Gabin), the brother of Madame Tellier (Madeleine Renaud) and father of the girl whose communion they are in town to attend. Joseph finds himself falling for Rosa (Danielle Darrieux), the most beautiful of the working girls, but Madame Tellier disapproves of their union so after the religious service she pulls the plug on everybody's fun by reminding the girls they must return to Paris immediately. Their arrival back in the big city delights their many customers who have nearly rioted in their wake.
The most turbulent of the vignettes, Le Modele finds idealistic artist Jean (Daniel Gelin) falling in and out of love with his model Josephine (Simone Simon). Intoxicated by Josephine's beauty and sex appeal, Jean is initially blind and deaf to the young woman's commonness. Sensing Jean is tiring of her, Josephine begins to pick fights which, ironically, keep their relationship alive. Exasperated by his lover's tantrums, the cruel Jean dares her to follow through on idle threats of suicide and to his surprise she throws herself out of his window. She survives but is permanently crippled, prompting the conscience-stricken Jean to marry Josephine and take care of her for the rest of his days. As observed by Jean's best friend (Jean Servais) affliction brings resignation and peace to their tortured relationship.
  Happiness is not a joyful thing.
Ophuls' penultimate film The Earrings of Madame de…
is his European masterpiece, a rich Continental tapestry of fate, honor, and adult love. It is the story of the beautiful but narcissistic "Madame" (Danielle Darrieux), who makes do while trapped in a loveless marriage with Andre (Charles Boyer), a General in the military. Piling up exorbitant debts, she pawns an expensive pair of earrings Andre gave to her the day after their wedding. That evening she creates a scene at the opera, claiming the earrings have been stolen. Not wishing to be questioned by the police, the jeweler Remy (Jean Debucourt) approaches the General and offers to sell the earrings back to him.
Andre does not confront his lying wife. Instead he gives the earrings to his mistress Lola (Lia di Leo) who is departing on the Orient Express to Constantinople. One night while losing heavily at a casino Lola pawns the earrings for ready cash. The jewels end up at a pawnshop where there are bought by a visiting Italian aristocrat, the Baron Fabrizio Donati (Vittorio De Sica), before he embarks on a train for Paris. In the Gare de Lyon he spots Andre's beautiful wife and begins to pursue her. Madame is at first amused by the handsome Baron's attentions, but their flirtation evolves into a full-blown love affair. As a token of his affection, the Baron unknowingly gives the earrings to Madame and this time she cherishes the well-traveled jewels like they were precious stones.
When the General finds these pieces of jewelry are back in his wife's possession, the little intrigue comes to a crashing end. He returns the earrings to the Baron, who is appalled to learn about the history of the jewels and Madame's lies. He breaks off their affair and sells the earrings back to Remy who in turn flips them back to the General. In an act of extreme cruelty, Andre makes his suffering wife give the jewels to his poor niece who has just become a mother. Unable to support his growing family, the young woman's husband pawns the earrings to Remy, who once again approaches Andre for their usual transaction.
The General is no longer interested in the earrings but Madame is, so she sells her worldly goods to buy back these tokens of the Baron's love. Angry and insulted by his wife's behavior, Andre challenges the Baron to a duel. The General belittles the diplomat, so he has no alternative but to accept even though he is sealing his own fate. Weakened by a heart affliction, Madame rushes to the dueling grounds and when she does not hear the Baron's return fire, she collapses and dies. The earrings find their final resting place at a church as a posthumous present from the unnamed Madame.
Like La Ronde, The Earrings of Madame de… is driven by a carousel-like style which threads all these coincidences into the narrative and propels the three leads towards their ill-fated dates with destiny. Boyer is exceptional as the husband with the hardened heart. His Andre is initially tolerant towards his charming wife's indiscretions and we sense he still feels affection for Madame, albeit in a fatherly way. But when he is made to look like a fool the General acts with a severity usually reserved for his profession. Having begun his long film career as an Italian matinee idol De Sica cuts a romantic figure as the worldly Baron and it is no wonder he succeeds in sweeping the love-starved Madame off her feet.
As the trophy wife Darrieux is passive-aggressive towards her husband who, despite of the lack of warmth in their relationship, still aims to please her. The beautiful Madame only blossoms during her dangerous liaisons with the dashing Baron, then withers when they are apart. The earrings, which had little meaning for her when they were a mere gift from her husband, have now become a sublime symbol of the Baron's love for Madame. She is willing to be humiliated for her passion but the proud General takes exception to his wife's making a mockery out of their union and resolves to put an end to this scandal in a manner that befits a gentleman.
  We were guilty in thought only.
Ophuls turned to color for the first and only time in the making of his elegiac and extraordinarily inventive swan song, a uniquely structured "bio-pic" of Lola Montes
, the infamous dancer and mistress of Bismarck, Lizst, and countless others. Coerced to create a widescreen spectacle, Ophuls and his writers (Annette Wademant and Jacques Natanson) transformed a much smaller project about Lola's controversial romance with King Ludwig I of Bavaria into a Big Top spectacle, featuring the strapped for cash dancer re-creating her sordid past for the hoi polloi.
As told through the words and circus choreography of her Ringmaster and lover (Peter Ustinov), the lovely Lola (Martine Carol) is shown to be a sexual rebel and social climber. But due to Lola's sickness (an affliction of the heart), which causes her to fall in and out of consciousness, we experience her memories from a very subjective point of view.
Though a mere young woman of a broken home and meager income, Lola rejects decorum and bucks authority by turning down an arranged marriage to an ancient and rich suitor in order to follow her heart and marry a man much more to her fancy (Ivan Desny). Lola inevitably tires of this unsophisticated young Lieutenant and after a slew of high profile but ultimately unsatisfactory affairs she begins to support herself by dancing.
She is a mediocre dancer, but her notoriety makes her a box office sensation and piques the interest free-thinking artists and musicians such as Franz Liszt (Will Quadflieg). But, when we encounter Lola and Liszt they are ending their affair. These two complicated people are still smitten with one another but they are unable to live in harmony.
Lola finds serenity in her love match with the middle-aged Ludwig (Anton Walbrook), the genteel Bavarian King sympathetic to the arts and ladies. But the unpopular Lola's meddling in the affairs of the court helps bring Ludwig's reign to an end and forces the commoner into asylum. As revolution swirls around her, Lola is swept away by a sympathetic student of the left (Oskar Werner) who is unsuccessful in his attempts to seduce her. Having been parted from the love of her life (Ludwig), Lola retreats from the political stage to the more familiar world of European music hall.
While on tour in America she is sought out by a veteran of the circus (Ustinov) itching to profit from her notoriety. Though lovers, the manipulative Ringmaster coaxes the ailing Lola through a demanding show which could very well kill her. Against all odds, Lola performs her show-stopping, death-defying jump and recovers in time to greet the hundreds of admirers who line up to meet the freakish celebrity icon at show's end.
As filmed by longtime Ophuls cinematographer Christian Matras Lola Montes is, arguably, the most visually-stunning film of the 1950s and it truly necessitates a viewing on a large screen to soak in the three-dimensionality of the director's vision. Lola's lush and vulgar Big Top show is no doubt meant to appeal to the middle-brow tastes of the masses, but its sweeping take on her story tidies-up an extremely messy life and creates a socially-acceptable legend which will serve as her legacy.
To modern eyes Lola Montes could seem Old School or merely theatrical, but one could argue Ophuls anticipated the blind worship of empty pop culture. Lola has little talent beyond using her sex appeal to cultivate an audience of lonely or neglected men, but Ophuls has real sympathy for his revolutionary heroine.
  The world's most famous woman of scandal!
The melancholic epic never found a popular audience—it was quite the box office bomb—but an outpouring of kudos from auteur critics helped turn Ophuls into a cinematic cause celeb, keeping his career as a commercial filmmaker afloat. He was slated to make Montparnasse 19
, an ambitious film about the last year in the life of the Italian painter Modigliani starring Gerard Philipe. But it was not to be as Ophuls, long plagued with a rheumatic heart, suffered a coronary while preparing Beaumarchais' Marriage of Figaro for stage and passed away, all too soon.
Books on Ophuls:
The Cinema of Max Ophuls
– Susan M. White **** This well-researched feminist film study is an invaluable source on all things Max. While we could still also use a definitive bio on Ophuls, White's labor of love remains essential reading for all film scholars.
Ophuls – Paul Willemen (ed) *** This slight, out of print volume of essays compiled by the BFI in the late 1970s is worth tracking down if only for two rare essays written by Ophuls and an interview with the master by Jacques Rivette and Francois Truffaut.
Max Ophuls and the Cinema of Desire – Alan Larson Williams ***1/2 The renowned Ophuls' scholar breaks down and analyzes the director's final period (1948-55) in this academic study.
Films by Ophuls:
1931  The Company in Love  (Die verliebte Firma)***1/2
1932  The Bartered Bride (Die verkaufte Braut) ****
1932  Liebelei ****
1933  The Happy Heirs (Lachende Erben) ***1/2
1934  La Signora di Tutti ****1/2
1935  Divine ***1/2
1936  La Valse Brilliante *** (short)
1936  The Tender Enemy (La Tendre Ennemie) ****
1936  Comedy About Money (Komedie om Geld) ****
1937  Yoshiwara ***1/2
1938  Werther ****1/2
1939  Sans lendemain (No Tomorrow) ****
1940  De Mayerling a Sarajevo ****
1947  The Exile ****
1948  Letter from an Unknown Woman *****
1949  Caught ****1/2
1949  The Reckless Moment ****
1950  La Ronde ****1/2
1951  Le Plasir ****1/2
1953  The Earrings of Madame De… (Madame de…) *****
1955  Lola Montes *****