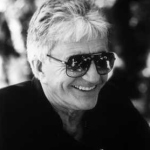 If Blake Edwards had stopped making movies after Victor-Victoria might it be possible his body of work would be looked upon with more respect? Edwards has always been seen as too crude, too frivolous, and finally just too L.A. by east coast critics for whom the message is the medium. Yet, Edwards was far too complex and talented to dismiss so easily. Even in his most dubious films of the 1980s, he was surprisingly successful in transplanting the glories of early cinema onto twisted modern scenarios.
To press the point, four of the Pink Panther films are clearly masterpieces of physical comedy, but they are rarely given due by the same cinema scholars who heap praise on Chaplin, Keaton, and even Edwards' own heroes, Laurel and Hardy. Looking deeper, slapstick plays an important role in Edwards' major films of maturity (Darling Lili, 10, S.O. B, and Victor-Victoria) in many revealing ways. Edwards' clumsy, romantic protagonists—like their earnest, silent counterparts—suffer at the hands of cynics and unbelievers, but valiantly plod on in quixotic quests for romance and peace of mind.
Edwards came from a distinguished line of Hollywood professionals. His father Jack McEdwards was a film production manager and Grandfather J. Gordon Edwards was the exclusive director of the silver screen's legendary vamp Theda Bara
during her heyday in the late 1910s. Young Blake started out as an actor getting bit parts in light comedies and heavy wartime fare like Thirty Seconds Over Tokyo
, They Were Expendable and The Best Years of Our Lives
.
Sensing he would likely be typecast as a juvenile for the foreseeable future, Edwards took up writing for radio. He learned the ropes on Richard Diamond
, a detective serial starring noir tough guy Dick Powell. After directing Powell, Ida Lupino and David Niven in episodes of their hit TV series Four Star Playhouse, Edwards found work at Columbia where he wrote several light comedy and musical programmers for the studio's premier director Richard Quine
.
Edwards finally got his first chance to direct a feature with Bring Your Smile Along, a breezy Tin Pan Alley musical, co-penned by Quine. After the light gangster spoof He Laughed Last
(also written by Quine) Edwards truly blossomed with Mister Cory
, the colorful saga of a Chicago-born hustler who becomes a professional gambler.
Based on a story by Leo Rosten the film opens in the hardscrabble big city where the street smart Cory (Tony Curtis) pledges to lift himself out of the gutter and into the easy life. Cory lands a job as a busboy at a Wisconsin country club and soon exhibits his acumen as a gambler, impressing the veteran card shark Biloxi (Charles Bickford) and society girl Abby Vollard (Martha Hyer). Inspired by his newfound status, Cory assumes an identity of a well-to-do guest, irritating his co-workers who promptly spill the beans to Abby. She breaks off their affair and Cory his balms his wounds by going to work fulltime with Biloxi.
The men move their base of operations to Chicago where they get work running a ritzy gambling joint. Abby is soon back in the picture, but Cory's world falls apart when she rebuffs him once again and he is left staring down the nozzle of her fiancé's gun.
Edwards brought a welcome edge to this "rags to riches" story and Curtis turned to be his perfect muse as the amoral social climber who uses his good looks and charm to win favor with an older gay man (Henry Daniell) and impressionable young women.
For the next few years Edwards soldiered on at Universal, a second-tier studio which nonetheless gave Douglas Sirk and Anthony Mann opportunity to create their best films. Edwards' specialty would turn out to be light comedy made with some refreshingly adult attitude.
In This Happy Feeling, Curt Jurgens is Preston Mitchell a middle-aged stage actor who has retired to Connecticut to raise thoroughbred horses. His erstwhile girlfriend, the actress Nita Hollaway (Alexis Smith), tries to coerce him into making a comeback on the Great White Way in a project especially written for him. Preston resists the temptation but he begins to see things differently when a flighty young visitor (Debbie Reynolds) brings out the lion in him.
The Perfect Furlough
reunited Edwards with Curtis who plays a solider and lucky recipient of a dream date in Paris with the Argentine Bombshell Sandra Roca (Linda Cristal). Pleased to leave the Artic for warmer climes and a crack at the voluptuous beauty queen, Corporal Phil Hodges (Curtis) is thwarted at every turn by an attractive Lieutenant (Janet Leigh) and Sandra who is trying to keep her pregnancy a secret.
The mellow This Happy Feeling and the frantic The Perfect Furlough are precursors for much of Edwards' later work. Where Furlough anticipates the slapstick of The Great Race and the Pink Panther franchise, This Happy Feeling is a surprisingly reflective work in which we find Preston and Nita to be not all that far in feeling and temperament from George Webber (Dudley Moore) and Samantha Taylor (Julie Andrews) in 10.
    Here I am, a grown man and I still like women.
Edwards would make further good use of Curtis' oily charm as another wily opportunist in Operation Petticoat
, a warm, offbeat WWII comedy about co-ed life on a pink U-boat in the South Pacific.
Here, Curtis plays naval supply officer Lt. Nick Holden, whose underhanded methods help Commander Matt Sherman (Cary Grant) get his damaged submarine back underwater. Having joined the Navy solely to impress a girl, Holden's assignment to Sherman's crippled U-boat is a step down from his previous administrative jobs in the navy. Though he has little use for Sherman's old school discipline, Holden pleases the curmudgeonly Commander when he cuts through red tape to pilfer the necessary supplies to get his U-boat up and operating again.
On a brief island stopover, officer Holden offers shelter to several stranded nurses, infuriating Sherman and creating havoc amongst the crew. Though full of good intentions the women end up becoming a distraction, leading to missed opportunities to thwart take out the enemy and, much more importantly, rampant sexual frustration.
Most of Edwards' male protagonists are content to dwell in matriarchal worlds and indeed, the feminization of Sherman's Sea Tiger U-boat helped blow a breath of fresh air into a claustrophobic genre.
   You're more than a woman. You're a mechanic.
For High Time Edwards was hired by Bing Crosby's production company to direct the improbable story of a fifty-one year old business tycoon taking time out to attend college with the likes of Fabian and Tuesday Weld to get his degree. This pleasing project gets turned on its head in a patented Edwardsian sequence where Der Bingel dresses in drag for a fancy ball to appease his frat brothers only to be sent for cover by the surprise appearance of his spoiled children.
Edwards finally found material truly worth of his talent in Breakfast At Tiffany's
. Struggling writer Paul Varjak (George Peppard) is kept in a luxurious Manhattan apartment by an attractive older woman (Patricia Neal), but his heart goes out to the party girl who lives downstairs. Like Paul, Holly Golightly (Audrey Hepburn) lives off the generosity of the opposite sex, but her adopted philosophy to live with no attachments or responsibility frustrates the lovelorn scribe.
Nevertheless, the compromised pair strikes up a platonic friendship but when the charming Paul gets too close for comfort, Holly flees into the arms of a spineless Brazilian diplomat. Exasperated, Paul finally tells Holly to take a long look in the mirror because she won't like what she sees.
Based on the then-risqué novella by Truman Capote, Breakfast at Tiffany's
has so long been associated with the virtuous myth of Audrey Hepburn that first-time readers of the book are often shocked to find Holly is a rather slutty and opportunistic gal about town. Edwards contended he pulled no punches with the material, but only the most cynical filmgoer could be left with the impression angelic Audrey actually did tricks in the powder room for room and board. Like most film icons Hepburn could be said to be the auteur of her films but, to Edwards' credit, this luminous star would never shine so brightly, nor strike such a deep emotional chord as she did playing the troubled Holly Golightly.
The huge success of Breakfast at Tiffany's marked a turning point in Edwards' career finally giving the independent-minded filmmaker the opportunity to call his own shots. The dark direction he would take surprised critics and industry insiders alike.
    I'll never let anybody put me in a cage. 
Edwards was no stranger to edgy drama having cut his teeth with Peter Gunn
, the dazzling hard-boiled detective TV series he developed, produced, and directed in the late 1950s. Starring the dour Craig Stevens as an immaculate gumshoe, each show begins with a violent crime, leading the clueless police to round up the wrong subjects. Taking on the case for the accused, Gunn gets the word on the street from his most impeccable source, Mother (Hope Emerson) the owner of a local jazz club, and obtains the rest of the skinny from Lt. Jacoby (Herschel Barnardi), his "in" at the police department.
Through adept with fist and gun, the urbane Gunn prefers to outwit the real culprits forcing a confession and tidy denouement. It was with Peter Gunn Edwards began his long and fruitful collaboration with composer Henry Mancini
, whose jazzy pop scores added pathos and humor to the director's eclectic oeuvre.
By the time the opportunity to make Experiment In Terror
presented itself Edwards truly had the chops to direct an original and complex psychological thriller.
Set in the hills of San Francisco, bank teller Kelly Sherwood (Lee Remick) is assaulted by the psychopathic Red Lynch (Ross Martin), who threatens to kill Kelly's teenage sister (Stephanie Powers) if she doesn't follow his plan to rob her bank to a T. Kelly reluctantly enlists the sympathetic FBI agent John Ripley (Glenn Ford).
The G-Man tracks down the madman's mistress and, to his surprise, finds Lynch has been paying her sickly son's exorbitant hospital bills. Ripley and Kelly decide to play along with Lynch's grand scheme, but when their plans go spectacularly awry at Candlestick Park Kelly and her sister are left vulnerable to the madman's wrath.
Experiment in Terror followed the example of Hitchcock's Psycho
, in humanizing its killer. But where Hitch's film took the deliciously wicked point of view of the charismatic Perkins, Edwards chose to portray the toad-like Martin as a shadowy background figure, creating little sympathy for his plight. Still, the sinister and disturbing Experiment in Terror was a precursor to terror-driven thrillers like Don Siegel's Dirty Harry and, for better or worse, helped changed the landscape of the genre.
Based on an award-winning teleplay
by J.P. Miller, Days of Wine & Roses
is a punishing take on a young couple's battle with the bottle and their subsequent descent into a personal hell.
Up and coming public relations man, Joe Clay (Jack Lemmon) meets unexpected resistance when he tries to woo Kirsten (Lee Remick), the pretty secretary of one of his best clients. Joe introduces the lonely lady to the pleasures of alcohol and soon they are drinking buddies, drowning their sorrows at after hour clubs and on the beach.
After a whirlwind romance, they marry to the disapproval of Kirsten's gruff father (Charles Bickford). Joe's career begins to take-off , but the unhappy Kirsten spends more time getting sloshed in front of the TV than caring for their infant daughter. Joe tries to cure himself by joining Alcoholic Anonymous, but his efforts to help his wife out of her tailspin fail miserably.
  The world looks so dirty to me when I'm not drinking.
Unlike many early teleplays later made into films (Marty
, Requiem for a Heavyweight
, etc.), The Days of Wine and Roses holds up quite well. Edwards expands upon and transcends the overwrought material, helping Lemmon, Remick and Bickford give vivid characterizations of a family destroyed by dysfunction and denial.
Joe Clay is an early manifestation of the self-doubting Edwards male, a not-so distant relative to the melancholic George Webber (10) and the clearly insane Felix Farmer (S.O.B.). The director projected much of himself into these bright and creative men, who crumble in the midst of a personal or professional crisis that could very well break them.
Edwards' wondrous collaboration with the most gifted comic actor of the era, Peter Sellers
produced a series of side-splitting, hilarious movies for which both men are best remembered today. An alumnus of the innovative British comedy team, The Goons
, Sellers shared Edwards' for penchant for outrageous disguise and physical hijinks.
After Edwards' first choice to play the bumbling Inspector Clouseau (Peter Ustinov) quit days before The Pink Panther
went before cameras, Sellers was enlisted in this supporting role to David Niven's womanizing thief, Sir Charles Litton. The Pink Panther will disappoint those only familiar with later Clouseau films, as it is a rather slow-moving heist set in a Swiss chateau.
The film only takes off in the last half hour during one of Edwards' patented party sequences where kooky cops and upper-crust criminals get decked out in ridiculous costumes and let their hair down.
     Take your filthy hands off my asp!
For A Shot in the Dark
, the first true Clouseau film in the series, Edwards turned a fairly typical murder mystery on its head by letting his star flesh-out the character of the idiotic inspector. This new Clouseau butchers the language, mangles obvious clues, drives his boss Chief Inspector Dreyfus (Herbert Lom) to the loony bin, and pulverizes his own flat in epic judo battles with manservant Kato (Burt Kwouk).
Yet, even the face of untold humiliations, the imbecilic Clouseau always maintains his dignity. With such a sympathetic protagonist in place, Edwards directed these farces at a frenetic pace, setting up and executing a series of magnificent gags, all the while employing a lucid visual style that owed much to Keaton and his beloved Laurel and Hardy.
In A Shot in the Dark, Clouseau defies all logic and police protocol by defending sexy chambermaid Maria Gambrelli (Elke Sommer) against several accusations of murder. Clouseau's quixotic quest to find the real killer leads him through a nudist camp, the swinging streets of Paris, and back to the scene of the crime where he assembles the clues and solves the murder in his own uniquely grotesque fashion.
   I suspect everyone and I suspect no one.
After a ten year hiatus from the franchise—which saw the fortunes of both Edwards and Sellers decline—the duo breathed new life into Clouseau with The Return of the Pink Panther
.
When the rare Pink Panther jewel is lifted from a museum in the orient, Sir Charles Litton (Christopher Plummer) is wrongly suspected of the crime. Much to the horror of Chief Inspector Dreyfus, Clouseau is assigned to the case and after crashing Sir Charles' south of France house, he unwittingly solves the crime.
    There is a time and a place for everything, Cato!
Paying only marginal attention to plot, Edwards piled on a series of clever and increasingly surreal gags, a style that would hit its pinnacle in the bizarre and excruciatingly funny The Pink Panther Strikes Again
.
Upon leaving the insane asylum, Ex-Chief Inspector Dreyfus organizes a crime syndicate with the intention of killing his arch-nemesis, Clouseau. He kidnaps a famous scientist to build a doomsday machine in the hopes of holding the world at ransom in return for the detective's head. After watching the world's finest assassins fail in their attempts to execute the elusive Clouseau, the demented Dreyfus designs to destroy England unless his demands are met.
Easily the most over-the-top film in the series, Edwards, Sellers and Lom take giddy delight in pushing the slapstick envelope, especially in the gruesomely comic tooth-pulling sequence where Closeau's prosthetic nose melts into an unrecognizable mess before the doped-up Dreyfus' disbelieving eyes.
In Revenge of the Pink Panther
, Clouseau finds a plausible love-interest in the fetching Simone Legree (Dyan Cannon), the ex-secretary and girlfriend of the French mobster, Douvier (Robert Webber). Clouseau enlists Simone to follow him to Hong Kong where they hope to trap Douvier conducting an international drug deal. This lightest of the Sellers-Clouseau films shines brightest in sequences set in the shop of the veritable Dr. Augustine Balls (Graham Stark), where the great detective is fitted in a perversely funny series of disguises.
I am not your ordinary, run-of-the-mill transvestite!
As a grandson of a silent film director and as an expert in Hollywood lore, it seemed inevitable Edwards would make some of the best movies about movies in the canon. Admittedly, to include The Great Race
—a slapstick recreation of the New York to Paris automobile race of 1908—in this subgenre is a bit of a stretch.  But it's still a delightfully movie-conscious film, reverent to the sort of immaculate heroes, mustache-twirling villains, and old-fashioned storytelling that delighted Nickelodeon audiences.
Among the six cars entered, the dashing Great Leslie (Tony Curtis) is pitted against the plotting Professor Fate (Jack Lemmon) with a feisty suffragette, the lovely Maggie DuBois (Natalie Wood) covering the event for her newspaper. After some unexpected stopovers in a corrupt frontier town, on a melting iceberg, and in upper Siberia, the trio is detained in a small European country where Fate is forced to impersonate a deranged king.
Dedicated to Mr. Laurel and Mr. Hardy and owing many of its glorious sight gags to the great Warner Brothers cartoons of Fritz Freleng and Chick Jones, The Great Race is carried by the giddy Lemmon in a bravura comic performance.
The eternal struggle takes time, Max.
Having already plundered sacred military cows in Operation Petticoat, Edwards returned to WWII as a backdrop for his next widescreen satire, What Did You Do in the War, Daddy?
.
Here, the inexperienced Captain Lionel Cash (Dick Shawn) is assigned to lead an exhausted infantry unit in capturing and holding a small town in Sicily. The buffoon Cash is disappointed when the Italians lay down their arms without a fight and won't accept their unusual conditions of surrender. Cash's second in command, and voice of reason, Lieutenant Christian (James Coburn) talks the Captain into letting the town have its festival that evening.
Cash and the Americans get swept away in the bacchanal and the next morning the hung-over unit and the Sicilians struggle to stage the surrender for a military bigwig (Harry Morgan) who will be arriving ahead of time. All bets are off when the jealous Italian Captain Oppo (Sergio Fantoni) finds Cash has slept with a luscious local (Gina Romano) and the two armies have to stage a war to fool the American brass and the curious Nazis.
Making great use of a remarkable recreation of the Sicilian village, Edwards rigged Daddy with plenty of clever sight gags but the narrative threads grew tangled and checking-in at two hours this farce becomes tiresome.
As difficulties with the studios forced Edwards to become his own producer, he began unfortunate habit of milking some of his more successful enterprises bone dry.
His screen version of Gunn
, starring Craig Stevens as the stylish detective investigating the murder of an old mob ally, doesn't deter from the hard-boiled formula of its earlier incarnation but by not indulging in the elements (cool jazz, moody black and white cinematography and yes, Lola Albright) which gave the TV series its noir-like feel, the feature film fell flat.
     Immortality is a happy childhood. 
Edwards rehashed the property once again in the 1989 TV pilot Peter Gunn
, this time with solid Peter Strauss in the lead role. In many ways this production came closer to the spirit of the classic TV show than Gunn ever did, but as is the case with much later Edwards' efforts it suffers from a slick and often careless hand.
After mending fences with the notoriously difficult Sellers, Edwards and the Goon collaborated on one of the most unusual films to come out of Hollywood, The Party
.
After single-handedly destroying the movie set he was working on, Indian actor Hrundi V. Bakshi (Sellers) is accidentally invited to a party hosted by studio head Fred Clutterbuck (J. Edward McKinley). Ignored by the industry guests and left to his devices, the mischievous Hrundi organizes an elephant washing in the swimming pool and inadvertently triggers the annihilation of Clutterbuck's pop art home.
Sweet-tempered, leisurely paced and containing a minimum of dialogue, The Party actually owes more to the droll, well-constructed cinema of Frenchman Jacques Tati
than American silent comedy. Changing tastes led to The Party being largely forgotten for years but, thankfully, Edwards' little gem is now recognized as one of Sellers finest films and remains a pinnacle of 1960s comedy.
Edwards married his second wife Julie Andrews in 1969 and she would soon become his next great collaborator. Indeed, Julie's presence in a series of her husband's most romantic films made it possible for her to evolve into screen adulthood and paved the way for his mature period of filmmaking.
The sweeping and stylish WWI musical Darling Lili
featured Andrews playing a popular music hall singer cum-German spy, Lili Smith. Born to a German father and English mother, Lili is torn between alliances, but she is kept in tow by her friend and fellow Kraut agent Von Ruger (Jeremy Kemp). But when Lili is assigned to gather military secrets from the American Major William Larrabee (Rock Hudson), she finds herself falling hopelessly in love with the dashing pilot.
Lili's bliss is broken when Von Ruger informs her Larrabee has been feeding her wrong information, putting the operation and her life in peril. Lili's anxiety fuels her jealousy and she finally pushes gallant Larrabee out of her bed and, in all likelihood, her life.
Having the misfortune of being nearly the last in a series of elephantine musicals that exasperated critics and bored fashionably hip audiences, the exquisite Darling Lili suffered an undeserving fate at the box office.
The Tamarind Seed
put Andrews back in the Cold War domain of her ill-fated collaboration with Hitchcock (Torn Curtain), but here she rises to the occasion with a complex portrayal of a lonely woman who falls under the spell of a dashing Soviet agent.
After breaking-up with a married British military attache Judith Farrow (Andrews) tries to heal her wounds on a Barbados holiday. While on the island, she meets the mysterious and handsome Feodor Sverdlov (Omar Shariff), who tries to bring Judith out of her shell. Feodor informs Judith he is a Communist spy, but chooses not to push his politics on her. The romantic couple soon falls under the scrutiny of British and Soviet intelligence and when they return to Europe seeds of doubt drive a wedge into their fragile relationship.
As in Darling Lili, Andrews is compelled and exasperated by her white knight, whose elusiveness adds intrigue and sexual spice into an impossibly complicated affair.
For much of his long career Edwards drew inspiration from his grandfather J. Gordon Edwards, a Hollywood pioneer who not only was Theda Bara's favorite director but an esteemed maker of westerns, as well. The grandson's lone entry into the genre Wild Rovers
was a taut yet surprisingly bucolic take on the cowboy life.
The middle-aged Ross Bodine (William Holden) and wet-behind-the-ears Texan Frank Post (Ryan O'Neal) strike up an unusual friendship while working at the Wyoming ranch of Walter Buckman (Karl Malden). None too thrilled by the prospect of spending the rest of his life as a hired hand Post broaches the subject of robbing the town bank to Bodine who, after some hesitation, goes along with the idea.
Thanks to Bodine's patient planning the heist is successful and after a cougar kills one of their horses the two still manage to get out of town. Buckman's hot head son (Tom Skerritt) takes umbrage at being bamboozled and organizes a posse to chase the bandits to the end of the earth to bring the ranch hands to justice. Bodine takes Frank under his wing and the two get a fleeting glimpse of the good life until fate deals Post a bad hand near the Mexican border.
A similar father/son-like bond is very much evident in Edwards' final tribute to Hollywood and the Old West. Made in the autumn of Edwards' career, the underrated Sunset
finds the legendary Wyatt Earp (James Garner) visiting Hollywood as a technical advisor on a film about his colorful career as a lawman. The production's fanciful star Tom Mix (Bruce Willis) strikes up a friendship with the veteran gunslinger and transports him into lodgings away from town's gossipmongers and paparazzi.
That evening Mix brings his new pal to an exclusive bordello where they witness the murder of the proprietress who was set to implicate the head of their film studio in an unsolved murder case. The shady executive Alfie Alperin (Malcolm McDowell) is also the controlling husband of Earp's old flame Christina (Patricia Hodge). Mix and the Marshall begin their own investigation of the bordello crime and after narrowly surviving a shoot-out with the mob they turn their ire on one of the industry's fabled icons.
Careful not to be too nostalgic about a time and place that had its share of heinous crimes, Edwards deftly blends fact and legend in this entertaining take on the fallible heroes of his youth.
The 1970s are often lauded as a Renaissance period in American filmmaking but, in fact, the industry was shrinking mightily, prompting many of the old Hollywood hands to retire or turn to the green pastures of television to secure work.
Edwards continued to mine the Pink Panther franchise for all it was worth but as his personal and professional relationships with Sellers were rocky and the actor's health was precarious it was obvious he needed to reinvent himself. So, Edwards took a deep breath then foisted his most autobiographical film on an unsuspecting public.
In 10
Julie Andrews plays the intelligent yet flustered girlfriend to Dudley Moore's brilliant boy-man, songwriter George Webber. George seems to have it all; a thriving recording career with awards aplenty, a posh home in the hills, friends galore and a loving companion in Sam (Andrews), yet he is suffering through a mid-life crisis that threatens to derail his well-being. When he spies a young, goddess-like creature Jenny Miles (Bo Derek) on the way to her wedding, George is ready throw it all away and follow the girl on her Mexican honeymoon in the hope of a grand seduction.
The spoiled, selfish, and charming George turns out to be the quintessential Edwards male. Unwilling to accept what middle-age has in store for him, George succeeds in picking up the empty-headed Jenny. But, this accomplished older man is stunned to learn, to her, he's just another lay. The philandering George tests Sam's patience to no end, and only when she is ready to throw him out does he realize just what's really at stake.
A keen study of "me decade" narcissism and sexual frustration, 10 is the quintessential L.A. film of the era. But this surprising hit film resonates much deeper, tolling the bell for middle-aged men of taste and the "Greatest Generation".
After a long dry-spell at the box office, which not so incidentally coincided with his legendary battles with penny-pinching studio executives, Edwards was back on top and ready to go to battle against an industry that only cared about the bottom line.
S.O.B.
(Standard Operational Bullshit) is a darkly satirical look at the dealing, the backstabbing, the sex, drugs and weekend grosses that is modern Hollywood. In despair over the scathing reviews and dreadful box office for his latest big-budget extravaganza Night Wind, director Felix Farmer (Richard Mulligan) decides to end it all. After bungling several suicide attempts Felix has a revelation that will save his career.
To the horror of his estranged wife and the film's star Sally Miles (Julie Andrews), he decides to buy Night Wind back from the studio and turn the squeaky clean musical into a bacchanal of S&M. When treacherous studio head David Blackman (Robert Vaughn) gets wind of Felix's brilliant marketing ploy he buys the distribution rights back from Sally sending the unstable filmmaker into a homicidal rage.
S.O.B. is chalk-full of affectionate references to old Hollywood classics and movie-land lore (the infamous theft of John Barrymore's corpse from a Hollywood funeral home is re-enacted in all of its gruesome hilarity). Edwards also dots the landscape with many familiar faces of the studio system years (William Holden Robert Preston, Shelley Winters, Larry Storch, etc.) in his personal take on old school Hollywood's struggle to co-exist with crass pop culture and the tempting fruits of a hedonistic lifestyle.
   I am going to show my boobies.
As an admirer of drawing room comedy and particularly the discreet sex romps of Ernst Lubitsch and Billy Wilder it seemed inevitable Edwards would want to contribute his own gender-bending take on the genre. Set in Paris during the depths of the Depression, Victor/Victoria
finds Julie Andrews back on more familiar ground as an attractive "coloratura" struggling to make ends meet.
Unable to find a singing gig and down to her last franc, Victoria Grant (Andrews) ponders sleeping with her landlord for a meal. Good fortune shines down upon her in the person of Toddy (Robert Preston), a gay cabaret singer who comes up with the titillating idea of transforming Victoria into a male female impersonator. As the Polish Count Victor Grezhinski, she wows the sophisticated Parisian audiences with a transvestite act and enters into a phony romance with Toddy, so no one will suspect the truth about her identity.
To complicate matters further, Victoria has fallen head over heels for King Marchand (James Garner), a Chicago gangster who sees through her façade. As with Lili Smith and Judith Farrow, Victoria is pained to deceive her lover, but only by playing this peculiar game does she learns the extent of King's love.
In the end, like most of Edwards' flawed yet deeply romantic protagonists, Victoria can run but she can never hide from herself. The triumphant Victor-Victoria was a perfect storm of top shelf casting, writing, and directing. But rather than inspire Edwards to reach for greater heights, the effort made in creating three of his most personal films seemed to have tapped him out.
      You're one kind of man, I'm another.
Edwards' career broke bad in the 1980s. With MBAs taking over the Hollywood studios a new emphasis was placed on the blockbuster and if a newly released film didn't pack theaters over its first weekend it was considered dead in the water.
Edwards looked ready to play ball with the new moguls but his decision to resurrect the Pink Panther franchise after Peter Sellers' death in 1980 proved disastrous. Both critics and audiences saw the piecemeal Trail of the Pink Panther
as just a cynical ploy to cash in on leftover Sellers outtakes.
Curse of the Pink Panther
works better but the casting of Ted Wass as a New York cop called to Paris to investigate the disappearance of his distant relative, Chief Inspector Clouseau, was a huge mistake. Edwards' farcical chops are still evident in Curse but having the unfunny Wass do a by-the-numbers spin on Harold Lloyd only makes this nebbishy sleuth recede even deeper into the background.
     Balls, this is a policeman's policeman.
Jumping ten years ahead, Son of the Pink Panther
proved an unfortunate swansong for both the franchise and Edwards as a filmmaker. As the offspring of Clouseau rubber-faced Roberto Benigni proved too manic to fit comfortably in Edwards' brand of farce comedy.
Beyond the Panther films Edwards split his time filming more introspective comedies about ladies' men grappling with middle age, indulging in tired slapstick and making tributes to the popular movies of his youth.
Based on one of Francois Truffaut's lesser efforts, The Man Who Loved Women
stars the Burt Reynolds as a surprisingly sympathetic pussy-hound who has surrounded himself with a bevy of unusual females. But, as self-loathing never had a place in Reynolds' bag of acting tricks this promising project stagnates before dragging to its inevitable conclusion.
Continuing in this amoral vein Micki & Maude
reunited Edwards with Dudley Moore in a limp, self-pitying comedy about a bigamist who can't choose between his two pregnant wives (Ann Reinking and Amy Irving). The women, both accomplished professionals, seem too good for the underachieving Rob Salinger (Moore) but that doesn't stop them from sacrificing their careers to bear him a child.
    I worship your body like a French cathedral. 
Cut from the same cloth Skin Deep
, starring the underrated John Ritter, is a far superior take on a man of taste, and some refinement, who humiliates himself in his pursuit of women.
Zach Hutton (Ritter) is a George Webber for the 1980s, a Romantic forced to drown his sorrows in a trendy Los Angeles watering hole. Unlike George, Zach doesn't have an ideal mate and his taste in women ranges from the sublime to the ridiculous. But his wild dalliances with these sublime and bizarre creatures only cover up his deeper need to re-connect with his wary ex-wife (Alyson Reed).
     There is a God! And he's a gag-writer! 
By 1986 Edwards hadn't turned out a hit movie in several years. So, in another of an endless string of unwise career decisions Edwards chose to make a home movie about a bunch of cranky 60somethings. The lightly autobiographical and entertaining That´s Life!
brought together Jack Lemmon and Julie Andrews as a married couple sweating out the results of a biopsy and the stress brought on by their dysfunctional children and friends.
By the end of the decade the writing on the wall was clear; Hollywood had no use for what Edwards had to offer. Surprisingly, Edwards went out with a blast in Switch
, a twisty comedy of the sexes.
Steve Brooks (Perry King) is a conscience-free misogynist who gets the shock of his life when he wakes up one morning morphed into the sort of hot to trot female he spent most of his waking hours pursuing. As Amanda Brooks (Ellen Barkin) he/she is perversely fascinated and frustrated by roles even the most brilliant women are forced to play in a so-called liberated world.
This edgy and decidedly non-feminist take on sex roles was not a hit, but it was Edwards' most ambitious and, arguably, best film since Victor-Victoria.
   If I'm gay, Clint Eastwood is a transvestite. 
Weary of Hollywood and the critical beating his recent films were taking, Edwards and Julie Andrews turned to Broadway where they recreated a musical version of Victor-Victoria for the Great White Way. The pedestrian film
made of the production captures Andrews in good form but the new songs are lackluster and the supporting cast doesn't hold a candle to the original.
The more permissive '90s also permitted the show to be more aggressively out of the closet—a long overdue acknowledgment of gay culture in mainstream theatre. But given the milieu, it's a choice which flattens the sexual tension between Victoria and the uber-hetero King. Despite mixed reviews, the risqué musical proved a big hit with nostalgia-hungry audiences.
Unless the winds of critical trend take an unexpected turn Edwards seems destined to be remembered as a mere collaborator of Peter Sellers and the studio professional who directed Audrey Hepburn in Breakfast at Tiffany's—a true shame since his diverse body of work proved as deeply personal as any director who survived the studio system.
Books on Edwards:
Blake Edwards
– Peter Lehman & William Luhr **** Blake Edwards, Vol. 2: Returning to the Scene
– William Luhr and Peter Lehman **** With Edwards' critical reputation at all-time low these two volumes of splendid critical analysis are likely to be the definitive studies on the last important director from the studio system era. The authors present an earnest and winning case for Edwards' comic flair and peculiar genius. Out of print.
Films by Edwards:
1954  The Bomb ***1/2 (Four Star Playhouse TV)
1954  Detective's Holiday *** (Four Star Playhouse TV)
1957  Mister Cory ***1/2
1958  Peter Gunn-The Kill ***1/2 (TV)
1958  Peter Gunn-Streetcar Jones ***1/2 (TV)
1958  Peter Gunn-The Blind Pianist ***1/2 (TV)
1958  Peter Gunn-The Chinese Hangman ***1/2 (TV)
1958  Peter Gunn-Lynn's Blues ***1/2 (TV)
1958  Peter Gunn-Rough Buck ***1/2 (TV)
1958  Peter Gunn-Death House Testament **** (TV)
1958  This Happy Feeling ***1/2
1958  The Perfect Furlough ***1/2
1959  Peter Gunn-Let's Kill Timothy *** (TV)
1959  Peter Gunn-The Comic **** (TV)
1959  Peter Gunn-The Briefcase ***1/2 (TV)
1959  Mr. Lucky-The Magnificent Bribe ***1/2 (TV)
1959  Operation Petticoat ****
1960  High Time ***1/2
1961  Breakfast at Tiffany's ****1/2
1962  Experiment in Terror ***1/2
1963  Days of Wine and Roses ****
1964  The Pink Panther ***1/2
1965  A Shot in the Dark ****
1965  The Great Race ***1/2
1966  What Did You Do in the War Daddy? ***1/2
1967  Gunn ***1/2
1968  The Party ****
1970  Darling Lili ****1/2
1971  The Wild Rovers ****
1972  The Carey Treatment ***1/2
1974  The Tamarind Seed ****
1974  The Return of the Pink Panther ****
1976  The Pink Panther Strikes Again ****1/2
1978  Revenge of the Pink Panther ***1/2
1979  10 *****
1981  S.O.B. ****
1982  Victor-Victoria *****
1982  The Trail of the Pink Panther ***
1983  The Man Who Loved Women ***
1983  The Curse of the Pink Panther ***1/2
1984  Micki and Maude ***
1986  A Fine Mess ***
1986  That's Life ***1/2
1987  Blind Date ***
1988  Sunset ***1/2
1989  Skin Deep ***1/2
1989  Peter Gunn ***1/2
1991  Switch ***1/2
1993  Son of the Pink Panther **1/2
1995  Victor-Victoria (The Musical) *** (staged by Edwards, TV film directed by Matthew Diamond and Goro Kobayashi)