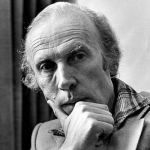 One of the cinema's great humanists, Eric Rohmer was born Jean-Marie Maurice Scherer in the French city of Nancy, an ancient northeastern town with a great artistic tradition. Not much is known about Rohmer's early life, but when he did migrate to Paris it was likely with the intention of becoming a writer. In 1946 Rohmer published a novel, Elizabeth, under the nom de plume Gilbert Cordier, but he paid the bills by working as a newspaper reporter and a teacher of literature.
By 1950 he had befriended Jean-Luc Godard and Jacques Rivette with whom he published the underground film journal, La Gazette du Cinema. Rohmer would become the first New Wave director to make his own films (several 16mm shorts in the early 1950s) but he'd be the last of the group to inhale the sweet smell of commercial success.
While Godard, Francois Truffaut and Claude Chabrol were all in the process of making their debut features, Rohmer kept busy as the editor of the seminal film periodical Cahiers du Cinéma
, holding the post from 1956-63. During those years Rohmer and fellow Cahiers scribe Chabrol also co-authored the first important critical analysis on a major director (Hitchcock: The First 44 Films
).
The New Wavers were proponents of the auteur theory, an ideology loosely based on the writings of the great French film critic Andre Bazin
. The early Cahiers critics opined that a true auteur was the director who left his, or her, imprint on each film throughout their body of work. The theory proved controversial when Cahiers put directors of genre films like Douglas Sirk, Robert Aldrich and Jacques Becker on a pedestal, while questioning the merit of such critical darlings as Henri-Georges Clouzot, John Huston and Akira Kurosawa.
By the early 1960s Cahiers became too stridently leftist for Rohmer's Catholic tastes and he resigned his post. It was time to make his own films, but it would take several years before the art house crowds and mainstream movie-going public would latch onto the subtle joys of Rohmer's chamber cinema.
Rohmer's first short Présentation ou Charlotte et son steak
(1951) is a wry little gem about an anxious fellow named Walter (Jean-Luc Godard!) who tries to make the girl he likes jealous by prattling on about prettier girl who lives nearby in their snowy village. Initially, Charlotte seems piqued by the young man's conversation but she finally takes pity and offers her would-be suitor a charred piece of meat and a promising hug. Beyond the casting of the youthful Godard, Charlotte remains of interest since it is already apparent Rohmer had developed a unique voice for the screen.
   Region 2 DVD No English Subtitles
Still, Rohmer would wait three years before attempting another short. Based on an Edgar Allan Poe story, Berenice turned out to be an effectively spooky horror story shot by Jacques Rivette and starring Rohmer as a man haunted by a beautiful epileptic woman (Teresa Gratia).
Based on a story on Tolstoy
and accompanied by Beethoven's stirring composition for violin
, La sonate a Kreutzer featured Rohmer as a brooding Parisian who enters into a loveless marriage to a younger woman (Francoise Martinelli) from the country. After spending countless hours contemplating the mystery of his sullen wife he seems perversely pleased when she falls in love with one of his friends (Jean-Claude Brialy). But when the young man begins to make love to her in his apartment the ensuing jealousy drives the cuckold to commit a senseless murder.
Rohmer's next short Véronique et son cancre
is an amusing vignette about a young tutor (Nicole Berger) who becomes increasingly frustrated by the short attention span of her pupil, in this case a mischievous boy (Alain Delrieu).
    Region 2 DVD  No English Subtitles
The reluctant filmmaker would be nearly forty when he began to truly apply himself to his new career, so it was no surprise Rohmer's work from this period would be more mature in outlook than his younger peers from Cahiers.
Rohmer's first feature, Le signe du lion
is an ironic tale about a struggling American musician Jess (Pierre Wesserlin) who lives beyond his means in the City of Light. Upon learning he has inherited a fortune from his dead aunt Jess blows what little money he has in an all-night bacchanal.
His pleasure is short-lived when he finds out the inheritance has been bequeathed to a cousin, leaving him with a mountain of debt. After being tossed out of his flat and unable to find lodgings with his so-called friends, Jess roams the dodgier streets of Paris trying to secure hand-outs and sustenance.
Rather than resort to petty thievery, Jess swallows his pride and becomes a beggar and street clown. Just as he is ready to chuck it all, fortune smiles upon him once again. The spoiled Jess is certainly one of Rohmer's most unappealing protagonists and the twist finale leaves us to believe he has learned nothing from his ordeal and will go back to his dissipated ways. Such is life.
Le Signe du Lion is most notable for the neo-realist street odyssey during which the down and out American resorts to digging through trash bins for scraps of food and sleeping on doorsteps. Here, the anxiety and despair of homelessness is replicated in a harrowing fashion. But like many Rohmer male protagonists to come, Jess mostly resists succumbing to dark temptation.
Charting his fledgling career with the precision one would expect of an auteurist, Rohmer embarked on what initially appeared to be a modest cycle of films, the Six Moral Tales
.
      We have to show what lies beyond behavior.
La Boulangere de Monceau
is a beguiling twenty minute short about a handsome student (Barbet Schroeder) who takes up a friend's challenge to date Sylvie (Michele Girardon), a beautiful but unapproachable girl. His early attempts to break the ice with Sylvie don't get him anywhere and while waiting around for her he makes repeated visits to a bakery and flirts with the girl who works the counter, Jacqueline (Claudine Soubrier).
When Jacqueline senses the young man's condescending attitude, she plays hard to get making him forget all about Sylvie…until a chance meeting turns his head.
La Carriere de Suzanne
is another tale of young lovers playing some slightly wicked games in the Latin Quarter of Paris. The idealistic Bertrand (Philippe Beuzen) strikes up a friendship with Guillaume (Christian Charriere), a cynical fellow college student who looks to seduce the pretty Sophie (Diane Wilkinson) and plain Suzanne (Catherine See). But it turns out Suzanne has the kind of je ne c'est quoi that interests and infuriates Bertrand, especially when she throws good sense to the wind and takes up with the oily Guillaume.
La Carriere de Suzanne was Rohmer's most complex and involved effort to date but these shorter films didn't give him the amount of time to develop the sort of rich subtext which make his full-length features so beguiling and such a joy to watch.
Rohmer spent the next several years making shorts and documentaries (including two very fine pieces on cinema pioneers Carl Theodore Dreyer and Louis Lumiere) before he got around to making the third of his Moral Tales.
Rohmer's first major feature La Collectionneuse
is mostly set at an old chateau in the sunny South of France where the smug and handsome Parisian Adrien (Patrick Bauchau) moves in with his artist friend Daniel (Daniel Pommereulle) for a long overdue holiday. The chateau is also host to a mysterious younger woman, Haydee (Haydee Politoff) whose cool and easy sexuality beguiles both men. Adrien thinks Haydee wants to sleep with him, so she can add him to her "collection" of men.
His worldly charms do little to impress Haydee and she makes a move on the asexual Daniel creating an uncomfortable environment for all inhabitants of the house. Adrien relentless bad-mouthing of Haydee causes Daniel to break-up with her, but instead of taking up with the beautiful girl Adrien pimps her out to an older business partner.
La Collectionneuse revisits the gentle misogyny of both La Boulangere de Monceau and La Carriere de Suzanne, but here Rohmer gives his female protagonist, the hedonistic Haydee, the upper hand leaving Adrien alone and wondering if he did the right thing by casting her adrift.
In My Night At Maud's
, Jean-Louis (Jean-Louis Trintignant) is a 30something engineer who falls in love at first sight with Francoise (Marie-Christine Barrault), an ethereal blonde college student he spots at church. Lonely, but determined, Jean-Louis spends the next few weeks stalking Francoise as she rides to and from school.
In the meantime, he begins to socialize with an old friend and college professor Vidal (Antonie Vitez) who has a more liberal sense of values than the very Catholic Jean-Louis. Vidal asks Jean-Louis to accompany him on a Christmas Eve visit to the apartment of Maud (Francoise Fabian) with whom Vidal has a sexually-ambiguous friendship. Vidal leaves Jean-Louis with the brainy, charismatic woman who challenges and intrigues the rigid engineer. The uneasiness between the couple leads to a sleepover and an awkward parting in the morning.
This near-tryst triggers Jean-Louis' determination to confront the chaste Francoise and when he does he is pleased to find she reciprocates his love. But, like Jean-Louis Francoise has a dark secret about her past she prefers to keep to herself.
My Night at Maud's represents a major leap in filmmaking technique and sophistication for Rohmer as both his leading women turn out to be the ones holding the cards in this droll and meditative comedy of the sexes.
    I hate leaving people. I'm faithful, even to you.
Where My Night at Maud's is a wintry tale of dogma and quiet sins, Claire's Knee
is a summery story about fetishism and the fickleness of the human heart.
A free-thinking diplomat returns to his idyllic childhood home in the Alps only to find himself beguiled by the two teenage step-sisters who vacation there. Upon his arrival, Jerome (Jean-Claude Brialy) meets up with a mischievous old friend and author Aurora (Aurora Comu) who is looking for fodder for a new book.
Although Jerome is engaged to a fellow diplomat Aurora encourages him to see how far he can get with the younger sister Laura (Beatrice Romand) who has a hopeless crush on him. Jerome flirts with the charismatic girl but his eye soon wanders towards the other girl Claire (Laurence de Monaghan), whose cool indifference only makes him want her more. Intimidated by the local females who question his virility and taste in women, Jerome lets temptation get the best of him and fondles the empty-headed girl.
Claire's Knee could be misinterpreted as a pedophile's fantasy as both teenage girls offer little resistance to the gropes of the older man, but Rohmer wisely paints Jerome as a bit of a fool, not sophisticated enough to interest Aurora or, ultimately, either of the girls. Like many of Rohmer's other sexually curious male protagonists, Jerome is aware of just how far he can go before he kindles the sort of fire he would be incapable of putting out.
      Every woman has her most vulnerable point.
Rohmer rounded out his Six Moral Tales with yet another wry tale of temptation, Chloe in the Afternoon
. Frederic (Bernard Verley) runs a small office in Paris by day and takes the train home to the suburbs at night. There, he is greeted by his loving wife Helene (Francoise Verley), the mother of his child with another on the way. Helene is busy with parenting, teaching and her dissertation leaving an emotional void in Frederic's life.
One afternoon, the free-spirited Chloe (Zouzou) appears in Frederic's work place trying to mend old fences and in search of a job. Frederic is polite to this complex woman whose dysfunctional behavior had driven his friend to the brink of suicide, but he soon warms to Chloe's brassy style. Through his platonic adventures with Chloe, Frederic comes out of his shell and soon the mismatched couple must determine if they want to take their relationship to the point of no return.
Unlike the engaged bachelors Jean-Louis and Jerome, the very-married Frederic is eager to leave his comfort zone behind in the most unusual "love-match" in a Rohmer film thus far. The self-absorbed and rather unpleasant Chloe is one of the director's least-idealized female creations. But, as seen through Frederic's eyes, Chloe is a true diamond in the rough who brings some much-needed fire into his placid life. Conversely, Frederic's compassion and tenderness goes far to quell Chloe's anger and dissatisfaction with the world.
After a flurry of activity, Rohmer took several years off from making films only to return with his most unusual work yet, The Marquis Of O
, an adaptation of Henrich von Kleist
's tale of honor and hypocrisy set during the Franco-Prussian War.
     Paradise is locked and bolted.
Widowed aristocrat Marquise O (Edith Clever) is nearly raped by a band of Russian soldiers only to be saved in the nick of time by a valiant Count (Bruno Ganz). During her recovery her would-be assailants are captured and executed, no thanks to the Count who refuses to name names.
This brooding man pays court to Marquise's family and surprises them all when he offers his hand in marriage to the young widow. She isn't sure what to make of this impetuous Russian, so she douses the Count's fire by informing him she will need time to consider his proposal. In truth, her mind is occupied with a curious malady which is beginning to seem like a pregnancy, an impossibility since she has led a chaste life since her husband died two years before.
When a doctor and midwife confirm the pregnancy The Marquise is banned from her parents' house and forced to live in shame, unless the father of the child can be found. To her horror the shamed Count finally comes forward and admits to being the villain who raped the Marquise in the aftermath of her earlier ordeal. Feminine pride causes her to reject the Count but his earnest plea for forgiveness appeals to her delicate sensibility and melts her resistance.
This oddly moving historical work gave Rohmer and his brilliant cinematographer Nestor Almendros the opportunity to indulge in the sort of lush visuals not seen in the director's "comedies". In The Marquise of O the presence of Goya, David, and particularly Vermeer is felt in every frame.
Rohmer and Almendros pushed this painterly style to the extreme in Perceval
, a knightly tale based on a verse story by the medieval French author Chretien de Troyes.
Buoyed by the adventures of King Arthur's chivalrous knights, the naïve adolescent Perceval (Fabrice Luchini) sets out to follow in their footsteps. Along the treacherous road he frees fair and feisty damsels from bonds of captivity, jousts with enemies of the King, and wins kudos from Arthur before riding into the wilderness in search of more wretched subjects in need.
Shot on a colorful soundstage influenced by the metaphysical Italian artist Giorgio de Chirico and acted with a childlike sense of wonder by the youthful cast, this oft-told legend is one of Rohmer's most charming films.
      Uncommon valor as a common virtue.
The Comedies et Proverbes marked a return to more familiar territory for Rohmer. In these behavioral works (all based on a proverb) Rohmer turns his watchful eye towards heroes and heroines of the younger set who have their core beliefs turned upside down.
In The Aviator's Wife
, Francois (Philippe Marlaud) is a charming but slightly oblivious college student, who sorts mail at night to pay for school. He is having an unlikely affair with Anne (Marie Riviere), a confused, neurotic professional who treats Francois like her lapdog. When Francois witnesses Anne leave her apartment with a handsome older man one morning, he correctly assumes he is her lover.
But, Francois doesn't know the man (an aviator) has broken off with Anne, so he begins to stalk his would-be rival. His interest in further piqued when the pilot meets up with an attractive blonde whom he escorts into a park.
While peeping on the pilot, Francois bumps into Lucie (Anna-Laure Meury), a pretty and clever high school student who is very much amused by the young man's bumbling methodology. She and Francois follow the couple a lawyer's office, where they reach a dead end. The younger couple reconvenes to a coffeehouse where they discuss the pilot's hidden motives and differences between the sexes.
Later, Francois returns to Anne's apartment to confront her, but when she only continues to tease and torment him, he takes up Lucie's vague invitation to get in touch with her. But, he is stung to the quick when he spies his wise, and very pretty friend making out with another boy.
Though seemingly slight in stature Le beau mariage

is a watershed film in Rohmer's oeuvre, as his point of view has subtly shifted to the female of the species—where it would remain for the rest of his career.
Frustrated by her dead-end job and floundering love life, Sabine (Beatrice Romand) decides it's time she got married, but the man she has chosen for a life partner remains oblivious to her fine feelings. After Sabine breaks up with her most recent lover, a very-married artist, her friend Clarisse (Arielle Dombasle) decides to hook the shop-girl up with her cousin Edmond (Andre Dussollier), a busy Parisian lawyer. Sabine becomes infatuated with Edmond and pulls out all her feminine tricks to win over the remote man.
Undaunted by the decided lack of encouragement on his part she begins a romantic pursuit which, not surprisingly, ends badly. Rather than leave Sabine staring into an abyss of unhappiness Rohmer gives his impetuous heroine a lifeline in the person of a much more sympathetic suitor before the credits roll.
The enchanting Romand, previously seen as a precocious teenager in Claire's Knee, is a prototype of the Rohmer woman of this era; delicate, sensitive and impossibly romantic.
Ironically, the protagonist of his next film, the wise and witty Pauline at the Beach
, is a pragmatic teenager who has no illusions about men or romance.
The tomboy Pauline (Amanda Langlet) spends the last days of her summer vacation at a Brittany cottage with her knock-out older cousin Marion (Arielle Dombasle). Having recently split from her husband Marion avoids the amorous intentions of her former beau Pierre (Pascal Greggory) and foolishly hooks up with the lecherous Henri (Feodor Atkine). Pierre is wise to the older man's machinations and tries to win Marion back by exposing Henri as a scoundrel.
In an effort to dissuade Pierre Marion suggests he take Pauline's cherry but she only offends the sensitive beachcomber. Pauline is more interested in a boy her own age, but when he takes part in covering up for Henri's latest indiscretion Pauline finds she has to step back to reflect upon the sad lot of adults in her life.
    She shouldn't be picking up idiots on the beach. 
At turns melancholic and bitter, Full Moon in Paris
finds young professional Louise (Pascale Ogier) reclaiming her small Parisian flat against the wishes of her asocial architect boyfriend Remi (Tcheky Karyo), with whom she shares an apartment in a cookie-cutter suburb outside of town. Looking for peace of mind and some fun, Louise fixes-up the flat with the intention of spending weekend nights in the city. Louise's life only grows more complex when old friend Octave (Fabrice Luchini) keeps showing up on the doorstep of her flat.
While the very married Octave is something of a soul mate for Louise, she spurns him for a one night stand with a saxophone player closer to her own age. Louise returns to the suburbs looking to make things up to Remi but she finds she has lost him to a woman who shares his interests. With nowhere left to turn, she crawls back to Paris and the ever-faithful Octave.
At the ripe old age of sixty-five, Rohmer was hitting his artistic stride in a big way.
A sweet-tempered comedy about loneliness, indecision and missed connections, The Green Ray
(aka Summer) finds Rohmer delving deeper into his fascination with what busy Parisians do during their leisure time.
When a friend suddenly backs out of their trip to Greece, the fragile Delphine (Marie Riviere) finds herself at loose ends on how to spend her summer holiday. She accepts an invitation to stay at the country house of an acquaintance, but Delphine's shyness sets off a panic attack and she escapes back to Paris after only a few days. Determined not to be stuck in the city for the rest of her holiday, Delphine accepts an offer to stay in a friend's vacant flat in the Alps.
Upon her arrival Delphine learns the room is not ready, so she sets off for a hike to pass the time. Overwhelmed by the daunting, wide open spaces and the crowded resort, Delphine makes another hasty retreat.
Out of the blue an old friend offers Delphine the use of a beachfront apartment at Biarritz. After a couple lonely days on the beach she meets a free-spirited Swede Lena (Carita) whose uninhibited approach to life and men intrigues Delphine. Over drinks Lena invites a couple local yobs to join them but Delphine has no interest in flirting with the boy she's paired off with, so she packs it in once again.
At the train station Delphine makes a chance encounter with a handsome young man, who finally seems to meet all the stringent criteria she demands in a lover. Throwing caution to the wind, she follows him to a local resort where they take in an unusual sunset and experience a little miracle together.
    I'm not very operational in life. 
On the heels of one of Rohmer's most transcendent works came Boyfriends and Girlfriends
, a delightful comedy of the sexes set in Cergy-Pontoise—an immaculate, bland development on the outskirts of Paris.
The innocent Blanche (Emmanuelle Chalet) is a lonely government employee who lives in a chilly apartment complex at the edge of the artificial village. One day on lunch break, Blanche strikes up a friendship with the striking brunette Lea (Sophie Renoir), her opposite in almost every way.
In an effort to please Lea's sporty boyfriend Fabien (Eric Viellard), Blanche offers to teach her new friend how to swim. At the public pool Lea introduces Blanche to her dashing but soulless friend Alexandre (Francois-Eric Gendron). Blanche falls head over heels for the slick bureaucrat, but he hardly acknowledges her existence.
Meanwhile, the laidback Fabien has become enamored of Blanche with whom he shares many interests. Even as his relationship with high-maintenance Lea unravels, Fabien has a difficult time convincing the inflexible Blanche to stop thinking about Alexandre and look his way instead.
One of Rohmer's most brilliantly-constructed comic works Boyfriends and Girlfriends generates a surprising wealth of tenderness for its frolicsome foursome as they play out their romantic games in the most uninspiring environment imaginable.
Upon first viewing Four Adventures of Reinette and Mirabelle
(Rohmer's final entry in the Comedies et Proverbes series) seems like a quirky coming of age story, but it turned out to be one his rare political films.
Born and bred in the countryside, the tightly-wound artist Reinette (Joelle Miquel) adheres to a conservative mindset in which a person should keep their word and be responsible for their actions. The liberal city girl Mirabelle (Jessica Forde) adheres to a live and let live philosophy and her impetuous means of solving problems and wriggling out of embarrassing situations strikes her new flat mate as downright immoral.
The mismatched pair clash over these ideologies during their adventures but they both agree Reinette's nemesis, a two-faced art dealer (Fabrice Luchini), should be taken for all he's worth.
Showing no signs of slowing down at the age of seventy Rohmer embarked upon yet another series of films. Tales of the Four Seasons turned out to be a contemplative, philosophical, and spiritually-striving collection, owing much to the writings and thoughts of his beloved Blaise Pascal.
A Tale of Springtime
is the story of Jeanne (Anne Teyssedre) a secondary school philosophy teacher who finds herself without a place to sleep when her cousin takes over her Paris apartment. A neat freak, Jeanne won't stay in her boyfriend's unoccupied untidy flat so when a pretty piano student offers her the use of her father's apartment Jeanne moves in.
Jeanne soon finds her new friend Natasha (Florence Durel) harbors resentment towards her estranged mother and a jealousy-fueled hatred for her father Igor's much younger girlfriend. Jeanne is enchanted by the troubled, talented girl, but she is slow to realize Natasha has schemed to fix the attractive schoolmarm up with the still-youthful Igor (Hugues Quester).
While possessing much of the breezy Rohmer touch, A Tale of Springtime owes its sober tone to its rational heroine who must confront her own fears and fixed ideas about human love and relationships.
The most enchanting film in the series A Winter's Tale
is the slightly fantastic story of Felicie (Charlotte Very), a fetching single mom courted by both her hairdresser boss, the regular guy Maxence (Michel Voletti) and Loic (Herve Furic), a melancholic librarian. Felicie makes no promises to either suitor because her heart belongs to Charles (Frederic van den Driessche), the long lost Adonis who fathered her child on a romantic tryst five years before.
To secure her daughter's future, Felicie breaks off with Loic to move in with Maxence in a provincial town south of Paris. While visiting the local cathedral it dawns on Felicie she can't live with a man she doesn't love, so she moves back to Paris with the vague hope of finding Charles.
As fate would have it, she runs into her prince charming in the company of an attractive female in a crammed city bus. Reeling from this unexpected blow, Felicie escapes to the street but Charles makes sure they don't miss their connection the second time around.
In A Winter's Tale Rohmer cuts quite a bit of slack for Felicie's poor suitors, showing them to be exceedingly decent and in many ways superior to his slightly shallow heroine. But both men make the fatal error of putting Felicie on a pedestal, forfeiting the possibility of her having respect for them.
To her credit, Felicie offers no false hope to the men and remains single-minded in her pursuit of a romantic ideal. Her devotion, and belief, is rewarded in one of Rohmer's most cathartic finales.
The wry A Summer's Tale
finds a young musician biting off more than he can chew, woman-wise, during his summer holiday at a Brittany beach. Gaspard (Melvil Pompaud) intends to hook-up with his would-be girlfriend Lena (Aurelia Nolin) but it turns out she is vacationing in Spain and has only made a vague promise to meet up with the would-be Romeo.
Meanwhile, Gaspard has caught the attention of a pretty waitress Margot (Amanda Langlet) who sympathizes with him during a series of philosophical talks on the beach. Amused by his clueless ways with women, Margot steers Gaspard towards the party girl Solene (Gwenaelle Simon) who is on the rebound from short affairs with a couple local guys. Things come to a head when Lena appears out of the blue, prompting the suddenly popular Gaspard to make dates with all three of the young women at the same time.
Gaspard manages to escape without a scratch, but he is disappointed when Margot informs him of the imminent arrival of her fiance. Before Gaspard is cast adrift to a new career in the south his sweet soul mate gives him just enough encouragement to keep his romantic hopes alive.
As the title suggests, Autumn Tale
offers a rare Rohmerian glimpse at middle-aged romance. When Isabelle (Marie Riviere) learns her old friend Magali (Beatrice Romand) will not be attending her daughter's wedding, she decides to set her neighbor up with a new man to get her out of her doldrums.
The widow Magali spends most of her waking hours harvesting her vineyard, alienating her two children, but also gaining the respect her son's girlfriend Rosine (Alexia Portal). Like Isabelle, Rosine wants Magali to find a man but she makes an unwise decision in pressuring her rakish, old flame Etienne (Didier Sandre) to woo the winegrower.
Isabelle has screened her choice, the earnest Gerald (Alain Libolt), to the point where he is ready to propose to the unwitting matchmaker. Magali is crushed when she catches Isabelle with this interesting stranger, but she has enough sense to return to the scene of the crime and get an explanation from the two schemers.
For Autumn Tale Rohmer waxed nostalgic by bringing back two of his favorite female muses (Riviere and Romand) to play the childhood friends in this mellow, satisfying portrayal of adult relationships.
Rohmer shot two other features in between Four Seasons assignments and while both are relatively minor they have many redeeming qualities.
L'arbre, le maire et la mediatheque is a political film which presents all sides of the issues without a heavy-handed resolution. Set in a provincial town outside of Paris, the socialist Mayor Dechaumes (Pascal Greggory) proposes to build a party-funded media center smack dab in the middle of a local park. He gets morale support from his girlfriend Berenice (Arielle Dombasle) who wants to bring a little culture to the sticks while promoting the thoughtful young man's blossoming career in politics.
The locals are blase about the project except for Marc Rossignol (Fabrice Luchini), a compassionate schoolteacher who thinks the park will ruin the town's rural aesthetic. The Mayor and Rossignol are unable to stir the hearts and minds of their neighbors and the lack of coverage from the national media takes the wind out of their sails. The issue becomes moot when the socialists lose their majority in the French Parliament and funding is cut off for the project.
Quirks of fate also play a large role in the three short films which make up the charming Rendezvous in Paris
. In the first vignette (Le rendez-vous de 7 heures) Esther (Clara Bellar) is told her boyfriend has been two-timing her with another young woman. Unwilling to believe malicious gossip but hoping to make her man jealous Esther decides to meet up with a charmer who she suspects has lifted her wallet that morning.
A willowy Good Samaritan returns the wallet and accompanies Esther to meet the thief at a cafe where, coincidentally, she is also supposed to meet her boyfriend. Esther is stunned to find her new friend's boyfriend is indeed her own mischievous beau.
Les bancs de Paris follows a romantic couple on a tour of the city's park benches as they make vague plans for their future while trying to avoid being caught by her current boyfriend. Even as the fall weather chills their trysts the woman (Aurore Rauscher) refuses to visit the apartment of her erstwhile lover (Serge Renko) because of her fear of being caught by his roommates and her distaste for the suburbs.
The flighty young woman finally agrees to a more substantial hook-up in a Montmartre hotel but to her dismay she finds her live-in boyfriend checking into the same establishment with an attractive stranger. Pride hurt, she breaks off with her confused lover claiming this game isn't interesting anymore.
Mother and Child, 1907 follows the misadventures of a young Parisian painter (Michael Kraft) who ditches his Swedish blind date (Veronika Johansson) in the Picasso Museum to pursue a winsome young editor (Benedicte Loyen) more in tune with his esthetic tastes. Unfortunately, his dream girl turns out to be very married but she agrees to visit his studio and look at his paintings.
The flirtatious woman douses his fire by claiming she doesn't understand modern painting and suggests he forget about her and hook-up with the attractive Swedish girl. That evening the artist reconvenes to a cafe where he expects to rendezvous with the blind date, but it soon becomes apparent she has stood him up.
Just when it seemed Rohmer had exhausted his unique brand of chamber cinema, his career took on a refreshing change of pace.
Set at the eve of the French Revolution, L'Anglaise et le Duc (The Lady and the Duke
) is the well-told story of Grace Elliott (Lucy Russell), a proud Scottish aristocrat who chooses to stay on in Paris even as the city is being ransacked by the rebels. She relies upon the advice of her former lover, Philippe the Duke of Orleans (Jean-Claude Dreyfus) to help her dodge arrest.
But the scheming Duke is under suspicion of both the court of his cousin, The Bourbon King, and the revolutionaries. Grace is devastated when he signs off on the King Louis' execution, but she finally realizes she will have to fend for herself if she wants to survive.
L'Anglaise et le Duc was Rohmer's most experimental film since Perceval and, indeed, owes much of its visual style to such rococo artists as Watteau, Boucher and, once again, Rohmer's beloved Vermeer. With his players posing like classical mannequins and interfacing with lushly painted mattes and backdrops Rohmer's film has the feeling of a canvas come to life.
Triple Agent
is similarly-themed tale of aristocrats in political peril. Here, the former White Army General Fiodor Voronin (Serge Renko) and his Greek wife Arsinoe (Katerina Didaskalou) are living in exile in France but they soon find themselves caught between Communist and Fascist factions in the days leading up to WWII. Busy with her art, Arsinoe little suspects her war hero husband is involved in political intrigue. But when she learns from a friend Voronin is in cahoots with the Nazis she confronts Fiodor and learns this mysterious man has been playing both sides of the same coin, placing their lives in great danger.
Although Arsinoe is relieved Voronin hasn't defected to the Nazis, this woman without a country is equally wary of playing ball with Stalin who has already begun liquidating any artists, intellectuals and bureaucrats who could pose a threat to his bloody regime.
Rohmer's propensity for presenting all sides of an argument fits nicely in the complicated political battlefield of 1937 giving this low-boil thriller ample chance to build to its suspenseful, and jarring, climax.
For his swan song Rohmer adapted a 16th century novel by Honore d'Urfe, based on a 5th century folktale about two young lovers separated by jealousy and tragedy, to make The Romance of Astrea and Celadon
.
After the fair shepherdess Astrea (Stephanie Crayencour) spies her boyfriend Celadon (Andy Gillet) making love with a well-to-do local girl she cuts off ties with the boy without wanting to hear his explanation. It turns out he was only flirting with the other woman to please his parents who disapprove of his romance with Astrea.
In despair Celadon sets out to drown himself but he is saved by three nymphs who nurse him back to health and introduce him to the Druid monk Adamas (Serge Renko) who devises a clever scheme to help the shepherd win back the affections of Astrea.
Shot exclusively in the French countryside The Romance of Astrea and Celadon is a visually ravishing and refreshingly earthy work from the eighty-eight year old Rohmer. He revisits many of his familiar themes (coincidence, fate, and misunderstanding between the sexes) and even introduces a playful homoerotic element—culminating in a suggested lesbian seduction sequence where Celadon, trying to pass as a woman, successfully seduces the unwitting Astrea.
This unique blend of spirituality and sensuality turn out to be a fitting cap to the career of a filmmaker whose players struggled to make sense of it all on their allotted time on earth.
Books on Rohmer:
The Taste for Beauty
– Eric Rohmer ****, Hitchcock: The First Forty-Four Films
– Eric Rohmer & Claude Chabrol **** Rohmer's film criticism tends to get overlooked which is a shame because few have took to the craft with more eloquence and grace. A Taste for Beauty covers Rohmer's period as a Cahiers critic and includes a major retrospective of Jean Renoir, a lovely Andre Bazin obit, and an absorbing interview from the 1970s. As befits Rohmer's literary background we find he prefers the auteurs who could talk a good game (Renoir, Hawks & Mankiewicz) to directors who told a story with the camera (Ford, Ophuls & Minnelli). Unfortunately, Beauty has limited availability and the Hitchcock book is out of print.
Films by Rohmer:
1951  Presentation ou Charlotte et son steak *** (short)
1954  Berenice *** (short)
1956  La sonate a Kreutzer ***
1958  Veronique et son cancre *** (short)
1962  Le signe du lion ***1/2
1962  La boulangere de monceau ***1/2
1963  La carriere de Suzanne ***1/2
1964  Nadja a Paris *** (short)
1965  Entretien sur Pascal *** (short)
1965  Six in Paris (episode Place de l'Etoile) ***
1965  Carl Th. Dreyer ***1/2 (documentary)
1967  La Collectionneuse ****
1967  Fermiere a montfaucon *** (short)
1968  Louis Lumiere ***1/2 (documentary)
1970  My Night at Maud's ****
1971  Claire's Knee ****1/2
1972  Chloe in the Afternoon ****
1975  La Marquis d'O ***1/2
1978  Perceval ***1/2
1980  The Aviator's Wife ****
1982  Le Beau mariage ****
1983  Pauline at the Beach ****1/2
1984  Full Moon in Paris ****
1985  Summer *****
1987  Boyfriends and Girlfriends ****1/2
1987  Four Adventures of Reinette and Mirabelle ***1/2
1989  Le jeux de societe ***1/2
1990  A Tale of Springtime ***1/2
1992  A Winter's Tale ****1/2
1993  L'arbre, le maire et la mediatheque ***1/2
1995  Rendezvous in Paris ****
1996  A Summer's Tale ***1/2
1998  Autumn Tale ***1/2
2001  L'Anglaise et le Duc (The Lady and the Duke) ***1/2
2004  Triple Agent ****
2008  The Romance of Astrea and Celadon ***1/2