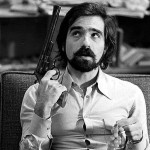 Martin Scorsese is the most talented and compelling director with an American film school pedigree. Born into the congested Little Italy neighborhood of New York City's lower east side, Scorsese has succeeded in bringing a unique blend of urban grit and Old World style to his impressive body of work.
A nervous genius with the camera, Scorsese's explosive and emotionally-charged films offered a refreshing alternative to an American cinema that grew increasingly introspective during the 1970s and excessively childish in the 1980s. His muses of the method (Harvey Keitel then Robert DeNiro) provided the sort of New Yawk street credibility not seen in Hollywood since the days of Cagney, Bogart and Garfield, helping create, for better or worse, his own cult of emulators including Abel Ferrara, Spike Lee and Vincent Gallo.
Scorsese's baroque chops and Expressionist take on the world still has the power to thrill. His uncompromising films remind young audiences and jaded critics the commercial cinema doesn't need to be dictated by the tastes of music video directors, high-concept screenwriters and CGI designers. Extremely conscious of his place in history, Scorsese is America's greatest ambassador of film and his recent creative renaissance gives further hope there is much good to come from this last young lion.
Plagued by pleurisy and asthma as a child, young Martin dropped out of seminary school as an adolescent when he decided he didn't want to become a priest. Already in possession of an encyclopedic knowledge of the movies and encouraged by his doting parents (co-stars of his charming documentary Italian-American), Martin enrolled in the New York University Film School.
Under the tutelage of the beloved Professor Haig Manoogian, Scorsese's satirical undergraduate films, What's a Nice Girl Like You Doing in a Place Like This? and It's Not Just You, Murray, are wise beyond their years and filled with the sort dark humor that permeates even his most somber work. His graduate school film, the gratuitously bloody The Big Shave resembles any number of Brian De Palma takes on Hitchcock.
Scorsese's first feature Who's That Knocking at My Door?
is a highly accomplished bridge between his gritty student films and his seminal take on the Lower East Side, Mean Streets. The slick, well-coiffed J.R. (Harvey Keitel) spends much of his waking hours trying to make the scene with his player buddies.
One night on the Staten Island Ferry, he picks up an ethereal blonde (Zina Bethune) who shares his interest in pop culture and the movies. Sensing this girl might be "the one", J.R. treats her like a vestal virgin until she shocks him with a revelation that makes him re-examine his moral and religious prejudices.
Working in the comfort zone of Manhattan's Little Italy Scorsese made great use of contemporary pop music and a restless camera to capture the vibrant scene. Somewhat surprisingly, the awkward courtship between Keitel and Bethune would contain several of the most sensitive scenes the novice filmmaker would ever put on celluloid.
     Everybody should like westerns.
Shot for the legendary B-filmmaker Roger Corman near the end of the Bonnie and Clyde
craze, Boxcar Bertha
follows the wild exploits of Bertha Thompson, an uneducated young woman forced to fend for herself in the Depression-era south.
  I once knew Clyde when he was honest and upright.
After her pilot father is killed while trying to please a ruthless employer, Bertha runs off with Bill Shelley (David Carradine), a charming union man. Bill takes Bertha's cherry then leaves her to help organize the workers against their corrupt railroad bosses.
Bertha soon hooks up with the cowardly gambler Rake Brown (Barry Primus) and the pair forms an unlikely, but successful, gang of two. Pursued by the law and the guns hired by the railroad, Shelley finds shelter with Bertha and Rake, but once he is implicated as a common criminal the union turns its back on him.
Scorsese's first commercial assignment was the sort of colorful, well-told yarn Corman's AIP studios was turning out at the time but the young director's Expressionist imprint is evident throughout, especially in a gruesome finale that anticipates his future telling of the Christ story.
Scorsese and fellow industry-bucking maverick Robert Altman are generally recognized as the most important American directors of the 1970s. While Altman put his own unique spin on the war film (M*A*S*H*
), the western (McCabe & Mrs. Miller
), film noir (Thieves Like Us
& The Long Goodbye
), the caper (California Split
), and country music (Nashville
), Scorsese mostly stuck close to home (New York City) and turned out a series of scintillating films which have withstood the test of time.
Scorsese's most autobiographical film Mean Streets
is a breathless clash of wise-guy philosophy and religious ideology. Charlie (Harvey Keitel) wants to open his own restaurant but in order to get the OK from his mobster uncle (Cesare Danova), he must give up his hot-tempered girlfriend Teresa (Amy Robinson) and distance himself from his psychotic buddy Johnny Boy (Robert De Niro).
Ignoring his uncle's wishes and taking a page from the gentle St. Francis of Assisi, Charlie decides to tame the disturbed Teresa and help Johnny pay back his debts to Michael (Richard Romanus), an impatient loan shark. Charlie's delicately constructed fantasy of family comes tumbling down when Teresa nearly dies from an epileptic attack and the self-destructive Johnny meets his end in a bloody, gang-style execution.
Based on a screenplay by Scorsese and NYU cohort Mardik Martin, Mean Streets is a gritty portrait of a neighborhood in transition and the mob in eclipse. The film earned Scorsese great reviews and the attention of A-list Hollywood where Ellen Burstyn was looking for a fresh young talent to direct her in her first starring role.
Set in the very un-Scorsesian American southwest Alice Doesn't Live Here Anymore
follows the plight of a quirky thirty-five year old New Mexico housewife (Burstyn) left to fend for an eleven year old son Tommy (Alfred Lutter) after her husband dies in a car crash. Alice sells all of her worldly goods and drives west to Monterrey, California where she hopes to find a job as a nightclub chanteuse.
She lands a singing gig in at a bar in Phoenix, but after some initial success Alice finds she just can't make ends meet. Against her better judgment she hooks up with a strange young yokel, Ben (Harvey Keitel) but when Alice finds out he is a wife-beating bigamist she flees with Tommy to Tucson. There, Alice swallows her pride and takes a job as a waitress at a local diner where she strikes up a romance with a handsome, headstrong local rancher (Kris Kristofferson).
Scorsese was an unusual, but inspired, choice to direct this "woman's picture" lending his characteristic edge to the middlebrow material. Burstyn has never been more charming as the mother who makes the most of her limited talent and meager resources before finding her wings.
As Scorsese's vision grew insular and violent during the 1970s his women were often relegated to being victims of their callous men. It would be almost twenty years before he made another film (The Age of Innocence) that featured a truly independent woman.
    Tucson's the weird capital of the world.
Music has played an enormous role in Scorsese's work and like Sergio Leone he has shot many a grand scene with a musical backdrop in mind. Scorsese's films sound like a jukebox on speed but his wise guys are equally comfortable cavorting and killing to the operatic strains of Mascagni
, the pop sounds of The Shirelles or the guitar anthems of
Derek & the Dominoes
.
New York, New York
, a tribute to the mostly forgotten Warner Brothers musicals of the late 1940s, is Scorsese's most experimental and Expressionistic film and despite the critical drubbing it got upon release it looks better as the years go by.
Set in the days following WWII, the action opens with slick-talking Jimmy Doyle (Robert De Niro) pulling out all stops as he tries to pick up Francine Evans (Liza Minnelli), a doe-eyed singer in the USO. Unfortunately for Jimmy, the innocent-looking Francine is wise to his ways and manages to put him off, for a little while.
But, the non-conformist sax player persists and when Francine helps him score a gig at a local club, he takes it as a sign of true love. Once Jimmy takes a job in a big band orchestra to back Francine's vocals the sparks begin to fly. As Francine's star ascends, Jimmy's career declines leading to an inevitable and painful rupture in their romance.
     Stay off the junk, and you'll go far. 
Borrowing liberally from Raoul Walsh's The Man I Love
, George Cukor's A Star Is Born
and Michael Curtiz's My Dream Is Yours
, Scorsese's lone musical is an inspired work of pop art but the sketchy quality of the storytelling takes much of the poignancy out of the doomed romance. This director's penchant for improvisational flourishes—the jagged editing, roving camera, and the piling-on of one dazzling scene after another—can seem like exercises in excess in these early films.
Over time Scorsese would find better ways to articulate this restlessness in a flowing cinematic language.  Like One From the Heart
, Coppola's similarly flawed valentine to Hollywood musicals, New York, New York can be enjoyed as the work of a gifted filmmaker pushing his craft to the limit.
An actual narrative bloomed as an inspired afterthought in The Last Waltz
, a documentary chronicling the final concert of, arguably, North America's finest rock 'n roll group, The Band
. After assembling a who's who of rock and blues icons to accompany the group in their final performance at San Francisco's Winterland Auditorium, lead guitarist Robbie Robertson approached Scorsese in the hopes he would film the event.
Taking a welcome break from the troubled post-production of New York, New York, Scorsese hired set designer, Anthony Mondello to spruce up Winterland's drab confines and then assembled an array of world class cinematographers (including Laszlo Kovacs and Vilmos Zsigmond) to film the concert. Borrowing gargantuan sets from the San Francisco Opera, Modello added a Continental lushness to the event, but the great achievement here is Scorsese's impeccable choreographing of the cinematography which brought out plenty of drama and power in the performances
—Van Morrison
, Muddy Waters
and Bob Dylan
, in particular.
Not interested in just releasing The Last Waltz as just a concert film, Scorsese compiled a series of colorful interviews with The Band who reminisce upon their wild and woolly adventures on the road. Given the early deaths of three key members of the group the suggestion of burn-out rings eerily true, but Scorsese succeeded in creating a rock 'n roll fable for the ages. Robertson and drummer Levon Helm proved so charismatic each had notable careers as character actors well into the 1980s.
More than Woodstock
(which Scorsese helped edit) or Gimme Shelter, The Last Waltz turned out to be the real swan song of the 1960s rock generation on film. Yet, by the time the film was released in 1978, it almost looked old-fashioned. The punk rock culture festering in both London and Manhattan ushered in a transitional period in the arts and Scorsese would once again tap into the urban underworld for inspiration for three of his most disturbing films.
By the recession-plagued mid-1970s, New York had fallen on such hard times the federal government and president Gerald Ford allegedly told Mayor Abe Beame and city to "Drop Dead". The working-classes fled the Lower East Side, Times Square and Hell's Kitchen, their places to be filled by hustlers, small-time hoods, pimps and prostitutes. This migration created the tawdry backdrop for disturbed loners like Travis Bickle to act out their warped destinies.
In Taxi Driver
, Travis (Robert Deniro) is an insomniac who drives to the most dangerous parts of the city while working double shifts in his cab. But far from being empathetic to his fellow man, the former Marine hates what he sees and wishes for a great rain to wipe the city clean.
He begins to stalk the one immaculate thing he does see; the beautiful campaign worker Betsy (Cybill Shepherd). Travis manages to charm the young WASP into a date, but blows any chance of getting into Betsy's good graces by inexplicably taking her to a porno film. Snubbed by Betsy, Travis looks to make a statement she won't forget by assassinating her candidate, the Presidential hopeful Charles Palatine (Leonard Harris).
The crazy plot goes awry and Travis turns to solving the plight of Iris (Jodie Foster), a twelve year old hooker under the thumb of a pimp named Sport (Harvey Keitel). This time his murderous passion play wins Travis notoriety and he briefly becomes a tabloid hero, but his good deed seems to have brought him little piece of mind.
For Taxi Driver, Scorsese worked with his most talented core of behind the camera collaborators to date. Cinematographer Michael Chapman brought out the city's sinister romance, Bernard Herrmann composed his finest post-Hitchcock score, and screenwriter Paul Schrader created his most memorable cast of seedy characters.
Like Scorsese, Schrader was an admirer of John Ford's The Searchers
and he based the troubled vet on Ethan Edwards and his own father, a rigid Calvinist minister. Schrader's chilly temperament balanced Scorsese's pungent visual style perfectly and this fusion of disparate sensibilities helped create the signature commercial film about NYC's darkest era.
Even as his career as a commercial filmmaker flourished Scorsese turned to documentary time and again as both a personal diary and a means to chronicle his beloved pop culture of the 1960s and '70s. For his third documentary, Italianamerican, Scorsese turned the camera on his parents Catherine and Charles who, with a gentle little prodding, prove the apple didn't fall far from the tree where vivid storytelling is concerned.
Theirs is a tale of second generation immigrants whose parents were born in nearby villages in Sicily but would finally meet in that Promised Land known as Manhattan's Little Italy. Although many in the extended Scorsese family would move to leafier neighborhoods, Martin's parents found more comfort in the familiar sights and sounds around Mulberry Street.
The Scorseses prove to be wonderful subjects with Catherine providing perhaps the poignant sequence when she wonders aloud about the plight of the neighborhood's long-displaced Irish community.
American Boy-A Profile of Steven Prince is another highly entertaining interview featuring a splendid storyteller bred on the high life. Prince, openly gay and a recovering heroin addict, regales an idyllic upbringing in a conservative Jewish family. Swept up in the fever of the 1960s, Prince comes out of the closet to avoid the draft and parlays a few gigs as a set designer into a jet set career as Neil Diamond
's road manager.
Along this long and bumpy road the young gas station attendant Prince shoots a crazed thief in self-defense and later avoids arrest and a long jail term by playing dumb to police who catch him with heroin in tow.
Like the subject of American Boy, Scorsese was burning both ends of the candle by the late 1970s. While finishing up post-production on The Last Waltz in Los Angeles Scorsese partied hearty with Robbie Robertson until his overtaxed body finally gave out. It would be over a decade before Scorsese would make another documentary.
Robert De Niro's obsession to the film the story of 1940s boxing champion Jake La Motta was the driving force in getting Raging Bull
to the screen. No big fan of boxing, or sports for that matter, Scorsese was hesitant to sign onto the project but after much cajoling by De Niro he read the Bronx-born La Motta's colorful memoir
and felt there was a uniquely American story there.
The smoldering young La Motta (De Niro) quickly develops a reputation in the ring as a fighter with a deadly knockout punch, capturing the fancy of bookies and fans alike. Not willing to take the dives necessary to get a championship fight, Jake depends on his monstrous punching skills to get him a match with the great Sugar Ray Robinson.
Along the way the self-destructive Jake succumbs to pathological jealousy and destroys all that's good in his life, including his second marriage to the almost saintly local gal Vickie (Cathy Moriarty), his relationship with his brother and manager Joey (Joe Pesci), and his own integrity inside the ring.
After his boxing career ends ignominiously, Jake's life spirals downward and he ends up doing time in jail then taking on gigs as a blowhard MC, opening for strippers and developing his own mediocre nightclub act.
Anointed by many critics as the best film of the 1980s, Raging Bull includes much of Scorsese's most inspired work, especially the meticulously staged boxing sequences shot in glorious black and white by cinematographer Chapman. Scorsese's old NYU cohort Thelma Schoonmaker came back on board to edit the picture and over time she would turn out to be his closest collaborator and artistic soul mate.
Scorsese, De Niro and screenwriters Schrader and Mardik Martin pull no punches in portraying La Motta as a tragic but mostly irredeemable figure. It's hard to quibble with aesthetic choices on such an ambitious project, but bullheaded Jake's decline is neither sad nor pathetic. With no one left to root for, Raging Bull can be a pretty punishing experience.
   I remember those cheers. They still ring in my ears.
The director's favorite leading man would also be the prime instigator in getting Scorsese's next film, The King of Comedy
, off the ground. De Niro introduced Scorsese to Paul Zimmerman's funny and frightening screenplay which satirized autograph hounds and celebrities they worship. Initially put off by the material, Scorsese finally warmed to De Niro's enthusiasm and crafted a brilliant dark comedy.
Rupert Pupkin (De Niro) is an aspiring comic with a backlog of original jokes, but very little talent for telling them. Still, Rupert is convinced he is only one audition away from the big time. After he saves TV host Jerry Langford (Jerry Lewis
) from begin attacked his rabid fans Rupert thinks he has wormed his way into his idol's good graces but, in reality, Jerry would rather blow the kook off.
Rupert delivers his audition tape to Jerry's office and he receives polite encouragement by the talk show host's assistant (Shelley Hack) but he refuses to believe Jerry has actually seen his tape. After being thrown out of Langford's office, Rupert conspires with another disturbed fan Masha (Sandra Bernhard) to kidnap Jerry. While the grotesque Masha tries to seduce the incapacitated Langford, Rupert cleverly arranges to make his television debut on Jerry's show in exchange for the host's release.
While comedy has never been Scorsese's strong suit, The King of Comedy is a brazenly funny satire of celebrity worship and pop culture. De Niro brings surprising warmth to poor Rupert who is henpecked by his unseen mother (Catherine Scorsese) and humiliated in front of the woman (Diahnne Abbott) he most desperately wants to impress. Still, Rupert is convinced he has something to offer the public and in the end he outsmarts the FBI, the police, and the studio executives; winning notoriety and, at long last, fame.
    Ladies and gentlemen! Let's hear it for Rupert Pupkin!
The 1980s weren't kind to Scorsese. Though, his films were piling up the critical accolades neither Raging Bull nor The King of Comedy did boffo box office. When financial backers pulled out of his next pet project, The Last Temptation of Christ, Scorsese began to think he would never make another film. Then writer-actor Griffin Dunne approached him with the screenplay of After Hours
, a black comedy set near his beloved Little Italy, and a relieved Scorsese took the bait.
Paul Hackett (Dunne), a lonely young yuppie, meets the pretty but flaky Marcy (Rosanna Arquette) at an all-night cafe. Marcy invites Paul to her Soho apartment but when he gets there he has a bizarre confrontation with her artist flat mate (Linda Fiorentino) and the night goes quickly downhill from there.
Along the way unlucky Paul loses his all his money, makes a pair of gruesome discoveries about Marcy, runs errands for a bartender in exchange for subway fare, tries to console a suicidal waitress (Teri Garr) and runs from a pack of neighborhood vigilantes who think he is a cat burglar.
Perhaps Scorsese's most eclectic work After Hours has always had a cult following, but the film has plays more funny-strange than funny-ha ha. Scorsese (and Dunne) seem to enjoy on piling it on poor Paul, who suffers some of the worst ignominies known to New Yorkers, with no relief in sight.
    The uglier the art, the more it's worth. 
Life Lessons, Scorsese's contribution to the three-part omnibus New York Stories
, is a companion piece to After Hours—if not in temperament then, at least, time and place.
Fearing correctly his young assistant and former lover has run off to Florida to meet another man, abstract artist Lionel Dobie (Nick Nolte) is unable to put together a collection of paintings for an upcoming show. He picks up Paulette (Rosanna Arquette) at the airport and finds she is in a bad mood because she was dumped by the new guy, a trendy performance artist (Steve Buscemi). She reluctantly goes back to Lionel's Soho loft under the condition their relationship be strictly professional.
Suffering from artistic block the 40something Dobie tries to seduce the twenty-two year old Paulette, but she is more interested in his opinion of her own fledgling attempts at putting paint on the canvas. Weary of pushing Dobie away from her bed Paulette makes a vain attempt to reconnect with the performance artist. Ultimately, the older man's relentless jealousy and Paulette's doubts about her own talent convinces her to pack up and go home. Life Lessons is a smart, unsentimental piece about people using each other in the soulless Manhattan art scene.
   I'm your ally against horse dung and fraud. 
Scorsese's sleek and stylish The Color of Money
turned out to be the big box office hit he desperately needed to remain a player in Hollywood. But, unfortunately, this street smart story turned out to be a rather hollow update of The Hustler
, director Robert Rossen's 1961 classic about pool hall culture.
Paul Newman reprises his role of Fast Eddie Felson, former pool shark and now mentor to Vincent Lauria (Tom Cruise), a cocky but immensely talented player. Unfortunately for Eddie, arrogant Vincent has little self-discipline and seems destined to miss out on the big paydays.
     The balls roll funny for everybody, kiddo. 
Beyond the dazzling Michael Ballhaus cinematography and some zesty bon mots from the Richard Price screenplay
, The Color of Money too often feels like another crass Cruise project in which the star is allowed to strut around like a pompadoured rooster.
      I can always go back to whiskey.
After a near decade of personal and professional frustration Scorsese finally succeeded in putting his production of The Last Temptation of Christ
before cameras. Based on the Nikos Kazantzakis novel
which speculates upon Jesus' life as a common man, the film met with much resistance from the clergy and Christian audiences.
    Life on earth means: the sprouting of wings.
Scorsese's Christ is wracked with doubt and desire and Willem DaFoe is a refreshingly edgy and irritable Messiah. This Jesus is not sure he wants the responsibility to lead other men and questions his inevitable martyrdom. He is tempted and tormented by the sultry Mary Magdalene (Barbara Hersey) and doubts his higher calling.
Despite these good intentions, Last Temptation plays like a tastefully dull and only mildly objectionable take on Christ's life. But the Bunuelian finale—in which an angelic devil tries to temp Jesus into the pleasures of earthly living—is truly riveting stuff. Back alone on the cross Christ is finally at peace, awaiting his fate and transcendence.
God loves me. I know he loves me. I want him to stop.
The mob story GoodFellas
marked an amazing return to form for Scorsese. It would be no real surprise as he was working in a comfort zone not seen since the days of Raging Bull. Based on Nicholas Pileggi's true crime classic Wiseguy
, the film chronicles twenty-five years in the life of Henry Hill, a player in the East Brooklyn mob.
     I always wanted to be a gangster.
Since Hill (Ray Liotta) is not 100% Italian he can never be a made man, so he is always left to feel like a vulnerable outsider. That doesn't stop him from reaping the benefits of crime as he teams with fellow Mick, Jimmy Conway (Robert De Niro) in a score of lucrative heists at Idlewild (now JFK) Airport. Young Henry endears himself to local honcho Paulie Cicero (Paul Sorvino) and befriends loose cannon Tommy DeVito (Joe Pesci), whose explosive antics makes both Henry and Jimmy marked men within the mob.
Henry's growing paranoia turns his personal life into a mess. His frequent battles with wife Karen (Lorraine Bracco) push him into the arms of a junkie neighbor who turns him into a coke fiend. When the narcs raid Henry's house, he is given the option to either spend the next twenty years in jail, where he will likely be killed, or rat his friends out to the Feds.
The underworld has never looked more glamorous, and pulsating, thanks to designer Les Bloom's eye-popping sets, Michael Ballhaus' dynamic cinematography, and Scorsese's inspired use of popular music on the soundtrack. Both Pileggi and Scorsese had a grudging admiration for these men who passed up the drudgery of a nine to five existence for a more exciting and dangerous lifestyle.
The players in this motley Brooklyn mob are treated like movie stars in both the hood and the Big Apple. Early on, the riotous antics of Tommy and the boys is kept in tow by the clan's code of putting family first—but it is merely a facade covering moral rot at the mob's core. The desire for change or self-redemption is never a consideration and even in the relative comfort of witness protection program we find Henry longing for the days when he was a prince of the city.
A brutal yet refreshingly unromantic take on the mafia, Goodfellas turned out to be Scorsese's most spectacular achievement to date.
   What do you mean funny?  How am I funny?

Scorsese took on Cape Fear
as a commercial assignment for Universal with understanding the he would get the green light to make his pet project, an adaptation of Edith Wharton's The Age of Innocence. For this remake of J. Lee Thompson's 1963 thriller
starring Robert Mitchum as a psycho who sets out to destroy lawyer Gregory Peck, Scorsese made a decision to update the material, transforming the barrister's lilywhite family into a dysfunctional clan.
   You're just an animal.  Coarse, lustful, barbaric. 
Max Cady (Robert De Niro) is paroled after spending fourteen years in the penitentiary for sexual assault. Between suffering the indignities of prison life the illiterate Cady begins to study his case files and soon finds his public defender Sam Bowden (Nick Nolte) withheld evidence that could have got him off with a much lighter sentence.
After finishing his time, the bulked-up Cady makes a bee-line for the Bowden home and makes his presence known to the lawyer, his wife Leigh (Jessica Lange) and their fifteen-year old daughter, Danielle (Juliette Lewis). Still convinced he did the right thing by letting the career criminal take the rap for rape, Sam unwisely tries to buy-off Cady with a bribe.
Max turns him down and then takes up with the lawyer's flirtatious assistant Lori (Illeana Douglas) who is beaten and raped by the madman. Sam's guilty reaction to the crime prompts Leigh to suspects her husband had been having an affair with the younger woman.
Upset with her parents quarreling, Danielle falls under the spell the charismatic Cady, unaware of his dark intentions. The tender yet disturbing scenes between the predator and his young prey establishes a secret bond between the two giving Cady carte blanche to continue playing his wicked games.
For his first film in a genre he was admittedly uncomfortable with Scorsese pulled out all stops in making a throbbing, psychological thriller.
    I'm guiding you through the gates of Hell.
By the early '90s Scorsese's sterling reputation was finally paying dividends in the form of films with bigger budgets and more artistic license. Still, this second generation Italian immigrant's decision to film Edith Wharton's novel
of old money New York, The Age of Innocence
, seemed curious.
    Each time you happen to me all over again.
But with the help of production designer Dante Ferretti, Scorsese surprised his doubters by exhibiting a warm Continental Touch in recreating a quaintly claustrophobic world of cozy salons, posh concert halls and lamp lighted streets.
A chill runs through this rarified air when Countess Ellen Olenska (Michelle Pfeiffer) returns from Europe with the intention of divorcing her husband. She is ignored by New York society and only given a civil welcome by Newland Archer (Daniel Day-Lewis), a handsome lawyer engaged to Ellen's younger cousin May (Winona Ryder).
Soon, Newland realizes he has found a soul mate in the worldly beauty and the two inevitably fall in love. But when May gets wind of her fiance's dalliances, she quietly arranges to have Ellen shut out from their social circle.
Though Ryder is somewhat miscast as the manipulative May, Scorsese's sensitive direction of the ill-fated romance packs plenty of emotional wallop. While the influence of Rossellini and Fellini has always had its place in Scorsese's work The Age of Innocence owes much of its classicism and worldliness to Visconti. The experience of bringing this gilded society to life seemed to free Scorsese to take on more ambitious historical projects in the coming decade.
Author Nicholas Pileggi called Scorsese to try in interest him making a film version of his latest book
based on the adventures of Frank "Lefty" Rosenthal, the mob-sponsored head of the Stardust Casino in Las Vegas. Although no big enthusiast of gambling or Vegas, Scorsese took on Casino
and went on to make an epic tale of the American underworld which would make Goodfellas look like a study in restraint.
   In Vegas, everybody's gotta watch everybody else. 
Legendary bookie Ace Rothstein (Robert De Niro) is hired by the mob to fix a Las Vegas casino that is underperforming. Rothstein's longtime friend and mafia honcho Nicky Santoro (Joe Pesci) is sent to keep an eye on the Jewish outsider. Despite his penchant for flashy clothes Ace turns out to be a dutiful employee his Kansas City bosses can count on for their piece of the action.
Conversely, Ace's "protector" Nicky is a psychopathic and opportunistic thug who decides to muscle in on the action and his ill-advised indiscretions soon mark both men for criminal investigation. Rothstein is indicted and his world comes crashing down when his trophy wife Ginger (Sharon Stone) breaks off with him to hook up with her ex-boyfriend and former pimp Lester Diamond (James Woods). Ace continues to run the casino under the guise of an entertainment director but his time as a mover and shaker in Sin City is running out.
Casino seems designed to one-up the cult classic Goodfellas at every turn. The snarky narration is now divided by the points of view of its three main characters. J.S. Bach
, Louis Prima
, Willie Dixon
and The Rolling Stones
are part of the diverse jukebox which pushes the explosive story along. The spectacular camerawork (Robert Richardson) and Thelma Schoonmaker's scatter-shot editing push the envelope to the edge in this feast of a film.
Even the Casino's detractors would have to admit it's a remarkable achievement to make an audience care one iota about such un-redemptive characters yet alone spend three punishing hours with them. But much of Scorsese's filmmaking genius has to do with locating the pulse of his characters then pumping them up to meet their fates.
This subjective approach—explored but not fully-realized in Taxi Driver and Raging Bull—coincided with Scorsese's collaboration with cinematographer Michael Ballhaus whose use of steadicam and hand-held cameras freed the director to follow these wiseguys into all sorts of mayhem and mischief.
    I bury you? You buried yourself.
Scorsese's searching camera had already made its imprint on less grandiose stages—particularly in the old Manhattan salons of The Age of Innocence where, in a nod to Rossellini, we are encouraged to recline on the old oak furniture, handle the precious porcelain, contemplate the imported paintings, and devour all the gourmet delights on display.
Several years in the making Kundun
, the story of the 14th Dalai Lama
(Tenzin Gyatso), follows the religious and political career of the young man chosen to stand up to Mao and the communist oppressors aiming to take over independent Tibet.
   Tragedy should be utilized as a source of strength.
Not willing to kowtow to his advisors and resort to a war that would decimate his people, the wise beyond his years Dalai Lama tries to negotiate with the atheistic Chinese government but when that fails, the Tibetans convince him to flee and carry on his important work in exile.
Scorsese saw a little bit of himself in the youthful, observant Dalai Lama (played by Tulku Jamyang Kunga Tenzin). But once again, he took a respectful approach to sacred figures and while his second spiritual film journey is awash in ancient ritual and pageantry there is very little compelling drama.
     Whatever is past will not be seen again. 
For his next film Scorsese returned to much more familiar ground, the streets of New York City. Based on a novel by Joseph Connelly and a screenplay by Paul Schrader, Bringing Out The Dead
seemed to breathe new life into Scorsese.
Set in the rough and tumble Manhattan of the early 1990s, Frank Pierce (Nicholas Cage) drives an ambulance on the dreaded night shift where, like Travis Bickle, he encounters all the low life the city has to offer. But unlike the lonely cab driver, Frank has compassion for the less fortunate in a large part due to the memory of an asthmatic teenager (Cynthia Roman) who died under his watch.
Frank miraculously brings a middle-aged man back to life after a heart attack then falls in love with the comatose patient's estranged daughter Mary (Patricia Arquette) unaware she is under the thumb of a charismatic pusher. After a bizarre week, which finds him surviving a spectacular crash, freeing a junkie from a savage beating then saving Mary's pusher from a grisly death, Frank makes good on his pledge to get out of his racket and help this fetching young woman.
Scorsese's most darkly funny film since The King of Comedy, Bringing Out the Dead is a poetic, almost holy chronicle of the vagrants, locals and losers left behind by the Giuliani revolution. The hometown grit seemed to rub off on Scorsese who was now ready to take on the challenge of filming his most ambitious New York saga to date.
  I was a grief mop. It was enough that I simply turned up. 
Culled from Herbert Asbury's encyclopedic tome about the early hoodlums who ruled the streets of lower Manhattan, Scorsese's Gangs Of New York
follows the plight of Amsterdam Vallon (Leonado DiCaprio), the orphan son of Priest Vallon (Liam Neeson) who died defending the Irish immigrants against a "native-born" mob of British and Dutch ancestry.
Whatever a man has is his–only so long as he can keep it.
The leader of the natives and ruler of the Five Points neighborhood is William Cutting (Daniel Day-Lewis), a ruthless and wily butcher who is backed by the notorious king of New York politics, Boss Tweed (Jim Broadbent). When Amsterdam is released from the orphanage he tracks down Cutting and under an assumed name he becomes the butcher's protege, so when the time comes he will have a clearer shot at avenging his father's death.
With the city's notorious Civil War draft riots as the backdrop, the two adversaries square-off in a bloody duel to the death.
Though the actual events were fudged to fit into the timeline of a narrative Gangs of New York remains massively entertaining, due in no small part to Dante Ferretti's marvelous set design and Scorsese's ability to move the brawling story along at a brisk clip. Looking eerily like the cartoon villain Snidely Whiplash, Day-Lewis steals the show as the sinister butcher. DiCaprio would get ample opportunity to do a little grandstanding of his own in Scorsese's next film.
   That's what preserves the order of things. Fear. 
Several years in the making The Aviator
was a pet project of DiCaprio's which told the story of Howard Hughes
the brilliant innovator rather than the reactionary eccentric.
     My father told me, never have partners.
Orphaned by the time he was a young adult, the pampered Hughes used his inheritance to fund his expensive hobbies; big-budgeted Hollywood films and aviation. The dashing pilot quickly wins the favor of starlet Jean Harlow (Gwen Stefani) and, later, the love of the demanding Katharine Hepburn (Cate Blanchett) who is fascinated by Hughes' individualism and derring-do. The young aviator is also busy creating new high-powered planes and breaking speed and distance records leading to his purchase of Trans-World Airlines (TWA).
During the war years, Hughes begins to lose the fight with his demons and finds himself under attack from an opportunistic U.S. senator (Alan Alda) and Pan-Am honcho Juan Trippe (Alec Baldwin), who both hope to squeeze the drug-addled airman out of the airline business.
The Aviator is a big, old-fashioned bio-pic told with sincerity and an increasingly rare sense of awe. Scorsese seems to have great affection towards his subject and his exhilarating chronicling of Hughes' determination to get the right shots during the filming of the epic Hell's Angels plays as a mini-documentary on the foibles of epic filmmaking.
The Aviator offered a welcome revisionary take on Hughes whose efforts to make the world a smaller place through innovative and comfortable air travel has been dwarfed by the legend of his sad demise.
Had Scorsese not succeeding in becoming a popular commercial filmmaker it is quite possible he would have become an eminent film critic. His return to documentary filmmaking, the BBC production of A Personal Journey With Martin Scorsese Through American Movies
, is an aesthetic history of studio system Hollywood.
Making use of copious film clips, Scorsese talks with great expertise about his favorite genres (The Western, The Gangster Film and Musicals) and the many directors (John Ford
, Erich Von Stroheim
, Vincente Minnelli
, Jacques Tourneur
, Stanley Kubrick
, etc.) who helped shape his own artistic vision.
Admittedly, Scorsese's tastes lean towards the iconoclastic which helps explain his omitting mention of such giants as Ernst Lubitsch or Alfred Hitchcock in favor of mavericks like Ida Lupino or the obscure Rowland Brown. Still, given Scorsese's fevered interest in the subject and American history, it was a project he had to make.
The bookend to the nearly four-hour Personal Journey would be Scorsese's other valentine to the cinema, My Voyage to Italy
. Scorsese opens this enjoyable and informative two-part documentary talking about his early life amongst the Sicilian community in his Lower East Side neighborhood and the experience of watching bad prints of Italian films on television with this family.
His personal history of postwar Italian cinema begins to take shape and Scorsese waxes eloquently upon selected works of Rossellini
, Vittorio De Sica
, Visconti
, Michelangelo Antonioni
and Fellini
. Special attention is given to the searching, open-ended style of Rossellini and the lusty exuberance of Fellini and it's easy to see the influence of both directors in Scorsese's own body of work.
To his credit, Scorsese is keenly aware his seal of approval could prompt new generations of cineastes and young filmmakers to open their eyes to the tradition of great cinema and even inspire them to create wondrous works of their own.
Scorsese was an executive producer of the PBS series The Blues
, a seven part documentary inspired by Ken Burns' exhaustive epic of the other major black music format of the 20th century, Jazz
. With so many of the music's great figures being either long dead (Charley Patton, Bessie Smith, etc.) or shrouded in mystery (Robert Johnson) and having so little film documentation at their disposal the producers hired seven different filmmakers to offer their own perspective on the blues and celebrate the massive impact it has had upon the world.
Scorsese kicked off the series directing Feel Like Going Home which follows guitarist Corey Harris on a roots journey from the Mississippi Delta to its origins in West Africa. Co-scripted by the brilliant music critic Peter Guralnick Going Home often feels like Harris' own personal story. Unfortunately, there are no great revelations at what he encounters on either continent and the very politeness of the filmmaking doesn't make for a riveting viewing experience.
   I tried and I failed and I'm tired and weary.
Bob Dylan – No Direction Home
, Scorsese's next PBS production for the American Masters series, is a superb chronicle of Bob Dylan's early career with special emphasis on his controversial defection from folk music to rock 'n roll.
Forty years on any mention of Dylan's decision to go electric still seems to irritate his old Greenwich Village cohorts Joan Baez, Pete Seeger and Peter Yarrow who give the impression this great white hope of the early 1960s folk scene turned his back on the civil rights movement and ultimately betrayed them.
The hostility towards the electric Dylan reaches fever pitch at the Newport Folk Festival in 1965 and during his tour of the UK with The Band in 1966 where he answers his audience's catcalls with thrilling performances. The young icon gets increasingly incredulous with the dogma of his peers and stupidity of the media, so it was no surprise he retired from the road after his motorcycle accident the same year.
In No Direction Home we find resentment dies hard even if the elder statesman Dylan—and the rest of us—-remain baffled about what the fuss was all about.
    I ain't gonna work on Maggie's Farm, no more.
Having already made the ultimate rock concert film (The Last Waltz) and fresh off creating a unique film (No Direction Home) about the one of the biggest pop icons of the 1960s, Scorsese was ready to take on the baddest boys of all, The Rolling Stones, in the gargantuan Imax format for Shine A Light
. Shot over two nights at New York City's Beacon Theater during their 2006 tour the great dinosaurs of rock put on a surprisingly zesty show roaring though hits from their halcyon days of the 1960s and '70s.
At sixty-three Mick Jagger exhibits more energy than men a third his age and scraggly Keith Richards still plays with much fire and joy—even if his singing has become utterly atrocious. Aside from the benevolence of both the group and the filmmakers—the proceeds of the concert went to charity—Shine a Light suffers from the central casting quality and forced spontaneity of the "fans" sitting in the front row seats.
Ironically the film's signature sequence, a galvanizing guest performance by the seventy year old blues guitarist Buddy Guy, seems to humble the aging white rockers who have made a fortune reinterpreting black people's music.
   The doctor wants to give me more injections.
George Harrison: Living In The Material World, a three hour documentary about the third Beatle, completes a spiritual trilogy of sorts for the filmmaker. Similar to Scorsese's Christ and the Dalai Lama, Harrison struggles to come to grips with the popularity and power foisted upon him then uses his influence to help his followers find the path towards enlightenment.
Aiming to get at the essence of this enigmatic musician Scorsese examines George's love-hate relationship with John Lennon, ruminates over his embrace of Eastern religion and philosophy, checks in with good mate Eric Clapton who stole George's wife Patti, and shows the middle-aged Harrison finding new hobbies and adjusting to post-Beatle life long after his songwriting gifts have abandoned him.
The true revelation of Living in the Material World comes when close chums Clapton, racecar driver Jackie Stewart and filmmaker Terry Gilliam admit to being astonished about how this reserved country gentleman had acquired such a fascinating circle of friends.
     Life goes on within you and without you.
Though this darling of the Independent Film crowd had drifted towards more conventional topics in recent years, Scorsese's return to the streets was inevitable. Set in the gritty Irish-American neighborhoods of South Boston, the treacherous cop-crime drama The Departed
delivers a knock-out punch worthy of Jake La Motta.
Loosely based on the Hong Kong box office hit Infernal Affairs
, Scorsese's film follows the plight of Billy Costigan (Leonardo DiCaprio) a cop-wannabe who's too smart for his own good. In order to prove his mettle, Costigan is given the thankless task of infiltrating the mob of Frank Costello (Jack Nicholson) with the intention of bringing the crime boss down.
    Do all undercover cops like rooftops?
Meanwhile, Costello's mole in the police force, the squeaky clean Colin Sullivan (Matt Damon) is turning out to be a rising star in the department. After narrowly avoiding arrest, Costello assigns Sullivan to find the informant amongst his own gang. Allowed little contact with the police, Costigan is left to his own devices to find his way out of this labyrinth of sin.
Billy ultimately learns Costello is being tipped off by an unknown member in the force and he's floored when he finds out this brutal Southie kingpin is actually an informant to the FBI. When his last link to the department (Martin Sheen) is forever silenced, Costigan discovers Sullivan's betrayal and plots to bring him down.
William Monahan's twist at every turn screenplay, Michael Ballhaus' whirling-dervish cinematography and Thelma Schoonmaker's cut to the chase editing all helped Scorsese fashion a harrowing take on a new, plugged-in underworld. Flying high from critical acclaim and the Academy Award he received for The Departed Scorsese reteamed with Leonardo DiCaprio to make a beguiling period thriller.
   No one gives it to you. You have to take it.
Based on a novel by Dennis Lehane
and set during the early years of the Cold War (1954), Shutter Island
follows the bizarre plight of Teddy Daniels, a U.S. Marshall assigned to investigate a possible murder at an insane asylum on an island outside of Boston.
     To live as a monster or to die as a good man.
After being given the run around by the director of the asylum, Dr. Cawley (Ben Kingsley), Daniels instigates his own investigation and soon comes to believe Cawley and his associates are taking part in dangerous experiments on the part of the American government.
During his stay on the island Daniels is haunted by nightmares of the Nazi concentration camps he helped liberate during the war and visions of his dead wife (Michelle Williams). It turns out Teddy is actually Andrew Laeddis, the focus of an experimental treatment carried out by his psychiatrist (Mark Ruffalo) and Cawley who both try, in vain, to get Andrew to face up to the horrors of the past.
The richly atmospheric Shutter Island features some of Scorsese's most inspired and spectacular visual work but the trip inside Andrew's head grows murky and the narrative thread becomes too tangled to follow. Scorsese does manage to tie things together in the heartbreaking final sequence where the origin of Andrew's troubles is revealed with the harrowing revelation of his wife's sickness and her terrible crime.
   You wanna uncover the truth? You gotta let her go. 
Having lost much of his own savings when the Gangs of New York failed to find a mass audience, Scorsese committed himself to a heavy work schedule and more commercial projects.
For Boardwalk Empire
, Terence Winter's HBO mini-series chronicling the early days of prohibition in Atlantic City, Scorsese took on the nominal role of executive producer and directed the excellent pilot episode in which the colorful mob figures Arnold Rothstein, Lucky Luciano, Al Capone, among others, jockey for position to get in on the city's burgeoning bootlegging trade.
The face of the local mob is Nucky Thompson (Steve Buscemi), a fast-talking smoothie who keeps the temperance league at bay while cutting deals with the likes of Rothstein in his casino. Nucky's chauffeur is Jimmy Darmody (Michael Pitt), a college-educated veteran haunted by the slaughter he took part in on the battlefields of Europe in WWI. Unable to provide for his young family, Jimmy turns into a double agent—informing on Thompson to the Bureau of Federal Revenue while holding up Rothstein's gang to repay a debt to his employer.
Unlike the polished Rothstein or the thuggish Luciano, Nucky is a wry, wizened gangster but Jimmy's brazen power play looks to shake the foundations of his carefully-constructed boardwalk operation.
     You can't be half a gangster, Nucky.
Scorsese seemed a highly unlikely choice to shoot a 3-D children's film based on a popular young adult novel
, but it turned out Brian Selznick's Hugo
was the sort of story a cineaste could embrace.
    A broken machine always makes me a little sad.
After the disappearance of his alcoholic uncle, eleven year-old Hugo (Asa Butterfield) is left alone to operate the clock tower in a Parisian train station while risking capture by a pesky station inspector (Sacha Baron Cohen) who aims to place him in an orphanage. The boy's only connection with the past and his family is an automaton which he helped reconstruct with his deceased father (Jude Law).
Hugo soon runs afoul of a crotchety proprietor of a souvenir shop who is disturbed by the scientific contents of the boy's notebook. The old man (Ben Kingsley) pockets the document and the anxious Hugo follows him to his apartment where he encounters the shopkeeper's god daughter Isabelle (Chloe Grace Moretz).
The partners in crime discover the elderly man is actually Georges Melies, the great pioneer of French film—who now struggles to make a living during the Great Depression. When they learn the true origins of the automaton, Hugo risks his freedom to return the mechanical man to its rightful owner.
No doubt inspired by the retelling of the Melies story and the recreation of the early auteur's glass studio, Scorsese created his most lavish and gorgeous-looking film—an amiable and touching romp that's user friendly to kids and adults alike.
     Happy endings only happen in the movies. 
Much of Scorsese's recent work in documentary has taken the form of a film essay. A Letter To Elia (co-directed by Kent Jones) is a personal tribute to the innovative director Elia Kazan; the namer of names, scourge of the left, and the father of modern film acting. But what Scorsese sees in Kazan is a kindred spirit.
A fellow son of an immigrant from the old country (Greece in this case), Kazan went from being an outsider on Broadway to a leading member of the Group Theater and subsequently the most important American theatrical director during the 1940s. His controversial decision to cooperate with the House Un-American Activities Committee would haunt him to his dying day. Kazan remained unapologetic about his actions and answered his critics with On the Waterfront, a highly personal work about codes of silence practiced by men and the mob.
The subject matter of Waterfront
and Kazan's East Of Eden
resonated with the teenage Scorsese who was suffocating from having to toe the line both at home and on the streets of Little Italy.
Essayist Fran Lebowitz seemed an unusual subject for Scorsese to tackle but the eccentric writer and the director find much common ground in the highly amusing Public Speaking
.
In a relaxed interview setting, we learn Lebowitz is a self-appointed expert on just about everything and since she is so spot-on funny it's easy to accept her New York-centric take on children, tourists, gadgets, and all that lies west of the Hudson River. A progressive at heart cranky Fran is also an equal opportunity offender which she makes oh-so clear when she wonders aloud why gays would want to get married or join the military.
  Success didn't spoil me, I've always been insufferable.
Five years removed from the crash of 2008 seemed a safe distance for a wiser and poorer American public to digest
The Wolf Of Wall Street
, Scorsese's giddy and often gratuitous take on the rise and fall of crooked stock broker Jordan Belfort.
Fresh out of college Belfort (Leonardo DiCaprio) arrives on the Street during the midst of the 1980s boom and lands a start-up job at a downtown brokerage where he's taught the slippery tricks of the trade by his boss Mark Hanna (Matthew McConaughey). The aftermath of Black Monday leaves Belfort jobless so he takes another ground level job selling penny stocks in Long Island.
Belfort applies his gift of gab on cold calls to middle-class workers, suckering them into buying the worthless stocks. With the help of new pal Donnie Azoff (Jonah Hill) and a motley group of money-hungry friends Belfort opens the brokerage firm Stratton Oakmont where he accumulates a fortune beyond his wildest dreams.
Along the way Jordan drops his high school sweetheart wife (Cristin Milioti) for Naomi (Margot Robbie), a drop-dead gorgeous model from Brooklyn, and becomes addicted to cocaine, Quaaludes, debauchery while making more money than he'll ever have time to spend.
Complaints from swindled investors lead to a federal investigation and rather than take the advice of his lawyers and strike a deal with the SEC, Belfort remains, defiantly, in charge at Stratton Oakmont until an unwitting partner brings the empire crashing down.
Based on Belfort's tell-all memoir
and Terence Winter's screenplay, The Wolf of Wall Street is a bigger than life underworld story of its own, so it's no surprise Scorsese returns to the rollicking, free-form style of Goodfellas and Casino to chronicle the broker's amoral lifestyle.
     There's no nobility in poverty.
Once again, through the use of dark humor Scorsese manages to make these repellant people seem sympathetic. But such is public's distaste for these cheaters Scorsese received just as much criticism for the excesses of Belfort's crowd as he did for the very real portrayals of killers in his two mob land epics.
Scorsese remains a director of grand passions and remains an artistically ambitious filmmaker in his seventies. To his credit he has embraced technology with intelligence and taste and adjusted his filmmaking style to fit our sound-bite culture. The continued popularity of his streetwise masterpieces ensures he will remain in the pantheon of the world's great directors long after he finally sets his camera down for good.
Books on Scorsese:
Conversations with Scorsese
– (Martin Scorsese & Richard Schickel) ****1/2 Schickel's fascinating sit down talks with Scorsese immediately takes a place alongside Hitchcock/Truffaut, Cameron Crowe's Conversations with Wilder and Peter Bogdanovich's Who the Devil Made It as one of the best in its field. Although much of the conversation revolves around arcane film knowledge Schickel gets his subject to reveal many surprising secrets and demons which have plagued Scorsese over the years and, of course, there are plenty of juicy behind the scenes stories from the film set. Until Scorsese sits down to write his own memoir this will remain the go-to book on the director.
Scorsese on Scorsese
– Martin Scorsese (Ian Christie & David Thompson ed.) **** This chronologically compiled collection of interviews is a fascinating glimpse into the mind of a complex artist. While the book doesn't quite achieve the intimacy and depths found in the Schickel interviews it's a very fine chronicle of Scorsese's reactions to an ever changing industry.
Films by Scorsese:
1963  What's a Nice Girl Like You Doing in a Place Like This? ***1/2
1964  It's Not Just You, Murray ***1/2
1967  The Big Shave ***
1968  Who's That Knocking on My Door? ***1/2
1972  Boxcar Bertha ***1/2
1973  Mean Streets ****
1974  Italian-American ***1/2
1975  Alice Doesn't Live Here Anymore ****
1976  Taxi Driver ****1/2
1977  New York, New York ****
1978  The Last Waltz ****
1978  American Boy: A Profile of Steven Prince ***1/2
1980  Raging Bull ****
1982  The King of Comedy ****
1985  After Hours ***
1986  The Color of Money ***1/2
1988  The Last Temptation of Christ ***1/2
1989  New York Stories (Life Lessons) ***1/2
1990  Goodfellas *****
1990  Made in Milan (Armani documentary) ***
1991  Cape Fear ***1/2
1993  Age of Innocence ****
1995  A Personal Journey with Martin Scorsese Through American Movies ****
1995  Casino ****
1997  Kundun ***1/2
1999  Bringing Out the Dead ***1/2
2001  My Voyage to Italy ****
2002  Gangs of New York ***1/2
2003  The Blues (segment Feel Like Going Home) ***
2004  The Aviator ***1/2
2005  No Direction Home ****
2006  The Departed ****
2008  Shine a Light ***1/2
2010  Shutter Island ***1/2
2010  A Letter to Elia (with Kent Jones) ***1/2
2010  Boardwalk Empire (pilot episode) ****
2010  Public Speaking ***1/2
2011  George Harrison: Living in the Material World ***1/2
2011  Hugo ****
2013  The Wolf of Wall Street ****