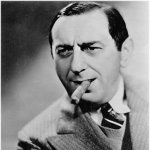 One of the most influential and revered directors in cinema history, Ernst Lubitsch was also that rarity of rarities in Hollywood and at the Germany film factory UFA. He was a bankable filmmaker whose exquisite entertainments brought prestige to every studio fortunate enough to employ him. A man of the Continent Lubitsch created a timeless, well-catered world of doting mothers, ne'er do-well fathers, blowhard capitalists, silly Communists and unlikely lovers who have to overcome the most untenable obstacles to consummate their passion. It's a world that's long gone—and likely one that never really existed—but the Lubitsch legacy is a sweet and sublime one.
Born in Berlin to Jewish parents from Eastern Europe, Ernst Lubistch survived a sickly childhood then in high school declared he wanted to become an actor. His practical father reluctantly gave Ernst the green light but only if he learned another trade, in case his night job didn't pan out. Ernst became a bookkeeper in his parent's tailoring business until he was invited to join Max Reinhardt's Deutsches Theater at the age of nineteen. With his swarthy looks and bug-eyes, Ernst was relegated to playing comedic roles and with characteristic panache he made the most of his opportunities. To make extra money he took acting jobs in Berlin's embryonic film industry quickly catching on as a player in Jewish comedies.
In cinematic language the name Lubitsch connotes champagne and caviar but in these early films, Ernst often played grotesques or lower-middle class peddlers (as seen in Shoe Palace Pinkus) who don't hesitate to use bullying tactics to get ahead. The bawdy films can be a quite a shock to those only familiar with Lubitsch's sleek Hollywood fare, but taken in the proper spirit they are quite fun and paint a picture of a rich culture soon to be wiped out by ethnic cleansing.
Since Lubitsch was actually identified as a Russian citizen, he escaped call-up during the First World War and continued to work on the stage and in movies. After making a series of the aforementioned comedies, Lubitsch and his longtime collaborator writer Hans Kraly decided to up the stakes a little.
Taking advantage of the recent Egyptology craze, The Eyes of Mummy Ma
is the dark tale of a pair of Cairo shakedown artists, Radus (Emil Jannings) and his slave Ma (Pola Negri), who trick tourists into believing their sarcophagus has live eyes. A European painter (Harry Liedtke) falls in love with Ma and whisks her back to the continent. There, she charms his friends with her exotic dances completely unaware a jealous Radu is looking for an opportunity to wreak his revenge.
Though broadly played, The Eyes of Mummy Ma has chilling moments and the sort of grandiosity one would expect from a director of big-budget spectacles.
An Oriental dancer captures London society by storm!
The name Lubitsch soon became synonymous in European film circles for sweeping historical dramas. Based on the Prosper Merimee novel (rather than the Bizet opera) Carmen
is grand in the Griffith-DeMille tradition, but Lubitsch has nothing on the Americans in the Blood and Thunder department. As the gypsy temptress, sexy Pola Negri is certainly more fun to watch than lumbering Geraldine Farrar in DeMille's Carmen
but Lubitsch's take on the lusty subject moves slowly and feels much longer than its eighty minute playing time.
A stirring love tale of Old Spain!
During his years as a Berlin filmmaker Lubitsch offset his big budget films with more personal projects such as the delightful comedy The Doll
. Lubitsch actually makes a cameo in the opening sequence in which he puts together a doll house, creating a sense of wonder for the ensuing action. Based on a story by E.T.A. Hoffmann story, the playful narrative continues with the sickly Baron of Chanterelle (Max Kronert) demanding his spineless nephew Lancelot (Hermann Thimig) get married in order to continue the family line. When the local single gals hear about the large dowry they could inherit, they chase Lancelot all over town until he finally takes refuge in a monastery.
Looking for a way to finance the gluttonous habits of his band of monks, the Abbott (Jakob Tiedke) offers to help Lancelot in exchange for the dowry. The Abbott tells Lancelot of the doll maker Hilarius (Victor Janson) who could build him a life-like mate. Once at Hilarius' house, the timid Lancelot is intimidated by the forwardness of the display dolls but finally chooses a replica of the doll maker's daughter Ossi (Ossi Oswalda).
While the men work out the deal, the craftsman's sex-starved apprentice (Gerhard Ritterband) breaks the doll so Ossi temporarily steps in to take its place. Lancelot returns and carts off Ossi before the apprentice can fix the doll. Ossi is smitten by the shy Lancelot but her amusement turns to horror when she learns the doll is to be married to the man.
At their wedding Ossi manages to charm the Baron and his guests while continuing to convince Lancelot she is merely a doll. When Lancelot gets the dowry he takes the money and Ossi to the monastery. He pays off the Abbott and goes to his room for the first peace and quiet he's had for days. He finds his doll-wife there, but the tired man crawls into bed and falls asleep. As Ossi watches her husband roll restlessly she decides to make his dreams come true and reveal her identity to him.
The most charming of the early Lubitsch comedies, The Doll possesses a refreshing naughtiness which wouldn't reach full flower until his American films. With her pale blue eyes and painted-on smile, the fun-loving Ossi Oswalda has an eerie resemblance to the young Marion Davies. The energy and joyfulness in her playing helps carry these films over the occasional crude patch.
If a picture is good, it's mysterious, with things unsaid.
During this period Lubitsch continued to act as the familiar Jewish merchant in several of his pictures, the most noteworthy being the Alpine comedy Meyer Aus Berlin. Hoping to escape from the bustling big city and the attentions of his wife Paula (Ethel Orff), Meyer gets an excuse from his doctor to travel alone to the mountains for some peace and quiet. As fate would have it he falls for an attractive fellow traveler Kitty (Trude Troll), who is also married. While Kitty's feelings towards Meyer are platonic, he can't resist making a fool out of himself in order to impress her. Meanwhile, Paula and Kitty's husband arrive at their lodge, setting into motion a Lubitschean comedy of manners.
A comedy of old and new money, The Oyster Princess
proved to be a turning point for Lubitsch. This "grotesquerie" written by Lubitsch and scenarist Hanns Kraly is a satire about an American seafood mogul Quaker (Victor Janson) who wants to marry his spoiled daughter Ossi (Ossi Oswalda) into European aristocracy. Quaker contacts an agent for hard-up royalty and arranges to have Prince Nucki (Harry Liedtke) delivered to his mansion for perusal. But, the dissolute Nucki sends his friend Josef (Julius Falkenstein) in his place. Ossi and Quaker are none too impressed by Josef, so in a fit of pique the stranger introduces himself as the prince. This is fine by Ossi and since she can't be bothered with true love she arranges a quick wedding ceremony.
Josef finds out early Ossi has no intentions of performing her wifely duties, so they remained separated by a large hallway in her father mansion. Ossi finally meets the real Prince Nucki by accident and the two young people fall head over heels for one another. Josef informs Nucki he put his friend's name on the marriage certificate, so the Prince is actually the one married to Ossi. The happy ending finds Quaker peering through a keyhole at the Prince and his daughter in their honeymoon bed.
By cleverly borrowing comic elements from gross, caricature-driven films like Shoe Palace Pinkus and introducing a sly, sophisticated sexuality, Lubitsch was inventing his own distinct brand of comedy. Still, the kinks aren't quite worked out, yet. The opulent set design in Quaker's house is flawless but the director's comic timing seems to lag a couple beats behind the jokes. Fitted with a weirdly Negroid wig and muttonchop sideburns, Quaker is a slovenly monster along the lines of beef baron Eugene Pallette in Heaven Can Wait—but without the froggy charm.
Ossi Oswalda looks curiously unattractive here, especially after her charming turns in The Doll as the fetching cross-dresser in I Dont Want to Be a Man
. Thankfully, Oswalda was a confident and lively comedienne who threw all caution to the wind. Minor flaws aside, The Oyster Princess remains a fascinating film.
Lubitsch continued his practice of alternating light comedies and big dramas with the production of Madame Dubarry
. This rags to riches story, set in the years leading up to the French Revolution finds Pola Negri in the lead role of Jeanne, an ambitious shop girl who uses her sexuality to gain favors and power in the court of Louis XV (Emil Jannings). But alas, the King's death leads to the treacherous Mme. DuBarry's downfall and date with the executioner.
You are going to hurt me! Why?!
Though Lubitsch was revealing himself to be a talented director of groups and large crowds the simple storylines of these big films weren't his bag. Not surprisingly, it would take the prospect of filming an old Max Reinhardt project to bring out his inner DeMille.
Sumurun
, a big, pulpy adaptation of the Friedrich Feska play The Arabian Nights, is set in the hardscrabble towns of the Sahara desert. The film's most interesting sequence features Lubitsch (in his last film role) playing Yeggar, a hunchback leading a caravan of carnival players across the desert. He is hopelessly in love with the troupe's exotic dancer Yannania (Pola Negri), but she is being actively recruited by a Sheik (Paul Weggener) who wishes to add her to his harem. Meanwhile, the sheik's most beautiful, but unpopular, mistress (Jenny Hasselqvist) creates a scandal by falling in love with a lowly merchant (Harry Liedtke).
The raven-haired Negri simply eats up the camera, stealing every scene she is in, though Lubitsch gives her a run for the money with his vivid, and rather moving, performance as the hideous hunchback. Inspired by this story of traveling players, Lubitsch directs Sumurun with much more passion and fire than his previous epics and ninety years on it remains a splendid Saturday Matinee movie.
"A cinematic journey into a universe of passions!"
After the filming excesses of old Arabia, Lubitsch's take on the Queen Consort Anna Boleyn
turned out to be more level-headed stuff. This pastoral film opens with young Anna (Henny Porten) doing her best to avoid the lecherous advantages of the very married King Henry VIII (Emil Jannings). Infatuated with this virtuous daughter of an aristocrat, Henry has his marriage to Catherine of Aragon annulled so he can wed Anna. Though the Pope disapproves, Henry marries Anna anyway, thus breaking the Church of England from the Vatican.
But alas, Anna disappoints Henry by not siring a male heir and with Jane Seymour (Aud Egede Nissen) waiting in the wings the King and his cabinet plot to do away with Anna. Falsely accused of adultery and high treason, Anna is nonetheless sentenced to be beheaded in the Tower of London.
Lubitsch, his designers (Hans Poelzig, Kurt Richter & Ali Hubert) and cinematographer Theodor Sparkuhl took great care in recreating the look and feel of Henry's Royal Court. It was good to be The King, as witnessed by Henry's romps with his Consort and his mistresses on fabulously thick English lawns. Once in the castle the King lived in stately elegance, as flushed out in the film's Holbein-like visual style.
Unlike his leading lady, Jannings gets what Lubitsch was after, for he creates a sly, sympathetic Henry, nothing like the gluttonous monster from historical texts. Porten was a large box office draw in Germany at the time, but here she turns in a stiff, old fashioned performance which flies in the face of the film's ethereal quality.
Good Christian people, I am come hither to die!
Taking time out from making big photoplays, the satirical The Wildcat
further advanced Lubitsch's singular take on the affairs of the heart. Set in a twee municipality in the Alps (?), the film opens with Kommandant der Festung Tossenstein (Victor Janson) summonsing the dashing Lieutenant Alexis (Paul Heidemann) in from the field to marry his doltish daughter Lili (Edith Meller). Little does the Lieutenant know a gang of bandits follow his every step and after he is kidnapped by the motley crew, the leader's fetching daughter Rischka (Pola Negri) makes her very amorous feelings known to him.
Mountain bandits in a madcap farce!
Expanding upon the fairy tale-like story, Lubitsch (with the help of art directors Max Gronert, Ernst Stein and cameraman Sparkuhl) creates an utterly fantastic world where the inexplicable comes true; in this case the love of a thieving mountain girl for an upright aristocratic officer. Oddly enough, it's Rischka and her henchmen who have their feet most firmly placed in reality. Lubitsch sees the military men as little toy soldiers and he gently mocks a community that could worship such men.
I hear and I forget; I write and I understand.
Lubitsch next struck up a production deal with U.S. producers to make his biggest film yet, the gargantuan The Loves of a Pharoah starring Emil Jannings, Paul Wegener and Harry Liedtke. Though the experience didn't leave a great taste in his mouth, the American box office proved sufficient for Lubitsch to accept an invitation from Mary Pickford to make the move to Hollywood and direct her next film.
Rosita would provide Little Mary the rare opportunity to make a picture for grown-ups. Set in Spain of the 1840s, Rosita (Pickford) is a poor street singer whose saucy charms tantalize the rogue King (Holbrook Blinn). The opportunistic girl uses sex and street smarts to tame the King and take a firm place in his colorful court. Despite a somewhat disastrous reputation due to infighting between the director and star on the set, Rosita turned out to be an enchanting little romp.
On an earlier visit to America Lubitsch became friends with Charlie Chaplin and soon found himself under the great comedian's spell. The German director was especially impressed by Chaplin's refreshingly risqué A Woman of Paris
. By leaving Pickford and United Artists to sign with Warner Brothers Lubitsch got a chance to create his own brand of adult entertainment.
There is Paramount Paris and Metro Paris, and…Paris.
The Marriage Circle
is the story of two couples, one happily married, the other less so. Franz and Charlotte Braun (Monte Blue & Florence Vidor) are cooing newlyweds unaware trouble lurks in the person of Franz' partner Dr. Gustav Mueller (Creighton Hale) who has a thing for Charlotte. Meanwhile, Professor Josef Stock (Adolphe Menjou) has his hands full with his tarty wife Mitzi (Marie Provost). She has a "meet cute" with the handsome Franz then decides to seduce him not knowing he is the husband of her best friend Charlotte.
Weary of his wife's philandering Stock hires a Private Investigator (Harry Myers) to try to catch her in the act so he can get a divorce. With all these dicey plot points in play, the Brauns can't help but feel their marriage is being sucked into a downward spiral and will require some delicate maneuvering in order to survive.
The Marriage Circle marked a major turning point in Lubitsch's career. Working from The Woman of Paris template, Lubitsch found his true comfort zone in Continental comedy/drama. As Lubitsch's famous touch was lighter than Chaplin's, The Marriage Circle found a more receptive audience in a Jazz Age America that didn't want to be bothered with moral repercussions. Over time, Lubitsch's films took on greater gravity and themes of trust, infidelity and the subsequent healing process colored his work immeasurably.
" A radiance of capricious moods and shadings."
For Forbidden Paradise Lubitsch re-teamed with one of his favorite leading ladies, Pola Negri in a jolly romp about an Eastern European empress whose regal bearing and sexual appetite bears a likeness to her namesake Catherine the Great. Here, the Czarina (Negri) is saved from perishing at the hands of the rabble by a handsome captain Czerny (Rod LaRoque) whom she takes on as a lover. When he learns of his beloved's promiscuity the jealous Czerny falls in with the revolutionaries. The captain is captured and sentenced to die but the sympathetic Catherine frees her former beau so he can marry another.
Towards the end of his career, Lubitsch began to remake this sly sex comedy as A Royal Scandal
starring Tallulah Bankhead but a heart attack prompted him to step down. The ensuing film, directed by Otto Preminger, lacked the nuance and knowingness which made its silent predecessor such a delight.
With the Warner Brothers encouraging Lubitsch to bring some much needed class to the poverty row studio, the European émigré forged ahead with a sophisticated interpretation of Wilde's Lady Windemere's Fan
. Commoner Mrs. Erlynne (Irene Rich) hopes to make a splash in society circles so she can get hitched to the Lord Augustus Lorton (Edward Martindel). When Lord Windermere (Bert Lytell) innocently offers to invite Madame to a party the Lady Windermere (May McAvoy) gets jealous of their supposed relationship and falls into the arms of Lord Darlington (Ronald Colman). Mrs Erlynne tries to do damage control but her efforts may come to nil when she learns her daughter has left damning evidence in the object of a fan at Lady Darlington's house.
Lubitsch gives Oscar Wilde's melodrama of manners his elegant and worldly "touch" making visual sense of the author's mellifluous dialogue and rapier wit.
The charming So This Is Paris (written by Hans Kraly from a Henry Meillac-Ludovic Halevy play) features Monte Blue as a doctor grappling with the seven year itch. When Dr. Paul Girard (Blue) realizes his dancer neighbor, the very married Georgette Lalle (Lilyan Tashman), is a former flame he accepts her invitation to a café to talk about old times. On the way to meet her Girard is pulled over by a cop for speeding and an ensuing argument leads to a short stint in jail—to be served at a future date.
While Girard carries on with Georgette, her husband tries to seduce Suzanne Girard (Patsy Ruth Miller). But she wants nothing to do with Mr. Lalle (George Beranger), so when the police come by the Girards to pick up Paul, the neighbor takes his place to save face. Shocked to learn her husband and Mrs. Lalle have won a Charleston contest, Suzanne decides to get some sweet revenge.
Lubitsch's frisky take on adult relationships and marital infidelity bore little resemblance to the morality plays of Von Stroheim and DeMille. Rather than sit in judgment over his married couples the tolerant Lubitsch lets them find a way to iron their problems out.
Lubitsch spent the final years of the silent era directing period pieces including the lost film The Patriot, an Oscar-winning epic about Czar Paul I of Russia. But it would be a pair of stirring European romances that paved his transition into talking film. In the lovely The Student Prince in Old Heidelberg Lubitsch looks back wistfully at a part of his homeland he knew little about. Based loosely on the Sigmund Romberg operetta, this tender tale follows the adventures of a spoiled prince (Ramon Novarro) who takes joy rubbing elbows with the student body before falling in love with a common barmaid (Norma Shearer) before regretfully having to return to his duties in his principality.
There are times when Eternal Love
feels more like a John Barrymore vehicle than an Ernst Lubitsch production. Although one expects the legendary ham to wreak havoc with a small story and his less than luminous co-stars, Barrymore found a pleasing comfort zone with Lubitsch.
Set in a Swiss village in 1806, the Great Profile plays Marcus Paltran, a proud local who refuses to give up his guns to the French after an Armistice. Living the life of a wanted man, he still manages to romance Ciglia (Camilla Horn), a local beauty of great virtue while being lustfully pursued by the wild-haired peasant Pia (Negri lookalike Mona Rico). Succumbing, to peer and parental pressure Ciglia marries a dull local man (Victor Varconi) but that doesn't stop Marcus from trying to win her back.
Thanks to breathtaking location shooting (by cinematographers Oliver T. Marsh and Charles Rosher) in the Canadian Rocky Mountains Eternal Love is Lubitsch's most gorgeous film. But, kudos need also be given to the director for honing a tasteful performance from Barrymore and fashioning a lyrical, Wagnerian romance.
With the advent of sound film beckoning, Lubitsch's immense talent for interpreting verbose plays and light-hearted musicals turned out to be a career-defining omen. Because of his deft touch and great rapport with actors, everyone in Hollywood wanted to work on a Lubitsch picture. It also didn't hurt that his early talkies (The Love Parade
, Monte Carlo
, The Smiling Lieutenant
& One Hour with You
) set the standard for musical comedy in an industry desperate to recreate itself after a messy switchover to sound. These graceful and urbane cinematic Eclairs took their audiences far away from their cares during the darkest years of the Depression.
Those only familiar with the bloated MGM-produced Jeanette MacDonald-Nelson Eddy operettas are usually taken aback at the brazen sensuality in the diva's films with Lubitsch. The breezy rakishness of leading man Maurice Chevalier gave the director his first and randiest alter ego.
In The Love Parade
Chevalier is Count Alfred Renard a playboy who specializes in seducing the women of Paris. His rakish behavior prompts a deportation to his home country of Sylvania where Queen Louise (MacDonald) plans to give him a dressing down. But it turns out the Queen is charmed by the Count's insouciance and rather than punish her subject she marries him instead. Renard quickly becomes unhappy in the role of the Prince Consort and decides to return to Paris. The Queen's steely resolve crumbles and she vows to give up the throne and follow her husband to the City of Lights.
The Love Parade is the most dated of the Chevalier-MacDonald films. Still, as far as 1929 talkies go, this bright and funny musical is a revelation and points towards better things to come. The stars turn out to be a fiery match leading to sexy liaisons, in true Lubitsch fashion, behind closed doors. The musical numbers by Victor Schertzinger are a bit starchy, but the ripe young Lillian Roth is a revelation as the Queen's sassy, singing maid.
In Monte Carlo
Chevalier is replaced by the legendary British music hall performer Jack Buchanan which is probably just as well as it was MacDonald's turn to shine in the role of a poor Countess who flees to the Mediterranean resort town after escaping marriage to a moronic Prince. After setting herself up in a posh hotel, Countess Helene Mara blows what's left of her cash at the gambling tables. But, that doesn't stop her from having her maid Bertha (Zasu Pitts) arrange for servants to wait on the Countess hand and foot, including the smitten Count Rudolph Falliere (Buchanan) who masquerades as her hairdresser.
Since the Countess pretends to be not impressed by money, Rudy keeps up the façade until he realizes she too is broke and likely to be evicted from her hotel. After giving cause to make the Countess jealous, hairdresser Rudy finally reveals himself as the strapping, well-to-do Count.
Casting the fruity, funny Buchanan as a virile man who has to sissy-it-up seems to be an inside joke on Lubitsch's part. But the director cleverly diffused questions about Buchanan's masculinity by installing the even more effeminate John Roche as the real hairdresser and the buffoonish Claud Allister as the Countess' fiancé. In her second film with the director MacDonald seems more comfortable and gives a refreshingly breezy and charming performance.
A little candy. Ooh, la la! A little brandy.
Keeping pace with Rene Clair's innovative musical Under the Roofs of Paris
, released in America at the beginning of the year, Monte Carlo moves at a brisker pace than The Love Parade and indulges in the same sort of cinematic cleverness seen in the French film. Of course, it is just as likely Clair was influenced by Lubitsch who had been mining this sort of deliciously frothy subject matter before the French filmmaker hit his stride. Clair would make just two more first rate films (Le Million
& A Nous La Liberte
) before moving to Hollywood to direct some pleasant, if undistinguished, light comedies then return to France and suffer a long decline as a filmmaker. For Lubitsch, the best was yet to come.
For Ernst's next musical The Smiling Lieutenant
Chevalier returned to play Niki von Preyn, a carefree officer in Austrian's Royal Guard. Niki plays it fast and loose with the ladies until he falls in love with Franzi (Claudette Colbert), a fetching violinist who leads a popular waltz band. The girl reciprocates his feelings and the two spend days and nights in each other's arms.
Niki causes a controversy when the visiting Princess Anna of Flausenshaum (Miriam Hopkins) thinks he is smiling at her when he is actually flirting with Franzi. Anna insists her father the King Adolph XV (George Barbier) must discipline the insolent guard, but Niki ends up charming both His Majesty and the Princess. Again, Anna misinterprets Niki's actions and thinking his flirtations are serious she decides to marry him.
Niki reluctantly accepts this shotgun wedding, but once installed in Flausenshaum palace he refuses to consummate his marriage to Anna and goes out every evening to enjoy the night life. One evening, he makes a chance visit to a café where Franzi's group is playing and the two lovebirds resume their affair. Anna finds out about Niki's dalliances and arranges to have Franzi brought to the palace. The sophisticated musician takes pity on the inexperienced Royal and shows Anna how to dress and act in order to tickle Niki's fickle fancy.
In The Smiling Lieutenant Chevalier is not particularly sympathetic, it's the confused Anna and her heartbroken father we care more about. The typically flinty Hopkins is vulnerable and quite marvelous as the sheltered Princess who is clueless in the art of seduction. And Colbert, another actress not known for her warmth, begins awkwardly then grows into the role of the worldly woman who sacrifices her chance at happiness for the sake of Anna's marriage.
The depth of feeling that dominates this finest of the Paramount musicals is something audiences hadn't yet experienced in a Lubitsch film. In the coming years the director pushed the envelope further by stripping his polished players of their artifices, exposing frailties and turning their worlds upside down.
Originally intended as a project for novice director George Cukor, Lubitsch ended up taking the reins on One Hour with You
and produced a delightful sex farce.
Here, Chevalier is Parisian Dr. Andre Bertier happily married to wife Colette (MacDonald). Not wishing to share his wife with anyone, Andre is none too pleased when Colette announces her old friend Mitzi Olivier (Genevieve Tobin) is coming for a visit. The flirtatious Mitzi quickly seduces Andre, but Colette remains oblivious to their affair. She thinks Andre has a crush on their sexy dinner guest Mlle Martel (Josephine Dunn) so when Mitzi's jealous husband (Roland Young) shows up on the scene Colette flirts with him to make Andre jealous. Realizing he could lose all that is precious to him, Andre schemes to rid himself of Mitzi and win back his lovely Colette.
Based a Raphaelson screenplay of a Lothar Schmidt play One Hour with You pits its women as the players and their passive men as the objects of desire. It's amusing enough to imagine a young woman making a play for the meek Roland Young, but Chevalier was a peculiar sex object, as well. Lubitsch knew just how to lampoon the mugging actor whose performances always teetered on the precipice of caricature. Chevalier's sense of ridiculousness and ability to mock his own sexual prowess made him the perfect leading man during this period of Lubitsch's career.
My intentions were dishonorable!
Chevalier, MacDonald and Lubitsch would reunite two years later at MGM to make an English language adaptation of Franz Lehar's operetta The Merry Widow.
Bored with life in the tiny Eastern European country of Marshovia the rich Madame Sonia (MacDonald) pulls up stakes and moves to Paris. Fearing the country's entire will collapse if Sonia decides to stay in France, The King (George Barbier) assigns a Captain in his royal guard, the dashing Danilo (Chevalier) to go to Paris and woo and wed the wealthy widow. Danilo meets Sonia at the famous Maxim's nightclub, but she introduces herself as Fifi, just another goodtime girl on the make for a john. Danilo tries to bed her but can't understand how she can resist his charms.
When Marshovia Ambassador Popoff (Edward Everett Horton) arranges a meeting between Madame Sonia and Danilo, she realizes they are being set-up for wedlock. They still manage to fall in love with one another but when the Ambassador prematurely announces their nuptials, Danilo tells his audience the Madame has not agreed to the wedding and he wants no part of such an arrangement, either. Danilo is arrested and brought back to Marshovia to face trial. Sonia meets Danilo in his jail cell, both unaware they have been tricked into this meeting by the Ambassador who is sure the very sight of one another will rekindle their romance.
The Merry Widow would be Lubitsch's last musical and he is very much on top of his game, here. Gone is the occasional awkwardness and deliberate pacing of the Paramount musicals. The visual style is impeccable, art designer Cecil Gibbons makes Marshovia look like a twee fairyland and Lubitsch and cinematographer Oliver T. Marsh bathe the stars with sensual close-ups and a warm glow.
As befits the director's maturing style The Merry Widow is more heart-felt than his earlier work in the genre. Chevalier seems profoundly shattered when he is unable to seduce the mysterious Fifi and comes to regret his cynical mission to bring the widow back to her homeland in order to keep the King on the throne. For her part, MacDonald doesn't relish putting Danilo in his place and she spends much of her screen time nurturing his bruised ego. As for the songs (given an English libretto by Richard Rodgers & Lorenz Hart), they are clearly the most memorable of Lubitsch's musicals and the lilting Merry Widow Waltz is used effectively in bringing the lovers together whenever all seems lost.
By 1932, Lubitsch was so esteemed at Paramount he was offered and accepted the Head of Production post at the bereft studio. During the same year he made the worldly ménage-a-trois, Trouble in Paradise
, considered by many to be the pinnacle of Lubitsch's art.
While renting a lavish apartment on the Grand Canal of Venice, suave thief Gaston Monescu (Herbert Marshall) meets and falls in love with Lily (Miriam Hopkins), a bottle-blonde pickpocket disguised as a Countess. They combine forces to try and shakedown a perfume company mogul, Mariette Colet (Kay Francis). Gaston gets into the Madame's good graces by becoming her personal secretary and offering sage advice. But, plans to bilk his employer of her fortune go awry when he finds himself becoming infatuated with the lovely businesswoman.
Marshall, who would go onto forge a career playing cuckolds, actually turns out to be one of Lubitsch's finest leading men. His Gaston is charming yet devious, fully capable of lifting a purse while setting feminine hearts aflutter. He seems to meet his match in the regal Francis (who rarely teamed with leading men worthy of her talents), but it's the mischievous Hopkins who wins his heart in the end.
I worship you as a crook. Steal, swindle, rob!
Lubitsch's greatest collaborator Samson Raphaelson wrote the screenplay for Trouble in Paradise, a romantic comedy of perfect pitch and flawless execution. The carefree amorality and anarchistic spirit which give wings to Lubitsch's early sound comedies would be pushed to the extreme in his next film.
Based on a screenplay the hit play by Noel Coward and featuring a screenplay by Ben Hecht and three talented leads (Hopkins, Frederic March and Gary Cooper), Design for Living
was Lubitsch's biggest Hollywood production up to that time.
March and Cooper play aspiring playwright Tom Chambers and struggling painter George Curtis, a pair of American bachelors trying to make a go of it in Paris. Enter Gilda Farrell, an attractive and opinionated American commercial artist, to turn the boys' world upside down. Tom and George both fall in love with Gilda, but since she can't make up her mind which one she loves more her relationships with the men remain platonic. She moves into their small flat to coach and encourage the boys. Gilda also takes it upon herself to show Tom's play to a London stage producer and get George's paintings hung in galleries all over town.
When Tom's play is accepted for a season in the West End, he bids a heavyhearted farewell to his friends unaware he is pushing them into each other's arms. Tom's play is a hit but he is mortified when he learns George and Gilda are now lovers. He returns to Paris and seduces Gilda, but since the premise of their threesome has become a shambles she leaves both men to marry the dreary American manufacturer Max Plunkett (Edward Everett Horton). Tom and George follow Gilda to Long Island where she is unhappily sequestered in a mansion entertaining Max's business associates. The rowdy artists break up Gilda's marriage and the three renew their sex-free pact on a return to the City of Lights.
The bright and breezy Design for Living is more the sum of its well-assembled parts than a typical Lubitsch movie. Nevertheless, the director has a tactful take on the racy material lending heart to Coward's quicksilver characters. Clearly a favorite of Lubitsch, Hopkins is flighty, pushy and sexy, a tantalizing minx who mothers her needy men. While the sturdy March lends some welcome gravity it's the randy Cooper we end up pulling for.
Pauline Kael makes a spot-on observation when she opines Frank Capra de-balled the stud in Mr. Deeds Goes to Town and, indeed, Cooper was rarely the same brazen boy afterwards. Lubitsch, Sternberg and later Billy Wilder all understood that beneath the boyish façade lay a true ladies man. And here Cooper pushes Hopkins' buttons turning their "sexless" ménage into an adult entertainment.
  It's amazing how insults can bring people together.
During the early years of the New Deal, the hard-boiled and wildly successful populist films of Capra, Leo McCarey and Gregory La Cava clashed with Lubitsch's old world taste and temperament and began to make him look old hat to the movie-going public. Owing to a ledger of artistically-pleasing box office flops Ernst oversaw, he was removed from the head post at Paramount in 1936. He lingered on at the studio as a producer for the sumptuous Marlene Dietrich-Gary Cooper romance Desire
(Frank Borzage) and directed Dietrich in another affair of the hearts in 1937.
Stringing pearls across Europe.
Based on a play by Melchior Lengyel and a screenplay written by Samson Raphaelson, Angel
features Dietrich as Maria Barker, the rich but bored wife of British Diplomat Sir Frederick Barker (Herbert Marshall). Looking to spice up her life she flies to Paris to meet with a notorious matchmaker, the Grand Duchess Anna Dmitrievna (Laura Hope Crews). While waiting for an audience with the older woman, Maria is mistook for the Duchess by the playboy Anthony Halton (Melvyn Douglas). They arrange to meet that evening but fearing she is far too attracted to this charming stranger Maria skips back to London without even telling him her name.
In England we find Maria the dutiful wife to the distracted diplomat. Sir Frederick doesn't take Maria's teasing implications of her infidelity seriously and believes they have the perfect marriage. At a garden party Halton introduces himself to Sir Frederick but the diplomat doesn't recognize the man who shared his French mistress during WWI. After the ice is broken the men reminisce about lost loves and Halton confides he is currently infatuated with one who got away.
Halton is invited to Frederick's house where he is surprised to find his mystery girl married to the British Lord. As Maria isn't sure she wants to leave Frederick she tries to dodge Halton's passes, but a flukish accident leads to the diplomat finding out about her infidelity. Events push the Barkers and Halton back to the Grand Duchess' Parisian parlor where Maria must choose between her two lovers.
Angel is a curious, melancholic piece. Gone is the anarchic spirit of the director's pre-code films. Indeed, after the "meet cute" opening, a sweet resignation casts its pall over these intelligent players who are trapped in comfortable, but unexciting, lifestyles.
I let the audience use their imaginations.
Lubitsch added some spicier ingredients to Bluebeard's Eighth Wife
, a screwball spin on The Taming of the Shrew set in the French Riviera.
Fearing he will be thrown out of his luxury hotel the Marquis de Loiselle (Edward Everett Horton) convinces his daughter Nicole to accept romantic advances from the American millionaire Michael Brandon (Gary Cooper). Not impressed by Brandon's fortune, Nicole falls in love with the eccentric businessman anyway completely unaware of his sordid past. At their wedding Brandon admits he has been married seven times and wants Nicole to sign what amounts to a pre-nup agreement.
Looking to teach this clod a lesson, she accepts the contract and proceeds to make Brandon's life miserable. Weeks later, while trying to cure his insomnia, Branson reads the Bard's bawdy comedy about wife beating. Inspired, he doles out similar punishment to Nicole but with disastrous results.
Based on a play by Alfred Savior and written by the snappy team of Charles Brackett and Billy Wilder, Bluebeard turned out to be one of Lubitsch's rare farces. But cynicism never really sat well with warm-hearted Ernst and the biting narrative loses its way once the marital contract is signed. Colbert doesn't win much sympathy in a calculating role and audiences would have to wait another two decades until Cooper came into his own as experienced seducer of women in Wilder's Love in the Afternoon. Brackett and Wilder would learn to soften the edges in their next collaboration with Lubitsch, a film which kicked off the master's greatest period of creativity.
I wish someone would tell you what I really think of you.
Lubitsch returned to the Tiffany's of the major studios, MGM, to make Ninotchka
a satire of love and politics. When three Communist party members (Sig Ruman, Felix Bressart & Alexander Granach) take too much time in selling the jewels of the old royal family, dour Soviet agent Ninotchka (Greta Garbo) is sent to Paris to check on their progress. She finds the men living in the lap of luxury, unable and unwilling to work out a deal because the Russian expatriate Grand Duchess Swana (Ina Claire) is claiming the stolen jewels for herself.
The Duchess' erstwhile lover, the Count d'Algout (Melvyn Douglas), has seduced the men with cigars, alcohol and women but finds he is helpless against the intimidating Ninotchka, so he uses the charms of Paris to do the trick. Slowly, Ninotchka's reserve fades away and she falls in love with the fun-loving Algout. But, she surprises everyone by dutifully returning to the Soviet Union and bear the criticism levied upon her and the agents by their gruff superior (Bela Lugosi). Luckily, the three agents finagle a business expedition to Budapest where they play cupid and reunite Ninotchka with her Parisian lover.
The legendary Garbo was an inspired, if obvious, choice to play the humorless Soviet and she performs brilliantly on a very narrow tightrope. Lubitsch wisely made Garbo keep on her stony mask even as her world took an increasingly surrealistic turn. When Algout finally manages to make her laugh in the cafe, the film shifts on its axis from political satire to lilting romance. It is here where Lubitsch finds his comfort zone and he makes it clear it is more ideologically correct to have led a well-lived life than toe the party line.
It is fitting Ninotchka was Lubitsch's last film set in Paris. Seeing the city he adored being militarily occupied by his own countrymen was likely just too much to bear.
There are going to be fewer but better Russians.
The director's next film at MGM, The Shop Around The Corner
is a step up in artistic achievement, even by Lubitsch's lofty standards. Set in the once prosperous Budapest shop Matuschek & Company, a very intense inner drama is being played out by two sparring clerks, Klara Novak (Margaret Sullavan), Alfred Kralik (James Stewart) and their troubled boss Hugo Matuschek (Frank Morgan). Against Kralik's advice, Mr. Matuschek hires the clever Klara as an extra clerk during the shop's slow season.
Bad business and Matuschek's pre-occupation with a personal problem cast a gloom over the shop and escalates the tension between Kralik and Klara. As fate would have it, the two have been penning anonymous love letters to one another for months and plan to meet the very night Matuschek wants the employees to work late to fix the store's Christmas window. Meanwhile, Matuschek suspects Kralik has been carrying on with his wife. The boss pushes the young assistant's buttons until Kralik is ready to resign his post.
Just then, Klara decides to ask Kralik for the night off, igniting an argument where the would-be lovers take cruel swipes at one another. Matuschek calls Kralik into his office, fires him then gives the staff the rest of the night off.
Kralik's friend in the shop Pirovitch (Felix Bressart) convinces him to make his blind date with his pen pal, but when he arrives at the café he finds Klara waiting for him. He tries to make small talk with his former enemy but the impatient girl asks him to leave because she is waiting for her boyfriend, a lofty spirit far superior to the lowly clerk. Back at the shop, Matuschek gets word the man making love to his wife is not Kralik but the oily clerk Vadas (Joseph Schildkraut). After making an unsuccessful attempt to take his life, Matuschek rehires Kralik.
The holiday season turns out to be a triumph, pleasing Matuschek and bringing Kralik and the broken-hearted Klara closer together. After carefully soothing Klara's tender ego and getting an encouraging admission out of her, Kralik reveals he is her pen pal.
Having worked in his parents' shop as a youth, Lubitsch expertly fleshes out the awkward group dynamics at play in Matuschek & Company. Frank Morgan's shop owner is mostly bark and little bite, so it surprises us when he belittles the worthy Kralik. But, it turns out the gruff Mr. Matuschek is more vulnerable then he lets on. Morgan's performance is extraordinary, another caveat in a series of the director's not so wise old men.
Margaret Sullavan's Klara is high-minded and has little tolerance for mediocrity. Impulsive and selfish, she leaves the sensitive Kralik wondering if this is the same girl who could write heartfelt prose. But behind her steely facade lay an exquisite delicacy he finally experiences when she reads his letters aloud. Still, as Kralik contemplates a bleak future without work, he finds himself on the verge of cracking. Kralik gets justice when returns to the shop as a manager, but he finds he won't have such an easy time healing Klara's wounded soul. A work of dazzling breadth and maturity, The Shop Around the Corner strikes a perfect pitch from scene one and never lets go.
Yes, Mr. Matuschek. I'm an idiot.
Lubitsch's next film That Uncertain Feeling was an independent project with a surprisingly conformist take. When the happily married Jill Baker (Merle Oberon) comes down with the hiccups, she decides to visit a psychologist (Alan Mowbray) for a cure. While in the reception area, she becomes fascinated by a surly patient Alexander Sebastian (Burgess Meredith) who has little use for her wasteful lifestyle. They meet again at art exhibit where she learns the arrogant Alexander is actually a concert pianist with a mental block.
She invites him back to her Park Avenue apartment for dinner and while there he manages to wreck a business deal her husband Larry (Melvyn Douglas) had spent weeks putting together. Larry's jealousy drives Jill into Alexander's arms, but hoping he can show her what a scoundrel the pianist is, he suggests they divorce. At first, Larry's plan works like a dream as Jill struggles with the whims of the difficult artist. But, when he becomes sloppy Jill turns the tables on the man she really loves.
Having been made between The Shop Around the Corner and To Be or Not to Be, That Uncertain Feeling has always suffered from a mediocre reputation, which is unfortunate because it is a very accomplished comedy. Quite unlike the spirit of his anarchistic comedies of the early 1930s, Lubitsch has little use for the self-absorbed artist and throws his lot with the stolid married man. Perhaps sensing a post-depression audience would have a hard time rooting for old money to win out over the proletariat Lubitsch lets Meredith steal the show as the prickly and destructive pianist.
Lubitsch's second film for United Artists took on the Nazis in his own inimitable fashion. To Be or Not to Be
is the story of a Warsaw acting troupe who outwit and outplay Hitler's Gestapo in an effort to keep the Polish Underground alive during the early days of WWII. When it is revealed the country's key intellectual Professor Siletsky (Stanley Ridges) is actually a Nazi spy, the troupe, figuratively led by lead actors Joseph and Maria Tura (Jack Benny and Carole Lombard), set forth a plan to do away with the traitor.
In an effort to retrieve important papers from Siletsky, Maria goes to his apartment to accept his offer to spy for the Nazis. After leaving Maria, the treacherous double agent is tricked by the troupe and, in a striking Hitchcockian sequence, he is killed on stage.
Joseph masquerades as Siletsky to gain access to the traitor's apartment, Maria and the papers, but he is unaware the Nazis have already found his body. Joseph is left to twist in the wind by the ruthless Colonel Ehrhardt (Sig Ruman) until he cleverly devises a way to escape certain death. Fearing the Nazis are wise to their game, the troupe makes one last stand at their theater where they trick the Germans into getting them on board a plane which will take them out of harm's way to London.
Though Hollywood was wary of making a comedy about Hitler and the Nazis, Lubitsch struck the perfect chord, mixing in a little bit of propaganda, a dash of pathos and a whole lot of satire to this savory delight. Droll radio and TV legend Benny is in peak form as the vain Tura, and his interrupted soliloquies are as fine an example of slow-burn comedy as anything in film. Lombard, in her final performance, is marvelous as Tura's neglected wife. Lubitsch toned down her tendencies to overplay for comic affect, creating a cool, breathless and manipulative Maria who gets what she wants in the end.
Lubitsch was also wise to counter the menace of the Nazis by having their key figurehead (Colonel Ehrhardt) be a buffoon who trembles at the thought of disappointing his Fuhrer. Based on another story by Melchoir Lengyel and a screenplay by Edwin Justus Mayer, Lubitsch gets the lion's share of credit for streamlining this most improbable of tales into a provocative entertainment.
The Fuhrer is going to end up as a piece of cheese!
Lubitsch followed this war-time adventure with his most serene and rewarding film. Penned by Samson Raphaelson, Heaven Can Wait
is a Lubitsch-touched morality play about the passing of a Fifth Avenue libertine (Don Ameche) ready to take his rightful place in Hell after a lifetime of loose-living. His audience is none other than Satan (Laird Cregar) who listens with delight to Henry Van Cleve's sordid saga, an inexplicable case of infidelity to an understanding and beautiful wife (Gene Tierney).
From the get-go, we see little Henry has a penchant for the ladies; giving up his favorite beetles to impress a cute looker and drinking champagne with a French chambermaid are among his early crimes. His old money parents (Spring Byington & Louis Calhern) show concern when playboy Henry turns twenty-six and has still has no plans for the future. Still, they and Grandpa Van Cleve (Charles Coburn) continue to fund his dissolute lifestyle which ends abruptly when he has a chance meeting with the lovely Martha Strable (Gene Tierney).
To Henry's horror, he finds Martha is engaged to his dreary cousin Albert (Allyn Joslyn). With only a short time to make his case, Henry sweeps Martha off her feet and they elope much to the horror of her conservative Kansan parents (Eugene Pallette & Marjorie Main).
Henry is next seen making plans for his ten year wedding anniversary. He soon receives a note from Martha that turns his world upside down. She has left him with no explanation, but Grandpa suspects foul play on Henry's part. It turns out Henry still can't resist buying gifts for the ladies and forgot to hide the evidence from Martha. The men follow Martha to her parents' ranch in Kansas where Henry sweet-talks his estranged wife into eloping with him once again.
Years pass and Henry seems to be losing his touch with young women. Martha attributes this malady to his expanding tummy which pleases her to no end. They celebrate their twenty-fifth, and last, wedding anniversary blissfully dancing the Merry Widow Waltz. Henry spends the autumn of his years reverting back to his gigolo ways and lets his son take care of the family business. Yet, Henry remains lonely for his deceased soul mate and remains melancholic up until his death. Ready to make amends for a life too well-lived, Henry offers himself up to Satan but the devil has other plans.
Made at the height of a nostalgia craze at 20th Century Fox, Heaven Can Wait is as devious as any of the Chevalier pictures but with a surprisingly conservative core. Lubitsch's take on marriage is Continental and tolerant. Martha allows Henry his little dalliances as long as he doesn't step over the line. In turn, Henry doesn't give his heart to any other woman, but there is little likelihood of that, as he is only capable of loving Martha.
Marriage is an adjustment of two right-thinking people.
After the threesome-ic chaos of Trouble in Paradise and Design for Living, Lubitsch's films grew increasingly monogamous towards in the twilight of his career (and life). After much soul-searching, spouses in Angel, Bluebeard's Eighth Wife, That Uncertain Feeling, To Be or Not to Be, and Heaven Can Wait end up sticking with the tried and true. These are hardly admissions of defeat, so much as a willingness to rekindle old flames and find peace of mind.
Set in a time of innocence (1938), the nimble class comedy Cluny Brown closes out the director's great late period with a flourish. While trying to borrow money from a London socialite (Reginald Gardiner) Czech intellectual Adam Belinski (Charles Boyer) finds himself charmed by the doe-eyed girl who has arrived to fix the host's sink. The free-spirited niece of a plumber, Cluny Brown (Jennifer Jones) celebrates her success by imbibing her first martini and imagining herself to be a Persian cat much to the horror of her uncle who arrives to save her from debauched men.
Thinking the upstart Cluny needs to learn her place he hires her out as a chambermaid to the rich Carmel family who live in the country. As fate would have it, the family's impressionable young heir Andrew Carmel (Peter Lawford) has invited Belinski to stay in their manor to avoid arrest by the Nazis.
Surprised to find Cluny in such a demeaning role, Belinski sets out to charm and seduce the girl but she has her heart set on marrying the dull local chemist Mr. Wilson (Richard Haydn). Belinski can't stand the smug and pompous Wilson, so he tries, without much luck, to sabotage the man's budding romance with Cluny. But, she manages to do that job nicely on her own, offending the middle-class Wilsons with her enthusiasm and can-do spirit.
After a misunderstanding with Andrew's fiancée Betty Cream (Helen Walker), Belinski decides to take leave of the stuffy Carmel manor and head back to London. When Cluny gets word of Belinski's departure, she rushes to the train station to say good-bye to her friend but gets swept off her feet instead.
Cluny Brown has never got much play on the repertory film theatre circuit which is a shame because it's one of the director's most enchanting works. Boyer gives a fine performance as the saucy Belinski whose contrarian opinions baffle and bemuse his very British hosts. So often cast as a tragic temptress, Jennifer Jones is a revelation as a comedienne. Her Cluny is dizzy but delicate. Belinski can see neither the Carmels nor Wilson value Cluny's very real charms. In fact, he fears they will neuter the life out of the coltish girl unless he steps in to save her.
Like George Barbier of the Paramount comedies, Frank Morgan and Charles Coburn, Boyer is another of Lubitsch's father-protectors, a wizened alter-ego to the old Berlin actor who stepped behind the camera to coach young couples in the art of making love.
Tragically, a recurring heart problem struck Lubitsch down at the peak of his powers. As tastes were changing in post-war America Lubitsch's old worldly ways might have looked anachronistic to young audiences weaned on the pandemonium of Martin and Lewis. Fortunately, his prodigal son Billy Wilder was around to pick up the torch of sophisticated adult comedy and carry it onwards for another thirty years. But, as evidenced by the popularity of Nora Ephron's updating of The Shop Around the Corner (You've Got Mail
) and Mel Brooks' remake of To Be or Not to Be
, it's safe to say the master continues to touch us all.
Books on Lubitsch:
Ernst Lubitsch's American Comedy
– William Paul **** This remains the best critical examination of Lubitsch and it's a shame it has fallen out of print. The emphasis is on the second half of Lubitsch's career and Paul's arguments are lucid and winning.
Ernst Lubitsch: Laughter in Paradise
– Scott Eyman **** Ernst comes off looking like a prince in this likeable biography written by a very fine critic who knows his film history. As Lubitsch didn't have enough demons to attract biographers looking for salacious gossip, it's likely this affectionate account of his life will be the book to turn to for film aficionados.
The Lubitsch Touch
– Herman Weinberg **** Weinberg's reputation as a critic and film historian has taken a beating over the years but his famous book on Lubitsch remains an invaluable compilation of essays and interviews, well worth tracking down.
Films by Lubitsch:
1916  Shoe Palace Pinkus ***1/2
1917  The Merry Jail ***
1918  I Don't Want to Be a Man ***1/2
1918  The Eyes of Mummy Ma ***1/2
1918  Carmen ***1/2
1919  The Doll ****
1919  Meyer of Berlin ***1/2
1919  The Oyster Princess ***1/2
1919  Madame Du Barry ***1/2
1920  Kohlhiesel's Daughters ***1/2
1920  Romeo & Juliet in the Snow ***1/2
1920  Sumurun ***1/2
1920  Anne Boleyn ***1/2
1921  The Wildcat ****
1922  The Loves of a Pharoah ***1/2
1923  Die Flamme ***1/2
1923  Rosita ***1/2
1924  The Marriage Circle ****
1924  Forbidden Paradise ***1/2
1925  Lady Windemere's Fan ****
1926  So This Is Paris ****
1927  The Student Prince in Old Heidelberg ****
1929  Eternal Love ****
1929  The Love Parade ****
1930  Monte Carlo ****
1932  If I Had a Million ***1/2 (segment)
1932  The Man I Killed ***1/2
1932  One Hour With You **** (assisted by George Cukor)
1932  Trouble in Paradise ****1/2
1933  Design for Living ****
1934  The Merry Widow ****
1937  Angel ****
1938  Bluebeard's Eighth Wife ***1/2
1939  Ninotchka ****
1940  The Shop Around the Corner *****
1941  That Uncertain Feeling ***1/2
1942  To Be Or Not To Be ****1/2
1943  Heaven Can Wait *****
1945  A Royal Scandal ***1/2 (w/Otto Preminger)
1946  Cluny Brown ****1/2
1948  That Lady in Ermine ***1/2 (finished by Otto Preminger)